My oh Miocene!
The leaf wax hydrogen isotope evidence was interpreted in comparison to model experiments. Jung-Eun Lee (JPL) conducted experiments, after adding water isotopes into a model dubbed GRAM (Frierson et al, 2006) because it requires a gram of computational effort rather than a ton in a full general circulation model. With the aid of the isotope-enabled model version, iGRAM, we can simulate the movement of water around the planet and track the water isotopic signatures. The goal was to see if modern relationships between different points in space that have different isotopes in precipitation and temperature are valid when we instead consider changes at the same point over time. Model experiments suggested a small upwards tweak in the temperature reconstructions for the Miocene from 2ºC to 7ºC. These experiments also reveal the dynamics behind the isotopic values: more evaporation from the warmer high latitude oceans and increased rainfall at high latitudes. (Ed. In similar experiments for Greenland (Werner et al, 2000), the changes in the seasonal cycle were important in understanding the isotope paleo-thermometer).
The iGRAM model is however an idealised aquaplanet, (i.e. no continents at all) so it isn't useful for the interior of Antarctica, but deep sea records suggest that glacial ice volume was about 50% of modern volume at that time. It is however difficult to do full general circulation model experiments for this period because of the difficulty of constraining boundary conditions in the Miocene – what the land surface looked like, what greenhouse gas levels were, etc. An aquaplanet is perhaps good enough for these tests as conditions at the coast are really set by the oceans.
In terms of figuring out how the climate system operates, temperature is one of the simpler variables to reconstruct (not that any of this is really simple). Figuring out how precipitation changes is harder, largely because models can't capture the scale of clouds let alone raindrops. What the leaf waxes provide is an archive of the isotopic composition of precipitation – much as the ice cores do for the past million years. Of course an ice core is not as simple as a rain gauge, and a plant has biology that an ice core doesn't, but crucially if plants are growing, leaf waxes are probably preserved in sediments allowing us to push these isotopic records back beyond the ice core records to address questions about what climate was like further back in time.
How robust are these results?
What is reassuring here is that all the lines of evidence presented, from various microfossils, molecular fossils, isotopes and model experiments, all point to temperatures at the coast of Antarctica reaching above freezing point in summer months, probably around 7ºC (45ºF).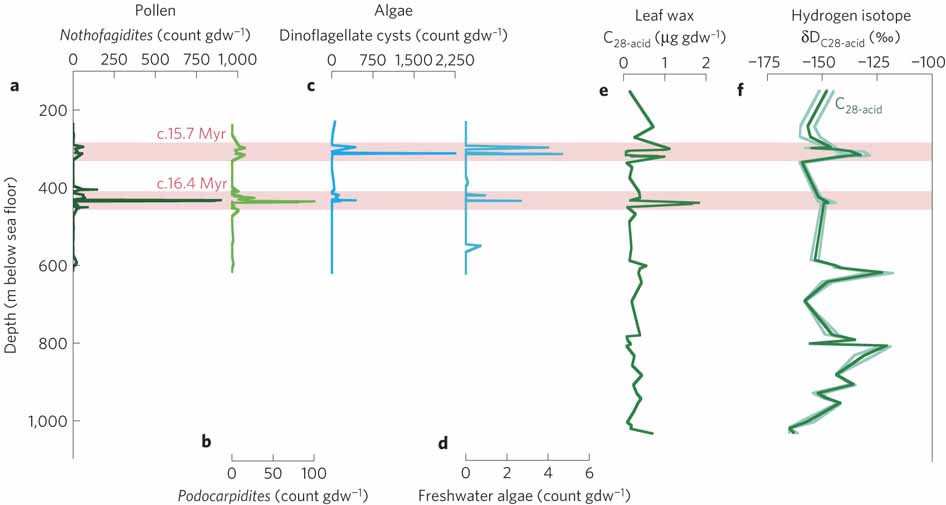 Downcore results through the Miocene section show at least two periods of exceptional warmth.
It is in those warm, periods further back in time, that might help us understand a little more about how warmer climate systems operate, and that information might just be important as we contemplate our future.
Page 2 of 2 | Previous page
References
D.M.W. Frierson, I.M. Held, and P. Zurita-Gotor, "A Gray-Radiation Aquaplanet Moist GCM. Part I: Static Stability and Eddy Scale", Journal of the Atmospheric Sciences, vol. 63, pp. 2548-2566, 2006. http://dx.doi.org/10.1175/JAS3753.1
M. Werner, U. Mikolajewicz, M. Heimann, and G. Hoffmann, "Borehole versus isotope temperatures on Greenland: Seasonality does matter", Geophysical Research Letters, vol. 27, pp. 723-726, 2000. http://dx.doi.org/10.1029/1999GL006075