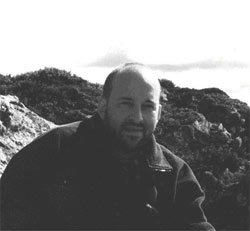 Gavin Schmidt is a climate modeller at the NASA Goddard Institute for Space Studies and Earth Institute at Columbia University in New York and is interested in modeling past, present and future climate. He works on developing and improving coupled climate models and, in particular, is interested in how their results can be compared to paleoclimatic proxy data. He has worked on assessing the climate response to multiple forcings, including solar irradiance, atmospheric chemistry, aerosols, and greenhouse gases.
He received a BA (Hons) in Mathematics from Oxford University, a PhD in Applied Mathematics from University College London and was a NOAA Postdoctoral Fellow in Climate and Global Change Research. He was cited by Scientific American as one of the 50 Research Leaders of 2004, and has worked on Education and Outreach with the American Museum of Natural History, the College de France and the New York Academy of Sciences. He has over 100 peer-reviewed publications and is the co-author with Josh Wolfe of "Climate Change: Picturing the Science" (W. W. Norton, 2009), a collaboration between climate scientists and photographers. He was awarded the inaugural AGU Climate Communications Prize and was the EarthSky Science communicator of the year in 2011. He tweets at @ClimateOfGavin.
More information about his research and publication record can be found here.
All posts by gavin.