Guest commentary by Cecilia Bitz, University of Washington
"Polar amplification" usually refers to greater climate change near the pole compared to the rest of the hemisphere or globe in response to a change in global climate forcing, such as the concentration of greenhouse gases (GHGs) or solar output (see e.g. Moritz et al 2002). Polar amplification is thought to result primarily from positive feedbacks from the retreat of ice and snow. There are a host of other lesser reasons that are associated with the atmospheric temperature profile at the poles, temperature dependence of global feedbacks, moisture transport, etc. Observations and models indicate that the equilibrium temperature change poleward of 70N or 70S can be a factor of two or more greater than the global average.
The Arctic Climate Impacts Assessment (ACIA) summarized the evidence for amplification in Arctic surface warming with the statement, "Over the past 100 years, it is possible [33-66% confidence] that there has been polar amplification, however, over the past 50 years it is probable [66-90% confidence]" (ACIA, 2005, p 22). This uncertainty in the evidence of polar amplification should not be confused with the evidence for significant warming in the Arctic. Arctic warming is both highly significant and substantial — it is just not possible to say with very high confidence yet that the Arctic has warmed more than the rest of the hemisphere or globe. The purpose of this posting is to explain why there is sometimes an absence of evidence for polar amplification.
Dramatic changes in ice at the poles are often cited as evidence of recent climate change — changes such as thinning and retreat of the sea ice, collapse of ice shelves along the Antarctic Peninsula and on the north coast of Greenland, melting permafrost, etc. Are these changes evidence of polar amplification? Not really. Because ice is mostly confined to the high latitudes, it is impossible to compare the magnitude of changes in ice across many latitudes. Therefore it seems a mistake to consider changes in ice as prima facie evidence of polar amplification. Instead, I would argue that changes in ice are a consequence of warming, though they may play a role in causing polar amplification. The term "polar amplification" should therefore be reserved to describe the amplification of surface temperature changes.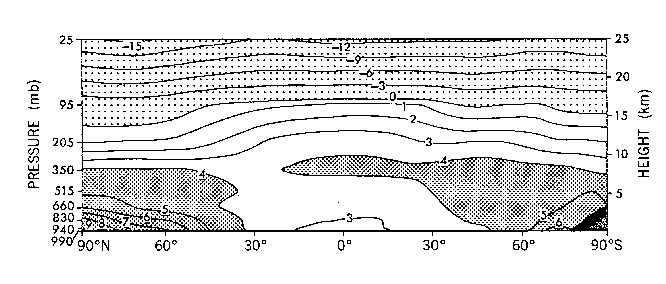 Fig 1. Latitude-height distribution of the zonal mean difference in annual mean temperature (K) in response to the quadrupling of CO2. [From Manabe and Stouffer (1980)] (click to enlarge)
Manabe and Stouffer (1980) first popularized the phrase "polar amplification" to describe the amplified rate of surface warming at the poles compared to the rest of the globe in their climate model's response to increasing GHG levels. Their early climate model had a simple ocean component that only represented the mixed layer of the water. Their model had roughly symmetric poleward amplification in the two hemispheres, except over the Antarctic continent, where they argued the ice is too thick and cold to melt back (see Fig 1). Both poles warmed more at the surface than the midlatitudes or equatorial regions. Figure 1 also shows that polar amplification only occurs below about 300mb (ie, only in the troposphere). The vertical profile of warming in the lower atmosphere and cooling in the stratosphere from GHGs is well understood as a function of increased absorption and re-radiation.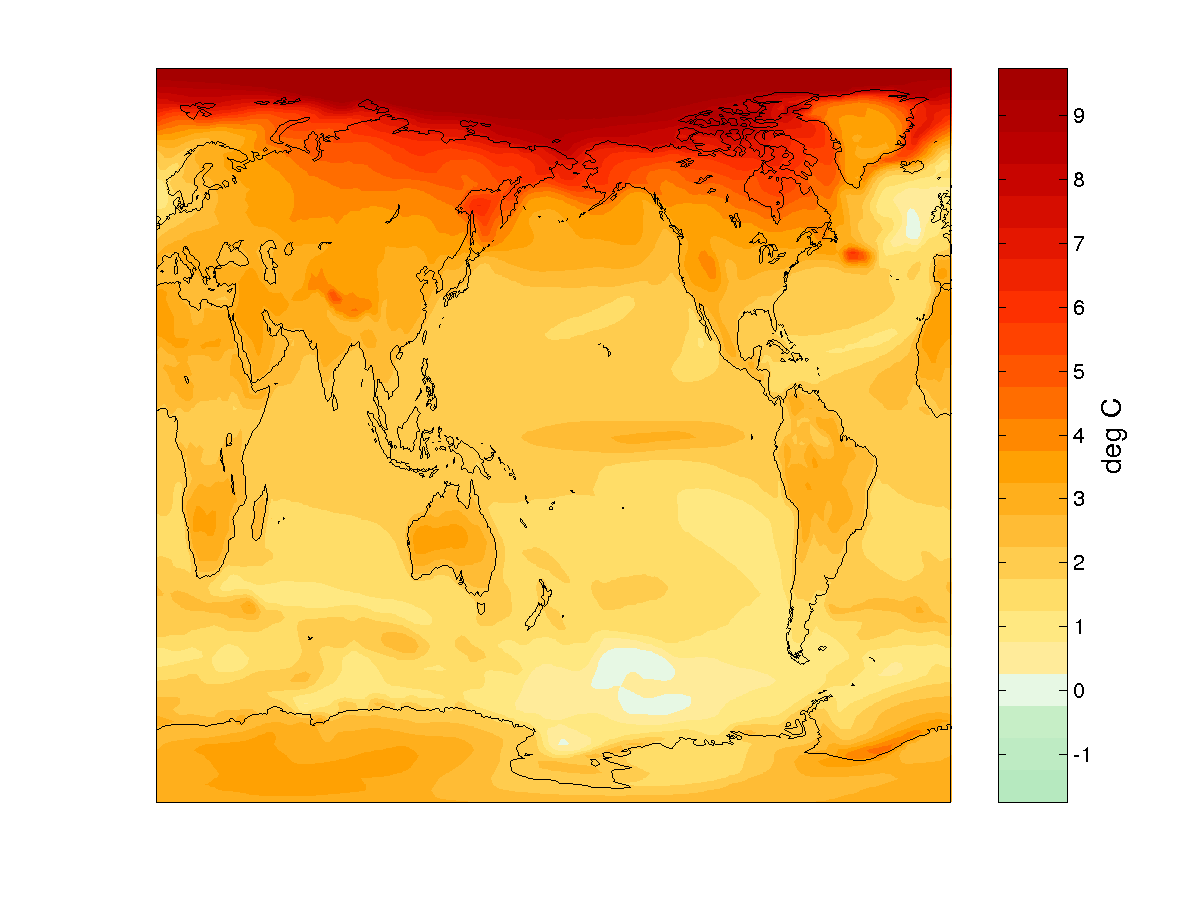 Fig 2. Linear surface warming trend in °C per century from NCAR CCSM3 averaged from 9 ensemble members using the SRES A1B scenario. (click to enlarge)
Observed polar climate change from the instrumental record is not symmetric. Except along the Antarctic Peninsula (Vaughan et al., 2003), most evidence of significant warming is from the Arctic. In addition, total sea ice extent in the Southern Ocean has had no significant trend since satellites began taking data in 1979 (Cavalieri et al 2003). Newer climate models generally also have very modest or no polar amplification over the Southern Ocean and Antarctica in hindcasts of the last century. The presence of a deep and circulating ocean component is key because ocean heat uptake increases most in the Southern Ocean as the climate warms (see Gregory 2000). The asymmetry at the poles does not however result from a difference in feedback strength associated with the ice or atmosphere. In fact, when these same climate models are run to equilibrium (in the same way that Manabe and Stouffer ran their model so that ocean heat uptake is not a factor) the hemispheres have nearly equal polar amplification.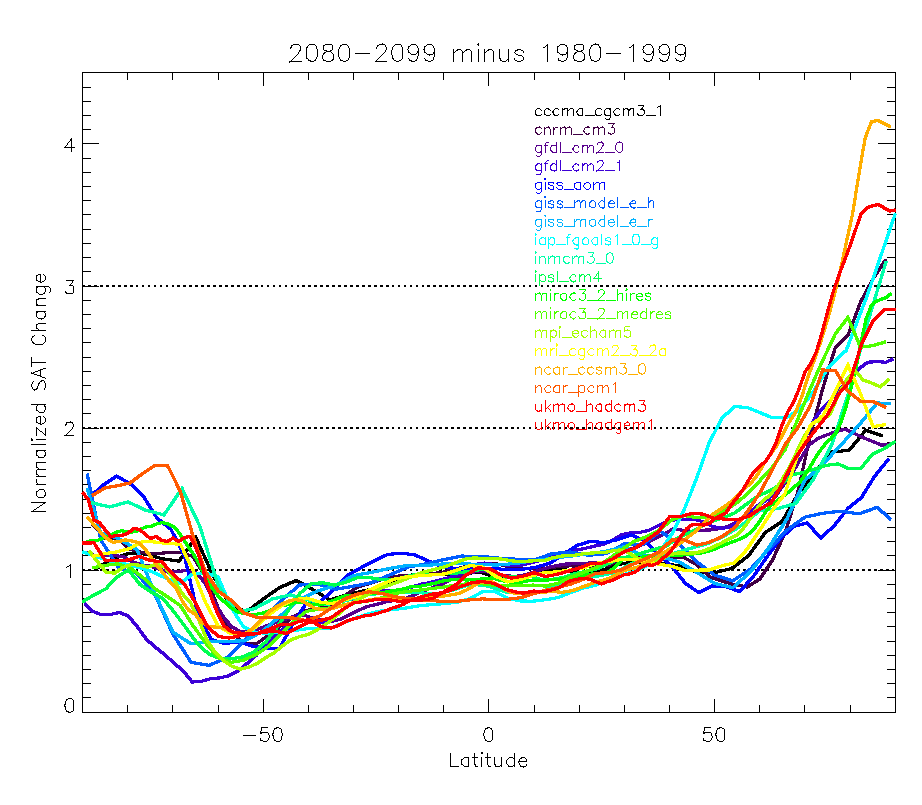 Fig 3. Zonal mean surface temperature change at 2080-2099 relative to 1980-1999 for models archived at PCMDI for the IPCC AR4. The temperatures are normalized by the global mean to emphasize the relative polar amplification across models. (click to enlarge)
In addition to the asymmetry from ocean heat uptake, models have been used to attribute a considerable fraction of the warming on the Antarctic Peninsula and the lack of warming elsewhere on Antarctica to a decreasing trend in stratospheric ozone levels in the past few decades (Shindell and Schmidt, 2004). Due to the successful treaty to reduce ozone-depleting chlorofluorocarbons (CFCs) emissions, ozone levels in the stratosphere are expected to recover over Antarctica by about 2040, so eventually Antarctica begins to warm somewhat in climate model predictions of the 21st century (see Fig 2) (WMO, 2002).
It is well established that climate models exhibit Arctic amplification of future climate change (see Fig 3). In addition, averaging over numerous hindcasts from a single model started with differing initial conditions (known as an ensemble average) yields significant Arctic amplification in simulations of the last century. However, single realizations with a climate model do not universally show Arctic amplification in the past [Bitz and Goosse, in prep]. Thus models and observations alike show uncertainty in Arctic amplification in the last century. Nonetheless Arctic amplification in models (and most likely in nature too) is a robust result of forced climate change, provided the forcing is sufficiently large to overcome internal climate variability. Antarctic amplification only occurs if a model is run long enough so ocean heat uptake in the Southern Ocean does not damp the positive feedbacks and if trends in stratospheric ozone do not cause compensatory cooling. Predictions with climate models indicate that Arctic amplification will be significant (above the 95% confidence level) in one to two decades, while significant Antarctic polar amplification will take much longer. A lack of polar amplification over relatively short periods of time is therefore understandable and does not undermine the credibility of climate models or climate theory in any way.
References:
ACIA, 2005. Arctic Climate Impacts Assessment, Cambridge University Press, New York, U.S., 1042pp.
Cavalieri, D. J., C. L. Parkinson, and K.Y. Vinnikov, 30-Year satellite record reveals contrasting Arctic and Antarctic decadal sea ice variability. Geophys. Res. Lett., doi:10.1029/2003GL018031, 2003.
Gregory, J.M., Vertical heat transport in the ocean and their effect on time-dependent climate change, Clim. Dyn., 16, 501-515, 2000.
Holland, M.M., and C.M. Bitz, Polar amplification of climate change in the Coupled Model Intercomparison Project, Clim. Dyn., 21, 221–232,2003.
Manabe, S. and R.J. Stouffer, Sensitivity of a global climate model to an increase of CO2 concentration in the atmosphere, J. Geophys. Res., 85, 5529–5554, 1980.
Moritz R.E., C.M. Bitz, and E.J. Steig, Dynamics of recent climate change in the Arctic, Science, 297, 2002.
Shindell, D.T. and G.A. Schmidt, Southern Hemisphere climate response to ozone changes and greenhouse gas increases, Geophys. Res. Lett. doi:10.1029/2004GL020724, 2004.
Vaughan, D. G. et al. Recent rapid regional climate warming on the Antarctic Peninsula. Climatic Change, 60, 243-274 2003.