Living in central Pennsylvania, it would seem remiss of me not to comment on Groundhog Day today. For those not familiar with the event, Groundhog Day, which takes place on February 2 every year, is the modern American version of an age-old tradition originating in Europe centuries ago. The modern Groundhog Day is celebrated in the United States in Punksutawney Pennsylvania (about 100 miles west of Penn State University, where I teach). According to legend, if the groundhog–who is named Punxsutawney Phil–sees his shadow, there will be six more weeks of winter weather. If he does not see his shadow, there will be an early spring. After Phil emerges from his burrow on February 2, he speaks to an event official in "Groundhogese", and his prediction is then translated for the awaiting public. The event was popularized in the 1993 movie of the same name, starring Bill Murray.
Sadly, it appears that global warming may soon add Phil to the ranks of the unemployed. With the warming of 4-8ºC (7-14ºF) predicted over North America by the end of this century if we continue to increase greenhouse gas concentrations at current rates, the answer will become simple. Spring will come early every year. While this may seem like a pleasant outcome of climate change, it could in fact lead to serious problems for plants, animals, and entire ecosystems. Living things have adapted to the timing of the seasons over many thousands of years. Here, we are changing the timing of the seasons on timescales of decades. Plants and animals just don't adapt well to changes on such short timescales.
January temperatures this year were 3-9ºC (5-16 ºF) warmer than the late 20th century average over most of the U.S. (see Figure).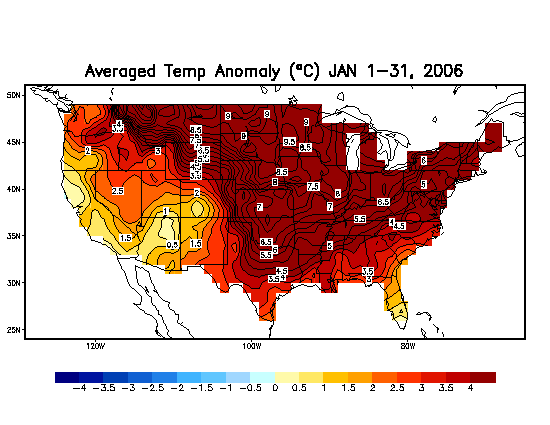 Departure of January '06 surface air temperatures from the late 20th century (1971-2000) average [source: NOAA Climate Prediction Center] (click to enlarge)
The widespread pattern of this warmth is what was so unusual. Usually when one part of the U.S., say the east coast, is experiencing unusually warm weather, other regions, say the Rocky Mountain states, are experiencing unusually cold weather. This has to do with the natural wiggles of the jet stream from one month to the next. However, the pattern we're seeing so far this year, where essentially the entire U.S. is anomalously warm, only occurs when the jet stream has retreated far north from its usual position. As we have noted before (see here and here), there is no way to ascribe any single anomalous weather event, or even an anomalous season, to global warming and climate change. But what we can say is that the temperature pattern we've seen this January is similar to the kind of pattern that models predict as being normal in just a few decades time given some anthropogenic forcing scenarios. Global warming is likely to "load the dice", making the kind of January temperatures that might seem remarkable by past experience increasingly probable, and hence increasingly more frequent.
In the movie Groundhog Day, Bill Murray's character finds himself having to repeat the same day over and over again (Groundhog Day, of course). At one point he announces "It's cold today, it's cold every day". Were the movie to be remade several decades in the future, the character might instead have to lament: "It's warm this winter, it's warm every winter".