Cet article poursuit la critique des écrits sur le climat d'Allègre et Courtillot, commencée dans la Partie I.
Prélude : C'est de la physique, idiot
…c'est bien sûr une paraphrase de la célèbre citation de Bill Clinton au sujet de l'économie. Le dernier mot est en petits caractères car nous avons appris que ce n'est pas une bonne technique de débat d'insinuer (même par inadvertance) que ceux qui ont du mal à voir la force de l'argumentation pourraient être idiots. Ce que nous souhaitons souligner par cette paraphrase est le simple fait que le lien de cause à effet attendu entre l'augmentation des gaz à effet de serre à longue vie (comme le CO2) et l'augmentation de température ne repose pas sur une vague corrélation inexpliquée entre la température et la concentration des gaz à effet de serre au cours du 20e siècle.
L'augmentation présumée de la température a été prédite bien avant d'être détectable dans l'atmosphère, en fait bien avant de savoir que le CO2 était vraiment en train d'augmenter. Ceci a été prédit pour la première fois par Arrhenius en 1896 à partir d'idées extrêmement simples sur l'équilibre radiatif, puis fut reproduit en utilisant de la physique moderne des rayonnements par Manabe et collaborateurs dans les années 60. Aucune de ces prédictions ne reposait sur des modèles de circulation générale, qui sont apparus dans les décennies suivantes et ont permis des prévisions plus détaillées. Mais la prédiction de base du réchauffement est fondée sur des principes de physique vraiment fondamentaux ayant trait à l'absorption des infrarouges par les gaz à effet de serre, à la théorie radiative du corps noir, et à la thermodynamique de l'atmosphère saturée. Chacun de ces éléments a été vérifié avec une très bonne précision par des expériences de laboratoire et des observations de terrain.
Pendant un temps, une incertitude persistait sur le fait de savoir si la vapeur d'eau allait amplifier le réchauffement avec l'amplitude simulée par les premiers modèles d'équilibre radiatif, mais une ou deux décennies de travail supplémentaire à la fois d'observation et de théorie ont montré qu'il n'y a pas vraiment de raison de douter du calcul de cette rétroaction par les modèles de circulation générale. Modifiée en introduisant l'effet refroidissant des aérosols anthropiques, la théorie rend compte de façon satisfaisante de l'allure de la variation de température des 20e et 21e siècles.
Aucune autre théorie basée sur des principes physiques quantifiables n'a pu faire de même. Si quelqu'un arrivait avec la brillante idée que, disons, le réchauffement global est dû à la pluie de Phlogistique tombant de la Lune, cela n'effacerait pas d'un coup tout ce que l'on sait sur la thermodynamique, sur l'absorption des infrarouges, l'équilibre radiatif, et la température. Au contraire, c'est le boulot de l'avocat du Phlogistique de quantifier les effets du Phlogistique sur l'équilibre radiatif, et de les ajouter de manière cohérente aux forçages climatiques existants. Quasiment toutes les tentatives d'enfoncer la théorie de l'effet de serre anthropique ont perdu de vue ce principe simple mais incontournable.
Dans un article intitulé "Are there connections between the Earth's magnetic field and climate?" publié récemment dans le journal Earth and Planetary Science Letters, Courtillot et ses co-auteurs tentent de jeter le doute sur la responsabilité principale du CO2 dans le changement climatique récent (et probablement futur); avançant au contraire que les fluctuations du champ magnétique terrestre (en partie dues à la variabilité solaire) jouent un rôle important et négligé. Comme la plupart des travaux du genre, celui-ci est construit sur un vide intellectuel –comme si tout ce que nous savions déjà en physique du climat devait être mis au rebut pour une idée nouvelle (et en fait pas si nouvelle). Mais les problèmes ne s'arrêtent pas là. Avec l'aide d'un Commentaire publié par Bard et Delaygue (disponible ici dans EPSL ou ici comme fichier PDF), nous exposerons un ensemble d'erreurs suspectes et d'omissions qui remplissent le papier de Courtillot. Je-m'en-foutisme et ignorance, est l'interprétation de loin la plus charitable que l'on puisse apporter à cet ensemble.
Commençons par noter que, comme concurrent significatif au forçage par les gaz à effet de serre anthropiques des changements climatiques récents, le forçage radiatif directement par les variations de l'irradiance solaire arrive bon dernier. Le flux d'énergie solaire a été suivi précisément par des instruments satellitaires depuis 1978. Mesurée entre les maxima et minima des cycles solaires de 11 ans, en la moyennant sur la surface de la Terre et en prenant en compte l'albédo, l'amplitude du forçage radiatif est plus petite que 0,2 W/m2. La tendance que l'on obtient en moyennant sur plusieurs cycles solaires est encore plus faible. Ceci fait pâle figure à côté des plus de 2 W/m2 de forçage radiatif dû aux gaz à effet de serre à longue durée de vie qui se sont accumulés dans l'atmosphère depuis 1750, et encore plus par rapport au forçage qui nous attend si aucune action n'est prise pour contrôler les émissions. Rien dans la physique du climat ne suggère que la sensibilité du climat aux variations d'irradiance solaire diffère de façon substantielle de la sensibilité au forçage des infrarouges dû aux variations des gaz à effet de serre. Pour ce qui concerne le climat, un watt est (pour l'essentiel) un watt, peu importe qu'il provienne du changement de l'énergie solaire incidente ou de l'émission infrarouge due aux gaz à effet de serre.
Pour faire plus de bruit avec la variabilité solaire, il faut invoquer quelque chose d'autre pour l'impact du soleil sur le climat. Quelque chose d'exotique, comme des variations du champ magnétique. Comme il n'y a pas de mécanisme physique quantifié reliant les variations du champ au climat, Courtillot doit se rattraper en nous montrant quelques supposées corrélations entre les variations de température et du champ magnétique. Pour ne rien arranger, Courtillot n'arrive pas à décider si une augmentation du champ devrait réchauffer le climat ou le refroidir, ce qui fait qu'on ne sait même pas quelle corrélation rechercher. L'absence d'un modèle physique ne permet pas de traiter les différents forçages sur un pied d'égalité ni d'attribuer de manière fiable les causes des changements climatiques. C'est particulièrement néfaste dans le cas où les différents forçages sont fortement corrélés entre eux. Par exemple à l'échelle de l'année au siècle, la variabilité du champ magnétique, des rayons cosmiques, et de l'irradiance solaire varient pratiquement en parallèle, et donc s'il y a une corrélation avec la température (ou la couverture nuageuse) on ne peut pas dire si c'est parce que le climat répond avec une grande sensibilité directement aux variations d'irradiance, ou si quelque chose de plus exotique est en cause. Sur une période pendant laquelle la température, le forçage des gaz à effet de serre, et un quelconque index du champ magnétique augmentent tous, une technique statistique d'attribution qui ignorerait les gaz à effet de serre pour ne considérer que l'index du champ magnétique trouverait bien sûr que le champ magnétique "explique&quot le signal. Si nous ne connaissions rien sur l'impact climatique du CO2, ceci mettrait le champ magnétique sur un même pied d'égalité que le CO2 comme explication, mais ce n'est pas le cas. Nous en savons beaucoup sur l'impact climatique du CO2, et aucune combine avec les rayons cosmiques ou le champ magnétique ne peut faire disparaître cette physique. Ca peut même devenir encore plus confus si on oublie le rôle important des aérosols anthropiques sur le dernier siècle, comme Courtillot le fait bien trop souvent.
La confiance avec laquelle Courtillot met en doute le rôle, accepté de façon générale, du forçage anthropique sur les changements climatiques du dernier siècle est surprenante, au vu des limites fondamentales de tout argument basé seulement sur une corrélation. Mais c'est encore pire que ça : comme le montre Bard et Delaygue, la plupart des corrélations sur lesquelles reposent les pauvres cas de Courtillot et al. sont en fait bidons.
Variabilité solaire et climat : du bon, de la brute, et du truand
Les travaux sur l'influence de la variabilité solaire (et de sa proche cousine, l'influence du champ magnétique terrestre) peuvent être rangés en trois catégories. Il y a du bon, dans lequel des scientifiques consciencieux essayent de débrouiller avec leur meilleure objectivité un signal complexe et probablement faible (mais cependant important). Comme exemples de travaux de cette catégorie, je citerais les efforts inlassables de Judith Lean pour relier l'irradiance au nombre de taches solaires; les travaux de Bard et ses collègues sur le développement d'indicateurs isotopiques du soleil comme le 10Be; les travaux de Shindell sur la réponse à la variabilité des ultraviolets; et les travaux de Foukal et al. sur les facteurs de variation de l'irradiance solaire. J'ajouterais aussi le travail récent de Camp et Tung de diagnostic de l'amplitude du cycle solaire dans la température dans la catégorie du "bon" – que ce soit un papier facile à détourner par les sceptiques de l'effet de serre n'enlève rien à sa qualité scientifique. En fait, je dirais que la plupart des travaux sur le sujet du climat et de la variabilité solaire relèvent de la catégorie du bon. C'est plutôt bien. En fait, les scientifiques ont depuis longtemps reconnu l'importance de la variabilité solaire comme l'un des facteurs gouvernant le climat (voir la synthèse très académique sur ce sujet de Bard et Frank, accessible ici à EPSL et ici en PDF). La connaissance de la variabilité solaire doit être (et elle l'est) prise en compte pour expliquer le changement du climat du dernier siècle, et pour tenter d'estimer la sensibilité climatique à partir des variations récentes du climat. De plus, le Petit Age Glaciaire nécessite une explication, et la variabilité solaire représente actuellement la seule possibilité fiable (il est moins clair que l'Optimum Médiéval soit un phénomène suffisamment cohérent pour nécessiter une telle explication).
Et puis, il y a de la brute, avec comme exemples typiques deux papiers de Scaffetta et West discutés sur RealClimate ici et ici. C'est juste de la science 'normalement' mauvaise, dans le sens que l'approche suivie par les auteurs est erronée quelque part, ce qui aboutit à des conclusions fausses. Peut-être qu'une partie de ce travail n'aurait jamais dû passer à travers la critique des pairs, mais du moment que les méthodes sont bien expliquées et honnêtement décrites, les investigateurs suivants seront capables d'identifier les erreurs et donc de confirmer ou d'infirmer les résultats.
Et puis… il y a du truand. Ces papiers franchissent la ligne séparant l'erreur simple de la tromperie active. Les papiers de cette catégorie commettent ce que Damon et Laut nomment judicieusement un "ensemble d'étranges erreurs". Les papiers de cette catégorie utilisent souvent des manipulations de données criticables (et souvent cachées et non expliquées) pour fabriquer des corrélations quand elles n'existent pas. Les travaux des fanatiques danois du soleil, largement discutés par Damon et Laut, sont des exemples typiques de cette catégorie de truand. Nous laissons au lecteur le soin de décider, après la discussion qui suit, si le papier de Courtillot est simplement du brut, ou s'il a versé dans le truand.
Manipulation contre académisme
Le style général du discours de Courtillot et al. a plus à voir avec le genre polémique et partial que l'on trouve chez Lomborg ou dans l'article simulant un PNAS de Robinson et al., distribué avec le projet original de pétition contre le réchauffement global, qu'il a à voir avec le genre académique qui essaye d'approcher la vérité. Il cite des papiers sans aucun sens critique et seulement s'ils peuvent étayer la thèse de l'auteur (comme par exemple l'utilisation non critique du papier biaisé de Scafetta et West cité précédemment pour appuyer une attribution importante du changement climatique du 20e siècle à la variabilité solaire). Il y a aussi pas mal de pagaille, par exemple les gaz à effet de serre sont listés en derniers parmi d'autres causes de changement climatique, sans indication de l'amplitude relative des différents forçages. Entr'autres problèmes on peut citer :
Courtillot exagère le forçage radiatif des nuages d'un facteur quatre, car il attribue pratiquement tout l'albédo terrestre aux nuages et oublie de prendre en compte l'effet de serre des nuages.
Il dit que "le refroidissement entre 1940 et 1970 est souvent négligé comme faisant partie du bruit" alors qu'en fait c'est l'étude approfondie de cette période qui amena les scientifiques à reconnaître l'importance de l'effet des aérosols anthropiques, à l'époque du second rapport d'évaluation du GIEC. En ignorant encore une fois l'importance bien documentée des aérosols anthropiques, il dit plus loin : "Notons que la stabilisation ou diminution de la température entre 1940 et 1970 correspond bien aux séries solaire et magnétiques, au contraire de l'accélération monotone de la hausse du CO2". Non seulement, c'est une dissimulation à la Crichton d'un phénomène bien connu, mais comme nous le verrons plus loin la supposée "correspondance" est le résultat d'une manipulation discutable des données.
Courtillot indique une étude de Crowley utilisant un modèle d'équilibre énergétique pour étayer sa thèse qu'il manquerait de la physique dans ces modèles, ce qui affecterait la réponse au forçage solaire. Précisément, Courtillot pointe un désaccord entre modèles et données au début du 20e siècle. Toutefois, Crowley n'a pas inclus l'effet indirect des aérosols, et un modèle d'équilibre énergétique n'a pas de géographie et on ne peut donc s'attendre à ce qu'il simule fidèlement des caractéristiques comme la différence du cycle saisonnier entre continent et océan ou la couverture de glace et de neige. Les modèles de circulation générale forcés avec une combinaison de forçages naturels (y compris le solaire) et anthropiques (gaz à effet de serre et aérosols) n'ont aucun problème pour reproduire le climat du début du 20e siècle. De plus, le modèle utilisé par Crowley simule précisément la réponse climatique au forçage solaire plus tôt dans le millénaire, il est donc difficile de voir pourquoi la "physique manquante" devrait seulement se faire sentir en 1850. Il est toujours suspect lorsque des citations isolées sont utilisées pour tirer une conclusion exactement opposée à celle de l'auteur même du papier. Pour rappel , voici ce que Crowley lui-même dit dans ce papier de ses propres résultats :
Il y a ainsi deux arguments indépendants de la nature anormale des températures de la fin du 20e siècle. Premièrement, le réchauffement du dernier siècle est sans précédent sur le dernier millénaire. Deuxièmement, ce modèle capable de simuler une bonne partie de la variabilité de la température de l'hémisphère nord sur la période 1000-1850 indique que seulement 25% environ du réchauffement du 20e siècle peuvent être attribués à la variabilité naturelle. L'essentiel du réchauffement du 20e siècle est cohérent avec celui prédit par l'augmentation des gaz à effet de serre. Ces deux arguments supportent de plus l'idée que l'effet de serre anthropique est déjà là.
Courtillot cite également la simulation de Zorita et al. (2004), qui utilisent un modèle couplant atmosphère et océan, pour étayer son affirmation que les modèles ne réussissent pas à représenter la réponse du 20e siècle à la variabilité solaire ou magnétique. Toutefois, comme discuté ici et dans les références citées parues dans des journaux à comité de lecture, cette simulation souffre d'une initialisation inappropriée responsable de refroidissements artéfacts à certaines périodes de la simulation, ainsi que d'une forte dérive du climat qui nécessite une correction de la tendance des sorties avant de les analyser. A part ça, le modèle néglige explicitement le forçage des aérosols anthropiques, donc comment pourrait-on s'attendre à ce qu'il simule correctement le climat du 20e siècle ?
Courtillot soutient que la corrélation entre les sauts ou "jerks" géomagnétiques et les avancées des glaciers alpins étaye une influence solaire et magnétique du climat. Comme le soulignent Bard et Delaygue, ceci nécessite une réponse aux variations du champ magnétique exactement opposée à celle avancée par Marsh et Svensmark (2000), qui est celle supposée par ailleurs dans le papier de Courtillot. Courtillot concocte une explication ad hoc de cette hypothèse, mais celà l'éloigne encore plus de ce qui peut être justifié par de la physique connue et quantifiée. On peut trouver toute sorte de corrélation si on se permet de changer le signe de la relation attendue lorsque ça arrange, et cela sans contrainte physique.
Il n'y a pas plus génant pour une théorie que sa capacité à expliquer un phénomène qui en définitive n'existe pas. Courtillot fait grand cas du fait que la périodicité millénaire des débris glaciaires à hématite des données de Gerard Bond -considérés alors comme un indicateur de la température du nord de l'Atlantique- s'aligne bien avec les variations géomagnétiques. Cependant, comme le notent Bard et Delaygue, des travaux postérieurs avec une meilleure chronologie, plus de carottes et une meilleure résolution temporelle, montrent que l'enregistrement de Bond n'est pas un indicateur de température représentatif de toute la région nord atlantique. Ces enregistrements plus complets ne montrent pas ou peu de relation avec les variations géomagnétiques.
…et maintenant pour la partie de vrai truand
Bard et Delaygue ont mis à jour un certain nombre d'erreurs d'une nature plus troublante. Courtillot et al. commettent l'erreur de la "Terre plate" d'où provient le titre de notre article : ils donnent une impression trompeuse de la comparaison entre les forçages dû à la variabilité solaire et dû aux gaz à effet de serre, en oubliant de prendre en compte la géométrie sphérique de la Terre et son albédo. Après l'humiliation publique endurée par Le Mouël à ce sujet pendant les débats de l'Académie (voir la partie 1), dans son article paru dans La Lettre Courtillot se donna beaucoup de mal pour montrer qu'il avait bien compris les conséquences de la rotondité de la Terre. Pourtant, cette compréhension nouvelle n'a donné lieu à aucun signe de corrigé envoyé à EPSL, ce qui nous oblige à conclure que la tromperie est délibérée. De plus, dans leur Figure 1, Courtillot et al. montrent des données géochimiques provenant d'une stalagmite des Alpes Centrales, données qui prétendent établir une corrélation très forte entre des variations climatiques et un indicateur de l'activité solaire. Comme le notent Bard et Delaygue, Courtillot et collaborateurs ont caché le fait que la corrélation est aussi bonne précisément parce que la chronologie des séries comparées a été finement ajustée afin de maximiser expressément la corrélation. Les données originales non ajustées ne montrent pas une si bonne corrélation.
La pièce de résistance de Courtillot et al. est le graphe suivant, qui prétend montrer que durant presque tout le siècle dernier la température a été fortement corrélée avec l'activité solaire et la variabilité du champ magnétique. Les trois courbes du graphe sont, d'après le papier, l'enregistrement de la température moyenne globale de Phil Jones (Tglobe, ronds rouges), une reconstitution de l'irradiance solaire totale (S(t), triangles roses; Courtillot cite la reconstitution de Solanki dans le texte), et un index de la variabilité du champ magnétique pour un site en Ecosse (ESK, en bleu) et le site de Sitka en Alaska (SIT, en vert). Les courbes ont été centrées pour avoir les mêmes moyenne et déviation standard sur leur période d'enregistrement afin qu'elles soient plus proches. Notons que la courbe S(t) s'étend sur une période plus courte que les autres; ceci aura son importance.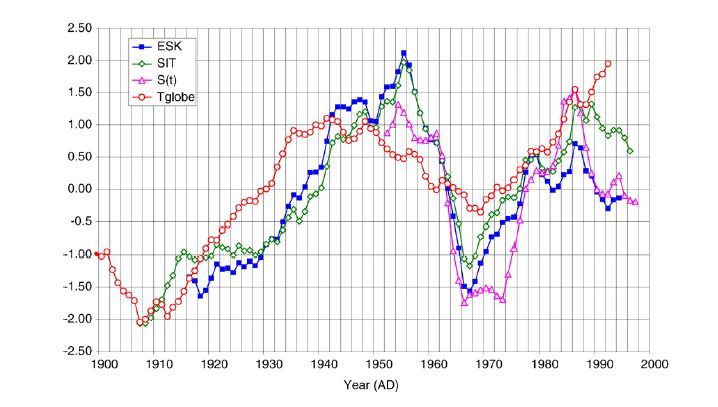 Impressionant, hein? Et bien cela le serait aux petits détails près que "S(t)" n'est en fait pas l'irradiance solaire totale, "Tglobe" n'est en fait pas la température moyenne globale de Phil Jones comme annoncé, et ni "ESK" ni "SIT" ne ressemblent vraiment aux indices plus larges géographiquement de variabilité magnétique qui sont des indicateurs plus fiables de l'activité solaire. Bard et Delaygue ont trouvé curieux que Courtillot n'utilise que la toute fin de la reconstitution de Solanki alors que le siècle entier est disponible. Ils ont vérifié ce que la courbe donnerait si elle était normalisée sur toute sa longueur. C'est la courbe grise en gras dans leur version corrigée de la figure ci-dessous. Pour comparaison, la courbe violette avec des triangles correspond à la reconstitution de Solanki tronquée sur la même période que celle choisie par Courtillot.
Vous saisissez ? En découpant le dernier bout de la courbe et en le normalisant à une déviation standard, Courtillot gonfle la variabilité et rend la corrélation meilleure qu'elle ne le serait en utilisant la totalité de la courbe. Comme morceau de manipulation trompeuse de données, celui-ci doit rejoindre dans les tréfonds de l'Histoire le lissage sélectif utilisé pour certains enregistrements solaires, comme discuté par Damon et Laut dans leur critique des travaux danois sur le soleil. Maintenant, dans sa réponse à Bard et Delaygue (il y a toujours une Réponse à un Commentaire), Courtillot s'enfonce encore un peu plus. Il déclare que la raison pour laquelle il a utilisé une série solaire tronquée est que les données ne proviennent pas de Solanki (comme suggéré dans le papier) mais en fait de sorties du modèle SOLAR2000 de Tobiska. Le papier de Tobiska n'est même pas cité par Courtillot et al. (2007), alors que Solanki (2002) y est cité comme dans les papiers précédents de ces auteurs sur des sujets similaires. Il n'y a aucune raison valable pour utiliser SOLAR2000 dans une étude comme celle tentée par Courtillot et al. car, comme le notent Bard et Delaygue, le modèle SOLAR2000 est limité à la petite fraction ultraviolette du spectre solaire, ce qui n'en fait pas le bon choix, sauf si on s'intéresse explicitement à des phénomènes liés au forçage des ultraviolets (voir Lean, 2002). On peut penser que Courtillot et al. sont allés pêcher ces données dans la mare la plus proche, parce que c'était la première courbe trouvée qui leur donnait quelque excuse pour tronquer l'enregistrement de façon à obtenir le résultat voulu.
Bard et Delaygue ont remarqué autre chose d'étrange. La courbe "Tglobe" de Courtillot ne ressemble pas vraiment à celle publiée par Phil Jones. La courbe de Phil Jones, provenant de ses vrais fichiers de données, est représentée dans la version corrigée par Bard et Delaygue de la figure. Ils ont également ajouté la reconstitution de la NASA pour comparer. Ces deux courbes sont en accord, mais aucune ne montre la succession rapide de réchauffement/refroidissement entre 1940 et 1970 visible sur la figure de Courtillot. Alors si les données de Courtillot ne sont pas les températures moyennes globales de Phil Jones, qu'est-ce-que Courtillot a représenté ? Nous ne le saurons peut-être jamais. Dans sa réponse à Bard et Delaygue, Courtillot assure que ses données proviennent d'un fichier nommé : monthly_land_and_ocean_90S_90N_df_1901-2001mean_dat.txt. Bard et Delaygue soulignent cependant que Phil Jones n'a connaissance d'aucun fichier de la sorte dans sa base de données, et ne reconnait dans la supposée courbe "Tglobe" aucune version de la température moyenne globale que son groupe ait pu produire.
Quelle que soit l'origine des supposées données de "Tglobe" utilisées dans le papier de Courtillot et al., il n'y a aucune raison valable -dans un papier publié en 2007- pour tronquer la série de températures en 1992 comme ils l'ont fait. Il y a, cependant, une très bonne raison illégitime, dans le fait que tronquer cette courbe de la sorte aide à cacher l'amplitude de la tendance au lecteur, ainsi qu'à raccourcir la période pendant laquelle la discordance entre l'activité solaire et la température est la plus flagrante.
Dans le graphe corrigé, Bard et Delaygue représentent également l'index géomagnétique "aa". C'est un index basé sur deux stations situées aux antipodes, index qui se trouve bien corrélé avec la variabilité géomagnétique globale estimée à partir d'un réseau plus large de stations. On peut montrer que si on s'intéresse aux températures moyennes globales, l'index aa représente une meilleure base de comparaison que les enregistrements de station unique située à haute latitude nord utilisés par Courtillot. Notez que l'index aa suit bien l'irradiance solaire de Solanki, à la différence des mesures de station unique.
Dans le graphe corrigé, Tglobe, aa et S(t) se suivent en augmentant de 1900 à 1940, mais notez que les gaz à effet de serre augmentent aussi de façon monotone sur cette période, et après bien sûr. Une attribution purement statistique pourrait imputer presque tous les changements entre 1900 et 1940 à la variabilité solaire ou magnétique, mais la même technique pourrait les imputer aux gaz à effet de serre. Seule la physique permet de trancher sur cette responsabilité. Cependant, depuis 1940, il n'y a pas la moindre apparence de corrélation entre Tglobe et S(t) ni avec aucun des indices magnétiques. L'index solaire et l'index aa présentent tous deux une bosse vers 1950, alors que la température est constante ou en diminution. L'analyse erronée de Courtillot repousse, elle, l'absence de corrélation jusqu'en 1985.
Entre le 'show' embarrassant lors des débats à l'Académie et le pastiche de science exposé par Bard et Delaygue avec le papier d'EPSL, vous penseriez que Courtillot serait à la recherche du plus proche trou de souris pour s'y cacher. Bien loin de cela, il a été aperçu récemment donnant une présentation au titre de "Quel réchauffement climatique ?" à cet événement prestigieux regroupant de nombreux physiciens et chimistes de renom. Certaines personnes ne connaissent pas la honte.
Postlude : de l'or et du plomb
Bard et Delaygue concluent avec une figure, reproduite ci-dessous, qui illustre bien ce que nous disons depuis des années à RealClimate. Sur cette figure ils ont représenté la température moyenne globale de Phil Jones avec un index global magnétique (l'index aa), un index du flux de rayons cosmiques (Climax), et la série composite PMOD des mesures satellitaires de l'irradiance solaire. Ces courbes sont moins lissées que celles du graphe précédent. La variabilité inter-annuelle de la température est liée à des causes naturelles comme les éruptions volcaniques majeures, les événements ENSO, et la variabilité solaire. Cependant, seule la courbe Tglobe est caractérisée par une tendance à l'augmentation très significative -une tendance qui ne peut être expliquée par ces causes naturelles.
Répétez-le trois fois chaque soir avant d'aller vous coucher : la température augmente. L'influence solaire monte et descend, monte et descend, monte et descend. Vous ne pouvez pas plus transformer ça en une tendance que faire de l'or à partir du plomb.
Une note ajoutée aux épreuves, concernant la "Note ajoutée aux épreuves"
La discussion ci-dessus était basée sur les versions du Commentaire de Bard et Delaygue et de la Réponse de Courtillot telles qu'elles étaient disponibles sur le site Internet de Elsevier jusqu'au 15 décembre. Depuis le moment de son écriture, des changements étranges ont eu lieu sous la direction de l'Editeur responsable, Robert van der Hilst du MIT. Il a effacé la "Note ajoutée aux épreuves" de la version finale du Commentaire de Bard et Delaygue. Bard et Delaygue ne l'ont découvert qu'en recevant les épreuves de leur Commentaire. Ce qui est encore plus dérangeant est que van der Hilst a autorisé Courtillot à modifier le texte de sa Réponse en se basant sur ce que Bard et Delaygue ont écrit dans la "Note ajoutée aux épreuves" maintenant effacée. Bard et Delaygue n'ont eu aucune possibilité de voir ou de commenter ces changements. J'ai laissé la discussion ci-dessus comme elle l'était, afin que le lecteur puisse se faire une meilleure opinion de cette étrange histoire de succession commentaire/réponse.
Dans la version révisée de sa "Réponse", Courtillot admet maintenant que la série de température appelée "Tglobe" ne provient d'aucune base de données de Phil Jones. Courtillot déclare maintenant que ses données proviennent d'une étude de Briffa et al. (2001), en indiquant l'adresse sur Internet du fichier entreposé au NCDC. Comme spécifié dans cette étude ainsi qu'en entête du fichier, les données ont été "recalibrées pour estimer les températures moyennes d'avril à septembre pour les régions continentales situées au nord de 20°N". Les données de température utilisées par Courtillot ne correspondent donc absolument pas à Tglobe, ne représentent pas l'hémisphère entière, et de plus ce ne sont même pas des moyennes annuelles.
Rob van der Hilst — ancien visiteur de l'IPGP (l'institution de Courtillot)– assure que ces modifications ont été faites dans l'intérêt de la communication scientifique. Je laisse au lecteur juger si ces actions ont été appropriées, ou si elles n'ont été qu'une tentative pour tirer Courtillot de l'embarras. Dans l'intérêt de la communication scientifique, j'annexe ci-dessous le texte entier de la "Note ajoutée aux épreuves" qui a été enlevée du Commentaire de Bard et Delaygue :
---
Note ajoutée aux épreuves :
Dans leur Réponse à notre Commentaire, Courtillot et al. déclarent que pour la courbe d'irradiance totale S(t) ils ont utilisé le produit du modèle SOLAR2000 de Tobiska (2001) au lieu de la série de plus d'un siècle de Solanki (2002) citée dans leur papier original (Courtillot et al. 2007). Cependant, le modèle SOLAR2000 est restreint à la composante UV et leur irradiance solaire totale est fortement biaisée, comme souligné par Lean (2002).
Pour la courbe de température globale Tglobe, citée comme étant de Jones et al. (1999) dans Courtillot et al. (2007), ces derniers déclarent maintenant dans leur réponse qu'ils ont utilisé le fichier de données suivant : monthly_land_and_ocean_90S_90N_df_19012001mean_dat.txt. Nous n'avons pu trouver ce fichier, même en contactant son auteur présumé qui nous a spécifiquement déclaré qu'il ne s'agissait pas de l'un de ses fichiers (Dr. Philip D. Jones, communication écrite datée du 23 oct. 2007).
Tobiska, W. K. 2001, Validating the solar EUV proxy, E10.7, J. Geophys. Res. 106, 29,969-29,978.
Lean, J.L., 2002. Comment on "Validating the solar EUV proxy, E10.7" by W. K. Tobiska. J. Geophys. Res. 107, (A2), 1027, DOI: 10.1029/2001JA000137.