This article continues the critique of writings on climate change by Allègre and Courtillot, started in Part I . If you would like to read either post in French, please click on the flag icon beside the post title above.
Prelude: It's the physics, stupid
…which of course is a paraphrase of Bill Clinton's famous quote regarding the economy. We put the last word in small letters since we've learned that it is not a good debating technique to imply (even inadvertently) that those who are having trouble seeing the force of our arguments might be stupid. What we wish to emphasize by this paraphrase is the simple fact that the expectation of a causal link between increasing long-lived greenhouse gases (like CO2) and increasing temperature does not rest on some vague, unexplained correlation between 20th century temperature and 20th century greenhouse gas concentration.
The anticipated increase in temperature was predicted long before it was detectable in the atmosphere, indeed long before it was known that atmospheric CO2 really was increasing; it was first predicted by Arrhenius in 1896 using extremely simple radiation balance ideas, and was reproduced using modern radiation physics by Manabe and co-workers in the 1960's. Neither of these predictions rests on general circulation models, which came in during subsequent decades and made more detailed forecasts possible.
Still, the basic prediction of warming is founded on very fundamental physical principles relating to infrared absorption by greenhouse gases, theory of blackbody radiation, and atmospheric moist thermodynamics. All these individual elements have been verified to high accuracy in laboratory experiments and field observations. For a time, there was some remaining uncertainty about whether water vapor feedback would amplify warming in the way hypothesized in the early energy balance models, but a decade or two of additional observational and theoretical work has shown that there is no real reason to doubt the way in which general circulation models calculate the feedback. When modified by inclusion of the cooling effect of anthropogenic aerosols, the theory gives a satisfactory account of the pattern of 20th and 21st century temperature change.
No other theory based on quantified physical principles has been able to do the same. If somebody comes along and has the bright idea that, say, global warming is caused by phlogiston raining down from the Moon, that does not make everything we know about thermodynamics, infrared absorption, energy balance, and temperature suddenly go away. Rather, it is the job of the phlogiston advocate to quantify the effects of phlogiston on energy balance, and incorporate them in a consistent way beside the existing climate forcings. Virtually all of the attempts to poke holes in the anthropogenic greenhouse theory lose sight of this simple and unassailable principle.
In a paper entitled "Are there connections between the Earth's magnetic field and climate?" published recently in Earth and Planetary Science Letters, Courtillot and co-authors attempt to cast doubt on carbon dioxide as a primary driver of recent (and presumably future) climate change; he argues instead that fluctuations in the Earth's magnetic field (partly driven by solar variability) have an important and neglected role. Like most work of this genre, it is carried out in an intellectual void — as if everything we know currently about physics of climate had to be set aside in order to make way for one new (or in fact not-so-new) idea. But the problems don't end there. With the help of a Comment published by Bard and Delaygue (available here at EPSL or here as pdf) , we'll expose a pattern of suspicious errors and omissions that pervades Courtillot's paper. Sloppiness and ignorance is by far the most charitable interpretation that can be placed on this pattern.
Let's set the stage by noting that, as a significant competitor to anthropogenic greenhouse forcing of recent climate change, the direct radiative forcing by solar irradiance variations is dead on arrival. The solar output has been monitored by accurate satellite instruments since 1978. Measured peak to trough over the 11 year solar cycle, averaging over the Earth's surface and allowing for albedo, the radiative forcing amplitude is under 0.2 W/m2. The trend left after averaging over the solar cycle is even smaller. This pales by comparison with over 2 W/m2 of radiative forcing arising from long-lived greenhouse gases that have accumulated in the atmosphere since 1750; it pales yet more by comparison with the forcing to come in the future if action is not taken to control emissions. There is nothing in climate physics to suggest that the sensitivity of climate to solar irradiance variation differs substantially from the sensitivity to infrared radiative forcing arising from greenhouse gas changes. As far as the climate cares, a Watt is (for the most part) a Watt, regardless of whether it comes from changes in the incoming solar energy or greenhouse-induced changes in the infrared radiation loss.
To get a bigger bang out of solar variability, one needs to invoke something else about the way the Sun affects climate. Something exotic, like magnetic field variations. Since there is no quantified physical mechanism linking field variations to climate, Courtillot must fall back on showing us a few supposed correlations between temperature variations and magnetic field variations. To make matters worse, Courtillot can't always make up his mind even about whether an increasing field index should warm the climate or cool it, making it unclear just what correlations one is looking for. The lack of a physical model makes it impossible to treat the various forcings on an equal footing and make a reliable attribution of causes. This is particularly fatal when the various forcings are strongly correlated with each other. For example, on time scales of years to centuries, the magnetic field variability, cosmic rays and solar irradiance vary nearly in lock-step, so if there is a correlation with temperature (or cloud cover) one cannot tell whether it means that climate is responding with high sensitivity directly to luminosity changes, or whether something more exotic is going on. Over a period when temperature, greenhouse gas forcing, and some magnetic field index are all going up, a statistical attribution technique which ignores greenhouse gases and considers only the magnetic field index will of course find that the magnetic field "explains." the signal. If we knew nothing about how CO2 affects climate, this would put the magnetic field on an equal footing with CO2 as a candidate explanation but this is not the case. We know a great deal about how CO2 affects climate and no amount of additional fiddling with cosmic rays or magnetic fields can make this physics go away. One can get even more confused by forgetting about the important role of anthropogenic aerosols in the past century, as Courtillot all too often does.
The confidence with which Courtillot casts doubt on the generally accepted role of anthropogenic forcing in climate change of the past century is surprising, in view of the essential limitations of any argument from correlation alone. But it's worse than just that: as Bard and Delaygue show, most of the correlations upon which Courtillot et al. rest their flimsy case are in fact bogus.
Solar variability and climate: The Good, the Bad, and the Ugly
Work on the influence of solar variability (and on its close cousin, the influence of the Earth's magnetic field) tends to fall into one of three categories. There is the Good, in which careful scientists do their objective best to unravel a complex and probably small (but nonetheless important) signal. As examples of work in this category, I would mention Judith Lean's tireless efforts on relating luminosity to sunspot number, the work of Bard and colleagues on developing isotopic solar proxies like 10Be, Shindell's work on response to solar ultraviolet variability, and the work of Foukal et al on factors governing solar irradiance variations. I would also include the recent work by Camp and Tung diagnosing the amplitude of the solar cycle in temperature in the "Good" category; that it is an easy paper for greenhouse skeptics to misquote takes away nothing from the quality of the science. In fact, I'd say most work on climate and solar variability falls into the Good category. That's rather nice. In fact, scientists have long recognized the importance of solar variability as one of the factors governing climate (see the very scholarly review of the subject by Bard and Frank, available here at EPSL or here as pdf) An understanding of solar variability needs to be (and is) taken into account in attribution of climate change of the past century, and in attempts to estimate climate sensitivity from recent climate variations. Further, the Little Ice Age demands an explanation, and solar variability at present provides the only viable possibility. (It's less clear that the Medieval Warm period is a sufficiently coherent phenomenon to require an explanation).
Then, there is the Bad, exemplified by two papers by Scafetta and West that have been discussed on RealClimate here and here. This is just normally bad science, in the sense that there is something wrong in the approach taken by the authors which leads to erroneous conclusions. Perhaps some of this work should never have made it through peer review, but as long as the methods are well documented and honestly described, subsequent investigators will be able to identify the errors and either salvage or discard the results.
And then … there is the Ugly. These papers cross the line from the merely erroneous into the actively deceptive. Papers in this category commit what Damon and Laut judiciously call a "Pattern of strange errors.". Papers in this category often use questionable (and often hidden and undocumented) data manipulations to manufacture correlations where none exist. The work by the Danish solar boosters, discussed extensively by Damon and Laut, typifies the Ugly category. We'll leave it to the reader to decide, after the discussion to follow, whether Courtillot's paper is merely Bad, or has crossed over into the Ugly.
Spin vs. Scholarship
The general style of discourse in Courtillot et al. has more in common with the kind of one-sided polemic one finds in Lomborg or the Robinson et al. fake PNAS article distributed with the original Global Warming Petition Project than it does with scholarship whose intent is to get at the truth. It quotes papers uncritically and selectively if they can be made to appear to support the authors' thesis (e.g. the uncritical use of the aforementioned single-factor Scafetta and West paper to support a large attribution of twentieth century climate change to solar variability). There is also a lot of general spin here; for example, greenhouse gases are listed last in a laundry-list of things that can affect climate, without any indication as to the relative magnitudes of the various forcings. Other problems include the following:
Courtillot exaggerates the cloud radiative forcing by a factor of four, because he attributes virtually all the Earth's albedo to clouds and fails to take into account the cloud greenhouse effect.
He says that "Cooling from 1940 to 1970 is often disregarded as being part of the noise" whereas in fact it was intensive study of this period that lead scientists to appreciate the importance of the anthropogenic aerosol effect, at the time of the IPCC Second Assessment Report. Again ignoring the well-documented importance of anthropogenic aerosols, he says later: "Note that the leveling or drop in temperature from 1940 to 1970 matches solar and magnetic series, and not the monotonous accelerated rise in CO2" Not only is this a Crichton-esque obfuscation of a well-understood phenomenon, but as we'll see later the supposed "match" is an artifact of questionable data manipulations.
Courtillot points to an energy-balance model study by Crowley as support for his thesis that there is some missing physics left out of models, which affects response to solar forcing. Specifically, Courtillot points to a model/data mismatch in the early 20th century. However, Crowley did not include the indirect aerosol effect, and the energy balance model has no geography and therefore can't be expected to model things like continental vs. ocean seasonal cycles or ice and snow cover with complete fidelity. General circulation models forced with a combination of natural (including solar) and anthropogenic (aerosol and greenhouse gas) forcing have no problem reproducing early 20th century climate. Further, Crowley's model accurately matches the observed response to solar forcing earlier in the millennium, so it is hard to see why the "missing physics" should suddenly kick in at 1850. It is always suspicious when selective quotes are used to draw a conclusion exactly opposite to what the paper's own author concludes. For the record, here is what Crowley himself says in the paper about his own results:

There are therefore two independent lines of evidence pointing to the unusual nature of late-20th-century temperatures. First, the warming over the past century is unprecedented in the past 1000 years. Second, the same climate model that can successfully explain much of the variability in Northern Hemisphere temperature over the interval 1000–1850 indicates that only about 25% of the 20th-century temperature increase can be attributed to natural variability. The bulk of the 20th-century warming is consistent with that predicted from GHG increases. These twin lines of evidence provide further support for the idea that the greenhouse effect is already here.

Courtillot also cites an atmosphere-ocean model simulation by Zorita et al. (2004) as support for his claim that models fail to represent the 20th century response to solar or magnetic variability. However, as discussed here and in the peer-reviewed references cited therein, this simulation suffers from an inappropriate initialization which leads to a spurious cooling in parts of the run, and a large climate drift requiring detrending of the output before analysis. Besides that, the model explicitly neglects anthropogenic aerosol forcing, so how could one expect it to get 20th century climate right?
Courtillot claims that the correlation between geomagnetic "jerks" and Alpine glacier advances supports a solar-magnetic influence on climate. As Bard and Delaygue emphasize, this requires an exactly opposite sign of response to magnetic field variations as claimed by Marsh and Svensmark (2000), and as assumed elsewhere in Courtillot's paper. Courtillot cooks up an ad hoc explanation for why this might be the case, but this leads him even farther afield from anything that can be justified by known, quantified physics. One can find all sorts of correlations if one allows oneself the liberty to change the sign of the sought-for relation whenever convenient, and without any constraint by physics.
There is hardly anything more embarrassing to a theory than success in explaining a phenomenon that turns out not to exist. Courtillot makes much of the fact that the millennial cycle of hematite-stained ice rafted debris in Gerard Bond's data set — taken at the time to be a proxy for North Atlantic temperature — lines up nicely with geomagnetic variations. However, as Bard and Delaygue note, later work with better chronology, more cores and better time resolution show that Bond's record does not represent a temperature index for the entire northern Atlantic region. The more complete record exhibits little or no relation to geomagnetic variations.
…and now for the really ugly part
Bard and Delaygue uncovered a number of errors of a more troubling nature. Courtillot et al. commit the "flat Earth" error from which our article draws its name: they give a misleading impression of the comparison of forcing by solar variability relative to greenhouse gas forcing by failing to take into account the Earth's spherical geometry and albedo. After the very public humiliation suffered by Le Mouel on this point at the Academie debates (see Part I), in his article in La Lettre Courtillot took pains to show that he indeed understood the consequences of the Earth being round. However, this new understanding did not result in any sign of a corrigendum being sent to EPSL, so one can only conclude that the deception is deliberate. Further in their Fig. 1 Courtillot et al. show geochemical data from a Central Alpine stalagmite which purports to establish a highly tight correlation between climate variations and a solar activity proxy; as Bard and Delaygue note, Courtillot and co-workers have concealed the fact that the correlation is so good precisely because the chronology of the two series being compared has been finely tuned to expressly maximize the correlation. The original untuned data does not show nearly so tight a correlation.
The piece de resistance of Courtillot et al., is the following graph, which purports to show that for almost all of the past century, temperature correlates tightly with solar activity and magnetic field variability. The three curves on the graph are, according to the paper, Phil Jones' global mean temperature record (Tglobe, in red circles) , a total solar irradiance reconstruction (S(t), in pink triangle; Courtillot cites Solanki's reconstruction in the text), the magnetic field variability index at a site in Scotland (ESK, blue) and at Sitka Alaska (SIT, green). All the curves have been centered to have the same mean and standard deviation over the length of record, so as to make them more comparable. Note that the S(t) curve spans a shorter time than the others; this turns out to be important.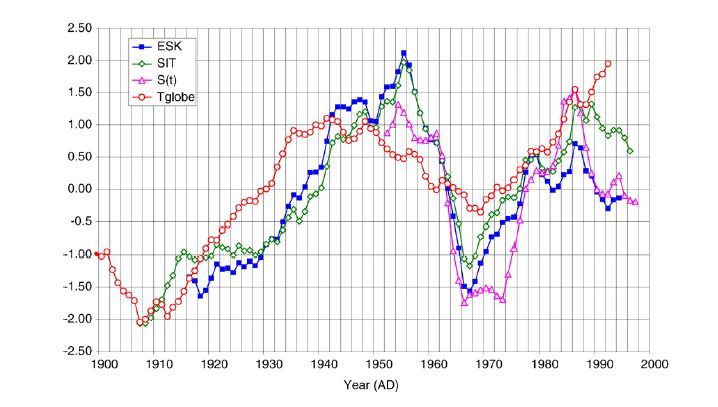 Looks pretty good, eh? Well it would, except for the minor details that "S(t)" is not actually the solar output, "Tglobe" is not actually the Jones global mean temperature it is claimed to be and neither "ESK" nor "SIT" look much like broader-based magnetic variability indices that provide more reliable indicators of solar activity. Bard and Delaygue thought it curious that Courtillot would use just the final snippet of the Solanki record when the full century was available. They checked what the curve would look like if it were normalized using the full length of the record. That's the thick grey curve in Bard and Delaygue corrected version of the figure below; for comparison, the purple curve with triangles shows the results of using Solanki's reconstruction truncated to the period Courtillot chose.
Get the picture? By snipping out just the last bit of the curve and normalizing to unit standard deviation, Courtillot inflates the variability and makes the fit look better than it would be if the full data set were used. As a bit of deceptive data manipulation, this has to go down in history with the selective smoothing used on some of the solar records that Damon and Laut discuss in their critique of the Danish solar work. Now, in his response to Bard and Delaygue (there's always a response to Comments) Courtillot digs himself even deeper into a hole. He states that the reason he used a truncated solar series is that the data came not from Solanki (as implied in the paper), but rather from Tobiska's SOLAR2000 model product. Tobiska's paper is not even cited by Courtillot et al. (2007), whereas Solanki (2002) is cited there as well as in the authors' earlier papers on related subjects. There is no legitimate reason for using SOLAR2000 in a study of the sort Courtillot et al. are attempting since, as noted by Bard and Delaygue, the SOLAR2000 model is restricted to the ultraviolet portion of the solar spectrum, making it the wrong choice unless one is explicitly investigating phenomena linked to ultraviolet forcing (see Lean (2002) ). One could guess that Courtillot et al.pulled this convenient rabbit out of the nearest available hat, because it was the first curve they found that gave them some excuse to truncate the record in a way that gave the desired result.
Bard and Delaygue noticed another strange thing. Courtillot's "Tglobe" curve did not look much like the curve published by Jones. Jones' curve, plotted from his actual data files, is shown in Bard and Delaygue's corrected version of the figure; they also show the NASA reconstruction for comparison. These two curves are in agreement, but neither shows the sharp rise/dip pattern between 1940 and 1970 which is seen in Courtillot's figure. So if Courtillot's data is not Jones' global mean temperature, what is it that Courtillot plotted? We may never know. In his response to Bard and Delaygue, Courtillot claims the data came from a file called: monthly_land_and_ocean_90S_90N_df_1901-2001mean_dat.txt. Bard and Delaygue point out, however, that Jones has no record of any such file in his dataset, and does not recognize the purported "Tglobe" curve as any version of a global mean temperature curve his own group has ever produced.
Whatever the source of the purported "Tglobe" data given in Courtillot et al., there is no legitimate reason — in a paper published in 2007 — for truncating the temperature record at 1992 as they did. There is, however, a very good illegitimate reason, in that truncating the curve in this way helps to conceal the strength of the trend from the reader, and shortens the period in which the most glaring mismatch between solar activity and temperature occurs.
In the corrected graph, Bard and Delaygue also plot the "aa" geomagnetic index. This is an index based on two stations at antipodal points, which has been found to correlate well with the overall geomagnetic variability based on a larger network of stations. One could argue that if one is looking at global mean temperature data, the aa index provides a more appropriate basis for comparison than the single-station high Northern latitude records that Courtillot uses. Note that the aa index tracks Solanki's solar irradiance well, whereas the single-station measurements do not.
In the corrected graph, Tglobe, aa and S(t) track each other upward from 1900 to 1940, but note that greenhouse gases also go up monotonically in this period, as they do later. A purely statistical attribution could ascribe nearly all the changes from 1900-1940 to solar or magnetic variability, but a similar statistical attribution could do the same for greenhouse gases. Only physics can divvy up the blame. Since 1940, however, there is not even the appearance of correlation between Tglobe and either S(t) or any of the geomagnetic indices. There is a hump in both the solar and aa index around 1950, during which time the temperature is flat or decreasing. Courtillot's erroneous analysis defers the decorrelation until 1985.
Between the embarrassing showing at the Academie debates and the travesty of science exposed by Bard and Delaygue in the case of the EPSL paper, You'd think that Courtillot would want to fine the nearest hole and go hide in it. Far from it, he was recently spotted giving a talk called "What global warming?" at this prestigious event gathering several famous physicists and chemists. Some people have no shame.
Postlude: Of silk purses and sow's ears
Bard and Delaygue conclude with a figure, reproduced below, which nicely illustrates something we've been saying for years at RealClimate. On this figure they plot the Jones global mean temperature together with a global magnetic index (the aa index), a cosmic ray flux index (Climax) and the PMOD composite satellite record of solar irradiance. These curves are less smoothed than those shown in the preceding graph. The inter-annual temperature variability is linked to natural effects such as major volcanic eruptions, ENSO events and solar variability. However, only the Tglobe curve is characterized by a very significant upward trend — a trend which cannot be explained by these natural causes.
Say it three times every night before going to sleep: Temperature goes up. Solar stuff goes up and down and up and down and up and down. You can no more make a trend out of that than you can make a silk purse out of a sow's ear.
A note added in proof, concerning the "Note Added in Proof"
The above discussion was based on the version of Bard and Delaygue's comment and Courtillot's response which was available on the Elsevier web site through December 15. Since the time of writing, some strange changes have occurred under the direction of the responsible editor, Robert van der Hilst of MIT. He deleted the "Note added in Proof" from the final version of Bard and Delaygue's comment. Bard and Delaygue only found out about this when they received the proofs of their Comment. What is even more disturbing is that van der Hilst allowed Courtillot to change the text of his Response based on what Bard and Delaygue wrote in the now-deleted "Note added in Proof." Bard and Delaygue were given no opportunity to see or comment on these changes. I have left the above discussion as it is, in order that the reader will have a better appreciation of the strange history of this comment/response cycle.
In the revised "Response" Courtillot now admits that the temperature record called "Tglobe" is not from any of Phil Jones' datasets at all. Courtillot now claims that the data came from a study by Briffa et al. (2001), giving the address of a file stored at NCDC. As specified in this study and in the head of this file, these data have been "recalibrated to obtain estimates of April-September mean temperatures from all land regions north of 20N". Thus, the temperature dataset used by Courtillot is definitely not Tglobe, does not represent the full hemisphere, and moreover is not even an annual mean.
Rob van der Hilst — recently a Visiting Professor at IPGP (Courtillot's institution) — claims that these changes were made in the interests of scientific communication. I leave it to the reader to judge whether these actions were appropriate, or whether they were just an attempt to protect Courtillot from embarrassment.. In the interests of scientific communication, I append below the full text of the "Note added in Proof" which was stripped from Bard and Delaygue's Comment:
---
Note added in proof:
In their Response to our Comment, Courtillot et al. state that for the total irradiance curve S(t) they had used the SOLAR2000 model product by Tobiska (2001) instead of the century-long record by Solanki (2002) cited in their original paper (Courtillot et al. 2007). However, the SOLAR2000 model is restricted to the UV component and their total solar irradiance is severely flawed as pointed out by Lean (2002).
For the global temperature Tglobe curve cited from Jones et al. (1999) in Courtillot et al. (2007), these authors now state in their response that they had used the following data file: monthly_land_and_ocean_90S_90N_df_1901-2001mean_dat.txt We were unable to find this file even by contacting its putative author who specifically stated to us that it is not one of his files (Dr. Philip D. Jones, written communication dated Oct. 23, 2007).
Tobiska, W. K. 2001, Validating the solar EUV proxy, E10.7, J. Geophys. Res. 106, 29,969- 29,978.
Lean, J.L., 2002. Comment on "Validating the solar EUV proxy, E10.7" by W. K. Tobiska. J. Geophys. Res. 107, (A2), 1027, 10.1029/2001JA000137.