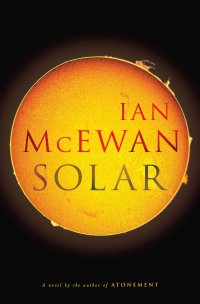 The new novel Solar by Ian McEwan, Britain's "national author" (as many call him) tackles the issue of climate change. I should perhaps start my review with a disclosure: I'm a long-standing fan of McEwan and have read all of his novels, and I am also mentioned in the acknowledgements of Solar. I met McEwan in Potsdam and we had some correspondence while he wrote his novel. Our recent book The Climate Crisis quotes a page of McEwan as its Epilogue. And of course I'm not a literature critic but a scientist. So don't expect a detached professional review.
In interviews McEwan describes his difficulties in approaching the topic of climate change: "I couldn't quite see how a novel would work without falling flat with moral intent."
One solution is that he makes his protagonist who tries to "save the world", the Nobel laureate physicist Michael Beard, thoroughly pathetic and unlikeable. (Actually quite unlike any scientist I know, but certainly less boring than us at Realclimate.) The only redeeming feature of Beard is his sarcastic humor. When his business partner is worried that claims of global warming having stopped will ruin their grand solar energy scheme, Beard (after expertly refuting the "no warming since 1998" myth) retorts:
Here's the good news. The UN estimates that already a third of a million people a year are dying from climate change. Even as we speak, the inhabitants of the island of Carteret in the South Pacific are being evacuated because the oceans are warming and expanding and rising. Malarial mosquitoes are advancing northwards across Europe… Toby, listen. It's a catastrophe. Relax!
This is McEwan's funniest book. The humour in it is another way around the moral gravity of the subject. In an interview he said:
The thing that would have killed the book for me, I'm sure, is if I'd taken up any sort of moral position, I needed a get-out clause. And the get-out clause is, this is an investigation of human nature, with some of the latitude thrown in by comedy.
Half-way through the novel Beard gives a riveting speech on climate change to an auditorium full of pension-fund managers (representing 400 billion dollars of investments) – a speech that I'd be almost tempted to steal and use verbatim myself at some occasion. But what could have been tedious – a whole lecture embedded in a novel – is turned into a hilarious scene where Beard is engaged in a losing battle with his bowels, trying to continue speaking while swallowing down "a fishy reflux rising from his gorge, like salted anchovies, with a dash of bile".
McEwan showing off that he can write such a speech better than a scientist is reminiscent of his novel Enduring Love, to which he appended an entire scientific paper about a psychological disorder (De Clerambault's Syndrome) that allegedly inspired the book. Later he admitted this "paper" was part of the fiction. He'd even submitted it to a journal, but one of the reviewers smelled a rat.
McEwan's deep (and often playful) affinity to science is one of the hallmarks of his writing and of course one reason why I like his novels. The other is his stunning power of observation; he seems to be reading people's minds, cutting right through their delusions to get to the deeper truths. In that, his analytic work as a writer resembles that of a scientist.
McEwan is a forceful rationalist and well-versed in science culture, and his witty observations on that are a big part of the fun of his books. In Solar, for example, he pokes some hilarious fun at the social constructivists. Beard chairs a government committee to bring more women into physics, and a social scientist on his committee introduces herself with a speech on how a particular gene is not discovered by scientists, but is rather a social construct.
Beard had heard rumours that strange ideas were commonplace among liberal arts departments. It was said that humanities students were routinely taught that science was just one more belief system, no more or less truthful than religion or astrology. He had always thought that this must be a slur against his colleagues on the arts side. The results surely spoke for themselves. Who was going to submit to a vaccine designed by a priest?
This develops into my favourite subplot. At a press conference of his committee, the journalists are "slumped over their recorders and notebooks" and "depressed by the seriousness of their assignment, its scandalous lack of controversy", as "the whole project was lamentably worthy". Beard makes some fairly harmless remarks about the efforts of bringing more women into physics perhaps reaching a ceiling one day, because they may have a preference for other branches of science. The social constructivist explodes ("Before I go outside to be sick, and I mean violently sick because of what I've just heard, I wish to announce my resignation from Professor Beard's committee.") Predictably, that makes the predatory journalists spring to life, and in the following McEwan spins a completely credible story how Beard's remarks turn into a media storm where Beard's love life is dragged into the tabloids and his "genetic determinist" views are linked to Third Reich race theories. One journalist, "more in the spirit of playful diary-page spite", calls him a neo-Nazi.
No one took the charge seriously for a moment, but it became possible for other papers to take up the term even as they dismissed it, carefully bracketing and legalising the insult with quotation marks. Beard became the 'neo-Nazi' professor.
McEwan knows what he is writing about: he became subject to a media storm about his Islam-critical views a few years ago. I read Solar in February (thanks to an advance copy that the author had sent me), in parallel with the unfolding surreal, but real-world media campaign against IPCC, and found that McEwan dissects the mechanisms beautifully.
McEwan says that the idea to make a Nobel laureate the main character of his new book came to him in Potsdam, when attending the Nobel Cause Symposium organised by our institute in October 2007 (and on page 179 his hero Beard returns from a conference in Potsdam). At the time I discussed with him whether this wouldn't be a good topic for a novel: humanity facing an existential threat that is well-understood by its scientists, but largely ignored by a population who prefers to delude itself in creative ways about the gradually unfolding disaster. McEwan responded: everything there is to say about this situation has already been said by Thomas Mann in his novel Death in Venice.
I'm glad he tackled the topic of climate change nevertheless. It's McEwan at his best. Intelligent, funny, and full of insights. Read for yourself!
Link: Here is McEwan speaking about Solar (and about his views on climate change) in a TV interview.