Guest article by William Ruddiman
More than 20 years ago, analyses of greenhouse gas concentrations in ice cores showed that downward trends in CO2 and CH4 that had begun near 10,000 years ago subsequently reversed direction and rose steadily during the last several thousand years. Competing explanations for these increases have invoked either natural changes or anthropogenic emissions. Reasonably convincing evidence for and against both causes has been put forward, and the debate has continued for almost a decade. Figure 1 summarizes these different views.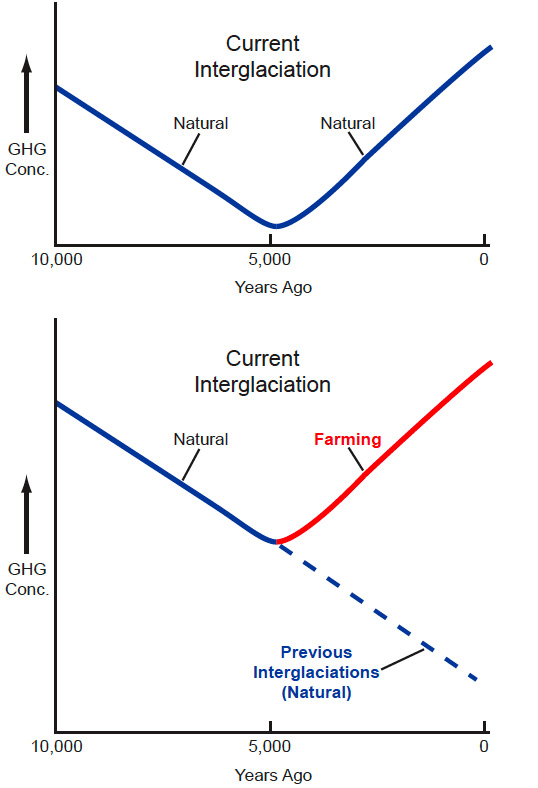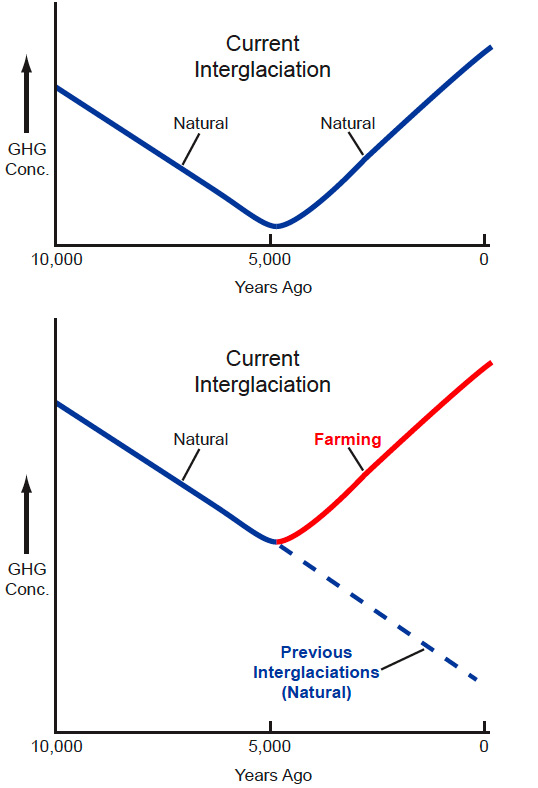 An August 2011 special issue of the journal The Holocene will help to move this discussion forward. All scientists who have been part of this debate during the last decade were invited to contribute to the volume. The list of those invited was well balanced between the two views, both of which are well represented in the issue. The papers have recently begun to come online, but unfortunately behind a paywall.
Arguably, the most significant new insight emerging from this issue comes from several papers that converge on a view of pre-industrial land use that is very different from the one that has prevailed until recently. Most previous modeling simulations relied on the simplifying assumption that per-capita clearance and cultivation remained small and nearly constant during the late Holocene, but historical and archeological data now reveal much larger earlier per-capita land use than used in these models. The emergence of this view was reported in several presentations at a March 2011 Chapman Conference, and it has attracted recent attention both in Nature and Science News. The following article summarizes this new evidence.
Historical data on land use extending back some 2000 years exists for two regions — Europe and China. In a 2009 paper, Jed Kaplan and colleagues reported evidence showing nearly complete deforestation in Europe at mid-range population densities, but very little additional clearance at higher densities. Embedded in this historical relationship was a trend from much greater per-capita clearance 2000 years ago to much smaller values in recent centuries. Similarly, a Holocene special-issue paper by Ruddiman and colleagues pointed to a pioneering study of early agriculture in China published in 1937 by J. L. Buck. Paired with reasonably well-constrained population estimates that extend back to the Han dynasty 2000 years ago, these data show a 4-fold decrease in per-capita land area cultivated in China from that time until the 1800's.
These two re-evaluations of per capita land use have important implications for global pre-industrial carbon emissions. A special issue paper by Kaplan and colleagues used the historical relationships from Europe to estimate worldwide clearance, with smaller per-capita land needs in tropical regions due to the longer growing season that allows multiple crops per year. Their model simulated major forest clearance thousands of years ago not just in Europe and China, but also in India, the Fertile Crescent, Sahelian Africa, Mexico and Peru. The pattern of clearance is nicely shown in a time-lapse sequence available in the Science News article cited above. Kaplan and colleagues estimated cumulative carbon emissions of ~340 GtC (1 Gt = billion metric tons) before the industrial-era CO2 rise began in 1850. This estimate is 5 to 7 times larger than those based on the assumption that early farmers cleared forests and cultivated land in the small per-capita amounts typical of recent centuries.
Over millennial time scales, roughly 85% of CO2 emissions to the atmosphere end up in the deep ocean. As a result, Kaplan's estimated 340 Gt of early anthropogenic carbon emissions to the atmosphere would have resulted in a total pre-industrial CO2 increase of ~24 ppm (340 Gt divided by 14.2 Gt per ppm). A mismatch in timing remains, however, between the early rise of the ice-core CO2 trend and the later rise of Kaplan's carbon-emissions estimate. One possibility currently being investigated by Kaplan and colleagues is larger early per-capita burning by farmers (and those cultures still in the hunter-gatherer stage).
A similar story of decreasing per-capita land use holds for farming practices that generate methane. The paper by Ruddiman and colleagues cites a 1997 study by Ellis and Wang in Agriculture, Ecosystems, and Environment (61: 177-193) reporting a 4-fold decrease from 1000 to 1800 AD in the per-capita size of rice paddy fields in the lower Yangtze River valley. Because of ongoing population growth and the lack of additional arable land, farmers were forced to produce rice on ever-smaller land holdings, resulting in the typical 'garden-style' Chinese agriculture.
For longer time scales, an in-press paper by Fuller and colleagues on 'The contribution of rice agriculture and livestock pastoralism to prehistoric methane levels: an archeological assessment' assembled archeological evidence from hundreds of well-dated sites showing the spread of irrigated rice across southern Asia between 5000 and 1000 years ago. Based on modern regional relationships, they assumed that rice farming in each region subsequently filled in with the log of population density. Combining the first arrival of rice and the subsequent infilling, Fuller and colleagues projected the progressive increase in the total area of southern Asia devoted to irrigated rice.
Their estimate showed a rising exponential trend in total area that reached more than 35% of the modern value by 1000 years ago, even though the population in the rice-growing areas of Asia at that time was only 5-6% of modern levels. This mismatch again indicates much greater per-capita land use early in the historical era than in later pre-industrial time. According to this analysis, the increase in CH4 emissions from rice irrigation can account for most of the CH4 rise measured in ice cores between 5000 and 1000 years ago. Fuller and colleagues also mapped the first arrival of domesticated livestock across Asia and Africa and found that a major expansion of pastoralism into wet areas with high carrying capacities began after 5000 years ago. They noted that this spread of livestock would also have made a major contribution to anthropogenic methane emissions and atmospheric concentrations but did not attempt to estimate the amount.
The evidence in all of these recent papers converges on the same conclusion: the simplifying assumption of constant per-capita land use used by most previous modeling studies has ignored both historical data and the wide range of contrary evidence assembled by scientists in archeology and related disciplines who do the slow 'dirty-boots' field work needed to unravel the real history of human effects on the land. This field-based view was synthesized long ago by Ester Boserup's seminal work in the 1960's through the 1980's. She concluded that the major decrease in per-capita land use through the middle and late Holocene occurred because population growth and the encroachments of neighbors forced farmers to innovate new methods to produce food for their families from less and less land. These papers in the special issue make it clear that future attempts to model past land use should avoid the assumption of constant and small per-capita cultivation and clearance.
This emerging view bears on a current discussion over whether or not to designate an 'Anthropocene' interval (a time of major human influence on Earth's system) and, if so, when to place its beginning. Although most opinion seems to favor using the industrial era (the last two centuries or less) as the start, this new evidence offers a different perspective. Forest clearance for cultivation and pastureland is the largest transformation of Earth's surface that has occurred to date. If well over half of this key transformation occurred prior to the industrial era, then an argument can be made for placing the start of the anthropocene at an earlier time. One possible solution would be to designate two stages: an 'early anthropocene' (a time of slow but growing and cumulatively large transformations that began ~7000 years ago for CO2 and ~5000 years ago for CH4) and a 'late anthropocene' to mark the many accelerating changes of the industrial era.
Other special-issue papers also point to a revised interpretation of a related kind of evidence that bears on early deforestation— the meticulous analyses of the carbon-isotopic composition of CO2 in ice-core air bubbles by the Bern group. Elsig et al. concluded in 2009 in an article in Nature that the small (~0.05o/oo) amplitude of the δ13CO2 decrease during the last 7000 years constrains net emissions of terrestrial carbon to ~50 GtC (one Gt is a billion tons), if fully equilibrated with the deep ocean. As part of their proposed balancing of various carbon sources and sinks, they estimated an anthropogenic contribution of ~50 GtC to the δ13CO2 trend, equivalent to a CO2 increase of 3.5 ppm.
But the mass balance calculation in Elsig et al. entailed the questionable assumption that only 40 Gt of carbon has been buried in boreal peats during the last 7000 years, yet this value lies well below a long-respected estimate of 300 GtC by Eville Gorham (e.g. Ecological Applications 1: 182-195, 1991; Gajewski et al., Global biogeochemical Cycles 15: 297-310; 2001). A new analysis by Zicheng Yu in the special issue takes into account both the initial burial of peat carbon and, for the first time in any study, the subsequent decomposition and release of peat carbon after burial. Yu arrives at an estimate of ~300 Gt of carbon burial in peat during the last 7000 years.
This much higher value (~300 GtC versus 40 GtC) requires much larger offsetting emissions of terrestrial carbon to satisfy the overall δ13CO2 constraint, but the additional carbon is unlikely to have come from natural sources. Model studies have, on average, placed the net carbon balance caused by natural changes in monsoon vegetation and carbon fertilization close to the 30 Gt size estimated by Elsig and colleagues. These changes cannot account for the emissions needed to offset the much larger amount of carbon buried in peat.
The only remaining source left is anthropogenic emissions. The resulting estimate of >300 GtC of preindustrial anthropogenic emissions is in the same ballpark as the land-use simulation estimate from Kaplan and colleagues. If the earlier (Gorham) and more recent (Yu) estimates of large carbon burial in boreal peat are correct, the small negative δ13CO2 trend during the last 7000 years is not an argument against the early anthropogenic hypothesis, but rather an argument in its favor.
The two estimates of a pre-industrial anthropogenic CO2 increase of as much as 24 ppm are much larger than previous estimates of 3-5 ppm, but still short of the 40 ppm proposed in the early anthropogenic hypothesis. However, another factor that would have contributed to the pre-industrial anthropogenic total was CO2 feedback from an ocean kept warmer by agricultural emissions of CO2 and CH4 to the atmosphere. A special-issue paper by Kutzbach and colleagues estimates a contribution of as much as 9 ppm from the reduced solubility of CO2 in an ocean warmed by the early anthropogenic CO2 and CH4 emissions to the atmosphere. This, and other possible feedbacks from the ocean, put the total pre-industrial CO2 effect at >30 ppm, closer to the 40 ppm in the original hypothesis.
Several papers in the special issue continue to favor a natural explanation for the late-Holocene CO2 and CH4 trends, so the debate is not over. Still, the new evidence points the way toward three avenues of exploration that promise to deliver a resolution of this issue: (1) more thorough investigation of historical records of pre-industrial land use; (2) additional archeological work to fill in gaps in spatial/temporal coverage of the spread of agriculture, and (3) further modeling work to transform historical and archeological data into quantitative estimates of the effects of early agriculture on atmospheric CO2 and CH4 concentrations.