Guest commentary from Abby Swann (U. Washington)
This past month, an op-ed by Nadine Unger appeared in the New York Times with the headline "To save the climate, don't plant trees".  The author's main argument is that UN programs to address climate change by planting trees or preserving existing forests are "high risk" and a "bad bet". [Ed. There is more background on the op-ed here]
However, I don't think that these conclusions are supported by the science.  The author connects unrelated issues about trees, conflates what we know about trees from different latitudes, and fails to convey the main point: tropical trees keep climate cool locally, help keep rainfall rates high, and have innumerable non-climate benefits including maintaining habitat and supporting biodiversity.
Numerous scientists have already replied to the original op-ed, highlighting the points above and adding others.  But some of those responses made confusing arguments too, muddying things further.
So what is going on?  Why is it so complicated to say scientifically what trees do to climate?  The answer lies in the fact that trees have multiple pathways for influencing climate, and the relative importance of these pathways varies depending on where we look on the globe.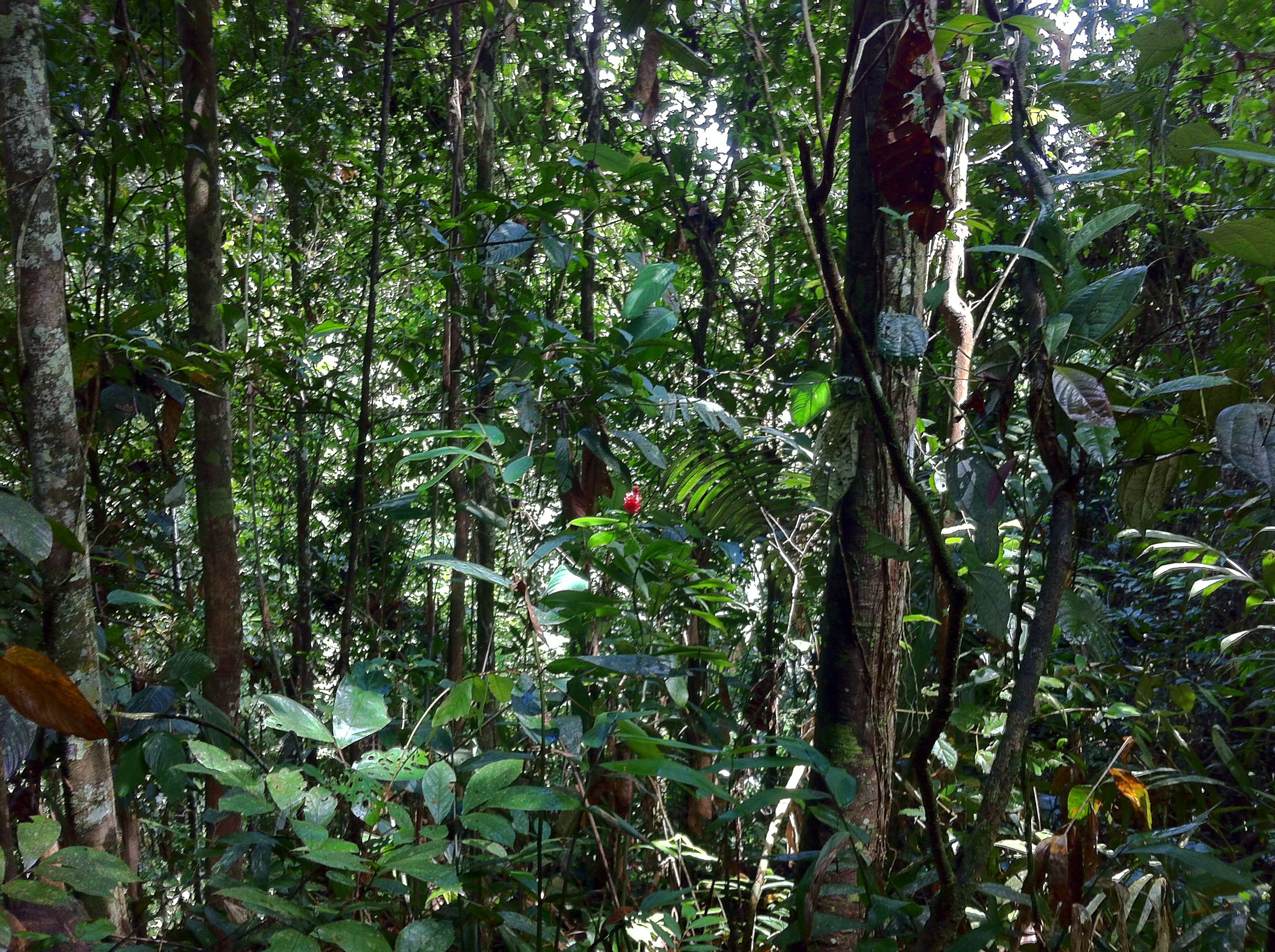 First lets talk about how plants can influence climate—directly through carbon, directly through energy fluxes, and indirectly through various channels.  Then I'll cover how these factors combine in different places across the globe.
1. Carbon
Carbon dioxide (CO2) in the atmosphere is a greenhouse gas. All plants take in CO2 when they photosynthesize, fixing it into sugar and ultimately into the plant tissue itself.  At the same time, soils release CO2 through decomposition and plants respire it in order to maintain tissues.  The two numbers – CO2 leaving the atmosphere through photosynthesis and CO2 entering it through respiration – are both large and close in magnitude, with slightly more leaving the air than entering.  Changes in this delicate balance are one way that the land surface influences global temperature.  Planting new trees tips the balance further toward carbon going into the land, at least for a while.  When the forest matures, growth and decomposition come back into balance.
CO2 gets mixed quickly by the atmosphere. So after 1-2 years, a release or uptake of CO2 anywhere affects CO2 everywhere.  Right now, plants on average take C02 out of the air (helping keep Earth cool), and it doesn't really matter where those plants live.
2. Energy
Energy is received by the Earth's surface directly from the sun and also via long-wave radiation from the atmosphere.  The land surface has to balance this incoming energy by radiating energy away and through evaporation and conduction of heat.  The hotter the surface, the more it radiates and conducts.  So if there is a change in evaporation or in the incoming energy, the only way for the surface to balance the budget is to change temperature. There are three main ways that plants influence the amount and type of energy exchanged between the land and the atmosphere:
Albedo, or plant color:
Plants have different colors, which cause them to absorb different amounts of energy from the sun (the term "albedo" refers to the fraction of light reflected, i.e. how "shiny" something is).  In general, trees are darker than grasses, which are darker than bare soil.  If we start growing trees where there was once grass or bare ground, the surface will absorb more incoming energy from the sun. **All else being equal**, the surface would have a higher temperature.
Water fluxes:
Plants also release water through their leaves (called transpiration) while photosynthesizing.  Just as your skin cools when your sweat evaporates, transpiration cools leaves. The amount a plant transpires is directly related to how much it photosynthesizes. Plants that photosynthesize a lot also pump out a lot of water, and with it a lot of energy.  If we replace less productive plants or bare soil with highly productive plants,  **all else being equal**, the surface will have a cooler temperature.
Surface roughness:
Trees and plants affect how 'rough' the surface feels to the winds. The rougher the surface, the more it slows the winds down, and so trees in particular can affect near surface winds, and this affect leads to a small differences in local stability which can have varying (but small) impacts on fluxes of water and energy from the land surface.
3. Indirect links
Atmospheric circulation
While changes in temperature caused by changes in CO2 occur evenly across the globe, the same is not true for those driven by changes in albedo or water fluxes. These are local affects, concentrated near the place where the change in tree cover has occurred.  But if we plant trees all in one area, and that causes a region of heating or cooling, the atmosphere can respond by changing it's circulation – and that might have further climate effects in places far away from where the trees were planted.  This can even happen on a global scale.  Significant changes in tree cover in Eurasia could cause an energy imbalance between the Northern and Southern Hemispheres, shifting the entire global circulation of the atmosphere, including the location of rainfall in the tropics.   And changes in where it rains in the tropics would impact plants there, and how they are controlling their local energy balance.
Plant-emitted volatiles
The recent op-ed by also discusses how plants can influence climate by altering chemical reactions in the atmosphere.  Plants emit volatile compounds, which are tropospheric ozone and aerosol precursors. According to the op-ed author's calculations, more trees lead to more particles and more ozone, and the combination **generally** makes things warmer because warming from the heat-trapping ozone is bigger than the slight (and very uncertain) cooling from the particles.  This piece of the puzzle is still fairly new and is a great topic for further scientific study and discussion. The exact magnitude of these effects is not yet robustly known.
4. How does this all play out at different latitudes?
In high latitudes, trees are dark and absorb a lot of sunlight, especially in the snowy season when they are much darker than the bright ground below. Also, most high-latitude trees don't photosynthesize quickly (it's a tough life up there!). So the water losses and energy fluxes associated with photosynthesis are low.  Taken together, this means that Arctic forests help keep the surface warm.  As a slight variant on this, some deciduous trees that grow at high latitudes are not quite so dark and have bigger water fluxes.  Some of my work suggests that these trees also warm the surface, both because they make the land surface darker and because the water they release acts locally as a heat trapping gas. Trees (and shrubs) also reduce the impact of snow on albedo by standing taller than the snow cover.
In the tropics, trees photosynthesize at very high rates (growing conditions are great!).  These trees shed a lot of water during photosynthesis, with associated high energy losses.  And tropical trees are not much darker than the pasture grasses that replace them after deforestation.  This means that tropical forests help keep the surface cool and wet.
In the mid-latitudes, both of these effects (albedo and water) are competing. Forests are both darker and have higher water losses than grasses that are likely to replace them.  That makes it much harder to say what will happen, on balance, if we were to plant large areas of new mid-latitude trees. The net outcome depends on exactly how much each factor changes, as well as on the amount of moisture in the soil.
Bottom Line
So should we try to slow global warming by planting trees?  On a 20-40 year time scale, there is no question that planting trees will transfer carbon from the atmosphere into the trees, slowing the growth of CO2 in the atmosphere and thereby slowing global warming.  On a 100-year time scale, I would say that we cannot plant our way out of the problem.  However, we know that tropical forests keep carbon out of the atmosphere, keep the land surface cool, and play a critical role in providing habitat, maintaining biodiversity, and other good stuff for people.  These things are hugely important and it is a no-brainer that we need to fight to keep tropical forests as intact as possible.  Maintaining tropical forest does lots of great things, and also helps to slow global warming. But we probably shouldn't expect to combat global warming in the long term by planting trees in other latitudes.
It might not totally save the planet, but we should do everything we can to maintain the tropical forest.