In a departure from normal practice on this site, this post is a commentary on a piece of out-and-out fiction (unlike most of the other posts which deal with a more subtle kind). Michael Crichton's new novel "State of Fear" is about a self-important NGO hyping the science of the global warming to further the ends of evil eco-terrorists. The inevitable conclusion of the book is that global warming is a non-problem. A lesson for our times maybe? Unfortunately, I think not.

par Gavin Schmidt (traduit par Alain Henry)
Ce message s'écarte des pratiques habituelles de ce site pour commenter une pièce de pure fiction (au contraire des autres messages qui abordent le sujet sous un angle plus subtil). Le nouveau roman de Michael Crichton, « Etat d'urgence » raconte comment une ONG encourage la recherche scientifique sur le réchauffement global pour servir les objectifs de méchants éco-terroristes. Le roman nous amène inévitablement à la conclusion que le réchauffement global est un faux problème. Une leçon pour notre époque? Malheureusement, je ne le pense pas.
(suite….)


Like the recent movie "The Day After Tomorrow", the novel addresses real scientific issues and controversies, but is similarly selective (and occasionally mistaken) about the basic science. I will discuss a selection of the global warming-related issues that are raised in between the car chases, shoot-outs, cannibalistic rites and assorted derring-do. The champion of Crichton's scientific view is a MIT academic-turned-undercover operative who clearly runs intellectual rings around other characters. The issues are raised as conversations and Q and A sessions between him (and other 'good guys') and two characters; an actor (not a very clever chap) and a lawyer (a previously duped innocent), neither of whom know much about the science.
So for actors and lawyers everywhere, I will try and help out.
The issues Crichton raises are familiar to those of us in the field, and come up often in discussions. Some are real and well appreciated while some are red herrings and are used to confuse rather than enlighten.
The first set of comments relate to the attribution of the recent warming trend to increasing CO2. One character suggests that "if CO2 didn't cause the global cooling between 1940 and 1970, how can you be sure it is responsible for the recent warming?" (paraphrased from p86) . Northern Hemisphere mean temperatures do appear to have cooled over that period, and that contrasts with a continuing increase in CO2, which if all else had been equal, should have led to warming. But were all things equal? Actually no. In the real world, there is both internal variability and other factors that affect climate (i.e. other than CO2). Some of those other forcings (sulphate and nitrate aerosols, land use changes, solar irradiance, volcanic aerosols, for instance) can cause cooling. Matching up the real world with what we might expect to have happened depends on including ALL of the forcings (as best as we can). Even then any discrepancy might be due to internal variability (related principally to the ocean on multi-decadal time scales). Our current 'best guess' is that the global mean changes in temperature (including the 1940-1970 cooling) are actually quite closely related to the forcings. Regional patterns of change appear to be linked more closely to internal variability (particularly the 1930′s warming in the North Atlantic). However, in no case has anyone managed to show that the recent warming can be matched without the increases in CO2 (and other GHGs like CH4).
Secondly, through the copious use of station weather data, a number of single station records with long term cooling trends are shown. In particular, the characters visit Punta Arenas (at the tip of South America), where (very pleasingly to my host institution) they have the GISTEMP station record posted on the wall which shows a long-term cooling trend (although slight warming since the 1970′s). "There's your global warming" one of the good guys declares. I have to disagree. Global warming is defined by the global mean surface temperature. It does not imply that the whole globe is warming uniformly (which of course it isn't). (But that doesn't stop one character later on (p381) declaring that "..it's effect is presumably the same everywhere in the world. That's why it's called global warming"). Had the characters visited the nearby station of Santa Barbara Cruz Aeropuerto, the poster on the wall would have shown a positive trend. Would that have been proof of global warming? No. Only by amalgamating all of the records we have (after correcting for known problems, such as discussed below) can we have an idea what the regional, hemispheric or global means are doing. That is what is meant by global warming.
Crichton next raises the apparently unrecognised (by the lawyer character at least) fact that the interior of Antarctica is cooling (p196), an issue discussed in another post (Antarctica cooling, global warming?). This is more or less correct (given the obvious uncertainties in long term data from the continental interior), but analogously to the example above, local cooling does not contradict global warming.
Next, and slightly more troubling, we have some rather misleading and selective recollection regarding Jim Hansen's testimony to congress in 1988. "Dr. Hansen overestimated [global warming] by 300 percent" (p247). Hansen's testimony did indeed lead to a big increase in awareness of global warming as a issue, but not because he exaggerated the problem by 300%. In a paper published soon after that testimony, Hansen et al, 1988 presented three model simulations for different scenarios for the growth in trace gases and other forcings (see figure). Scenario A had exponentially increasing CO2, Scenario B had a more modest Business-as-usual assumption, and Scenario C had no further increases in CO2 after the year 2000. Both scenarios B and C assumed a large volcanic eruption in 1995. Rightly, the authors did not assume that they knew what path the carbon dioxide emissions would take, and so presented a spectrum of results. The scenario that ended up being closest to the real path of forcings growth was scenario B, with the difference that Mt. Pinatubo erupted in 1991, not 1995. The temperature change for the decade under this scenario was very close to the actual 0.11 C/decade observed (as can be seen in the figure). So given a good estimate of the forcings, the model did a reasonable job. In fact in his testimony, Hansen ONLY showed results from scenario B, and stated clearly that it was the most probable scenario. The '300 percent' error claim comes from noted climate skeptic Patrick Michaels who in testimony in congress in 1998 deleted the bottom two curves in order to give the impression that the models were unreliable.
Dr Hansen is further quoted (a little out-of-context) saying: "The forcings that drive long term climate change are not known with an accuracy sufficient to define future climate change". Given the discussion above it is clear that without good estimates of the actual forcings, the differences in the model projections can be large. It is widely accepted that exact prediction of what will happen to climate in 50 or 100 years is impossible. Much of the future is of course unknowable. A new energy source could replace fossil fuels, governments could control emissions, or maybe a series of huge volcanoes will erupt. Therefore it is much more sensible to ask, what would climate be like if you doubled CO2? or if this or that scenario occurred. These are much better defined questions. Hansen's quote is often taken to imply that models are so unreliable they are useless in helping assess the issue. In fact it is the opposite – Hansen is actually claiming that the uncertainty in models (for instance, in the climate sensitivity) is now less than the uncertainty in the emissions scenarios (i.e. it is the uncertainty in the forcings, that drives the uncertainty in the projections).
Continuing to p315, it is claimed that "in the 1970′s all the climate scientists believed an ice age was coming" (and, as described on p563, the MIT academic apparently still thinks so). However, this is not an accurate statement and William Connolley's pages on the subject are an illuminating read for those wanting more details.
Another issue that often comes up in discussion about the surface temperature record is the impact of the Urban Heat Island Effect (UHIE), and here it appears on p370. It is undisputed that the centres of cities such as New York are significantly warmer than the surrounding countryside. This issue has been extensively studied and is corrected for in all analyses of the global temperature trends. To see whether there might still be a residual effect in the corrected data, a recent paper (Parker, Nature, 2004) looked at the differences in the trends if you looked separately at windy and not-so-windy conditions. Wind is known to diminish the impact of urban heating, and so the trends on windy days should be less than trends on still days if this was important. The trends actually end up almost exactly the same. Other validating data for the corrected surface temperature record comes from the oceans, which have also been warming in recent decades. Even Richard Lindzen , normally an arch-skeptic on these issues, stated that "ocean temperature increases present some support for the surface temperature record" Lindzen (2002). Another demonstration that the corrections are sufficient is that over the continental US, where many cities have a clear urban heating signal, the mean of the corrected data is actually rather flat (p88) – i.e. none of the strong urban biases in the US has made it into the regional or indeed global mean.
A central issue in the book concerns sea-level rise. Vanuatu is singled out for special attention since the islanders there are understandably concerned about their low-lying islands eventually being swamped. Sea level however is a surprisingly difficult thing to measure. Tide gauges are very noisy, and are usually located on the continental coast. Global trends in sea level from these gauges are between 1.7 to 2.4 mm/yr. Sea level though is not rising everywhere. In Scandinavia the continents are still rebounding from the ice age and local sea level is receding. Satellite data (TOPEX/POSEIDON and JASON) can give a global picture, and indicate that although the global mean rise over recent years (2.8 mm/yr) is significantly larger than the longer term trend estimated from tide gauges, sea level change is actually very dynamic. There are many patterns of behaviour particularly in the Pacific, associated with El Nino variability – possibly related to Vanuatu's lack of actual sea level rise over the last 40 years. Curiously, Crichton cites the higher satellite derived number to claim that the rate of sea level rise has not increased recently ("[Sea level is] rising faster, Satellites prove it","Actually they don't"), p424. There are clearly some problems in comparing tide gauge and satellite data, and of course, satellites can have their problems (cf. MSU data), but the quoted numbers don't support the actual statement at all – though it would be fairer to say that the satellites are consistent with a recent rise in the rate, rather than a proof that it is occurring.
There are only a few out-and-out errors, but to be generous, they probably just slipped through the editing process. For instance, on p187 "higher temperature means more water vapor in the air and therefore fewer clouds" – Presumably, he meant that if the temperature is higher, the relatively humidity could be lower (and so there might be less clouds). On p368. "Croplands are warmer than forested lands". This is probably a confusion with the urban heating issue, but the actual impact is the opposite – croplands have a higher albedo than forests, reflect more solar radiation, and are thus cooler. In fact, while this is not yet fully quantified, it appears to have been a significant cooling term in the global budget over the last 150 years. On p461 "…Greenland shows that, in the last hundred thousand years, there have been four abrupt climate change events" More like 40. And that is probably an undercount given that Greenland may not record events in the tropics.
At the end of the book, Crichton gives us an author's message. In it, he re-iterates the main points of his thesis, that there are some who go too far to drum up support (and I have some sympathy with this), and that because we don't know everything, we actually know nothing (here, I beg to differ). He also gives us his estimate, ~0.8 C for the global warming that will occur over the next century and claims that, since models differ by 400% in their estimates, his guess is as good as theirs. This is not true. The current batch of models have a mean climate sensitivity of about 3 C to doubled CO2 (and range between 2.5 and 4.0 degrees) (Paris meeting of IPCC, July 2004) , i.e an uncertainty of about 30%. As discussed above, the biggest uncertainties about the future are the economics, technology and rate of development going forward. The main cause of the spread in the widely quoted 1.5 to 5.8 C range of temperature projections for 2100 in IPCC is actually the different scenarios used. For lack of better information, if we (incorrectly) assume all the scenarios are equally probable, the error around the mean of 3.6 degrees is about 60%, not 400%. Crichton also suggests that most of his 0.8 C warming will be due to land use changes. That is actually extremely unlikely since land use change globally is a cooling effect (as discussed above). Physically-based simulations are actually better than just guessing.
Finally, in an appendix, Crichton uses a rather curious train of logic to compare global warming to the 19th Century eugenics movement. He argues, that since eugenics was studied in prestigious universities and supported by charitable foundations, and now, so is global warming, they must somehow be related. Presumably, the author doesn't actually believe that foundation-supported academic research ipso facto is evil and mis-guided, but that is an impression that is left.
In summary, I am a little disappointed, not least because while researching this book, Crichton actually visited our lab and discussed some of these issues with me and a few of my colleagues. I guess we didn't do a very good job. Judging from his reading list, the rather dry prose of the IPCC reports did not match up to the some of the racier contrarian texts. Had RealClimate been up and running a few years back, maybe it would've all worked out differently…
Update: Due to popular demand here is an updated version of the figure that was originally made in 1998. Apologies for my lack of photoshop skills.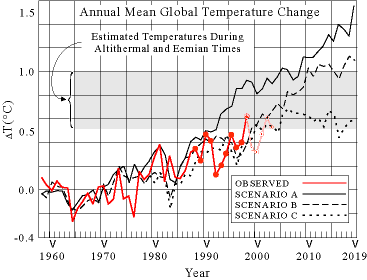 Update 02/16/05: Chris Mooney also does a good job at checking some of the footnotes in Crichton's book.
Comme le film récent « Le jour d'après », ce roman aborde des sujets et controverses scientifiques réels, mais il est également sélectif (et parfois erroné) quand il s'agit des faits scientifiques de base. Je voudrais discuter une sélection des thèmes liés au réchauffement global qui sont abordés entre les poursuites, les fusillades, les rites cannibales et autres prouesses. Le héros scientifique de Crichton est un professeur du MIT (Massachussetts Institute of Technology) devenu agent secret, qui étend ses tentacules intellectuels autour des autres personnages. Les sujets scientifiques sont abordés au cours de conversations et de séances de questions-réponses entre lui (et d'autres « bons ») et 2 autres personnages, un acteur (un type pas très brillant) et un avocat (un innocent dupé), dont les connaissances scientifiques sont plutôt limitées.
Donc, pour tous les acteurs et les avocats de par le monde, voici quelques éclaircissements.
Le sujets abordés par Crichton sont familiers à ceux qui travaillent dans ce domaine [les changements climatiques] et reviennent souvent dans les discussions. Certains sont réels et évalués correctement, tandis que d'autres ne sont que des diversions utilisées pour semer la confusion plutôt que pour éclairer.
Les premiers commentaires abordent la question de l'attribution de la tendance récente au réchauffement à l'augmentation du CO2. Un personnage suggère: « Si le CO2 n'a pas causé le refroidissement global entre 1940 et 1970, comment pouvez-vous être sûr qu'il soit responsable du réchauffement récent? » (paraphrasé de la page. 86 – NdT: l'édition française étant prévue pour 2006, les numéros de page se réfèrent à l'édition anglaise.) Les températures moyennes de l'hémisphère Nord ont effectivement baissé sur cette période, alors que les concentrations de CO2 continuaient à augmenter. Si les autres conditions étaient restées semblables, c'est un réchauffement qu'on aurait du observer. Mais sont-elles restées semblables? En fait, non. En réalité, le climat peut être influencé à la fois par sa variabilité interne comme par des causes externes (c-à-d autres que le CO2). D'autres « forçages » peuvent causer un refroidissement (par exemple les aérosols à base de sulfates et de nitrates, des changements dans l'utilisation des sols, l'irradiation solaire ou les aérosols volcaniques). Pour faire correspondre notre évaluation de ce aurait du arriver avec la réalité, il faut inclure TOUS les forçages (du mieux que nous pouvons). Même dans ce cas, une différence peut être causée par une variabilité interne (principalement liées aux océans, à l'échelle de plusieurs décennies). Dans les meilleures estimations actuelles, les changements globaux de température moyenne (y compris la période 1940-1970) correspondent de très près à l'effet combinés des forçages. Les impacts régionaux semblent être beaucoup plus liés à la variabilité interne (en particulier le réchauffement des années 30 dans l'Atlantique Nord). Toutefois, jamais personne n' a pu montré que le réchauffement récent pouvait être reproduit sans prendre en compte l'augmentation du CO2 (et des autres gaz à effet de serre comme le méthane).
Ensuite, en puisant abondamment dans les données de stations météo, l'auteur mentionne un certain nombre d'enregistrements provenant de de stations particulières où la tendance de long terme est au refroidissement. Ils visitent en particulier Punta Arenas (à la pointe sud de l'Amérique), où (au grand plaisir de l'institution où je travaille ) les enregistrements de la station GISTEMP affichés au mur montrent une tendance de long terme au refroidissement (même s'il y a un léger réchauffement depuis 1970). « Et voilà votre réchauffement global » déclare un des héros. Je ne peux pas être d'accord avec ceci. Le réchauffement global est défini par la moyenne globale des températures de surface. Cela ne signifie pas que tout le globe se réchauffe uniformément (ce qui n'est évidemment pas le cas). (Mais ça n'empêche pas un des personnage de déclarer plus tard (page 381) : « Cet effet est probablement le même partout dans le monde. C'est pour ça qu'on l'appelle réchauffement global »). Si les personnages avaient visité la station toute proche de Santa Barbara Cruz Aeropuerto, le graphique affiché aurait montré une tendance positive. Est-ce que cela aurait été une preuve réchauffement global? Non. C'est seulement en amalgamant tous les enregistrements dont nous disposons (après correction pour les problèmes connus, comme discuté ci-dessous) que nous pouvons nous faire une idée de comment évoluent les moyennes régionales, hémisphériques ou globales. C'est cela, la signification de « réchauffement global. »
Crichton soulève ensuite le fait apparemment non reconnu (en tous cas par l'avocat) que l'intérieur de l'antarctique se refroidit (page 196), un thème discuté dans un autre post (refroidissement antarctique, réchauffement global?). C'est plus ou moins correct, étant donné les incertitudes évidentes dans les données de long terme pour l'intérieur du continent, mais, comme expliqué ci-dessus, un refroidissement local n'est pas contradictoire avec un réchauffement global.
Après cela, et de façon un peu plus troublante, nous avons quelques rappels plutôt trompeurs et sélectifs à propos du témoignage de Jim Hansen au Congrès en 1988. « Le Dr Hansen a surestimé [le réchauffement global] de 300% » (page 247). Ce témoignage conduisit effectivement à une forte augmentation de la prise de conscience du fait que le réchauffement global était un sujet important, mais pas parce qu'il exagérait le problème de 300%. Dans un article publié peu après son témoignage (Hansen et al. 1988), il présente des simulations pour trois scénarios de croissance des GES et des autres forçages. Le scénario A présentait une croissance exponentielle du CO2, le scénario B contenait une hypothèse plus modeste de scénario à politique inchangée (business as usual) et dans le scénario C, il n'y avait plus d'augmentation du CO2 après l'an 2000. Les scénarios B et C incluaient tous les deux une grande éruption volcanique en 1995. Très justement, les auteurs ne supposaient pas qu'ils savaient quelle serait la croissance des émissions de CO2. Ils présentaient donc plusieurs scénarios. Le scénario qui se trouve être le plus proche de la croissance réelle des forçages est le scénario B, à la différence que l'éruption du Pinatubo eut lieu en 1991 et non en 1995. Dans ce scénario, les changements de température de la décennie sont très proches de la valeur observée de 0,11°C/décennie (voir figure). Donc, à partir d'une bonne estimation des forçages, le modèle fit un travail raisonnable. En fait, dans son témoignage, Hansen ne montra que les résultats du scénario B et déclara clairement qu'il était le plus probable. L'erreur de 300% vient du « sceptique » bien connu Patrick Michaels, qui dans son témoignage au Congrès de 1998 effaça les deux courbes du bas pour donner l'impression que les modèles ne sont pas fiables.
Le Dr Hansen est encore cité (un peu hors contexte) en disant : « Les forçages qui déterminent les changements climatiques de long terme ne sont pas connus avec assez de précision pour définir les changements climatiques à venir. » Etant donné ce que nous venons de dire au paragraphe précédent, il est clair que sans une bonne estimation des forçages, les différences entre modèles peuvent être considérables. Il est communément accepté qu'une prévision exacte de l'évolution du climat dans les 50 ou 100 prochaines années est impossible. Le futur est en grande partie inconnaissable. Une nouvelle source d'énergie pourrait remplacer les combustibles fossiles, les gouvernements pourraient contrôler les émissions, ou nous pourrions avoir de nombreuses éruptions volcaniques. Il est donc beaucoup plus raisonnable de se demander ce qu'il adviendrait du climat si la concentration de CO2 doublait. Ou si ceci ou cela arrivait. Ces questions sont beaucoup mieux définies. La citation de Hansen est souvent utilisée pour soutenir que les modèles sont si peu fiables qu'ils sont inutiles pour aider à évaluer la situation. En fait, c'est le contraire – ce que Hansen dit, c'est que l'incertitude des modèles (par exemple la sensibilité climatique) est maintenant plus faible que l'incertitude sur les scénarios d'émission (c'est-à-dire l'incertitude sur les forçages, qui est responsable de l'incertitude des projections).
Ensuite, page 315, on trouve « dans les années 70, tous les spécialistes du climat croyaient qu'une période glaciaire allait arriver (et comme décrit en page 563, le professeur du MIT le pense toujours). Cette affirmation n'est pas correcte. Les pages de William Conolley sur ce sujet sont une lecture éclairante pour ceux qui voudraient plus d'information.
Un autre sujet qui revient souvent dans les discussions sur les données de température de surface est l'impact de l'effet « îlot de chaleur urbaine » (urban heat island effect). Il apparaît page 370. Il est incontestable que les centres de villes comme New-York sont significativement plus chauds que les régions avoisinantes. Ce sujet a été étudié en détail et des corrections sont faites pour en tenir compte dans toutes les analyses des évolutions de température globale. Pour voir s'il pourrait encore y avoir un effet résiduel dans les données corrigées, un article récent (Parker, Nature, 2004) examine les différences de tendance entre les conditions venteuses et sans vent. On sait que le vent diminue l'effet du réchauffement urbain. La tendance au réchauffement devrait donc être plus faible les jours venteux que les jours calmes, si cet effet restait important. Les deux tendances sont en fait quasi identiques. Il existe d'autres observations qui valident les ajustements de température de surface. Ce sont les océans, qui se réchauffent depuis plusieurs décennies. Même Richard Lindzen, habituellement un archi-sceptique sur ces sujets, a déclaré que « les augmentations de la température des océans soutiennent les données de température de surface » (Lindzen 2002). Une autre démonstration que les corrections sont suffisantes: sur le continent Nord-américain, où de nombreuses villes ont un effet de réchauffement du centre ville, la moyenne des données corrigées est en fait plutôt plate (page 88) – c'est-à-dire que le fort biais urbain des USA n'influence pas la moyenne régionale ou globale de température.
Un thème central du livre est l'augmentation du niveau des mers. Vanuatu reçoit une attention spéciale, car ses habitants se sentent à juste titre concernés par la transformation de leur île – très basse – en marécage. Le niveau des mers est toutefois quelque chose d'horriblement difficile à mesurer. Les jauges à marée donnent des données parasitées et sont en général situées sur les côtes continentales. La tendance globale estimée à partir de ces jauges est de 1,7 à 2,4 mm/an. Mais le niveau des mers n'augmente pas partout. La Scandinavie est toujours en train de rebondir depuis la dernière période glaciaire et la mer recule de ses côtes. Les observations par satellite (TOPEX / POSEIDON et JASON) peuvent donner une image globale. Elles indiquent que, même si l'augmentation moyenne des dernières années (2,8 mm/an) est significativement plus grande que la tendance de long terme estimée à partir des jauges de marée, les changements du niveau des mers sont en fait très dynamiques. On observe beaucoup de comportements différents, en particulier dans le pacifique, associés à la variabilité de El Niño, qui pourraient être reliées au fait qu'on n'observe pas d'augmentation du niveau des mers à Vanuatu depuis 40 ans. Curieusement, Crichton cite les données estimées des satellites pour prétendre que le taux d'augmentation n'a pas augmenté récemment (« [le niveau des mers] augmente rapidement, les satellites le prouvent. En fait, ils ne le prouve pas »), page 424. Comparer des données de satellites et des jauges à marée pose clairement des problèmes. Les données des satellites peuvent aussi avoir leur propres problèmes (voir les données MSU), mais les valeurs citées ne soutiennent en fait pas du tout l'affirmation du livre. Il serait toutefois plus juste de dire que les données obtenues par satellite sont compatibles avec une augmentation récente du taux, plutôt qu'une preuve qu'il existe effectivement.
Il n'y a que peu de véritables erreurs, mais, pour être généreux, elles ont probablement échappés à l'éditeur. Par exemple, page 187, « une température plus élevée entraîne plus de vapeur d'eau dans l'air et donc moins de nuages. » On peut supposer qu'il voulait dire que si les température sont plus élevées, l'humidité relative pourrait être plus basse (et il pourrait alors y avoir moins de nuage). A la page 368, « les régions agricoles sont plus chaudes que les forêts. » C'est probablement une confusion avec la question du réchauffement urbain, mais l'effet réel est le contraire: les zones agricoles ont un albédo plus élevé que les forêts, reflètent plus de radiations solaire et sont donc plus froides. En fait, même si ce n'est pas encore complètement quantifié, il semble qu'il y ait eu un terme significatif de refroidissement dans le budget global des 150 dernières années. A la page 461, « Le Groënland montre que, dans les derniers centaines de milliers d'années, il y a eu 4 changements abrupts de climat. » Plutôt 40, en fait. Et c'est probablement sous-évalué, puisque le Groënland ne peut garder des traces de changements qui ne seraient apparus que sous les tropiques.
A la fin du livre, Crichton nous donne son message. Il réitère les points principaux de sa thèse, c'est-à-dire que certains vont trop loin pour susciter un soutien (et j'ai quelque sympathie avec ceci) et que, parce que nous ne savons pas tout, nous ne savons en fait rien (ici, je me permets de ne pas partager son avis). Il donne aussi son estimation (~0,8°C) du réchauffement global pour le 21ème siècle et prétend que, puisque les modèles diffèrents de 400% dans leurs estimations, sa supposition est aussi bonne que les leurs. Ceci n'est pas vrai. L'ensemble des modèles actuels ont une sensibilité climatique moyenne d'environ 3°C pour un doublement des concentrations de CO2 (dans l'intervalle de 2,5 à 4°C) (réunion du GIEC de Paris, juillet 2004), soit une incertitude de 30%. Comme on l'a vu ci-dessus, les plus grandes incertitudes sur l'avenir sont l'économie, la technologie et le taux de développement. La cause principale de l'étendue de l'intervalle de 1,5 à 5,8°C donné par le GIEC pour 2100 est en fait la variété des scénarios utilisés. Sans meilleure information, si on supposait (incorrectement) que tous les scénarios étaient également probables, l'erreur autour de la moyenne de3,6°C serait de 60%, et non de 400%. Crichton suggère également que la plus grande partie de ses 0,8°C viendrait des changements dans l'utilisation des sols. C'est en fait extrêmement improbable puisque l'utilisation des sols a en fait un effet de refroidissement (comme discuté plus haut). Des simulations basées sur les lois de la physique sont en fait meilleure que les devinettes.
Finalement, dans l'appendice, avec une logique assez curieuse, Crichton compare le réchauffement global avec le mouvement eugéniste au 19ème siècle. Il soutient que, puisque l'eugénisme était étudié dans de prestigieuses universités et soutenus par des organisations caritatives, et qu'il en va de même actuellement pour le réchauffement global, ils doivent être liés d'un façon ou d'une autre. Vraisemblablement, l'auteur ne croit en fait pas que les recherches académiques soutenues par des fondations sont ipso facto mauvaises et malavisées, mais c'est l'impression qu'il nous laisse.
En résumé, je suis un peu déçu, en particulier parce que, durant la phase de recherche pour son livre, Crichton est en fait venu dans notre labo pour discuter certains des thèmes avec moi et quelques collègues. Je suppose que nous n'avons pas fait un très bon boulot. Jugeant de sa liste de lectures, la prose plutôt sèche des rapports du GIEC n'est pas à la hauteur de quelques textes plus piquants écrits par des sceptiques. Si RealClimate avait existé il y a quelques années, peut-être que tout se serait passé différemment.
Mise à jour: A la demande populaire, voici une version mise à jour du graphique original de 1998. mes excuses pour mon manque de compétences avec photoshop.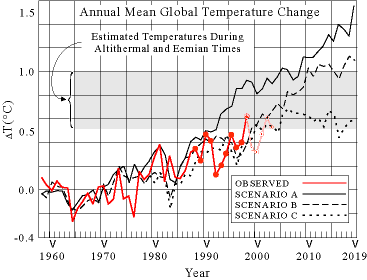 Mise à jour du 16 février 2005: Chris Mooney fait aussi un bon travail en vérifiant quelques notes de bas de page du livre de Crichton.