It's obvious.
The sun provides 99.998% of the energy to the Earth's climate (the rest coming from geothermal heat sources). The circulation patterns of the tropical Hadley Cell, the mid latitude storm tracks the polar high and the resulting climate zones are all driven by the gradients of solar heating as a function of latitude. So of course any significant change to solar output is bound to affect the climate, it stands to reason! Since we can see that there are changes in solar activity, it's therefore just a question of finding the link. Researchers for over a century have therefore taken any climate records they can find and searched for correlations to the sunspots, the solar-cycle length, geomagnetic indices, cosmogenic isotopes or smoothed versions thereof (and there are many ways to do the smoothing, and you don't even need to confine yourself to one single method per record). At the same time, estimates of solar output in the past are extremely uncertain, and so there is a great deal of scope in blaming any unexplained phenomena on solar changes without fear of contradiction.

Astute readers will notice that there is a clear problem here. The widespread predisposition to believe that there must be a significant link and a lack of precise knowledge of past changes are two ingredients that can prove, err…., scientifically troublesome. Unfortunately they lead to a tendency to keep looking for the correlation until one finds one. When that occurs (as it will if you look hard enough even in random data) it gets published as one more proof of the significant impact that solar change has on climate. Never do the authors describe how many records and how many different smoothing methods they went through before they found this one case where the significance is greater than 95%. Of course, if they went through more than 20, the chances of randomly stumbling onto this level of significance is quite high.
The proof that this often happens is shown by the number of these published correlations that fall apart once another few years of data are added, cosmic rays (which are modulated by solar activity) and cloudiness for instance.
Sometimes even papers in highly respected journals fall into the same trap. Friis-Christensen and Lassen (Science, 1991) was a notorious paper that purported to link solar-cycle length (i.e. the time between sucessive sunspot maxima or minima) to surface temperatures that is still quoted widely. As discussed at length by Peter Laut and colleagues, the excellent correlation between solar cycle length and hemispheric mean temperature only appeared when the method of smoothing changed as one went along. The only reason for doing that is that it shows the relationship (that they 'knew' must be there) more clearly. And, unsurprisingly, with another cycle of data, the relationship failed to hold up.
The potential for self-delusion is significantly enhanced by the fact that climate data generally does have a lot of signal in the decadal band (say between 9 and 15 years). This variability relates to the incidence of volcanic eruptions, ENSO cycles, the Pacific Decadal Oscillation (PDO) etc. as well as potentially the solar cycle. So another neat trick to convince yourself that you found a solar-climate link is to use a very narrow band pass filter centered around 11 years, to match the rough periodicity of the sun spot cycle, and then show that your 11 year cycle in the data matches the sun spot cycle. Often these correlations mysteriously change phase with time, which is usually described as evidence of the non-linearity of the climate system, but in fact is the expected behaviour when there is no actual coherence. Even if the phase relationship is stable, the amount of variance explained in the original record is usually extremely small.
This is not to say that there is no solar influence on climate change, only that establishing such a link is more difficult then many assume. What is generally required is a consistent signal over a number of cycles (either the 11 year sunspot cycle or more long term variations), similar effects if the timeseries are split, and sufficient true degrees of freedom that the connection is significant and that it explains a non-negligible fraction of the variance. These are actually quite stiff hurdles and so the number of links that survive this filter are quite small. In some rough order of certainty we can consider that the 11 year solar cycle impacts on the following are well accepted: stratospheric ozone, cosmogenic isotope production, upper atmospheric geopotential heights, stratospheric temperatures and (slightly less certain and with small magnitudes ~0.1 deg C) tropospheric and ocean temperatures. More marginal are impacts on wintertime tropospheric circulation (like the NAO). It is also clear that if there really was a big signal in the data, it would have been found by now. The very fact that we are still arguing about statisitical significance implies that whatever signal there is, is small.
Over the multi-decadal time scales, there is more reasonable evidence for an NAO and surface temperature response to solar changes though the magnitudes are still small. Over even longer time scales (hundreds of years) there are a number of paleo-records that correlate with records of cosmogenic isotopes (particularly 10Be and 14C), however, these records are somewhat modulated by climate processes themselves (the carbon cycle in the case of 14C, aerosol deposition and transport processes for 10Be) and so don't offer an absolutely clean attribution. Nonetheless, by comparing with both isotopes and trying to correct for climate (and geomagnetic) effects, some coherent signals have been seen.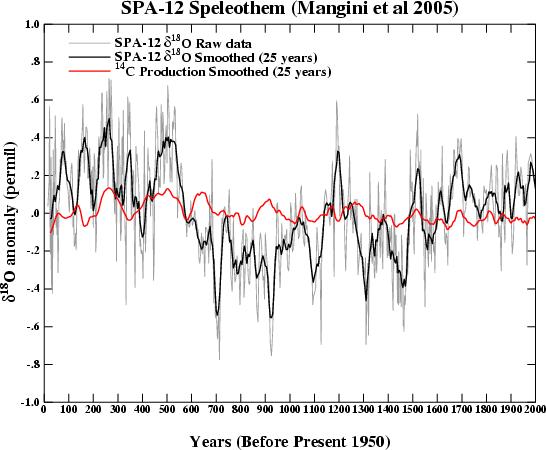 Some contrarian commentators have recently fallen into the habit of mass mailing any new solar-related abstracts and implying that the existence of solar forcing in the past negates any possible recent anthropogenic impact on climate. Since these studies do not have any implication for the radiative impact of CO2, and don't change the fact that there has been no effective change in any solar indices since about 1950, it is hard to see a substantial basis for this (implied) argument. For instance, there has been a lot of recent attention paid to Mangini et al. (2005) where a solar link to a new Alpine speleothem record was claimed. However, a quick analysis (right) indicates that the explained variance in the record (smoothed over 25 years) correlated to the 14C-production function (a slightly cleaner solar proxy than the resdiual atmospheric 14C (Muscheler et al, 2005 – see comment/link below)) is only about 5%. Hardly a definitive refutation of anthropogenic greenhouse gas forcing.
A more interesting question is whether our current understanding of how solar forcing works is sufficient to explain the clearest solar impacts in the record. During the most studied period, the Maunder Minimum (MM) in the late 17th Century, sunspots were very rarely seen and that corresponded to a particularly cool period in the Northern Hemisphere (particularly in Europe as is seen in the speleothem record as well – NB. cooler temperatures are associated with increased isotope ratios). In order to assess that, all other forcings that were operating at the same time need to be considered as well. The MM was also a time of enhanced volcanic activity, and the cooling from this was probably comparable with the cooling due to solar effects (an exact attribution is impossible given the uncertainties in both forcings) .Another important factor is that the records of cooling at the MM are predominantly continental and mainly located in North America and Eurasia. This is consistent with the eveidence for a weak NAO at this time in independent reconstructions.
So can models using what we are reasonably sure of match these results? The answer is probably (us climate scientists always need to hedge!). Using the known amplification of the solar cycle (and presumably the long term trend) in the UV band, allowing stratospheric temperatures and circulation patterns to adjust and including the direct radiative forcings from the sun and volcanoes, we found that it gave temperature anomalies and spatial patterns that were in fair agreement with the observations (Shindell et al, 2003). To be sure, there is still some wiggle room – but within the uncertainties in climate sensitivity, the magnitude of the long term trend in the solar forcing and the error bars in the temperature reconstructions, the model-data fit is quite good. Should those error bars be revised in the future, that conclusion might have to be revisited, but as things stand there is no obvious discrepency that requires some new exotic physics to explain it. That doesn't mean that there isn't some other mechanism we haven't thought of yet, but it does mean that you can't claim that there must necessarily be such a mechanism.
In summary, although solar forcing is real, the implications of that are often rather overstated. Since there has been a clear history of people fooling themselves about the importance of solar-climate links, any new studies in the field need to be considered very carefully before conclusions are drawn, especially with respect the warming over recent decades, which despite all of this discussion about solar activity, is almost all related to anthropogenic greenhouse gases.
Update (Jul 24): Upon further investigation, it appears that the archived age model for the speleothem (cave record) from Mangini et al (2005) is the version that has been tuned to maximise the correlation to the Delta 14C record they used. Thus any correlation with the 14C production record I used (since it is different) will be minimised. This actually makes it very difficult to assess how significant any particular correlation is (a perennial problem in solar-climate studies) – ideally you would probably want to sub-sample the distribution and see how big a correlation you could get from wiggle matching random data (within the limits of the few measured dates). Thus, my contention that solar doesn't explain much of the variability in this record isn't valid. It could explain anything from 5 to 40% (with unknown error bars). Sorry for any confusion.