Guest commentary from Thomas Crowley
NOAA has issued its annual forecast for the hurricane season, along with its now-standard explanation that there is a natural cycle of multidecadal (40-60 year) length in the North Atlantic circulation (often referred to as the "Atlantic Multidecadal Oscillation"–see Figure), that is varying the frequency of Atlantic tropical cyclones, and that the present high level of activity is due to a concurrent positive peak in this oscillation.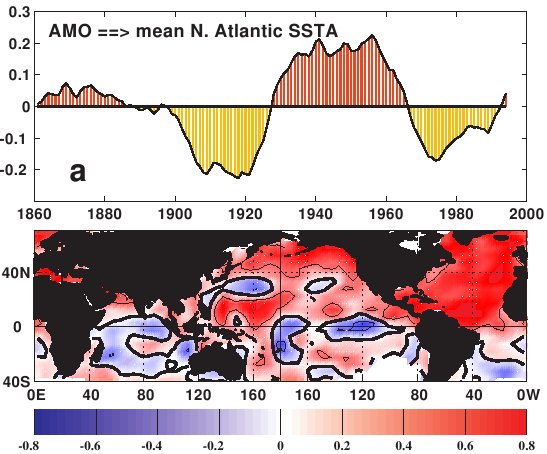 There was not one mention of the possibility of global warming being a partial factor for these changes (see also this NY Times report on two recent studies).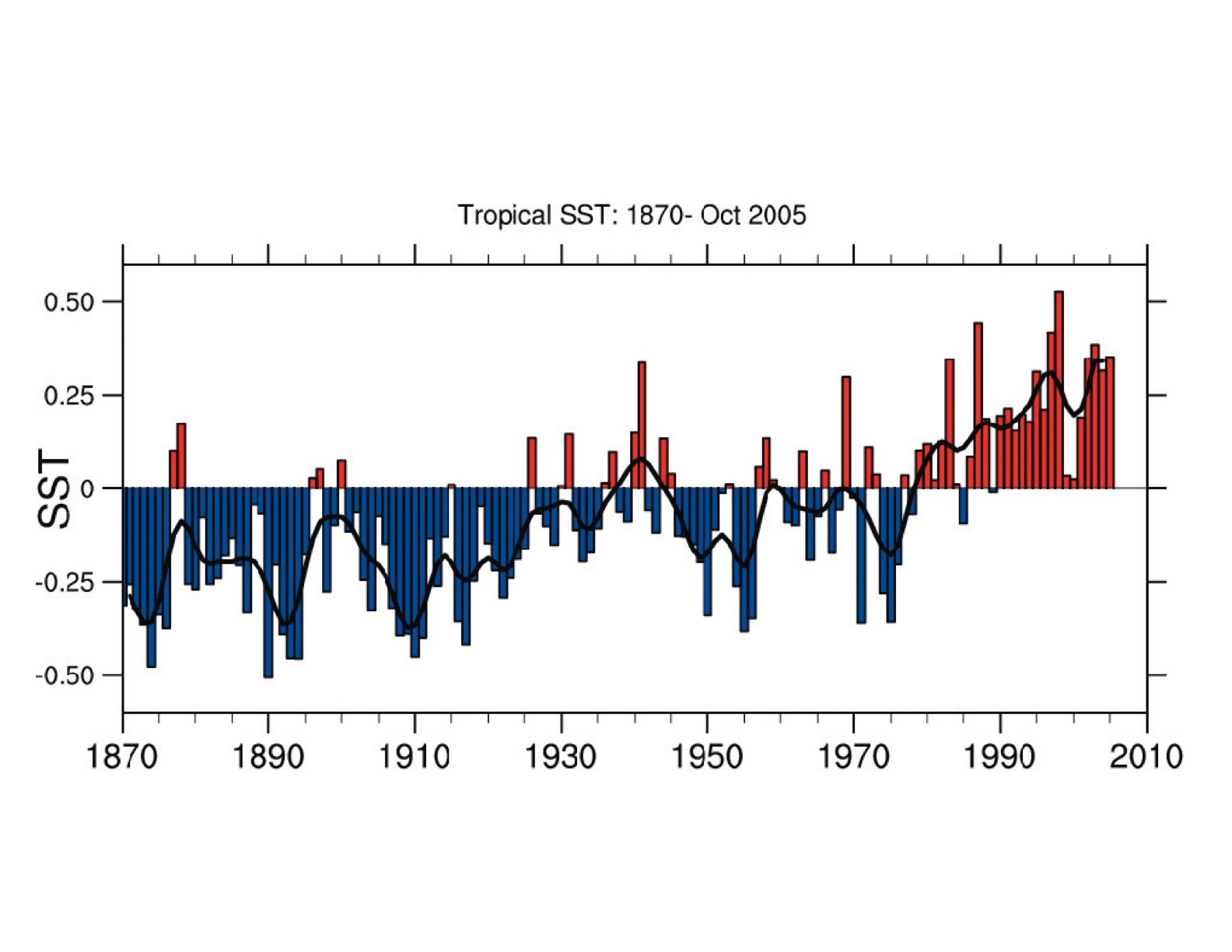 The average reader of newspaper articles on this prediction might well have concluded that there are in fact two camps on this subject – one global warming, one natural variability. But I think there is a one-way commingling of the camps. I suspect that most people leaning toward global warming as a contributor to the unusual increase in the magnitude of Atlantic tropical storms and hurricanes would readily concede the possibility that the AMO could, in addition to the El Nino/Southern Oscillation, modulate any greenhouse gas contribution to the enhanced activities of tropical storms.
It is not at all clear to me that the natural variability camp sees any need to commingle with the global warming community.
Is there any way to distinguish as to the relative strengths of arguments of these two camps? Actually, it is quite easy to do so. If the natural variability argument applies there should be little difference in the statistics of the present phase of the AMO with the past. But global temperature data incontrovertibly indicate that there has been a widespread warming since the previous positive phase of the AMO (e.g. 1940-1960). This type of warming cannot be produced by the ocean circulation, which to a first approximation just moves heat around on the planet – what it robs from Peter it gives to Paul.
Furthermore, rigorous statistical studies indicate that the pattern of warming can be attributed to greenhouse gas increase. I have seen no effort to conduct a standard "detection and attribution" approach to the alternate explanation of the AMO. I encourage the AMO proponents to try it; it is somewhat more objective than simple declarative statements that the AMO are responsible for the observed warming.
Update: The two papers referenced in the NY Times article are now available online: Mann and Emanuel (2006) and Sriver and Huber (2006).