Ingilizce'den çeviren Figen Mekik
Güneşle ilgili çeşitli indislerle iklim değişikliği arasinda görülen ve görünürde inanilmaz olan korelasyonlarla sık sık saldırıya uğruyoruz. Hatta bu korelasyonların nasıl gizemli ve el altından yollarla daha da harika hale getirildiği, "Büyük Küresel Isınma Aldatması" adlı filimle dalga geçen bir yayında geçen ay ele alındı. Ama bu islah yöntemleri (mesela, eksenleri değiş tokuş etmek, var olmayan veri noktalarını grafiklere eklemek, istenilen eğilime uymayan veri noktalarını çıkarmak gibi) kullanılmadan dahi "yayınlanan bilgiler" yüzeysel olarak etkileyici hani. Peki biz neden etkilenmedik o zaman?
Size bu konuda fikir vermek amacıyla, güneş/iklim bilimcilerinden küçük bir azınlığın öncülüğünü yaptığı metodları kullanarak (ve gerekli yerlerde atıflar da olacak tabii) yeni bir siyasi yaklaşımın üretilmesini amaçlayan bir egzersiz yapacağım.. Ve konumuza daha da uygun olsun diye, Richard Lindzen'in ofis kapısını pek çok yıl süsleyen bir grafik ile başlayacağım: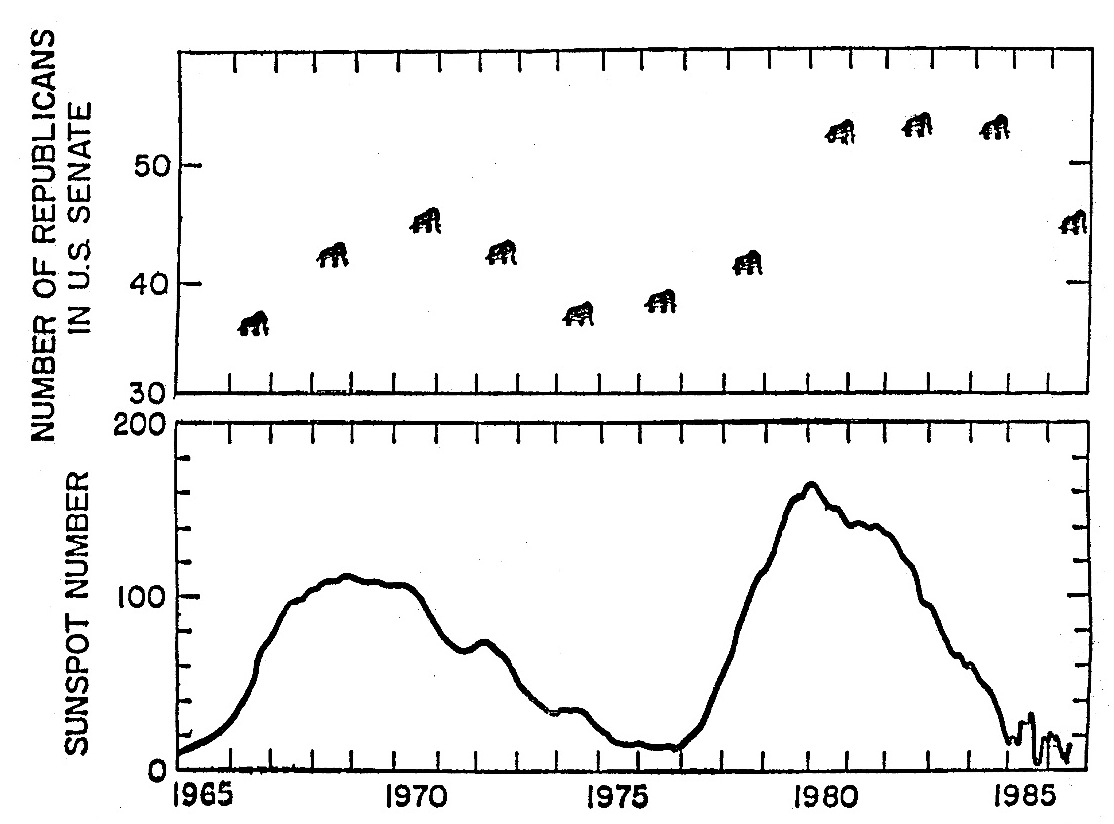 Evet, doğru okudunuz. Ekonomi veya savaşları unutun, Cumhuriyetçi partinin kaderini güneş lekelerindeki evreler belirliyor.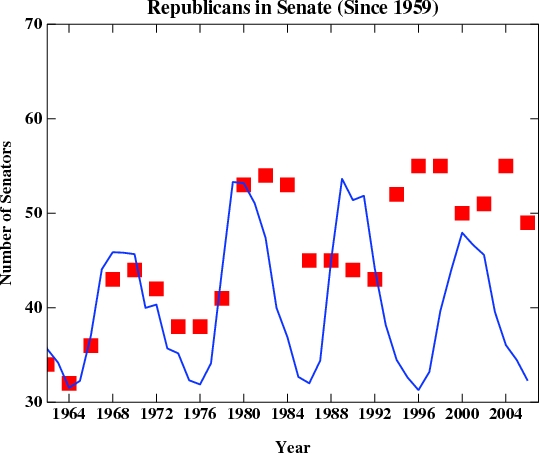 "Tabii ama" diyebilir inanmayanlar "bu grafik sadece bir iki evrede uyum gösteriyor. 1986'dan sonra uyum bozuluyor."
Evet, bu doğru tabii. Ama grafiğin sol kısmındaki iyi korelasyon hala kayda değer (r = 0.52! 1960-1986); dolayısıyla, sonra nasıl bozulduğunu göz ardı ederek buna sık sık atıf yapabiliriz (mesela Svenmark, 2007'de Marsh and Svenmark 2000'den bahsettikleri gibi). Ama daha önemlisi, bu sadece kuramımızın biraz ayarlanmaya gerek duyduğunu gösteriyor.
Grafiğimizin ikinci yarısına bakalım. Eh bu dönem içinde güçlü bir korelasyon var aslında (r = 0.63, 1988-2006). Ancak bu sefer korelasyonumuz ters. Ama bu kimseyi şaşırtmamalı. Güneş – senatör ilişkileri karışık malum.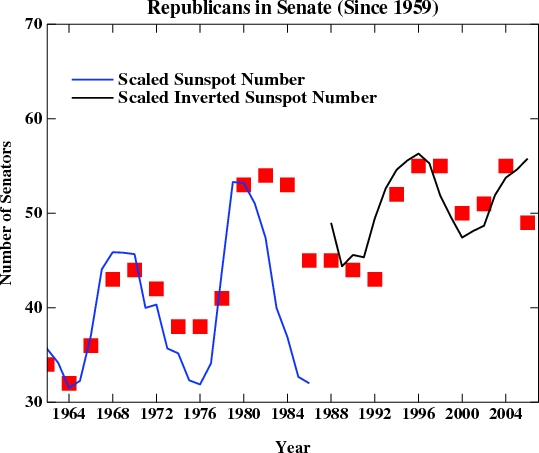 Şimdi hepsini bir araya getirirsek, bütün süreç boyunca güzel bir uyum olduğunu görebiliriz…. 1984 ile 1988 arasındaki boşluk hariç tabii, ama maalesef, geçen yılki seçimler de bu trende uymamıştı zaten. 1984-1988 arası Ronald Reagan'ın ikinci dönemiydi. Tabii ki hiç bir Cumhuriyetçi senatör bunu göz ardı edemez. O zaman şu savımızı ileri sürüyoruz: "Ronald Reagan'ın ikinci dönem faz kayması" ile 1986'daki Hale güneş manyetik devresinin işaret değiştirmesi buradaki dinamiği bariz bir şekilde değiştirdi. Bu tip faz kaymaları güneş çalışmalarında sık sık görülür (mesela Landschmidt ve pek çok başkaları), ve çok nadir olarak bu olaylar iki, bağımsız onyıllık spektral güç olarak algılanır. Son olarak, daha yakın zamana ait veri noktalarını grafiğimize koymamıza da müsaade var (mesela Büyük Küresel Isınma Aldatması gibi) ki grafiğimiz sık dursun. Yani biraz çalısmayla, temelde savunmak istediğimiz kuramı, daha uzun süreli verilerle destekleyerek kurtarabildik.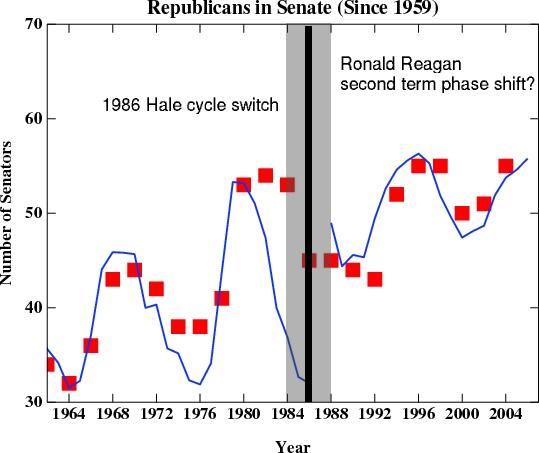 Bazı okuyucularımız diyebilirler ki herhangi bir mekanizma öne sürülmeden gösterilen bu güçlü korelasyonlar bir matematik oyunundan başka bir şey değil; ve hatta diyebilirler ki yanlış ve güdümlü bir mantıkla elde edilen veri eğilimlerinin hiç bir değeri yok. Bu mantıklı bir iddia gibi görünebilir. Ancak tabii ki deneyler yapmadan nihai sonuçlara ulaşmak mümkün değil. Bu çok ilginç sonuçlarımızı temel alarak, Cumhuriyetçi senatörleri çeşitli kuvvette kozmik ışınımlara maruz bıraktıktan sonra seçilebilirliklerini ölçmeyi öne sürüyoruz. Bunu yapmamıza engel olmak isteyecek fon veren kuruluşların veya etik kurullarının tutumu, sadece siyasi "fikir birlik"lerini bozulacağından korktuklarını gösterir.
Inandırıcı, değil mi?
Güneş lekeleri ve senatörlerle ilgili veriler muhakkak ki benim yaptığımdan daha güzel kurcalanabilir. Ben, çeşitli gecikme, filtre (Friis-Christensen and Lassen, 1991), bazı eğilimleri giderme (mesela Marsh and Svensmark, 2003) veya birbiriyle alakasız veri tabanlarını ayırma (mesela Svensmark ve Friis-Christensen 1997, Nir Shaviv) metodlarından hiç birini kullanmadım. "Leyleğin neler getirdiğine dair yeni veriler" (Hofer ve diğerleri, 2004) adlı eserden başka fikirler de edinebilirsiniz. Benden daha başarılı veri kurcalama yöntemleri gösterebilecek okurlarımıza özel tebriklerimiz olacak.