Guest Commentary from Figen Mekik
This quote from Drew Shindell (NASA Goddard Institute for Space Studies, New York) hit me very close to home: "Much of the Mediterranean area, North Africa and the Middle East rapidly are becoming drier. If the trend continues as expected, the consequences may be severe in only a couple of decades. These changes could pose significant water resource challenges to large segments of the population" (February, 2007-NASA, Science Daily).
I live in Michigan, but Turkey is my home where I go for vacation on the Med. This year's drought was especially noteworthy, so I would like to share some of my observations with you, and then explore the links between the North Atlantic Oscillation (NAO), Mediterranean drought and anthropogenic global warming (AGW).
The 10-hour flight from Chicago to Istanbul often inspires passengers to romanticize about Istanbul, both tourists and natives alike. Istanbul is the city of legends, forests, and the Bosphorus. It is an open museum of millennia of history with archeological and cultural remnants surrounded by green lush gardens. It is the place where east meets west; where blue meets green; where the great Mevlâna's inviting words whisper in the wind "Come, come again, whoever you are, come!"
So you can imagine our collective horror as the plane started circling Istanbul and we saw a dry, desolate, dusty city without even a hint of green anywhere.


The Marmara region of Turkey where Istanbul is located received 34% less precipitation than average this past winter; and the Aegean Region, which includes the city of Izmir, received 43% less precipitation than average since October of 2006. Precipitation this low was unprecedented in these regions in the last three decades. So is this a freak year, you may ask?
This next graph shows observational spring precipitation data between 1950 and 2007 (shown with green dots) for Istanbul and multi-centennial (1635-2000) spring precipitation reconstruction from tree ring data for the NW Black Sea region in Turkey (pink and red dots show a 5-year running average for precipitation data from tree rings) (data). Multi-centennial tree ring precipitation reconstructions for the Marmara region are not available. Although the observational precipitation record for Istanbul is generally lower than the spring precipitation reconstruction for the NW Black Sea region, both observational and reconstructed data follow a similar trend, except for two unusually rainy springs in 1998 and 2000 in Istanbul. Also note in the tree ring precipitation data that although the amount of precipitation has fluctuated throughout centuries, it has not consistently dropped for more than 3-4 years until the 1970's. Since then there has been a steady decline until 2000 (the red part of the graph).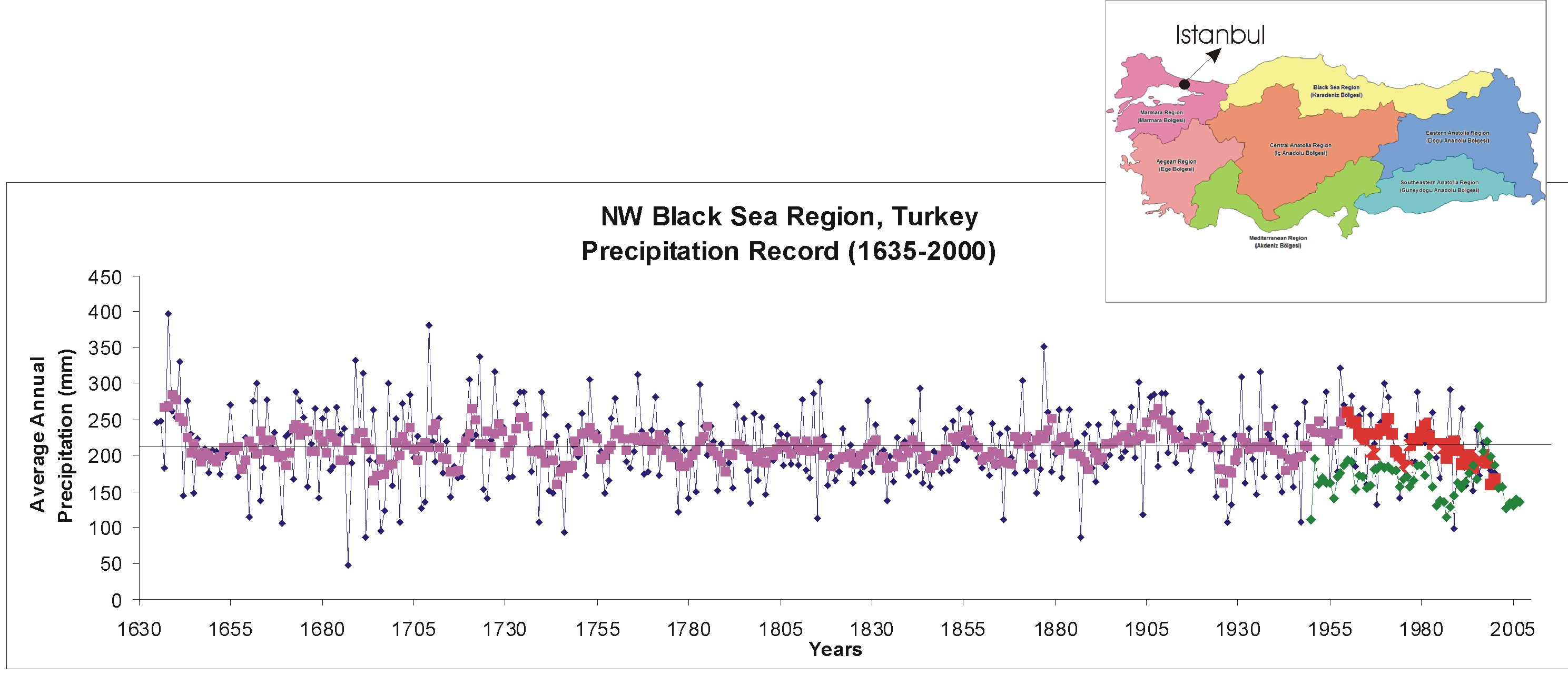 In the summer of 2007, temperatures rose over 46°C in many parts of Turkey as well as the entire Mediterranean region. This heat combined with aridity is estimated to have cost Turkish farmers ~$3.9 billion. Turkey's wheat crop dropped by about 15%. The Turkish Aegean region alone suffered from 30% lower harvest yields in cotton, corn and tobacco and a 50% drop in fig production.
By mid-summer, the drought started to affect major cities. Ankara (~4 million), the capital, suffered serious water rationing this summer (two days on, two days off). Car washing and lawn watering were outlawed within city limits. With the unforeseen burst of the main water pipe feeding the metropolis, the whole city was left without running water for an entire week. Hospitals had to be issued groundwater in tankers, and city officials started to debate whether to delay public school openings until mid-October to contain potential spread of disease. By mid-August, Ankara had only 5% of total capacity in its reservoirs and dams.
Tuz Gölü, a large salt lake in central Turkey within the Konya Basin, lost half of its water volume in the last four decades. The Konya Basin itself, which hosts a third of all groundwater reserves in Turkey and is the home to eight wetland bird species on the brink of extinction, lost 1,300,000 acres of wetland and witnessed a water table drop of 1-2 meters, also in the last 40 years.
It looks grim.
But not just for Turkey. Even popular vacation areas around the Aegean were hellish this year. Greece had to declare "state of emergency" at least twice this summer: once for forest fires killing over 60 people, burning half a million acres of land, and costing $1.6 billion; and once for drought on the Cyclades Islands due to water shortages.
Morocco experienced 50% less rainfall than average this year which will likely result in half of last year's grain harvest. And because feed prices went up as a result of this drought, Moroccan livestock was also seriously affected. Again, is this an unusual year? Actually not. This next figure, which is from Esper et al.'s (2007) paper in Geophysical Research Letters, shows a significant drop in Feb. – June PDSI (which is a standardized measure of surface moisture conditions after Palmer, 1965) since 1980 in Morocco.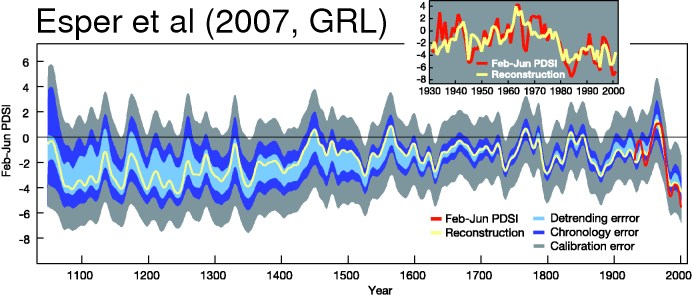 Some speculate that the tragic fires in Greece may have been arson, others say better maintenance of water pipes and anticipation of the coming drought early in the previous winter would have prevented Ankara's water shortage, and better irrigation systems in Morocco would have mitigated agricultural disaster there.
Though it is "debated" in the US, most people in Turkey consider AGW to be a given. This is generally a good attitude, of course, but it opened the door for some government and city officials to simply blame AGW for drought instead of their incompetence in dealing with it. As a result, the Turkish General Directorate of Disaster Affairs started discussing whether AGW should be listed under "natural disasters" in order to provide better risk assessment and adaptation plans, and to prohibit building new structures in "high risk" areas. Even Al Gore came to visit Istanbul this summer to give a talk at a conference called "Climate Change and its Effect on Life."
So, is AGW to blame for Mediterranean drought? Although bad land use practices and arson share the blame, AGW is most likely the culprit. Here's how: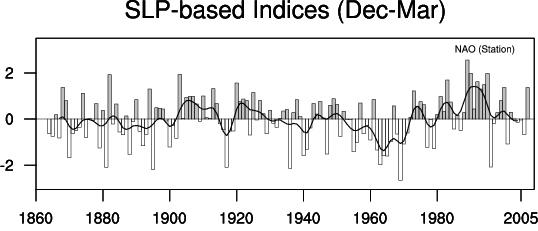 The North Atlantic Oscillation is an alternation of air masses between polar and subtropical regions of the North Atlantic. When the NAO index (difference between the normalized sea level pressure anomalies in the Iceland and Azores areas, respectively) is in a positive phase, a low pressure system prevails over Iceland and a high pressure system over the Azores. This causes cooler northern seas, stronger winter storms across the Atlantic Ocean, warm wet winters in northern Europe, and cold and dry winters in Canada and Greenland. However, this also causes less rain and reduced stream flow in southeastern Europe and the Middle East. In general, when NAO is in a positive phase, the Mediterranean region receives less precipitation.
The precipitation pattern in Turkey is well correlated with the phases of the NAO index. For instance Cullen and deMenocal (2000) showed that Euphrates' spring stream flow varies by about 50% with the NAO index. The NAO index vacillates between negative and positive phases, but its oscillations had a more annual pattern before the 20th century, and since then has become more decadal. More importantly, since the 80's it has remained in a prolonged positive phase. This is in keeping with the precipitation drop I described for Turkey and Morocco (and the Mediterranean region) in the last several decades.
But do we know that this recent prolonged positive phase in the NAO index is not simply a part of its natural decadal variability? And is this recent positive phase actually related to global warming?
These are tough questions to answer definitively, but it is likely that AGW will continue to keep the NAO index positive because both atmospheric CO2 rise and stratospheric ozone depletion cause a strong polar night vortex. The North Pole is dark and very cold in the winter. This creates a large temperature difference between high latitudes and subtropics. The resulting large pressure contrast forces east-west winds into a stratospheric spiral. And this stratospheric vortex likely causes the NAO to prefer a positive phase. This was first shown by Shindell and colleagues in 1999, and seems to still hold true in the IPCC AR4 runs – although the average signal is smaller. And if it stays that way, southern Europe and the Middle East are likely to continue to get drier.
Thus, the Mediterranean region is at high risk for desertification. Even if 2007 were an anomalously dry year, these disastrous events show us that small perturbations in weather patterns can lead to tragic and costly outcomes. They also show what is in store for this area in the next few decades as global warming progresses. And desert makes more desert. As land is overused and scorched by the hot sun and no rain, it dries up and vegetation cover diminishes due both to drought and wildfires. Lack of vegetation leads to further loss of humidity and increases erosion rates. So, deserts expand even more.
Having said all of this, here is one last thought: if AGW is affecting nearly all latitudes negatively, then we need to wonder where global awareness of this problem stands. The Pew Center Report (2006) found that while over 90% of the population had heard of AGW in countries like the U.S., Germany, France, Britain, Spain and Japan, this dropped to about 75-80% in Russia, Turkey and China and below 50% in Jordan, Egypt, Indonesia and Pakistan (only 12%!). So the peoples in Middle Eastern countries most at risk for growing desertification are barely aware of the problem of AGW. What is even more striking is that of the percentages of people aware of AGW I listed, 70-80% are concerned about it in Indonesia, Egypt, Turkey, Jordan and India; but only 50-60% of U.S. citizens and peoples of China consider AGW to be a serious issue. So the problem isn't just ignorance, it is also that of profound apathy.