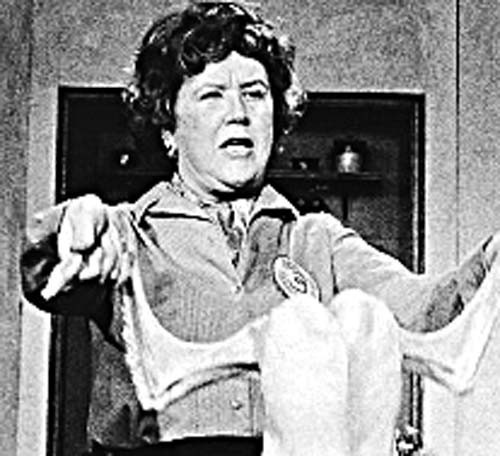 These days, when global warming inactivists need to trot out somebody with some semblance of scientific credentials (from the dwindling supply who have made themselves available for such purposes), it seems that they increasingly turn to Roy Spencer, a Principal Research Scientist at the University of Alabama. Roy does have a handful of peer-reviewed publications, some of which have quite decent and interesting results in them. However, the thing you have to understand is that what he gets through peer-review is far less threatening to the mainstream picture of anthropogenic global warming than you'd think from the spin he puts on it in press releases, presentations and the blogosphere. His recent guest article on Pielke Sr's site is a case in point, and provides the fodder for our discussion today.
Actually, Roy has been pretty busy dishing out the confusion recently. Future posts will take a look at his mass market book on climate change, entitled Climate Confusion, published last month, and his article in National Review. We'll also dig into some of his peer reviewed work, notably the recent paper by Spencer and Braswell on climate sensitivity, and his paper on tropical clouds which is widely misquoted as supporting Lindzen's IRIS conjecture regarding stabilizing cloud feedback. But on to today's cooking lesson.
They call it "Internal Radiative Forcing." We call it "weather."
In Spencer and Braswell (2008), and to an even greater extent in his blog article, Spencer tries to introduce the rather peculiar notion of "internal radiative forcing" as distinct from cloud or water vapor feedback. He goes so far as to say that the IPCC is biased against "internal radiative forcing," in favor of treating cloud effects as feedback. Just what does he mean by this notion? And what, if any, difference does it make to the way IPCC models are formulated? The answer to the latter question is easy: none, since the concept of feedbacks is just something used to try to make sense of what a model does, and does not actually enter into the formulation of the model itself.
Clouds respond on a time scale of hours to weather conditions like the appearance of fronts, to oceanic conditions, and to external radiative forcing (such as the rising and setting of the Sun). Does Spencer really think that a subsystem with such a quick intrinsic time scale can just up and decide to lock into some new configuration and stay there for decades, forcing the ocean to be dragged along into some compatible state? Or does he perhaps mean that slow components,like the ocean, modulate the clouds, and the resulting cloud radiative forcing amplifies or damps the resulting interannual or decadal variability? That latter sounds a lot like a cloud feedback to me — acting on natural variability whose root cause is in the ponderous motions of the ocean.
Think of it like a pot of water boiling on a stove. What ultimately controls the rate of boiling, the setting of the stove knob or the turbulent fluctuations of the bubbles rising through the water? Roy's idea about clouds is like saying that you should expect big, long-lasting variations in the boiling rate because sometimes all the steam bubbles will decide to form on the left half of the pot leaving the right half bubble-free — and that things will remain that way despite all the turbulence for hours on end.
The only sense that can be made of Spencer's notion is that there is some natural variability in the climate system, which in turn causes a natural variability to some extent in the radiation budget of the planet, which in turn may modify the natural variability. Is this news? Is this shocking? Is this something that should lead us to doubt model predictions of global warming? No — it is just part and parcel of the same old question of whether the pattern of the 20th and 21st century can be ascribed to natural variability without the effect of anthropogenic greenhouse gases. The IPCC, among others, nailed that, and nobody has demonstrated that natural variability can do the trick. Roy thinks he has, but as we shall soon see, it's all a matter of how you run your ingredients through the food processor.
The impressive graph that isn't
So here's what Roy did. He took two indices of interannual variability: the Southern Oscillation (SOI) index, which is a proxy for El Nino, and the Pacific Decadal Oscillation Index (PDOI). He formed an ad-hoc weighted sum of these indices,and then multiplied by an ad-hoc scaling factor to turn the resulting time series into a time series of radiative forcing in Watts per square meter. Then he used that time series to drive a simple linear globally averaged mixed layer ocean model incorporating a linearized term representing heat loss to space. And voila, look what comes out of the oven!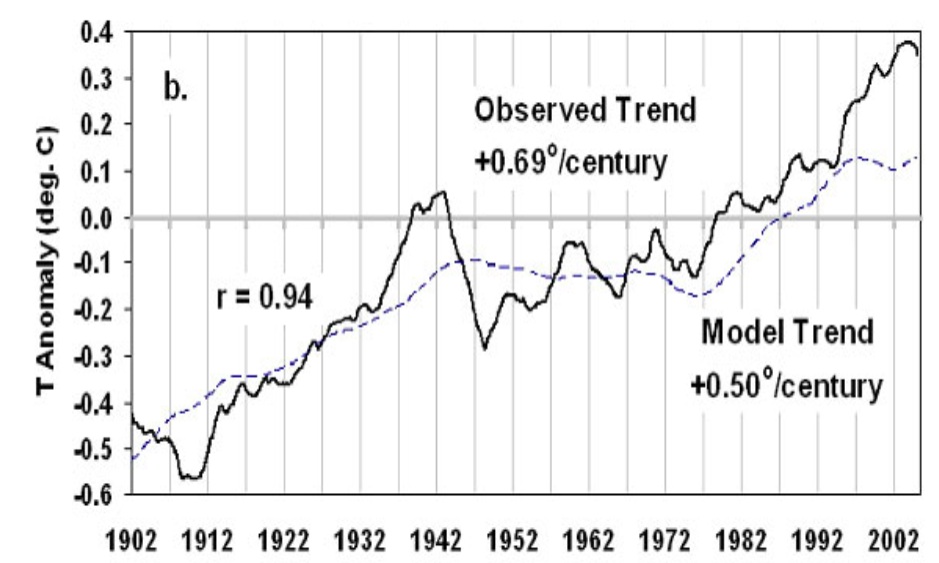 Roy is really taken with this graph. So much so that he uses it as a banner near the top of his climate confusion web site under the heading "Could Global Warming Be Mostly Natural?" But is it as good as it looks? To find out, I programmed up his model myself, but chose the set of adjustable parameters based on compatibility with observations constraining reasonable magnitudes for these parameters. Here's what I came up with: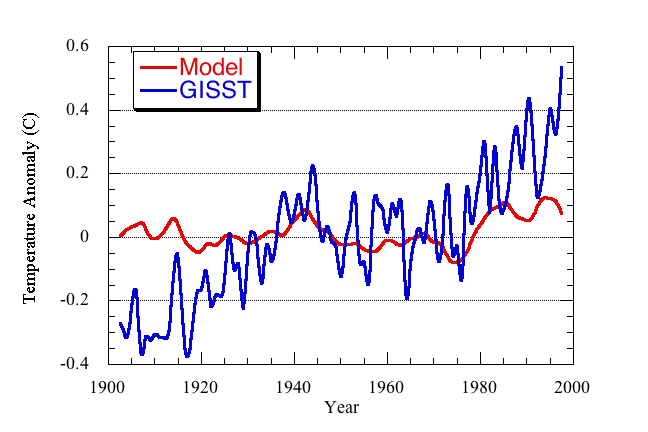 So why does Roy's graph look so much better than mine? As Julia Child said, "It's so beautifully arranged on the plate – you know someone's fingers have been all over it."
A Cooking lesson
Lesson One: Jack up the radiative forcing beyond all reason. Reliable data on decadal variability of the Earth's radiation budget are hard to come by, but to provide some reality check I based my setting of the scaling factor between radiative forcing and the SOI/PDOI index on the tropical data of Wielecki et al 2002 (as corrected in response to Trenberth's criticism here.) The data is shown below. On interannual time scales, it's mostly the net top-of-atmosphere flux that counts, so the curve to look at is the green NET curve in the bottom-most panel.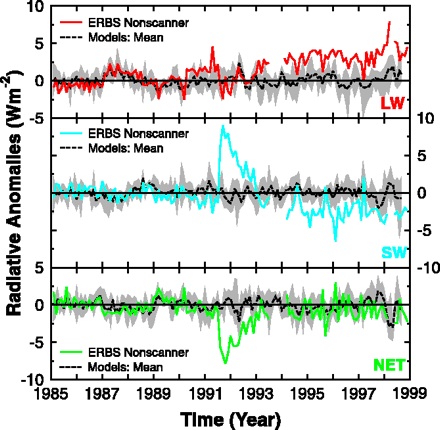 Except for the response to the Pinatubo eruption (the pronounced dip during 1991), the fluctuations are on the order of 1 W/m2 or less once you smooth on an annual time scale. Based on this estimate and on the typical magnitude of Spencer's combined SOI/PDOI index, I chose a scaling factor (Roy's a) of 0.27 W/m2 .. In his article, Roy uses a value ten times as big, but then he partly covers up how large the annual radiative forcing is by showing only the five year averages. With Roy's value of the scaling coefficient, the annual radiative forcing looks like this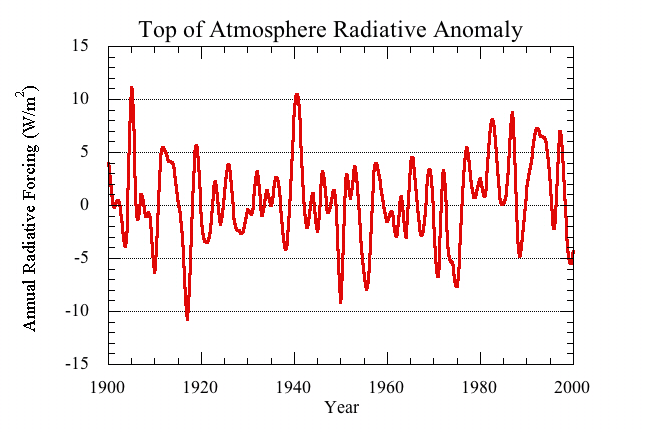 which is clearly grossly exaggerated compared to the data. Moreover, in my own estimate of the scaling factor I tried to match the overall magnitude of the fluctuations, whereas restricting the estimate to that part of the observed fluctuation which correlates with the SOI/PDOI index could reduce the factor further. Finally, even insofar as some part of climate change could be ascribed to long term cloud changes associated with the PDOI and SOI, one cannot exclude the possibility that those changes are driven by the warming — in other words a feedback. Still, let's go ahead and ignore all that, and put in Roy's value of the scaling coefficient, and see what we get.
So here's our cooked graph as of Lesson 1 of the recipe: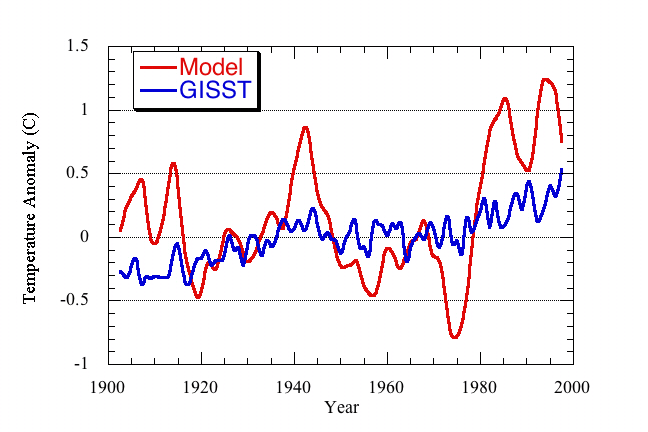 Lesson Two: Use a completely unrealistic mixed layer depth. OK, so we've goosed up the amplitude of the temperature signal to where it looks more impressive, but the wild interannual swings in temperature look completely unlike the real thing. What to do about that? This brings us to the issue of mixed layer depth. The mixed layer depth determines the response time of the model, since a deeper mixed layer has more mass and takes longer to heat up, all other things being equal. The actual ocean mixed layer has a depth on the order of 50 meters. That's why we got such large amplitude and high frequency fluctuations in the previous graph. What value does Roy use for the mixed layer depth? One kilometer. To be sure, on the centennial scale, some heat does get buried several hundred meters deep in the ocean, at least in some limited parts of the ocean. However, to assume that all radiative imbalances are instantaneously mixed away to a depth of 1000 meters is oceanographically ludicrous. Let's do it anyway. After all, as Julia Child said, "In cooking you've got to have a 'What the Hell' attitude." Here's the result now: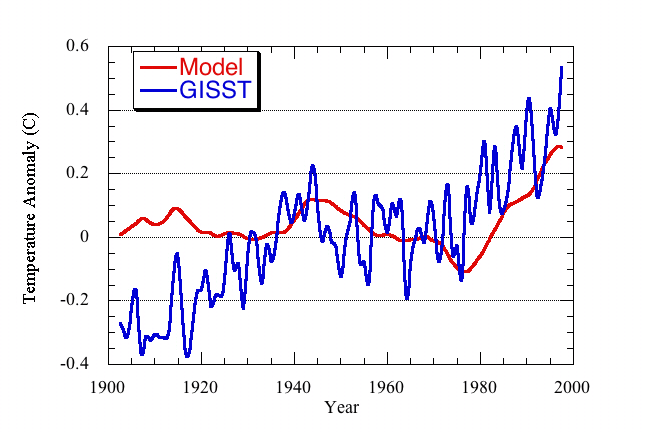 Lesson 3: Pick an initial condition way out of equilibrium. It looks better, especially in the latter part of the century. But it doesn't get the trend in the early century right. Gotta keep cooking! The essential ingredient this time is the choice of initial condition for the model. If we initialize the anomaly at -0.4C, which amounts to an assumption that the system is wildly out of equilibrium in 1900, then this is what we get: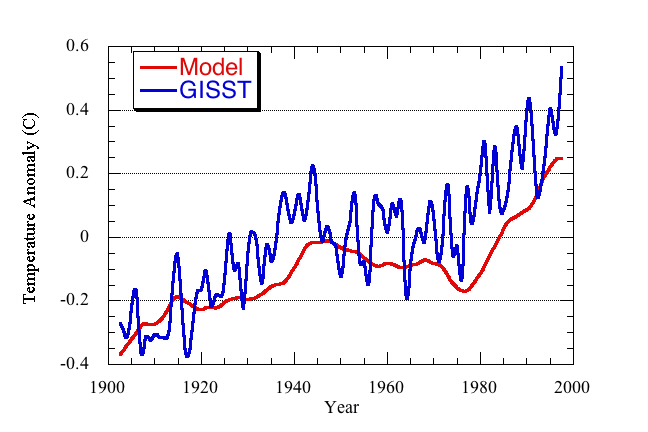 Now, it's finally looking ready to serve up to the unsuspecting diners. Note that it's the adoption of an unrealistically large mixed layer depth that allows Roy to monkey with the early-century trend by adjusting the initial condition. With a more realistic mixed layer depth, changing the initial condition on temperature anomaly only leads to a rapid adjustment period affecting the first few years.
My graph is not absolutely identical to Roy's, because there are minor differences in the initialization, the temperature offset used to define anomalies, and the temperature data set I'm using as a basis for comparision. My point though, is that this is not an exacting recipe: it's hash — or Hamburger Helper — not soufflé. Following Roy's recipe, you can get a reasonable-looking fit to data with very little fine-tuning because Roy has given himself a lot of elbow room to play around in: you have the choice of any two variability indices among dozens available, you make an arbitrary linear combination of them to suit your purposes, you choose whatever mixed layer depth you want, and you finish it all off by allowing yourself the luxury of diddling the initial condition. With all those degrees of freedom, I daresay you could fit the temperature record using hog-belly futures and New Zealand sheep population. Anybody want to try?
Postlude: Fool me once …
Why am I not surprised about all this shameless cookery? Perhaps it's because I remember this 1997 gem from the front page of the Wall Street Journal, entitled "Science has Spoken:Global Warming is a Myth":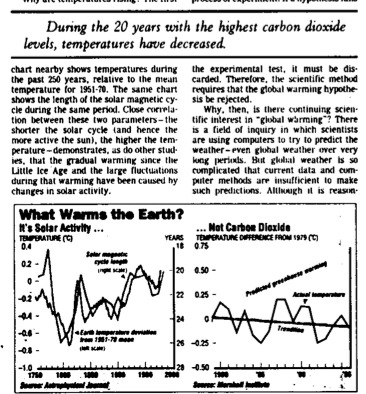 That's not Roy's prose, but it is Roy's data over there in the graph on the right, which purports to show that the climate has been cooling, not warming. We now know, of course, that the satellite data set confirms that the climate is warming , and indeed at very nearly the same rate as indicated by the surface temperature records. Now, there's nothing wrong with making mistakes when pursuing an innovative observational method, but Spencer and Christy sat by for most of a decade allowing — indeed encouraging — the use of their data set as an icon for global warming skeptics. They committed serial errors in the data analysis, but insisted they were right and models and thermometers were wrong. They did little or nothing to root out possible sources of errors, and left it to others to clean up the mess, as has now been done.
So after that history, we're supposed to savor all Roy's new cookery?
That's an awful lot to swallow.