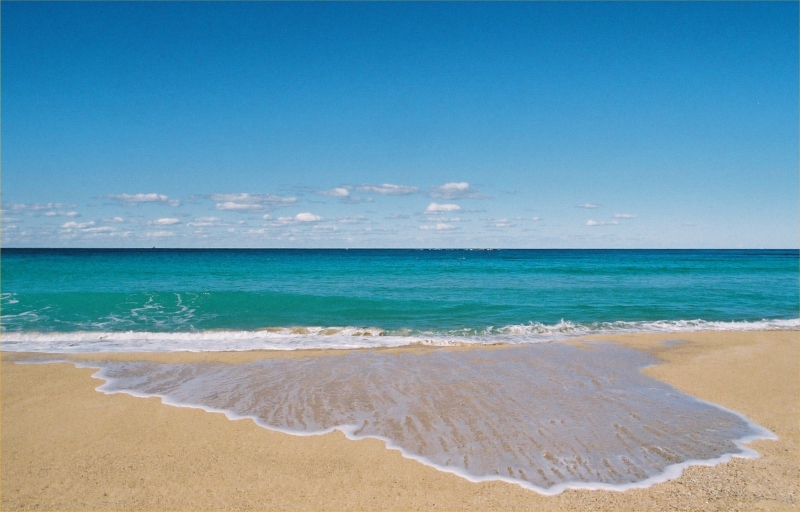 The British tabloid Daily Mirror recently headlined that "Sea will rise 'to levels of last Ice Age'". No doubt many of our readers will appreciate just how scary this prospect is: sea level during the last Ice Age was up to 120 meters lower than today. Our favourite swimming beaches – be it Coogee in Sydney or the Darß on the German Baltic coast – would then all be high and dry, and ports like Rotterdam or Tokyo would be far from the sea. Imagine it.

But looking beyond the silly headline (another routine case of careless science reporting), what was the real story behind it? The Mirror article (like many others) was referring to a new paper by Grinsted, Moore and Jevrejeva published in Climate Dynamics (see paper and media materials). The authors conclude there that by 2100, global sea level could rise between 0.7 and 1.1 meters for the B1 emission scenario, or 1.1 to 1.6 meters for the A1FI scenario.
The method by which they derive these estimates is based on a semi-empirical formula connecting global sea level to global temperature, fitted to observed data. It assumes that after a change in global temperature, sea level will exponentially approach a new equilibrium level with a time scale τ. This extends the semi-empirical method I proposed in Science in 2007. I assumed that past data will tell us the initial rate of rise (and this initial rate is useful for projections if the time scale τ is long compared to the time horizon one is interested in). The new paper tries to obtain both the time scale τ and the final equilibrium sea level change by fitting to past data.
Therefore, my approach is a special case of Grinsted's more general model, as you can see by inserting their Eq. (1) into (2): namely the special case for long response times (τ >> 100 years or so). Hence it is reassuring and a nice confirmation that they get the same result as me for their "Historical" case (where they get τ=1200 years) as well as their τ=infinite calculations, despite using a different sea level data set (going back to 1850, where I used the Church&White 2006 data that start in 1880) and a more elaborate statistical analysis.
However, I find their determination of τ is on rather shaky ground since the data sets used are too short to determine such a long time scale with any confidence. That their statistics suggest otherwise cannot be right – you can tell by the fact that they get contradictory results for different data sets (e.g., 1200 +/- 500 years for the "Historical" case and 210 +/- 70 years for the "Moberg" case). Both can't be correct, so the narrow uncertainty ranges are likely an underestimate of the uncertainty.
The problem gets even more apparent when looking at the equilibrium sea level resulting from their data fit. From paleoclimatic data (see Figure) we expect that per degree of temperature change, the final equilibrium sea level change is somewhere between 10 and 30 meters (as I argue in my Science paper – this was my basis for assuming τ must be very long). Grinsted et al. find from their data fit that this is only 1.3 +/- 0.4 meters (for the Moberg case, which they call the most likely) – see Figure. This means that getting the sea level lowering of ~120 meters that is well-established for the Last Glacial Maximum would have required a global cooling of about 90 ºC according to their model. And for the future, the model would predict that melting all ice in Greenland and Antarctica (resulting in 65 meters of sea level rise) would require about 50 ºC of global warming. This lack of realism matters, since it is directly linked to the short τ: the observed sea level rise of the past century or so can either be fitted by a short τ and a small equilibrium rise, or by a long τ and a large equlibrium rise (per degree). I consider the latter case the realistic one.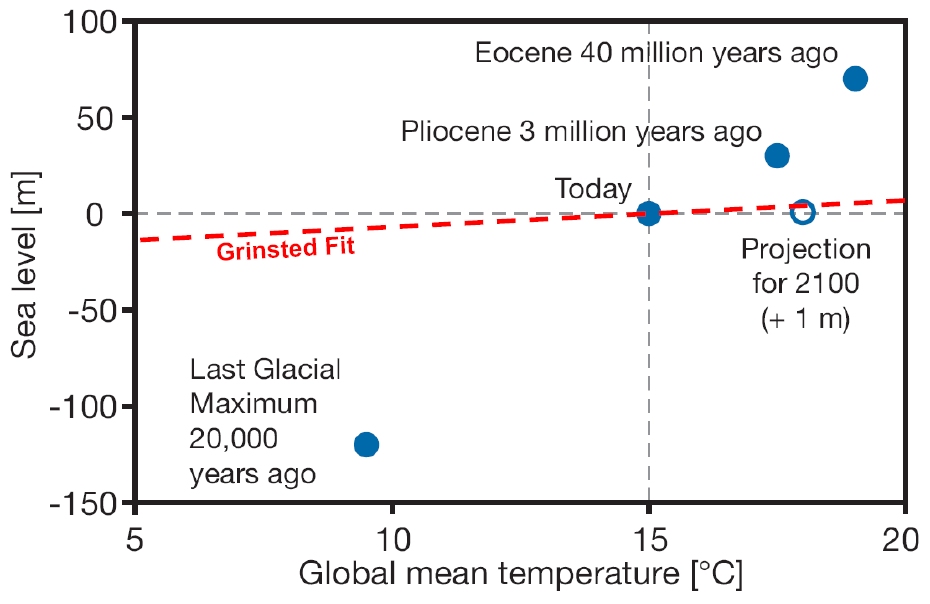 Global mean temperature and sea level (relative to today's) at different times in Earth's history, together with the projection for the year 2100 (which is not an equilibrium change!). The red line shows the "most likely" equilibrium response according to Grinsted et al. [Modified after Archer (2006) and WBGU 2006; see p. 33 there for references and discussion.]
Grinsted et al. did apply some paleoclimatic data constraints, but they are based on a misunderstanding of these data. They assume (their constraint 3) that the last interglacial was globally 3-5 ºC warmer than present – however the reference cited in support (the IPCC paleoclimate chapter, of which I am a co-author) explains that these are Arctic summer temperatures. This Arctic summer warming is due to orbital changes which cause cooling elsewhere on the planet, resulting in global mean changes that are very small (see e.g. Kubatzki et al. 2000). Grinsted et al make the same mistake for glacial climate (their constraint 4), where they assume glacial maximum temperatures were globally 17 ºC below present – the reference cited states already in the abstract that this only applies to the latitude band 40-80ºN. Glacial cooling was highly non-uniform, with global mean cooling estimated as 4-7ºC (see Schneider et al. 2006, "How cold was the Last Glacial Maximum?") These misguided paleo-constraints lead Grinsted et al. to limit equilibrium sea level rise to a fraction of what the data points show in the Figure above, and this rules out a good data fit for long time scales τ.
For these reasons I am unconvinced by the short τ found (or assumed) by Grinsted et al. which is the key difference to my earlier study, and I would still maintain that assuming the equilibration time to be very long is a more robust assumption. Note that (unlike Grinsted et al.) this does not assume that the approach to equilibrium is exponential with a single time scale, which in itself is doubtful given the different processes involved. It only assumes that the initial rate of rise scales with temperature and is relevant on time scales of interest. On the positive side, Grinsted et al. have shown that the data fit and projected sea level rise for the case of large τ is robust with respect to the chosen statistical method and data set.
Refinements of the semi-empirical approach are welcome – I had hoped that my paper would stimulate further work in this direction. While empirical approaches will not give us definitive answers about future sea level since the past can never be a perfect analogue of the future, these analyses can still be useful to give us a better feeling for how the sea level responded in the past and what that might imply for what lies ahead. But one thing is certain: I'm not too worried that sea level might drop to glacial levels during this century.