Control of methane, soot, and other short-lived climate-forcing agents has often been described as a cheap way to "buy time" to get carbon dioxide emissions under control. But is it really?
Expectations for the outcome of the Cancun climate talks seem to be running low, and the suggestion has emerged that maybe we should forget about controlling CO2 emissions for now, and instead do something with short lived climate forcing agents like methane or soot. This is often described as "buying time" to put CO2 emissions controls into place. For example, in a recent New York Times Op-Ed, Ramanathan and Victor write:
"Reducing soot and the other short-lived pollutants would not stop global warming, but it would buy time, perhaps a few decades, for the world to put in place more costly efforts to regulate carbon dioxide." — Ramanathan and Victor
The idea that aggressive early action to control short-lived climate forcing "buys time" to do something about CO2 has often been pushed in the past, e.g. in various newsletters and press releases associated with the UNEP Atmospheric Brown Cloud program, for example
"The BC reduction proposal is not proposed as an alternative to CO2 reduction. At best, it is a short term measure to buy a decade or two of time for implementing CO2 emission reduction strategies." — Ramanathan, writing in the UNEP Black Carbon Newsletter.
To be fair, it should be acknowledged that such pleas for more attention to short-lived climate forcing are almost invariably accompanied by a salutary reminder that it is really CO2 that needs to be gotten under control, as in the quote above. Achim Steiner, writing in the same issue of the Black Carbon Newsletter writes "Paying attention to black carbon should not distract people from the real issue at hand, carbon dioxide." A similar sentiment is expressed in the Ramanathan and Victor op-ed. While emphasizing the central importance of CO2, Penner et al. argue that "…to provide short-term relief from climate warming, the short-lived compounds that induce warming need to be brought under control within a timescale of a few decades." (They also make the intriguing suggestion that doing so might provide a global experiment that could help constrain climate sensitivity.) Writing in Science, Stacy Jackson concludes that "… a focus on CO2 may prove ineffective in the near term without comparable attention to pollutants with shorter lifetimes"
All of this is well-intentioned stuff, none of it denies the central importance of CO2, and I'm sure there are many benefits to be had from reducing soot emissions sooner rather than later. Given the large agricultural component of methane emissions, keeping these emissions from growing in the face of a the need to feed a growing number of people is a serious challenge that must ultimately be met. But still, these proposals tend to convey the impression that dealing with the short-lived forcings now will in some way make it easier to deal with CO2 later, and that's wrong. In this post, I will explain why.
To get a feel for the issues in play, we'll first take a look at methane vs CO2. This provides a clean example, because methane has a straightforward, well-characterized warming effect which is easy to compare with that of CO2. If you're just looking at the concentration of methane and CO2 at a given time, the methane/ CO2 equivalence is pretty easy to figure, since you can turn them both into the common currency of top-of-atmosphere radiative forcing. For example, doubling CO2 from 300 ppm to 600 ppm yields a clear-sky radiative forcing of 4.5 W/m2. Doubling methane from 1ppm to 2 ppm yields a radiative forcing of 0.8 W/m2, but since we started from such a low concentration of methane, it takes many fewer molecules of methane to double methane than to double CO2. Per molecule added, methane yields about 54 times as much radiative forcing as CO2. Note that most of this effect has nothing much to do with any special property of methane, but arises simply because the radiative forcing for most greenhouse gases is logarithmic in concentration, so you sort of get the same radiative forcing for everybody upon doubling their concentration — but if you start with somebody whose concentration is low, it takes many fewer molecules to double. That means that the CO2 equivalent of methane depends on what concentration you are starting with. If you started from a concentration of 10ppm, then the equivalence factor drops to 10. If you start out with equal amounts of methane and CO2 (300 ppm), then the equivalence factor drops further to 0.5. In that sense, methane is, intrinsically speaking, a worse greenhouse gas than CO2, though the crossover is at values that are so high they are only relevant (at most) to the Early Earth. ( I ran these calculations with the Python interface to the NCAR radiation model, provided in the Chapter 4 scripts of my book, Principles of Planetary Climate. They are done using an idealized clear-sky atmospheric profile, so the numbers are a bit different from what you'll find in the IPCC reports, but it's nice to have a calculation simple enough you can re-do it yourself.)
Things get a lot trickier when you try to bring time into the problem, because methane and CO2 have vastly different atmospheric lifetimes. Methane oxidizes to CO2 in about 10 years, and since we are dealing with so little methane, that extra ppm of CO2 you get after it oxidizes adds little ongoing warming. That means that the methane concentration in the atmosphere is determined by the methane emission rate averaged over the previous ten years, and the methane component of warming disappears quickly after emissions cease. In contrast, about half of CO2 emitted disappears into the ocean fairly quickly, while the other half stays in the atmosphere for thousands of years. Therefore, the atmospheric burden of CO2 in any given year is determined by the cumulative emissions going back to the beginning of the Industrial Revolution, and the warming persists for thousands of years after emissions cease. Over the long term, CO2 accumulates in the atmosphere, like mercury in the body of a fish, whereas methane does not. For this reason, it is the CO2 emissions, and the CO2 emissions alone, that determine the climate that humanity will need to live with for a time that stretches into the future at least as long as the time since the founding of the first Sumerian cities stretches into the past. The usual wimpy statement that CO2 stays in the air for "centuries" doesn't begin to convey the far-reaching consequences of the amount of CO2 we decide to pump out in the coming several decades.
As a reminder of that, here's a graph from the NRC Climate Stabilization Targets report (of which I was an author) summarizing how cumulative carbon emissions set the climate thermostat for the next 8000 years and more.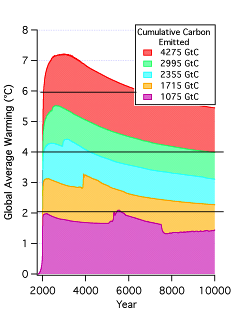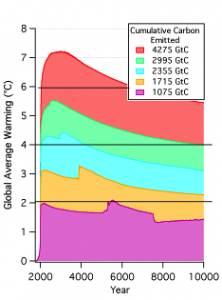 The numbers on each curve gives the total cumulative carbon emissions (in gigatonnes) during the time when human activities continue to emit carbon. These results are based on calculations by Eby et al using the UVIC coupled carbon/climate model, and they are really just a reprise of what Dave Archer has been telling all of us for years (e.g here, here and here). It turns out that it matters little to temperature whether all the CO2 is emitted in a carbon orgy near the beginning of the fossil fuel era, or spread out over a few hundred years. It's cumulative carbon that counts, and pretty much it is the only thing that counts. A cumulative emission of a trillion tonnes of carbon just might keep the Earth below a warming of 2ºC, in line with earlier estimates equating the European Union target warming threshold with cumulative carbon (see our Trillion Tonne post). The peak warming scales approximately linearly with cumulative emissions, and the warming you get at the peak is pretty nearly the warming you are stuck with for the next millennium, with only slight declines beyond that. We are currently about halfway to our first trillion tonnes, but given the miracles of exponential growth, we are going to get there pretty quickly if nothing changes. If you go beyond, and dump 2355 gigatonnes into the atmosphere before kicking the fossil fuel habit, then the global mean temperature will still be 3ºC warmer than pre-industrial in the year 8000. That gives plenty of time for bad stuff to happen, including deglaciation of Greenland, loss of the West Antarctic Ice Sheet, or a destabilizing PETM-type soil carbon release. Note further that these calculations were done with a model designed to have a climate sensitivity similar to the IPCC median. Therefore, even if you hold the line at a trillion tonnes, there is still about a 50% chance that warming will exceed 2ºC.
Let's suppose, however, that we decide to go all-out on methane, and not do anything serious about CO2 for another 30 years. To keep the example simple, we'll think of a world in which methane and CO2 are the only anthropogenic climate forcing agents. Suppose we are outrageously successful, and knock down anthropogenic methane emissions to zero, which would knock back atmospheric methane to a pre-industrial concentration of around 0.8 ppm. This yields a one-time reduction of radiative forcing of about 0.9W/m2. Because we're dealing with fairly short-term influences which haven't had time to involve the deep ocean, we translate this into a cooling using the median transient climate sensitivity from Table 3.1 in the NRC Climate Stabilization Targets report, rather than the higher equilibrium sensitivity. This gives us a one-time cooling of 0.4ºC. The notion of "buying time" comes from the idea that by taking out this increment of warming, you can go on emitting CO2 for longer before hitting a 2 degree danger threshold. The problem is that, once you hit that threshold with CO2, you are stuck there essentially forever, since you can't "unemit" the CO2 with any known scalable economically feasible technology.
While we are "buying" (or frittering away) time dealing with methane, fossil-fuel CO2 emission rate, and hence cumulative emissions, continue rising at the rate of 3% per year, as they have done since 1900. By 2040, we have put another 573 gigatonnes of carbon into the atmosphere, bringing the cumulative fossil fuel total up to 965 gigatonnes. By controlling methane you have indeed kept the warming in 2040 from broaching the 2C limit, but what happens then? In order to keep the cumulative emissions below the 1 trillion tonne limit, you are faced with the daunting task of bringing the emissions rate (which by 2040 has grown to 22 gigatonnes per year) all the way to zero almost immediately. That wasn't very helpful, was it? At that point, you'd probably like to return the time you bought and get a refund (but sorry, no refunds on sale items). More realistically, by the time you managed to halt emissions growth and bring it down to nearly zero, another half trillion tonnes or so would have accumulated in the atmosphere, committing the Earth to a yet higher level of long-term warming.
Suppose instead that you had focused all efforts on reducing the growth rate of CO2 emissions from 3% to 2%, averaged over 2010-2040, forgetting about methane until the end of that period. In this scenario, the cumulative carbon emitted up to 2040 is only 713 gigatonnes, giving more time to avoid hitting the trillion-tonne threshold. The warming from CO2 in 2040 is about 1.2C, but we have to add in another 0.4ºC because we haven't done anything to bring down methane emissions. That brings the warming to 1.6C, which will increase further beyond 2040 as the cumulative carbon emissions approach a trillion tonnes. However, since methane responds within a decade to emissions reductions, we still get the full climate benefit of reducing methane even if the actions are deferred to 2040. The same cannot be said for deferral of action on CO2 emissions.
The following cartoon, loosely based on Eby's calculations shows two illustrative scenarios: one in which early action is taken on methane, at the expense of allowing cumulative CO2-carbon emissions to rise to around 1.7 trillion tonnes, and another in which action on methane is delayed until 2040, allowing cumulative emissions to be held to a trillion tonnes. The curves can be diddled a bit depending on how much short term warming you get from controlling additional short-lived gases, and how much extra cumulative carbon emissions you assume goes along, but it is really hard to come up with any scenario where you come out ahead from acting early on the short-lived forcings instead of going all-out to reduce the rate of CO2 emissions.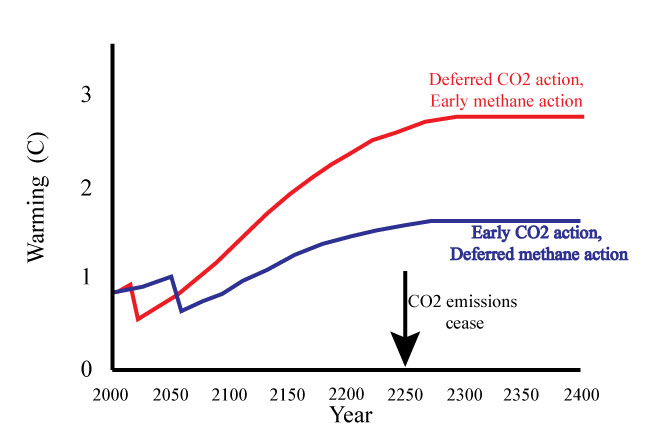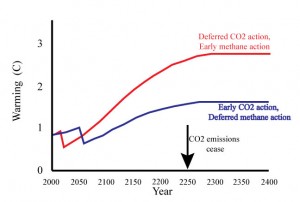 There are a few greenhouse gases other than CO2 that have lifetimes sufficiently long to lend some urgency to their control. That would include HFC23 with a lifetime of 260 years, CFC13 with a lifetime of 640 years and SF6 with a practically unlimited lifetime. Most of the rest are more like methane than they are like CO2 (e.g HFC31 at 5 years)
Absorbing aerosols — soot, loosely speaking — have a number of complex regional effects that make it difficult to treat their climate impact on an equal footing with that of well-mixed greenhouse gases. Soot falling on snow or ice has an unambiguous warming effect, manifest particularly strongly at high latitudes and high altitudes. For airborne absorbing aerosols, though, it is hard to even know whether they have a warming or cooling effect on surface temperature, or leave it more or less unchanged. Except over high albedo surfaces, airborne aerosols mainly heat the atmosphere by direct solar absorption, at the expense of reduced solar absorption at the surface. When the shading is not too strong, the main consequence is a reduction of the convection that would ordinarily carry solar energy from the ground to the atmosphere. This profoundly influences precipitation, and the atmospheric circulation, especially in the tropics. In extreme cases, the atmospheric absorption can even shut down convection completely, leading to stabilization of the tropospheric lapse rate and a severe surface cooling, as in the Nuclear Winter limit (see also the more elementary discussion of this limit in Chapter 4 of Principles of Planetary Climate).
A further consideration is that most activities that emit soot also emit precursors to reflecting aerosols which cool the planet. It is unlikely (and probably undesirable) that one would be able to limit one without also limiting the other. Hence, the net implication of the black carbon component is probably that it will help offset some of the warming caused by eliminating sulfate aerosols. That's good, but it's not what you bargained for if you were expecting a cooling for your money. The main thing about soot and the stew of toxic emissions going into the Atmospheric Brown Cloud , though, is that there are compelling human health, agricultural, and regional climate reasons to eliminate them, regardless of the side effect on global temperature. These are things that need to be done regardless of the climate implications (positive or negative), just as there is a need to supply the developing world with reliable clean water. It is pointless to make an already complicated climate negotiation yet more complicated by wrapping such things into the mix. It is nonetheless worth noting that many of the things one would do to reduce soot emissions, such as substituting natural gas for coal, or burning coal in cleaner, more efficient power plants, also would tend to reduce CO2 emissions, and such double-wins are of course to be sought and pursued ardently (note Gavin's op-ed on co-benefits of CO2 reduction).
IPCC-style Global Warming Potentials attempt to trade off radiative forcing against lifetime in a Procrustean attempt to boil all climate forcings down to a single handy-dandy number that can be used in climate treaties and national legislation. In reality, aerosol-forming emissions, short-lived greenhouse gas emissions, and CO2 emissions are separate dials, controlling very different aspects of the Earth's climate future. CO2 emissions play a distinguished role, because they ratchet up the Earth's thermostat. It's a dial you can turn up, but you can't turn it back down. CO2 is a genie you can't put back in the bottle. Climate forcings should not be aggregated. Each category should be treated in its own right. Otherwise, there are perverse incentives to do too much too soon on short-lived forcings and too little too late on CO2.