Is the number 2.14159 (here rounded off to 5 decimal points) a fundamentally meaningful one? Add one, and you get
π = 3.14159 = 2.14159 + 1.
Of course, π is a fundamentally meaningful number, but you can split up this number in infinite ways, as in the example above, and most of the different terms have no fundamental meaning. They are just numbers.
But what does this have to do with climate? My interpretation of Daniel Bedford's paper in Journal of Geography, is that such demonstrations may provide a useful teaching tool for climate science. He uses the phrase 'agnotology', which is "the study of how and why we do not know things".
Furthermore, many descriptions of our climate are presented in terms of series of numbers (referred to as 'time series'), and when shown graphically, they are known as curves. It is possible to split curves into pieces in an analogous way to how π may be split into random numbers.
All curves (finite time series) can be represented as a sum of sine and cosine curves (sinusoids), describing cycles with different frequency. This is demonstrated in the figure below (source code for the figure):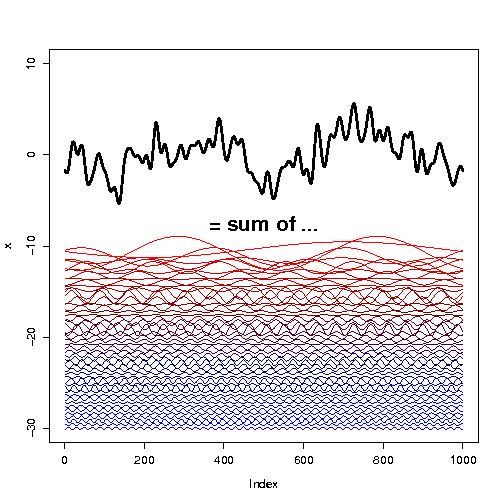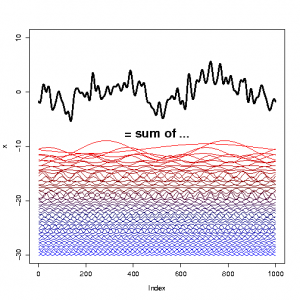 The random time series, here represented as the bold curve on the top, may be physically meaningful, but the components made up of cosine and sine may not all have a physical interpretation (especially if the time series is from a chaotic or complex system).
However, cosine and sine curves represent only one special case, and there may be other curves that equally well can make up a time series. A technique called 'singular spectrum analysis' (SSA), for instance, is designed to find curves with other shapes than sinusoids.
The process of representing a series of numbers as a sum of sinusoids (cycles) with different frequencies (or wave lengths) is known as a Fourier transform (FT). It is also possible to go the other way, from the information about the frequencies, and reconstruct the original curve – this is known as the inverse Fourier transform.
Fourier transforms are closely related to spectral analysis, but these concepts are not exactly the same. The reason is that all measurements hold a finite number of observations, and provide just a taste – a sample – of the process. The FT makes the assumption that the curve that is analysed repeats itself exactly for infinity, something which clearly is not the case for real noisy or chaotic data.
One of the gravest mistakes in the attribution of cycles is trying to fit sinusoids with long time scales to short time series. We will see some examples of this below.
In the meanwhile, it may be useful to note that spectral analysis tries to account for mathematical artifacts, such as 'spectral leakage', probabilities that some frequencies are spurious, and the significance of the results. Anyway, there is a number of different spectral analysis techniques, and some are more suitable for certain types of data. Sometimes, one can also use regression to find the best-fit combination of sinusoids for a time series.
A recent paper by Loehle & Scafetta (L&S2011) in a journal known as the 'Bentham Open Atmospheric Science Journal' (also discussed at Skeptical Science) presents some analysis using regression to describe cycles in the global mean temperature, showing us many strange tricks one can do with curves and sinusoids, in something they call "empirical decomposition" (whatever that means).
They fit 20-year and 60-year sinusoids to the early part (1850-1950) of the global mean temperature from the Hadley Centre/Climate Research Unit. I have reproduced their analysis below, although I do not recommend using this for any meaningful purposes than just having fun (source code)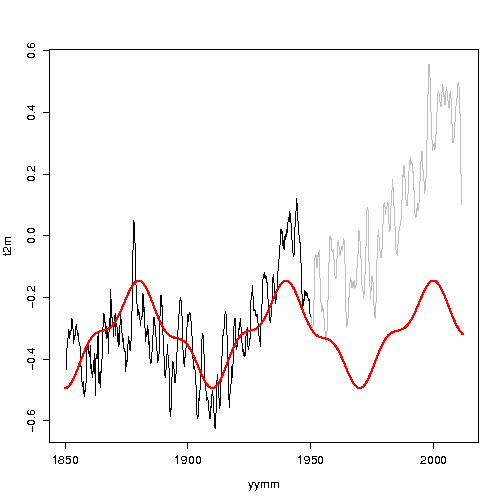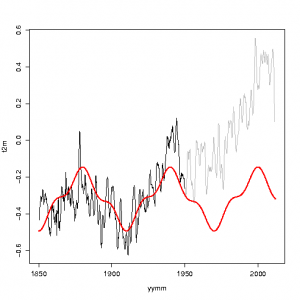 It's typical, however, that geophysical time series, such as the global mean temperature, are not characterised by one or two frequencies. In fact, if we try to fit sinusoids with other frequencies (here only one was used rather than two), we get the following picture (source code):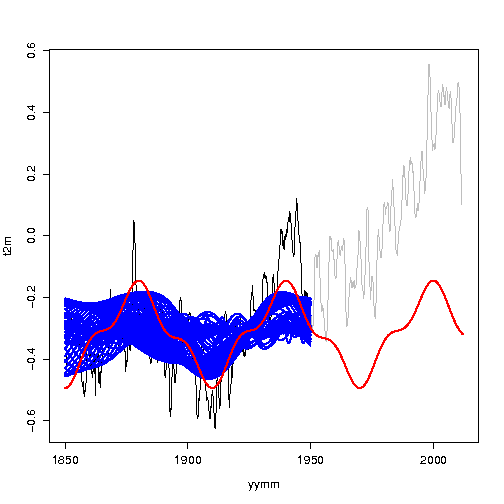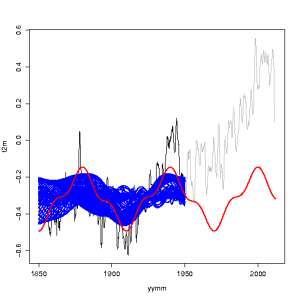 In fact, we can compare the amplitudes of these different fits, and we see that the frequencies of 20 and 60 years are not the most dominant ones (source code):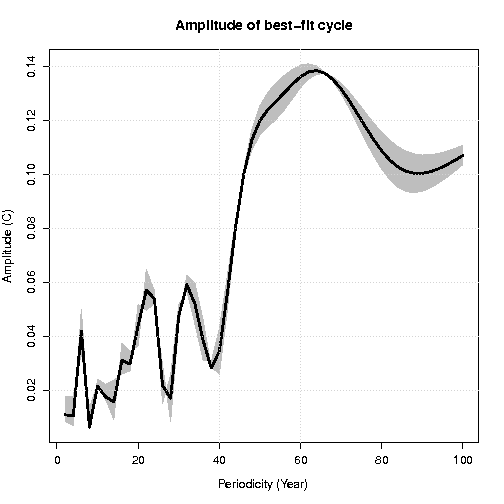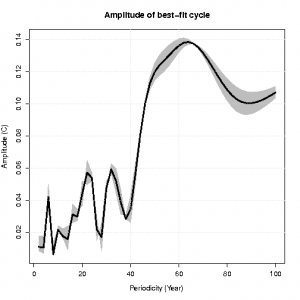 Fitting sinusoids with long time scales compared to the time series is dangerous, which can be illustrated through constructing a synthetic time series that is much longer than the one we just looked at. This time series is shown below (source code):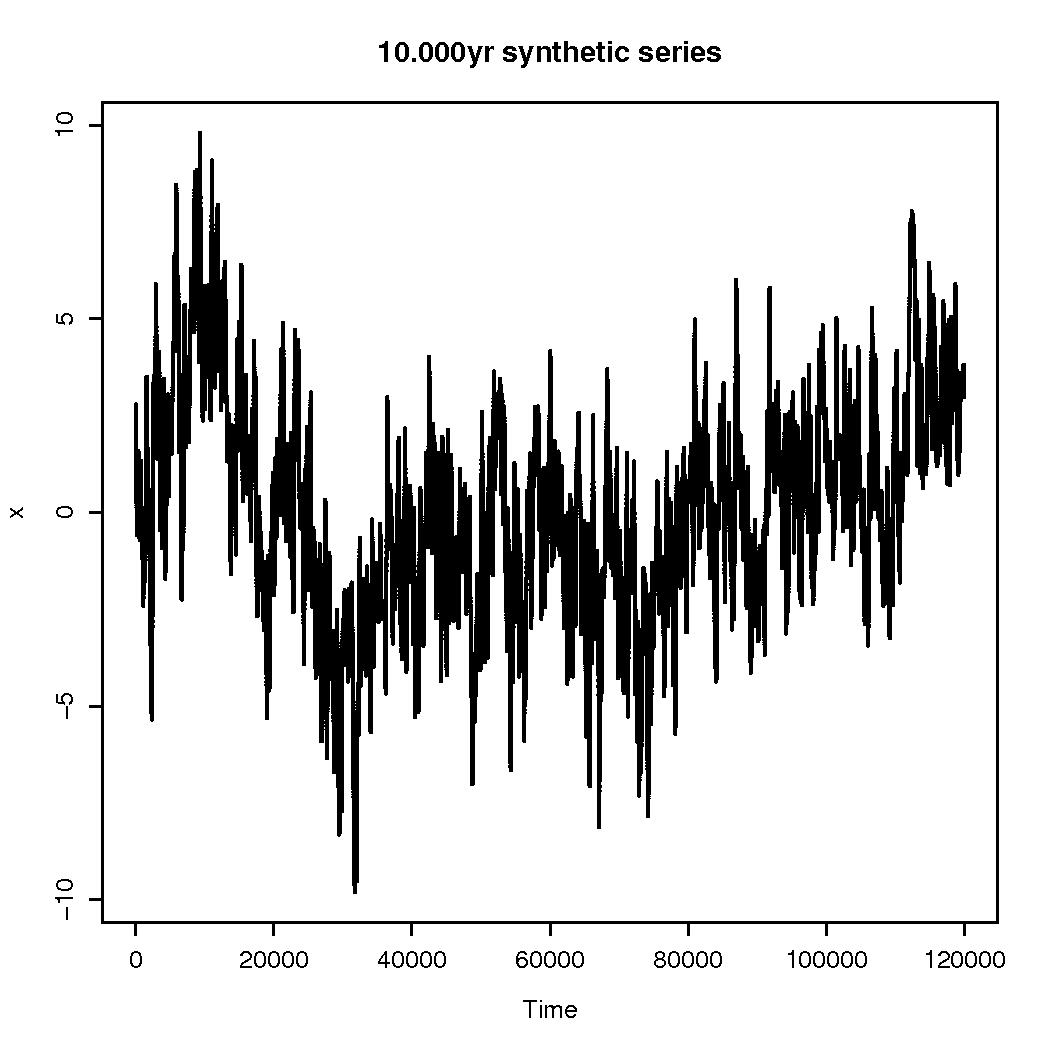 We can divide the above time series into sequences with the same length as that L&S2001 used to fit their model, and we can then do a similar fit to these sequences (source code):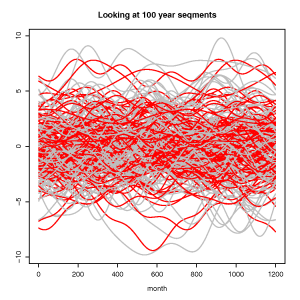 The red curves, representing the best-fit are all over the place, and they differ from one sequence to the next, although they are all part of the same original time series. But the point here is that we could get similar results for other frequencies, and the amplitude for the fits to the shorter sequences would typically be 4 times greater than a similar fit would give for the original 10,000 years long series (source code). This is because there is a band of frequencies present in random, noisy and chaotic data, which brings us back to our initial point: any number or curve can be split into a multitude of different components, most of which will not have any physical meaning.
Loehle & Scafetta also assume that the net forcing of the earth's climate is a linear combination of solar and anthropogenic. The fact that our climate system involves a series of non-linear processes, as well as non-linear feedback mechanisms that may be influenced by both, suggest that this position may be a bit simplistic – it ignores internal, natural variability for instance.
Some of the basis of L&L2011's analysis can be traced back to a 2010 paper that Scafetta wrote on the influence of the great planets on Earth's climate. I'm not kidding – despite the April 1st joke and the resemblance to astrology – Scafetta claims that there is a 60-year cycle in the climate variations that is caused by the alignment of the great gas giants Jupiter and Saturn. This conclusion is reached only 3 years after he in 2007 argued that up to 50% of the warming since 1900 could be explained by 11 and 22-year cycles (a claim which Gavin and I contested in our 2009 paper in JGR).
The Scafetta (2010; S2010) paper presents spectral analysis for two curves which are fundamentally different in character – to quote Scafetta himself:
Spectral decomposition of the Hadley climate data showed spectra similar to the astronomical record, with a spectral coherence test being highly significant with a 96% confidence level.
The problem is immediately visible in the figure below: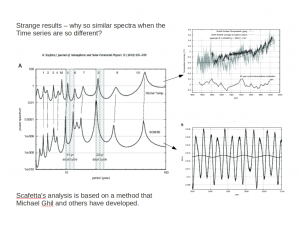 For any spectral analysis, it should in principle be possible to carry out the reverse operation to get the original curve. S2010 presented a figure showing the alleged spectra for the terrestrial global mean temperature and the rate of motion of the solar systems centre of mass. It is conspicuous when spectra of two very different looking curves appear to produce similar peaks.
So how was the spectral analysis in Scafetta carried out? He used the Maximum Entropy (MEM) method, keeping 1000 poles. The tool he used was developed by Michael Ghil and others, and the method is described in one of the chapters of a text book by Anderson and Willebrand (1996).
As the number of peaks increases with M [number of poles], regardless of spectral content of the time series, an upper bound for M is generally taken as N/2.
If X not stationary or close to auto-regressive, great care must be taken in applying MEM
So the choice of number (1000) of poles cannot be justified, as this will more likely lead to spurious results, and one of the time series is not stationary (temperature) while the other is far from being auto-regressive (astronomical record). It is worth pointing out that if an Akaike Information Criteria (AIC) is applied to this series (which balances the number of parameters used with the gain in goodness of fit), the number of poles is 32.
L&S2011 also claim that a 60-year must be the effect from Jupiter and Saturn. What is the implications of such an assertion? Does it mean that the broad frequency band, seen in the global mean temperature record, can be taken as evidence for many new unknown celestial objects affecting the solar system mass, and hence the solar activity? No, I don't think so.
The solar activity shows a clear 11-year cycle, and no trend during the last 50 years, and no clear 60-year periodicity.
In my humble opinion, Loehle and Scafetta (2011) is a silly paper, making many claims with no support from science (about planets, the sun, GHGs, urban heat island, aerosols, GCMs, significance levels, and weird coherence results). I would not be surprised if rumours about the journals lacking rigour are true. But, on the other hand, Daniel Bedford may cherish the opportunity to learn from such mistakes.

References:
Anderson, DLT. and J. Willebrand, J.(1996) 'Decadal Variability', Springer, NATO ASI series, volume 44; chapter: 'Spectral Methods: What they Can and Cannot Do for Climate Times Series' by M. Ghil and P. Yiou