Two slightly off-center topics that Realclimate has covered in the past have recently come up again. The first is an analysis of Freakonomics by statisticians Andrew Gelman and Kaiser Fung in American Scientist, while the second is a recent reimagining of Washington crossing the Delaware.

The Gelman and Fung piece goes through a number of the errors found in the Freakonomics ouevre (from Steves Levitt and Dubner), and specifically references Ray Pierrehumbert's critique of the climate change chapter in SuperFreakonomics (also discussed here). The whole piece is worth reading for how trust in their networks might be undermining Levitt and Dubner's ability to critically view the 'contrary' positions they highlight.
"Washington crossing the Delaware" in 1776 was featured on RealClimate in a piece on 'Art and Climate' back in 2006. We had noted that the icebergs seen in the classic scene (painted in 1851) did not resemble anything that you would likely see on the Delaware: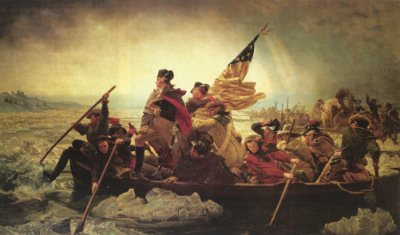 Well it seems that the re-commission of this scene was driven by the need to fix a number of historical inaccuracies in the classic Emanuel Leutze painting, not least the use of an anachronous flag, a row-boat instead of a ferry etc. but, in addition, the nature of the river ice!
The ferry cuts through thick layers of ice, which Mr. Künstler says corresponds with the photographs he obtained of the actual way the Delaware freezes.
People will clearly differ on the artistic merits of the resulting picture:

but the improvement in climatological veracity is to be praised. Maybe Levitt and Dubner will take note.
Happy Holidays.