Are the rising atmospheric CO2-levels a result of oceans warming up? And does that mean that CO2 has little role in the global warming? Moreover, are the rising levels of CO2 at all related to human activity?
These are claims made in a fresh publication by Humlum et al. (2012). However, when seeing them in the context of their analysis, they seem to be on par with the misguided notion that the rain from clouds cannot come from the oceans because the clouds are intermittent and highly variable whereas the oceans are just there all the time. I think that the analysis presented in Humlum et al. (2012) is weak on four important accounts: the analysis, the physics, reviewing past literature, and logic.
This time Humlum et al. did not directly remove part of the data which didn't fit their conclusions, however, they chose to use a short record of global mean CO2 from NOAA Earth System Research Laboratory (ESRL), starting from 1980, rather than the longer Keeling curve from Mauna Loa starting in 1958.
The two CO2 records, however, are almost identical over 1980-2012 (green curves in Fig. 1), and hence it would be more appropriate to use the longer record because CO2 is expected to play a role for long timescales. Hence, the Humlum et al. paper highlights the need for sorting out some classic misunderstandings, namely the mix-up between time scales. We have already discussed the absurdly misguided claims of a "halted global warming" based on a brief period after 1998 (here and here and ….)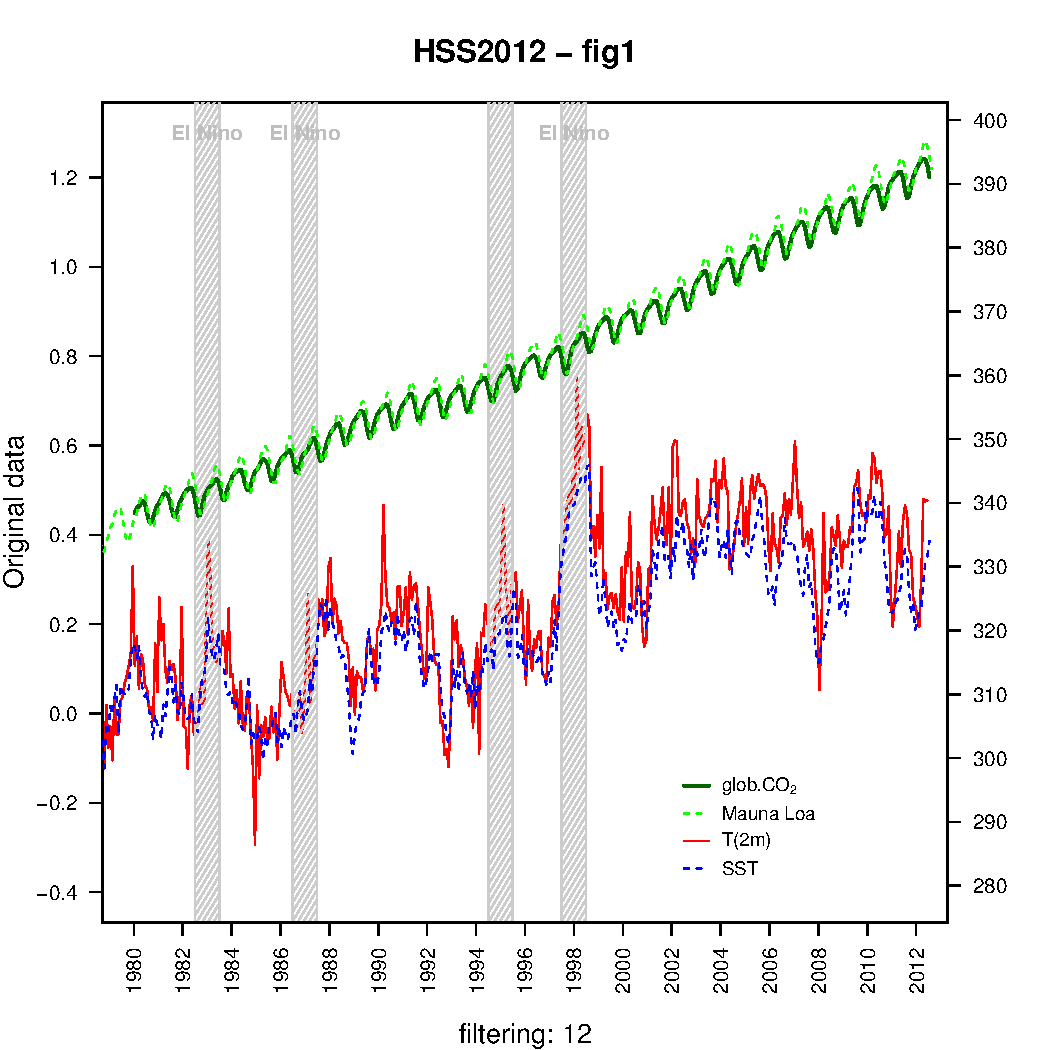 In order to assess the claims made in Humlum et al. (2012) (in italics above), I have repeated part of their analysis and got very similar results (all reproduced with the on-line R-script). Fig 1 here is a replication of figure 1 in Humlum et al. (2012) and I got almost identical results using the Keeling curve from Mauna Loa starting in 1958 rather than the global curve starting in 1980.
Fig. 2 corresponds to the lower panel in their figure 2, and shows the results of my attempt to reproduce the quantities making up the basis for their claims: their 'DIFF12' quantities (a type of differentiation operator) which really is meant to describe the rate of changes in the original curves.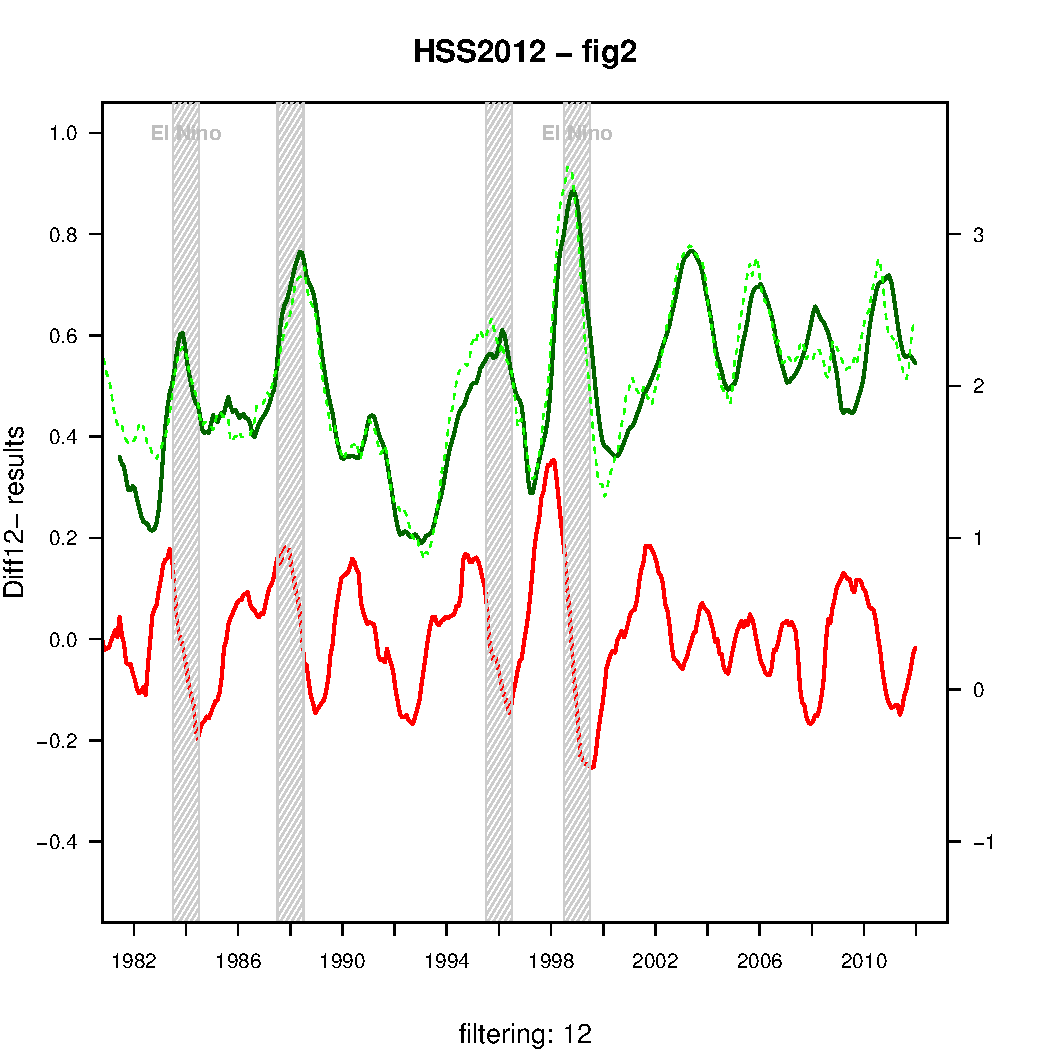 Their main argument about causality between temperature and CO2, however, was based on a lagged correlation analysis between 'DIFF12' series from temperature and CO2. Fig. 3 corresponds to figure 4b in Humlum et al. (2012):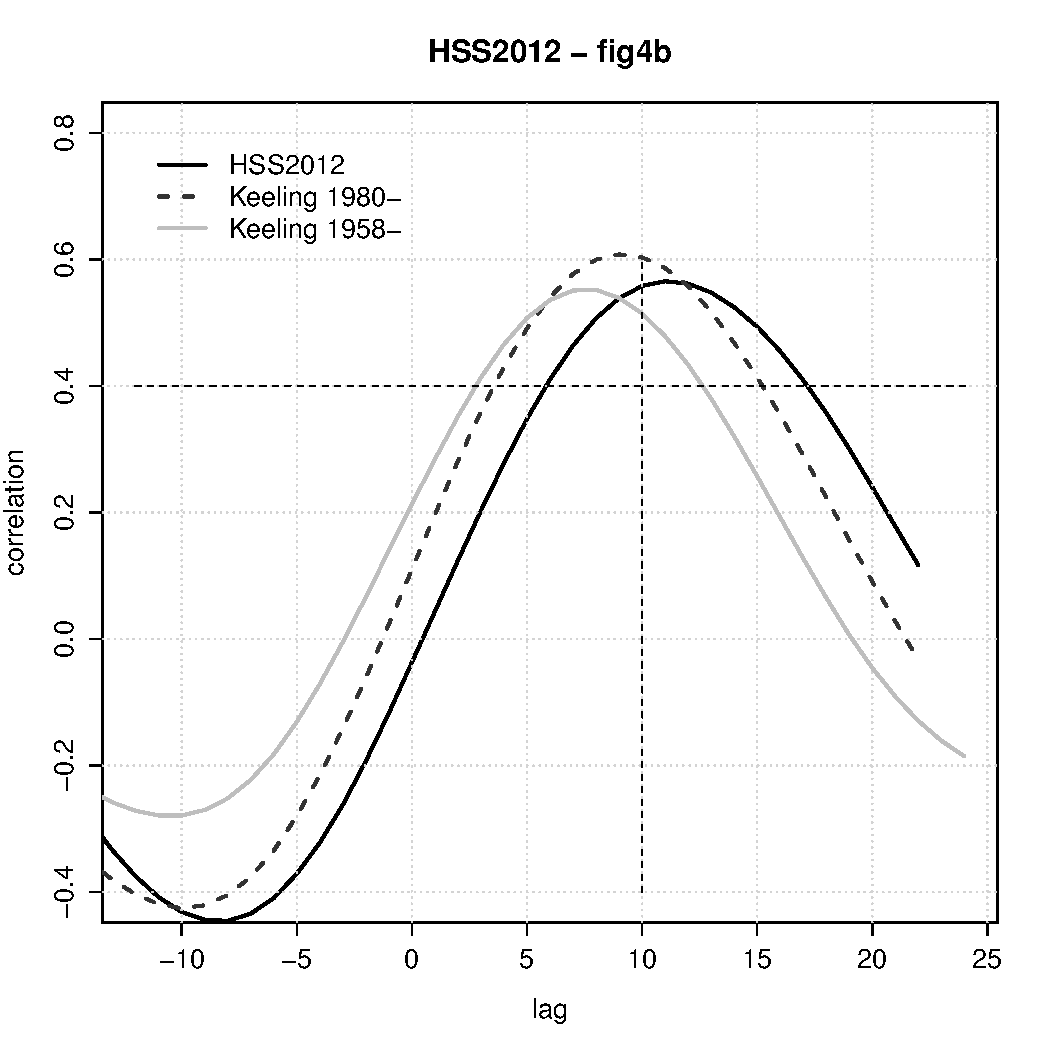 The correlation that I get is similar but not identical to theirs. Using a longer record did affect the lag correlation analysis as seen in Fig. 3. Nevertheless, the analysis still indicated that CO2 lagged the temperature. Big surprise?
No! Applying correlation to the results from the 'DIFF12' quantities cannot detect any trends – it's just a simple mathematical fact. These results merely confirm already well-known facts, which ironically, they themselves hinted to in their paper (but they obviously did not make the connection):
changes in atmospheric CO2 appears to be initiated near or a short distance south of the Equator, and from there spreads towards the two Poles within a year or so.
The answer is of course: El Nino! A google scholar search with '"El Nino" AND CO2' gives more than 20,000 hits, and Humlum et al. have rediscovered well-known facts which Keeling and Revelle discussed already in 1985.
El Ninos affect the CO2 concentrations for a brief time interval, through their effect on temperature and marine biology. But unlike Keeling and Revelle, this discovery caused quite some confusion, as evident in the following citation:
…showing that changes in the emission of anthropogene CO2 are not causing changes in atmospheric CO2.
So how did they get to this conclusion? The answer is in their analytical set-up, and for this they have quite an unusual record (here and here).
It's well-known that taking differences also picks up short-term rather than long-term variations where mean trends are represented by a constant value. Hence, a correlation analysis is bound to give mean trends zero weight. This is demonstrated in Fig. 4: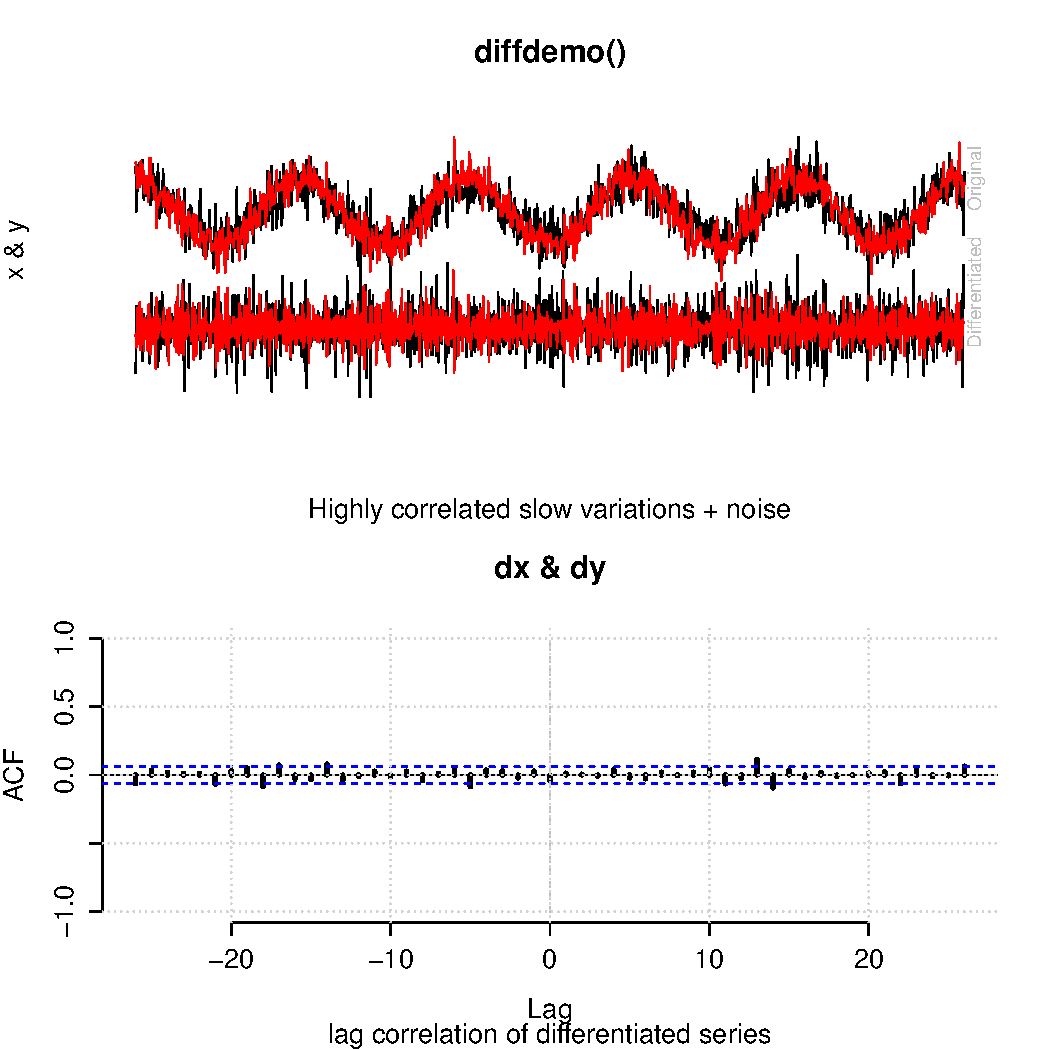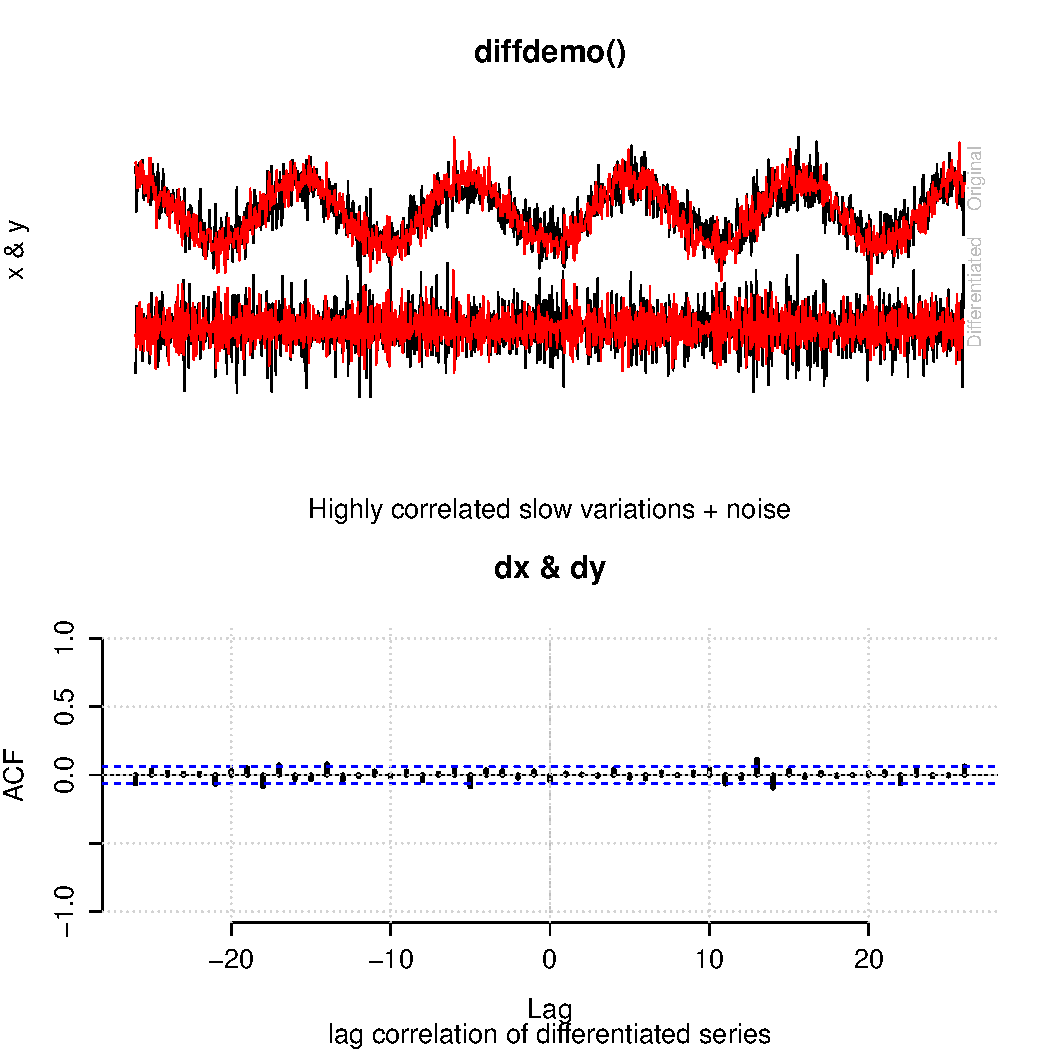 Simply by choosing a method that ignores trends associated with human activity, they argue that atmospheric CO2 is 'largely independent of humans'. This logic is circular reasoning, but since they did not specify time scales, their argument gets a bit fuzzy (the argument is true on short time scales but not on decadal time scales – just see the trends in the figure).
The set-up with 'DIFF12' also does a strange mix to the data and gives weird results as already noted on Troy's scratchpad. It is indeed easy to show that the 'DIFF12' methods fail to pick up long-term co-variations, as done in Fig. 5: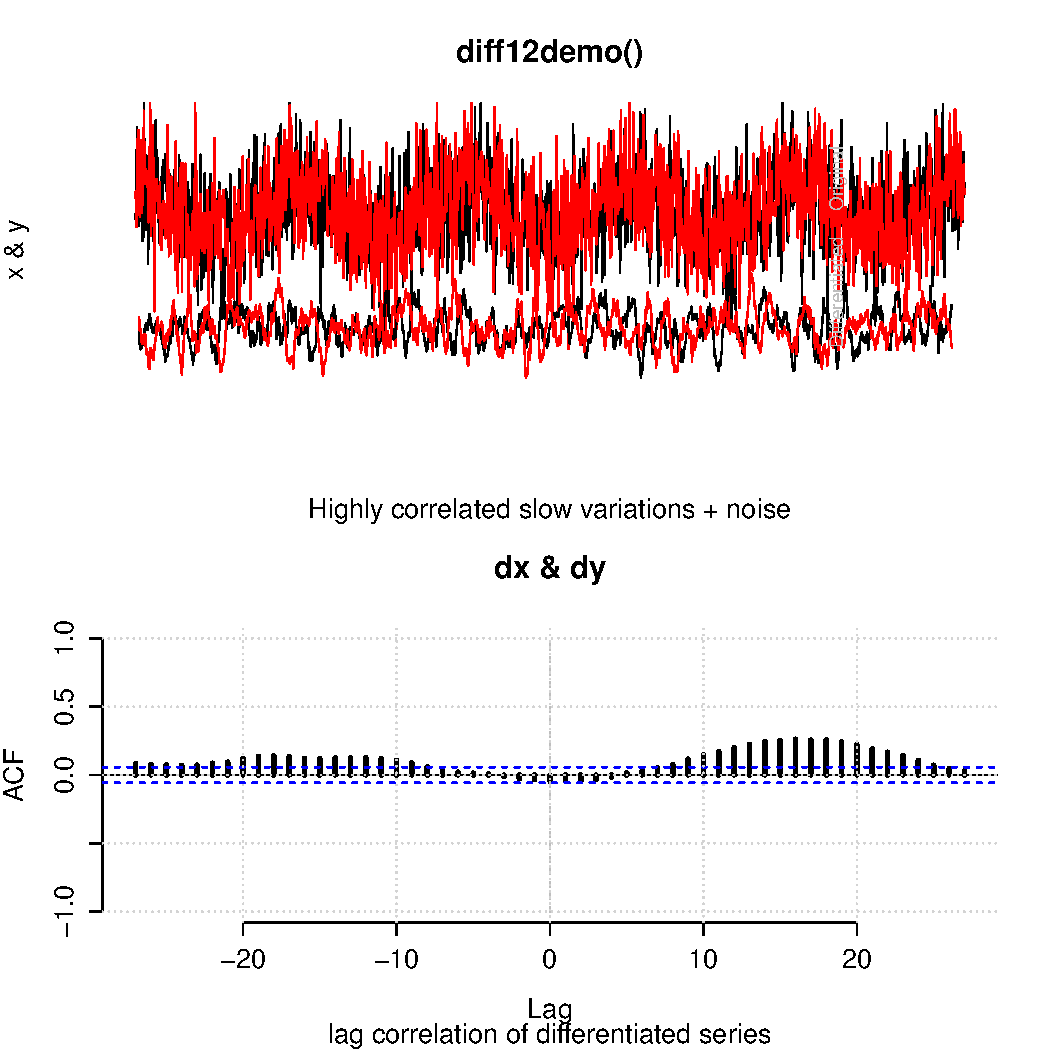 Contrast these results with the claim made by Humlum et al. (2012):
the association between periods of maximum DIFF12 CO2 increase and no or negative ocean surface temperature change … is difficult to reconcile with the notion of atmospheric CO2 changes controlling changes in ocean surface temperature.
Choosing a method discarding the trends may get one into trouble, however, one would also expect a consistent picture in terms of physics. Here is another glitch, and the weak-on-physics aspect is due to the failure to appreciate what implications their claims would have for the climate sensitivity.
They implicitly expected that minute and almost invisible similarities between the inter-annual variations in CO2 would have a visible effect on inter-annual variation in the global mean temperature (this is their hidden "strawman" argument; see curves in Fig. 1). Yet they ignored the CO2's steady march upwards.
Furthermore, they failed to note that the forcing is proportional to the natural logarithm of CO2 – ln(conventration in volume). Such are omissions expected from novices (my speculation: this is somehow related to the composition of the author team consisting of a professor in geology, a statistician from a telephone company, and an astrophysicist).
The extraordinary claims about the relationship between temperature, CO2, and human activity made in Humlum et al. (2012) also makes me think of a Carl Sagan citation: "Extraordinary claims require extraordinary evidence". I must say I'm disappointed by the reviewing process of Global Planetary Change and this is the second (Humlum et al., 2011) unpersuasive paper in that journal making such bold claims.
Earth shattering claims should meet rigorous evaluations. It would be useful for reviewers to google the authors of the papers, as some do have quite a track record of well-established mistakes (here and here and here and here).
In addition to failing the analytical set-up and the physics (which should have been picked up), they also provided some unusual citations, missed important works, and referred to questionable publications.
Furthermore, using the NOAA ESRL CO2 data, Humlum et al. could have sought advice with the data providers before submitting their paper (the ESRL is not mentioned in their acknowledgement, and I wonder if they would have a view on this analysis). Indeed, the ESRL encourages such quality checks according to the heading of the data file:
If the data are obtained for potential use in a publication or presentation, ESRL should be informed at the outset of the nature of this work. If the ESRL data are essential to the work, or if an important result or conclusion depends on the ESRL data, co-authorship may be appropriate. This should be discussed at an early stage in the work. Manuscripts using the ESRL data should be sent to ESRL for review before they are submitted for publication so we can insure that the quality and limitations of the data are accurately represented.
I also wonder what the affiliated universities think about Humlum et al.s work and their past record, and I think misguided work, as presented here, is not exactly good advertisement. Furthermore, they are also involved with an organisation called "klimarealistene" (with collaborations with the Heartland Institute), which claims that the IPCC has 'cheated' in terms of the temperature data (which ironically, they themselves rely on in Humlum et al. (2012)) and produced the 'famous hockey stick' (The people thanked in the acknowledgement reads like who-is-who within "klimarealistene").
A good thing is that Humlum et al. now have obliged themselves to share their data, results and methods by using the CO2 data from NOAA:
RECIPROCITY – Use of these data implies an agreement to reciprocate. Laboratories making similar measurements agree to make their own data available to the general public and to the scientific community in an equally complete and easily accessible form. Modelers are encouraged to make available to the community, upon request, their own tools used in the interpretation of the ESRL data, namely well documented model code, transport fields, and additional information necessary for other scientists to repeat the work and to run modified versions. Model availability includes collaborative support for new users of the models.
I've asked them to share their results, data and methods before, but so far with little success. My job as a climate scientist is to replicate results. Further progress may take place if we can go through the analysis together, test methods and data, and agree on which give robust answers and which don't.
References
O. Humlum, K. Stordahl, and J. Solheim, "The phase relation between atmospheric carbon dioxide and global temperature", Global and Planetary Change, vol. 100, pp. 51-69, 2013. http://dx.doi.org/10.1016/j.gloplacha.2012.08.008
O. Humlum, J. Solheim, and K. Stordahl, "Identifying natural contributions to late Holocene climate change", Global and Planetary Change, vol. 79, pp. 145-156, 2011. http://dx.doi.org/10.1016/j.gloplacha.2011.09.005