Guest Commentary by Zeke Hausfather and Matthew Menne (NOAA)
The impact of urban heat islands (UHI) on temperature trends has long been a contentious area, with some studies finding no effect of urbanization on large-scale temperature trend and others finding large effects in certain regions. The issue has reached particular prominence on the blogs, with some claiming that the majority of the warming in the U.S. (or even the world) over the past century can be attributed to urbanization. We therefore set out to undertake a thorough examination of UHI in the Conterminous United States (CONUS), examining multiple 'urban' proxies, different methods of analysis, and temperature series with differing degrees of homogenization and urban-specific corrections (e.g. the GISTEMP nightlight method; Hansen et al, 2010). The paper reporting our results has just been published in the Journal of Geophysical Research.

In our paper (Hausfather et al, 2013) (pdf, alt. site), we found that urban-correlated biases account for between 14 and 21% of the rise in unadjusted minimum temperatures since 1895 and 6 to 9% since 1960. Homogenization of the monthly temperature data via NCDC's Pairwise Homogenization Algorithm (PHA) removes the majority of this apparent urban bias, especially over the last 50 to 80 years. Moreover, results from the PHA using all available station data and using only data from stations classified as rural are broadly consistent, which provides strong evidence that the reduction of the urban warming signal by homogenization is a consequence of the real elimination of an urban warming bias present in the raw data rather than a consequence of simply forcing agreement between urban and rural station trends through a 'spreading' of the urban signal to series from nearby stations.
Homogenization is a somewhat complex term for a conceptually simple idea. Climate variations tend not to be purely local so changes in temperatures over long time spans (longer than a month) will be highly spatially correlated. Any major changes over time in individual stations that are not reflected in nearby stations are likely due to local (rather than regional) effects such as station moves, instrument changes, time of observation changes, or even such things as a tree growing over the thermometer stand. By removing any artifacts of individual station records not shared with other stations in their region, we can get a more accurate estimate of regional climate changes.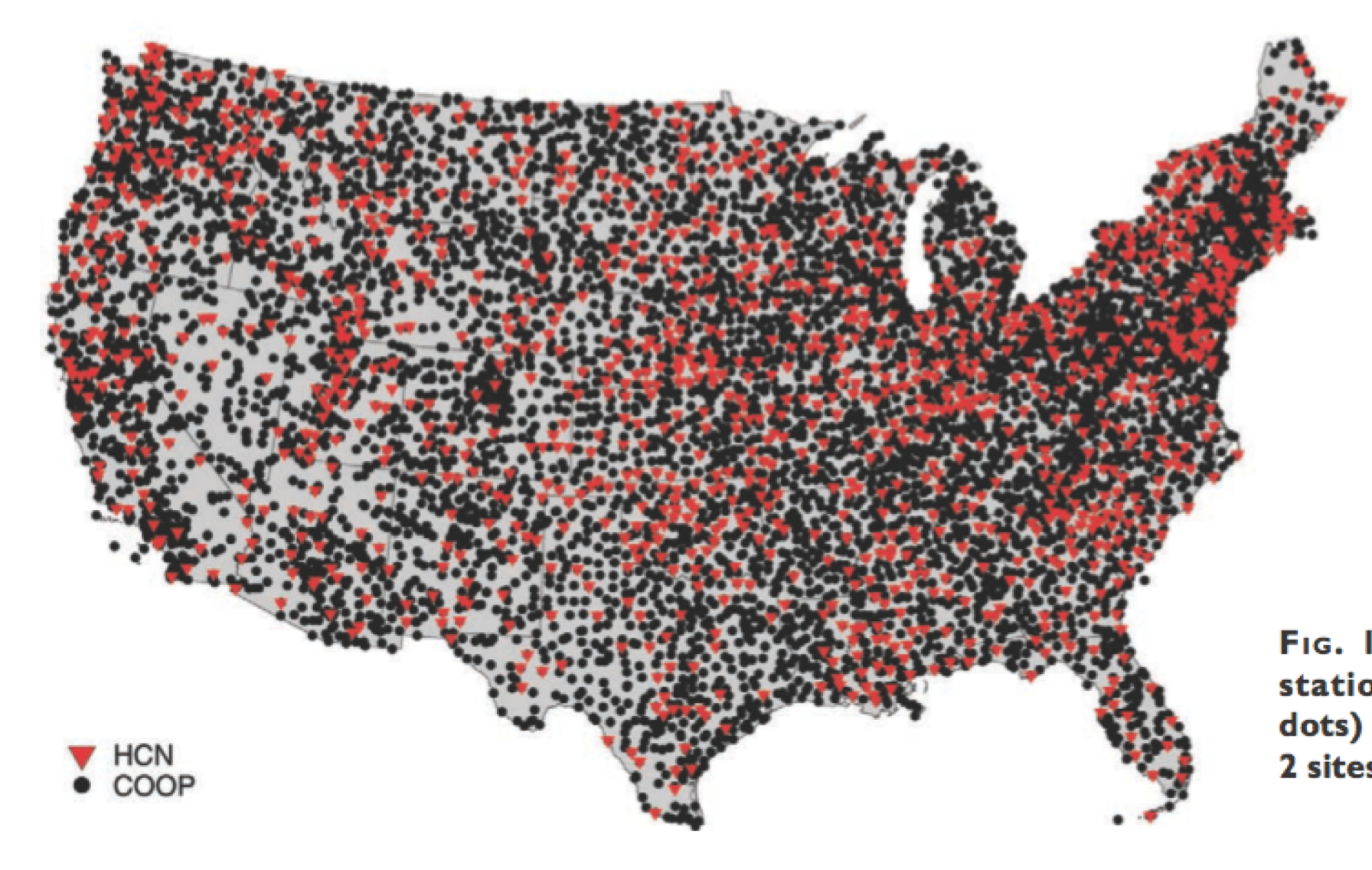 The conterminous United States (CONUS) has some of the most dense, publicly available digital surface temperature data in the world with over 7000 Cooperative Observer (Coop) stations reporting daily maximum and minimum temperature. This provides a unique resource to compare subsets of stations with various characteristics (e.g. urban form, sensor types, etc.) without suffering bias due to differing spatial coverage, a factor that often complicates global-scale studies of UHI. The Coop Program also maintains accurate station location data (roughly 30 meter accuracy), which allows for the accurate indexing of Coop stations against high-resolution spatial datasets that are useful for identifying urban and rural areas.
We use four datasets to classify stations as urban or rural, all with 1 km spatial resolution: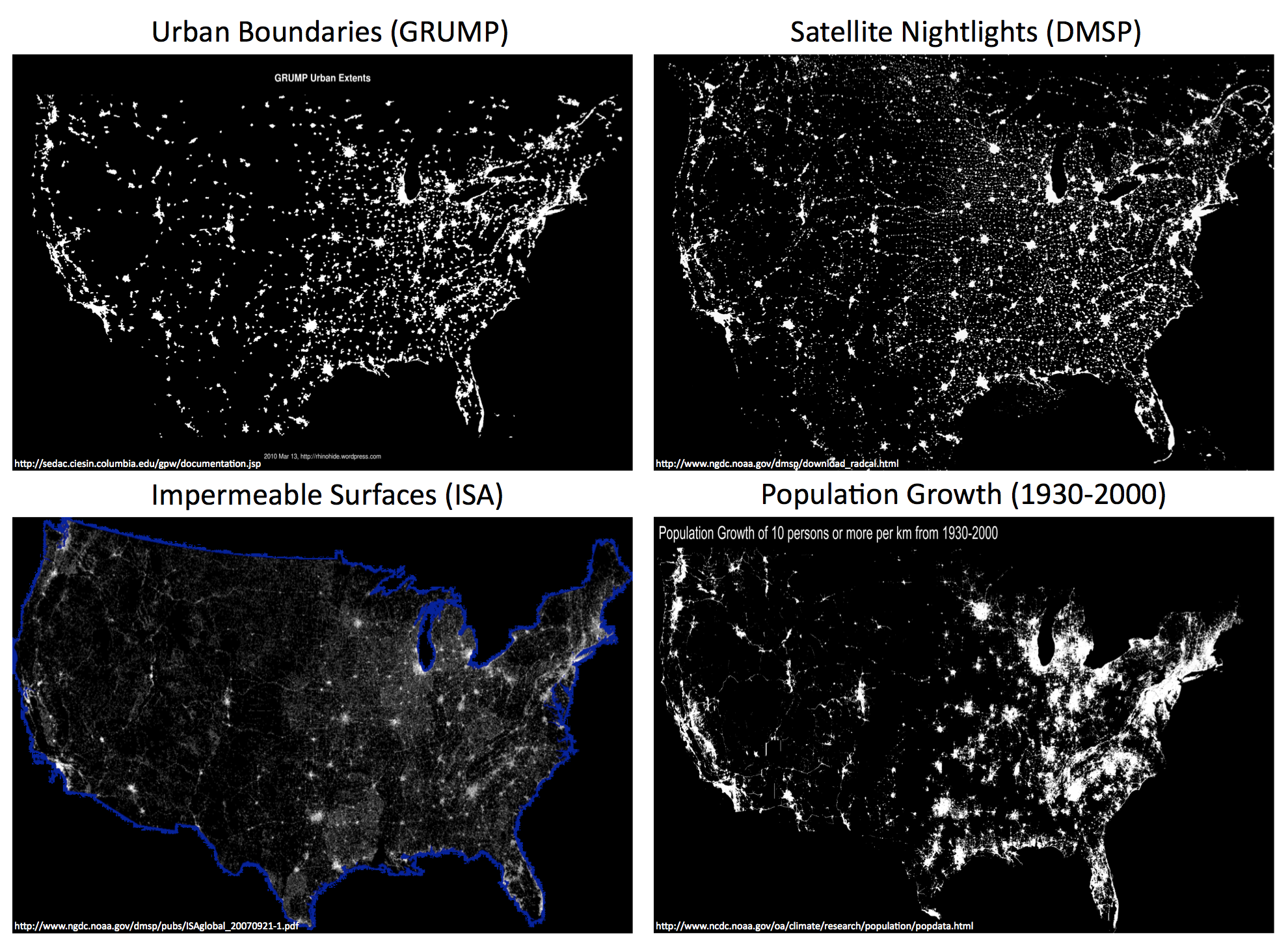 We also used two different methods to compare urban and rural stations: a station pairing method, where we looked at all possible permutations of urban and rural stations within 100 miles (160 km) of each other for each urban proxy, and a spatial gridding method where we used a grid-based approach to calculate CONUS temperatures separately using only urban and rural stations and compared the results. For the station pairing method, we imposed additional restrictions that the pairs must both have the same instrument type, to avoid accidentally conflating bias due to urban-correlated differences in the frequency transition from liquid-in-glass thermometers to electric MMTS instruments with actual urban-related warming.
Finally, we examined six different versions of U.S. temperature data separately for both maximum and minimum temperatures:
Raw station data with no adjustments
Station data with only time-of-observation bias (TOBs) adjustments
Station data with both TOBs and full PHA homogenization
Station data with TOBs, full PHA homogenization, and GISTEMP satellite nightlight-based corrections
Station data with both TOBs and rural-only PHA homogenization.
Station data with both TOBs and urban-only PHA homogenization.
We created estimates of urban-rural differences for each of the four temperature proxies, two analysis methods, six temperature datasets, and maximum and minimum temperatures for a total of 96 different combinations.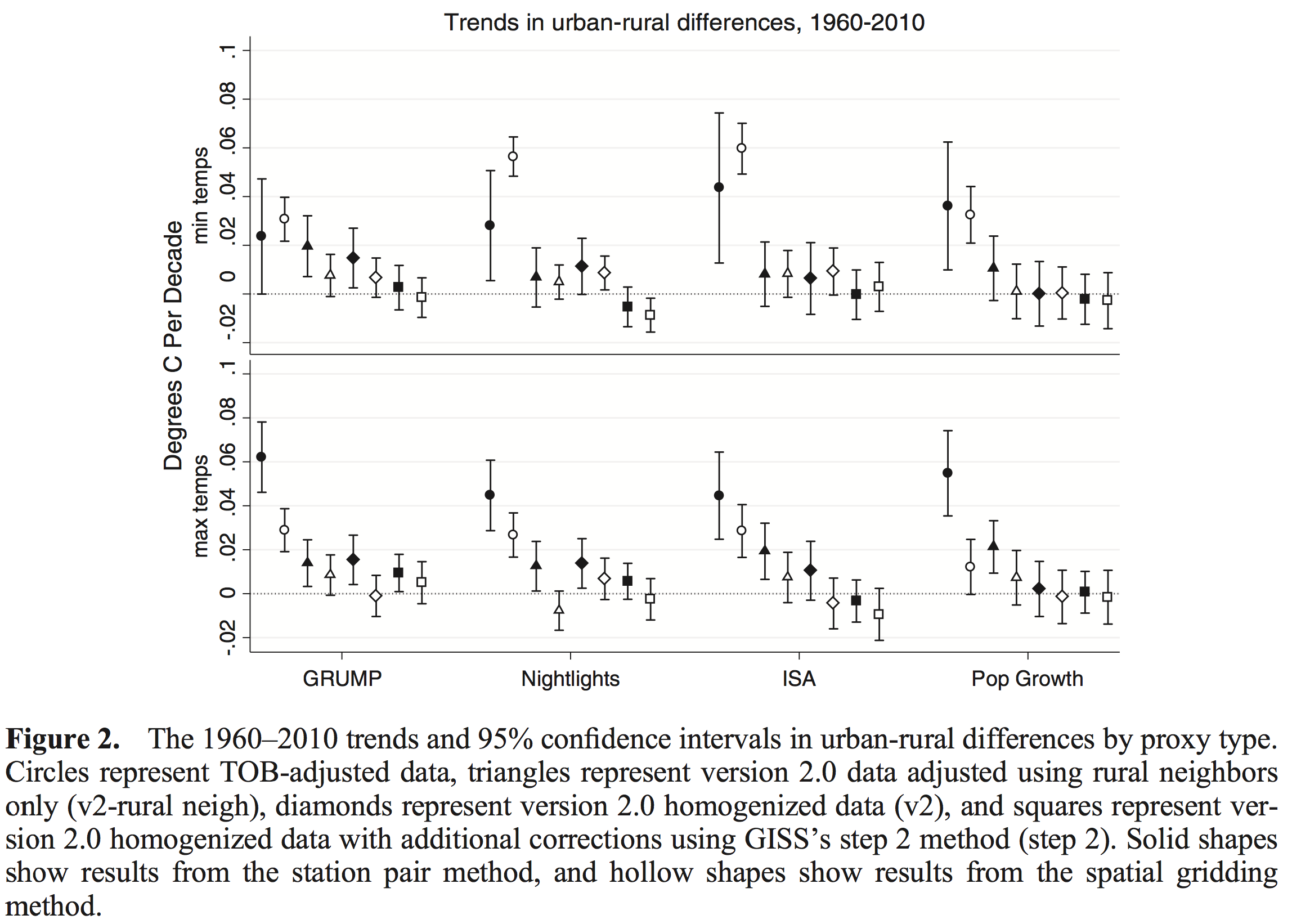 As shown in Figure 2 from our paper, there are significant differences in the warming rate of urban and rural stations in the raw (and TOBs-adjusted) data that are largely eliminated by homogenization, even when that homogenization is limited to using only rural stations (to avoid the possibility of 'spreading' the urban signal).
This can also be seen in the figure below (from our paper's supplementary information), which shows urban-rural differences over the 1895-2010 period using the spatial gridding method: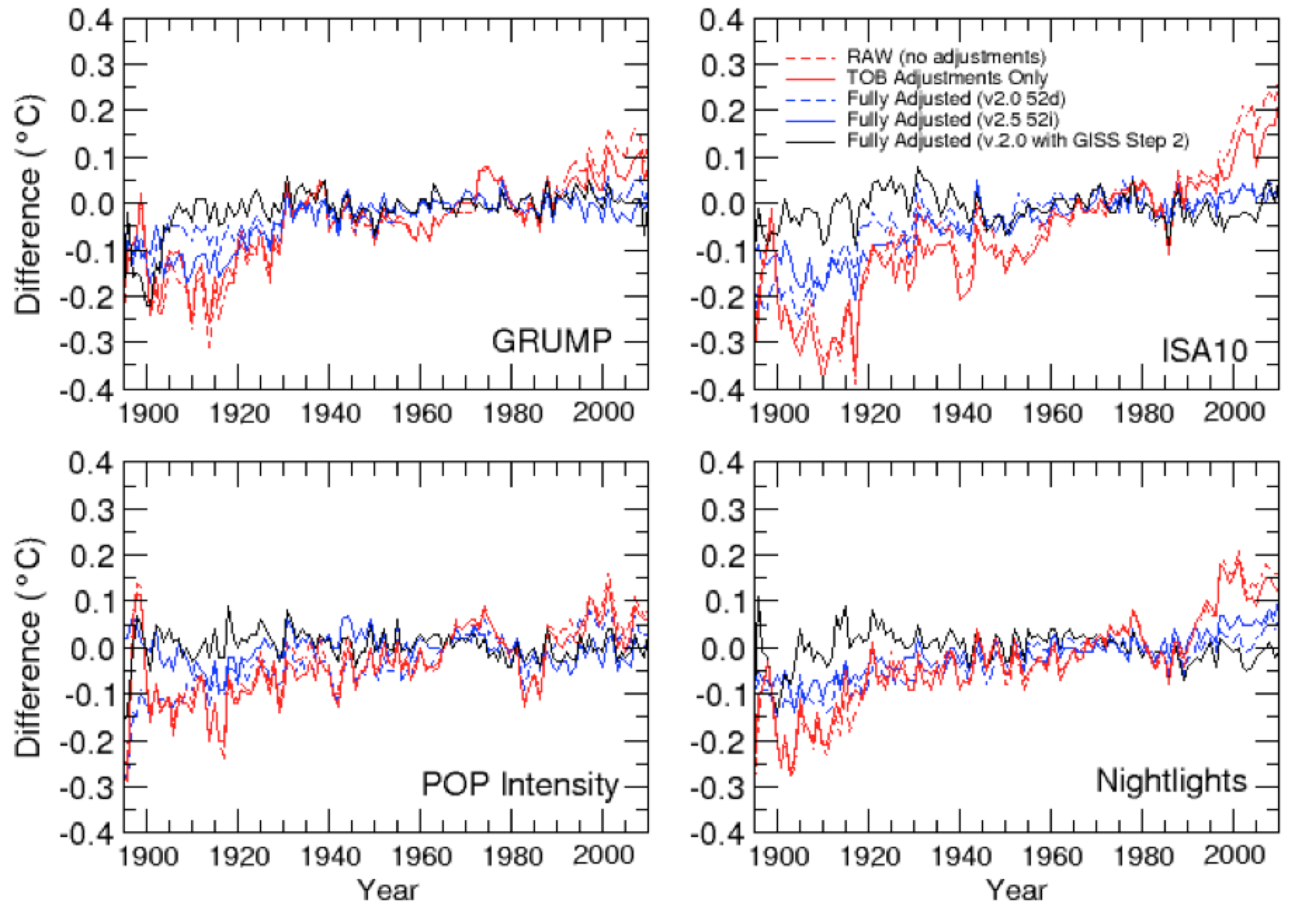 We conclude that homogenization does a good job at removing urban-correlated biases subsequent to 1930. Prior to that date, there are significantly fewer stations available in the network with which to detect breakpoints or localized trend biases, and homogenization does less well (though the newly released USHCN version 2.5 does substantially better than version 2.0). In general, there might be a need for additional urban-specific adjustments like those performed in NASA's GISTEMP for areas and/or periods of time in which station density is sparse, but they are rather unnecessary for the post-1930s CONUS data. The simple take-away is that while UHI and other urban-correlated biases are real (and can have a big effect), current methods of detecting and correcting localized breakpoints are generally effective in removing that bias. Blog claims that UHI explains any substantial fraction of the recent warming in the US are just not supported by the data.
In case people are interested in playing around with our data or code and replicating our approach, all relevant materials to conduct the analysis (as well as versions of the code in both STATA and Java) are available on the NOAA NCDC FTP server. More detail on the specific methods used can be found in our paper, and our supplementary materials contain more detailed tests to ensure that homogenization was properly removing urban-correlated biases. This paper is also somewhat interesting as it arose out of a a blog post back in 2010, and represents a productive collaboration between a number of climate bloggers (Troy Masters, Ron Broberg, David Jones, and Zeke) with climate scientists at NCDC (Matt Menne and Claude Williams).
References