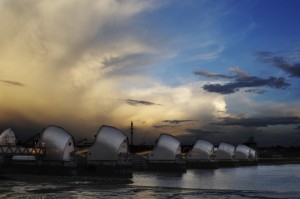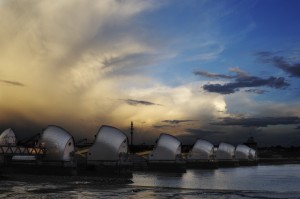 Back in 2007 I wrote a post looking at the closures of the Thames Barrier since construction finished in 1983. Since then there has been another 7 years of data* and given that there was a spate of closures last week due to both river and tidal flooding, it seems a good time to revisit the topic.
The Barrier is in the Thames Estuary in the South-East UK and is raised whenever there is a risk of flooding in London proper. The Thames below Teddington weir is tidal with quite a wide range and so (the very real) risks are greatest at high tide. Risks are elevated for one of two reasons (and occasionally both) – either the river flow is elevated, and so a normal high tide would cause flooding (a 'fluvial' risk) or the tide itself is elevated (usually associated with a storm surge) (a 'tidal' risk). Both river floods and storm surges have a potential climate change component, and so the frequency of closure and the reasons why might be useful in assessing whether risks have changed in recent years. Countering that though, there have been non-climatic changes to how flooding risks are managed, improved hydrological modelling which gives better predictability, and local subsidence issues which will increase flooding risks but is not climatic in origin. Connecting flooding (or flood risks) to climate change is always complicated – as this recent Carbon Brief posting reminds us.
So how many closures have their been?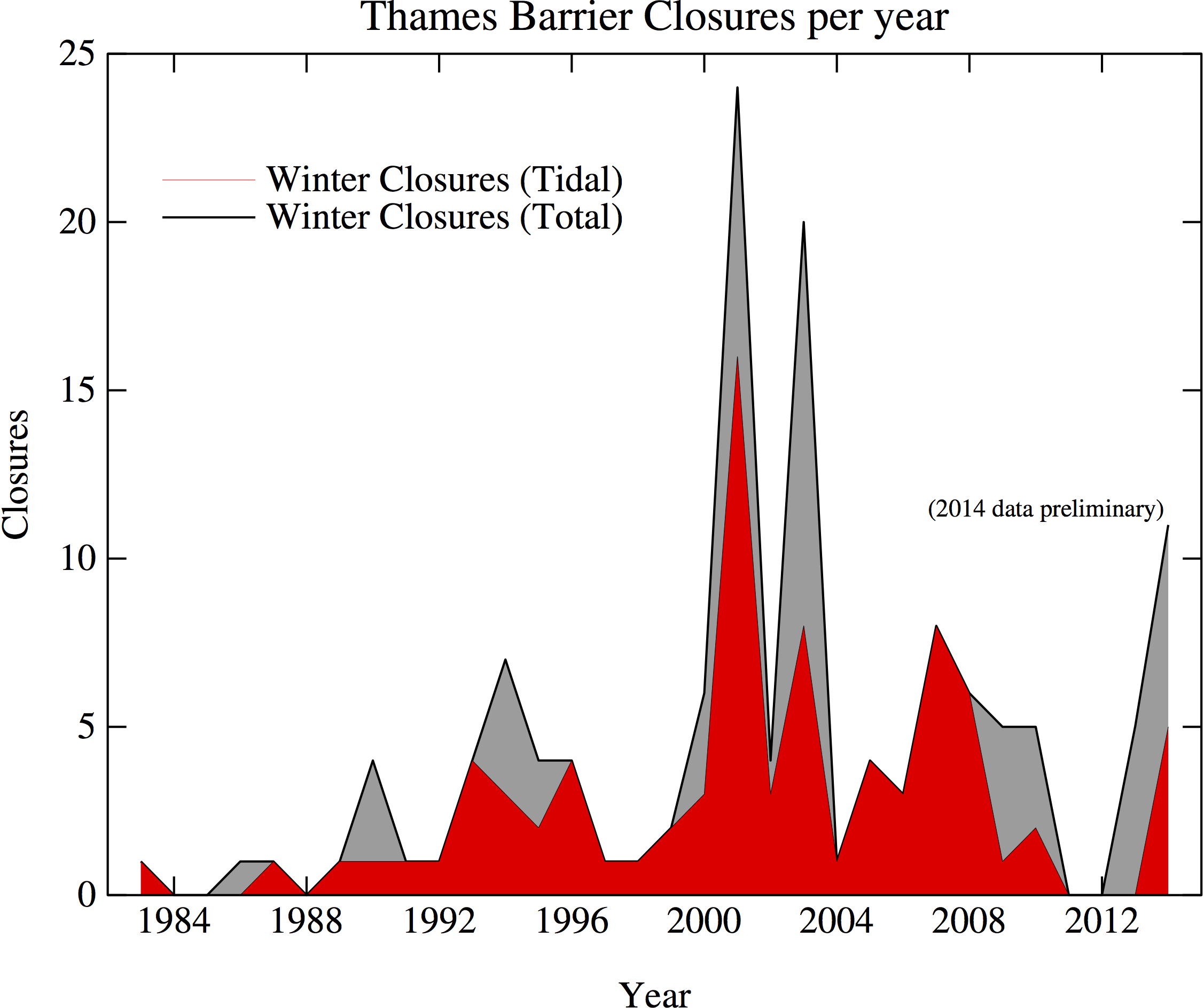 Red denotes the closures that are tidal in origin, grey is the total number of closures. Obviously tidal closures are dominant, but closures due to the river flooding in 2001, 2003 and this season are very notable. However, for the reasons outlined above and discussed previously, the raw number of closures – despite having increased over the years, is not a clean indicator of climate changes. We can look a little deeper at the data though.
For each closure, there is a record of the high water level at Southend (at the mouth of the Estuary), the river flow at Teddington and how much of the high water level was due to a storm surge. These are plotted below for each of the closures. Note that closures come in clusters, all are during the winter months (Sep-Apr) and in cases where the river flow is high, closures can happen for multiple high tides in a row.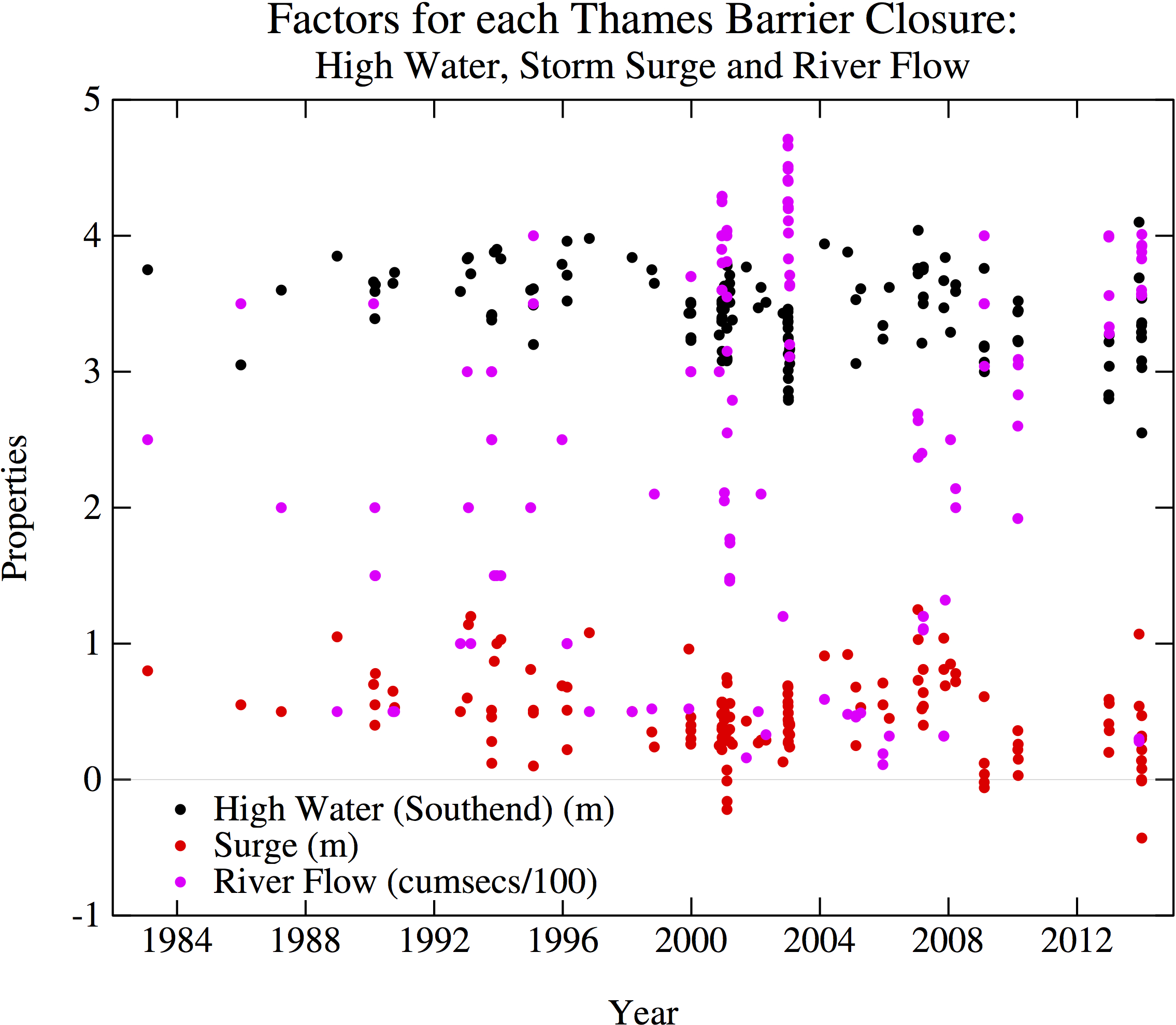 Looking at the changes in these causes is interesting. The highest storm surges were in 2007 and 1993 but there is no apparent trend. The river flow data are more enigmatic, with the peak flows post-2000 standing out, but since there is much better data on the history of the Thames flow, that data should be looked at instead to determine trends. There is also a summary description of the first 100 years of data at Teddington available.
The high water record is perhaps the most interesting and there seems to be an upward trend in the peak levels. However, sea level rise at Southend to 1983 was about 1.2 mm/year and in the 30 years since then, one would expect 3.5 to 5.0 cm more, which is much less than what one would deduce from the peaks in the figure. So, again, a deeper look into the more direct data is probably warranted.
I therefore conclude, as I did in 2007, that:
Thames Barrier closings tell a complicated story which mix climate information with management issues and are probably too erratic to be particularly meaningful – if you want to say something about global sea level, then look at the integrated picture from satellites and tide gauges. But it is a good illustration of adaptive measures that are, and will increasingly be, needed to deal with ongoing climate change.
* Updated data thanks to the UK Environment Agency (via @AlanBarrierEA @EnvAgency) with a helping hand from Richard Betts.