Guest commentary from Drew Shindell
There has been a lot of discussion of my recent paper in Nature Climate Change (Shindell, 2014). That study addressed a puzzle, namely that recent studies using the observed changes in Earth's surface temperature suggested climate sensitivity is likely towards the lower end of the estimated range. However, studies evaluating model performance on key observed processes and paleoclimate evidence suggest that the higher end of sensitivity is more likely, partially conflicting with the studies based on the recent transient observed warming. The new study shows that climate sensitivity to historical changes in the abundance of aerosol particles in the atmosphere is larger than the sensitivity to CO2, primarily because the aerosols are largely located near industrialized areas in the Northern Hemisphere middle and high latitudes where they trigger more rapid land responses and strong snow & ice feedbacks. Therefore studies based on observed warming have underestimated climate sensitivity as they did not account for the greater response to aerosol forcing, and multiple lines of evidence are now consistent in showing that climate sensitivity is in fact very unlikely to be at the low end of the range in recent estimates.

In particular, a criticism of the paper written by Nic Lewis has gotten some attention. Lewis makes a couple of potentially interesting points, chief of which concern the magnitude and uncertainty in the aerosol forcing I used and the time period over which the calculation is done, and I address these issues here. There are also a number of less substantive points in his piece that I will not bother with.
Lewis states that "The extensive adjustments made by Shindell to the data he uses are a source of concern. One of those adjustments is to add +0.3 W/m² to the figures used for model aerosol forcing to bring the estimated model aerosol forcing into line with the AR5 best estimate of -0.9 W/m²." Indeed the estimate of aerosol forcing used in the calculation of transient climate response (TCR) in the paper does not come directly from climate models, but instead incorporates an adjustment to those models so that the forcing better matches the assessed estimates from the Fifth Assessment Report (AR5) of the Intergovernmental Panel on Climate Change (IPCC). An adjustment is necessary because as climate models are continually evaluated against observations evidence has become emerged that the strength of their aerosol-cloud interactions are too strong (i.e. the models' 'aerosol indirect effect' is larger than inferred from observations). There have been numerous papers on this topic and this issue was thoroughly assessed in IPCC AR5 chapter 7. The assessed best estimate was that the historical negative aerosol forcing (radiation and cloud effects, but not black carbon on snow/ice) was too strong by about 0.3 Wm-2 in the models that included that effect, a conclusion very much in line with a prior publication on climate sensitivity by Otto et al. (2013). Given numerous scientific studies on this topic, there is ample support for the conclusion that models overestimate the magnitude of aerosol forcing, though the uncertainty in aerosol forcing (which is incorporated into the analysis in the paper) is large, especially in comparison with CO2 forcing which can be better constrained by observations.
The second substantive point Lewis raised relates to the time period over which the TCR is evaluated. The IPCC emphasizes forcing estimates relative to 1750 since most of the important anthropogenic impacts are thought to have been small at that time (biomass burning may be an exception, but appears to have a relatively small net forcing). Surface temperature observations become sparser going back further in time, however, and the most widely used datasets only go back to 1880 or 1850. Radiative forcing, especially that due to aerosols, is highly uncertain for the period 1750-1850 as there is little modeling and even less data to constrain those models. The AR5 gives a value for 1850 aerosol forcing (relative to 1750) (Annex II, Table AII.1.2) of -0.178 W/m² for direct+indirect (radiation+clouds). There is also a BC snow forcing of 0.014 W/m², for a total of -0.164 W/m². While these estimates are small, they are nonetheless very poorly constrained.
Hence there are two logical choices for an analysis of TCR. One could assume that there was minimal global mean surface temperature change between 1750 and 1850, as some datasets suggest, and compare the 1850-2000 temperature change with the full 1750-2000 forcing estimate, as in my paper and Otto et al. In this case, aerosol forcing over 1750-2000 is used.
Alternatively, one could assume we can estimate forcing during this early period realistically enough to remove if from the longer 1750-2000 estimates, and so compare forcing and response over 1850-2000. In this case, this must be done for all forcings, not just for the aerosols. The well-mixed greenhouse gas forcing in 1850 is 0.213 W/m². Including well-mixed solar and stratospheric water that becomes 0.215 W/m². LU and ozone almost exactly cancel one another. So to adjust from 1750-2000 to 1850-2000 forcings, one must remove 0.215 W/m² and also remove the -0.164 W/m² aerosol forcing, multiplying the latter by it's impact relative to that of well-mixed greenhouse gases (~1.5) that gives about -0.25 W/m².
If this is done consistently, the denominator of the climate sensitivity calculation containing total forcing barely changes and hence the TCR results are essentially the same (a change of only 0.03°C). Lewis' claim that the my TCR results are mistaken because they did not account for 1750-1850 aerosol forcing is incorrect because he fails to use consistent time periods for all forcing agents. The results are in fact quite robust to either analysis option provided they are done consistently.
Lewis also discusses the uncertainty in aerosol forcing and in the degree to which the response to aerosols are enhanced relative to the response to CO2. Much of this discussion follows a common pattern of looking through the peer-reviewed paper to find all the caveats and discussion points, and then repeating them back as if they undermine the paper's conclusions rather than reflecting that they are uncertainties that were already taken into account. It is important to realize that the results presented in the paper include both the uncertainty in the aerosol forcing and the uncertainty in the enhancement of the response to aerosol forcing, as explicitly stated. Hence any statement that the uncertainty is underestimated in the results presented in the paper, due to the fact that (included) uncertainty in these two components is large, is groundless.
In fact, this is an important issue to keep in mind as Lewis also argues that the climate models do not provide good enough information to determine the value of the enhanced aerosol response (the parameter I call E in the paper, where E is the ratio of the global mean temperature response to aerosol forcing versus the response to the same global mean magnitude of CO2 forcing, so that E=1.5 would be a 50% stronger response to aerosols). While the models indeed are imperfect and have uncertainties, they provide the best available method we have to determine the value of E as this cannot be isolated from observations directly. Furthermore, basic physical understanding supports the modeled value of E being substantially greater than 1, as deep oceans clearly take longer to respond than the land surface, so the Northern Hemisphere, with most of the world's land, will respond more rapidly than the Southern Hemisphere with more ocean. Quantifying the value of E accurately is difficult, and the variation across the models is substantial, primarily reflecting our incomplete knowledge of aerosol forcing. This leads to a range of E quoted in the paper of 1.18 to 2.43. I used this range, assuming a lognormal distribution, along with the mean value of 1.53, in the calculation for the TCR.
Lewis then argues that the large uncertainty ranges in E and in aerosol forcing make it the TCR estimates "worthless". While "worthless" is a little strong, it is important to fully assess uncertainties in trying to constrain any properties in the real world. It's worthwhile to note that Lewis co-authored a recent report claiming that TCR could in fact be constrained to be low. That report relies on studies that include the large aerosol forcing uncertainty, so criticizing my paper for that would be inconsistent. However, Lewis' study assumed that all forcings induce the same response in global mean temperature as CO2. This is equivalent to assuming that E is exactly 1.0 with NO uncertainty whatsoever. This is a reasonable first guess in the absence of evidence to the contrary, but as my paper recently showed, there is evidence to indicate that assumption is biased.
But while Lewis argues that the uncertainty in E is large and climate models do not give the value as accurately as we'd like, that does not justify ignoring that uncertainty entirely. Instead, we need to characterize that uncertainty as best we can and propagate that through the calculation (as can be seen in the figure below). The real question is not whether climate models provide us perfect information (they do not), but rather whether they provide better information than some naïve prior assumption. In this case, it is clear that they do.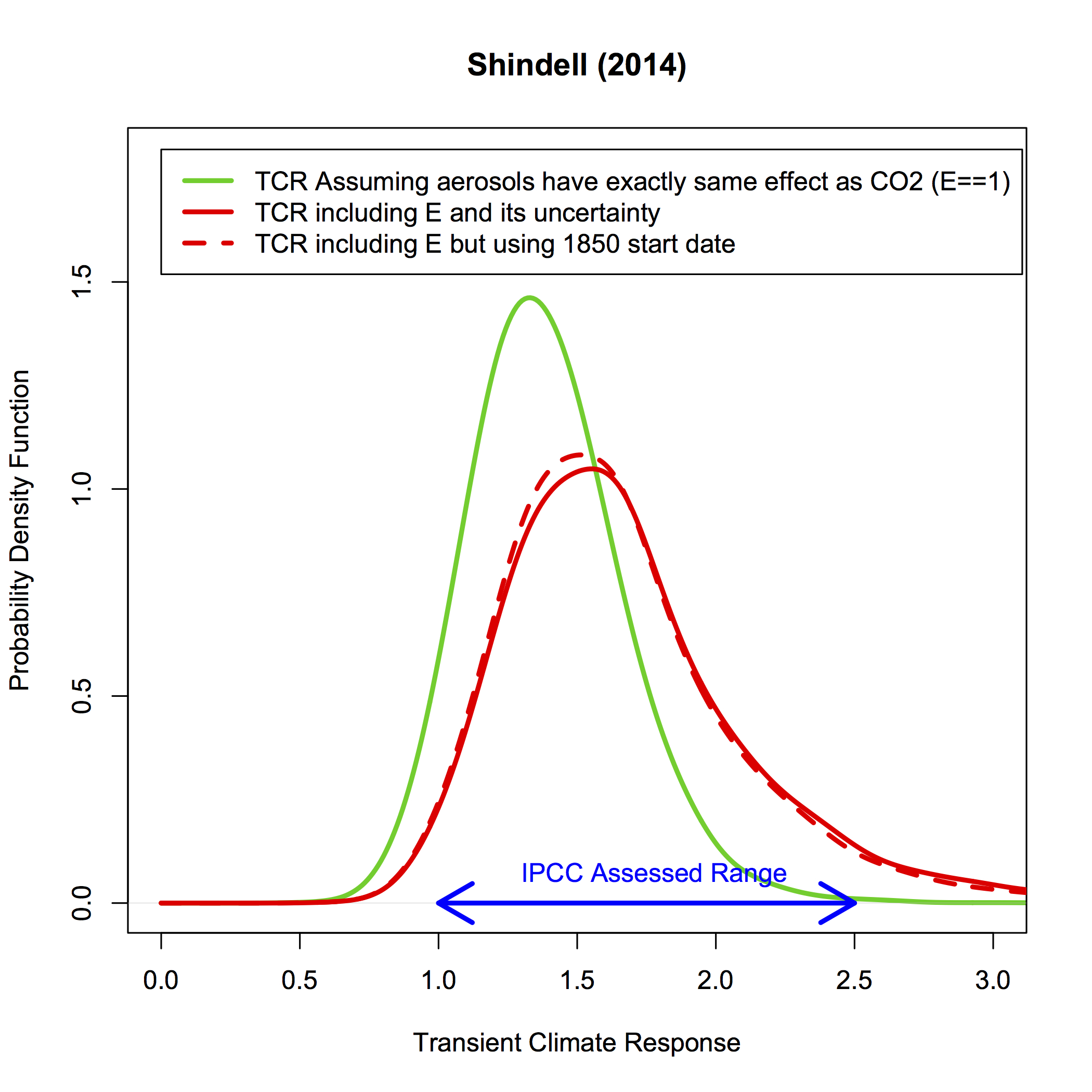 Figure shows representative probability distribution functions for TCR using the numbers from Shindell (2014) in a Monte Carlo calculation (Gaussian for Fghg and dTobs, lognormal fits for the skewed distributions for Faerosol+ozone+LU and E). The green line is if you assume exactly no difference between the effects of aerosols and GHGs; Red is if you estimate that difference using climate models; Dashed red is the small difference made by using a different start date (1850 instead of 1750).
This highlights the critical distinction in our reasoning: I fully support the basic methods used in prior work such as Otto et al and have simply quantified an additional physical factor in the existing methodology. I am however confused that Lewis, on one hand, appears to now object to the basic method used in prior work in which the authors first adjusted aerosol forcing, second included it's uncertainty, and then finally quantified estimates of TCR, Yet on the other hand, he not only co-authored the Otto et al paper but released a report praising that study just three days before the publication of my paper.
For completeness, I should acknowledge that Lewis correctly identified a typo in the last row of the first column of Table S2, which has been corrected in the version posted where there is also access to the computer codes used in the calculations. The climate model output itself is already publicly available at the CMIP5 website (also linked at that page).
Finally, I note that the conclusions of the paper send a sobering message. It would be nice if sensitivity was indeed quite low and society could get away with smaller emission cuts to stabilize climate. Unfortunately, several lines of independent evidence now agree that this is not the case.
References
D.T. Shindell, "Inhomogeneous forcing and transient climate sensitivity", Nature Climate Change, vol. 4, pp. 274-277, 2014. http://dx.doi.org/10.1038/nclimate2136
A. Otto, F.E.L. Otto, O. Boucher, J. Church, G. Hegerl, P.M. Forster, N.P. Gillett, J. Gregory, G.C. Johnson, R. Knutti, N. Lewis, U. Lohmann, J. Marotzke, G. Myhre, D. Shindell, B. Stevens, and M.R. Allen, "Energy budget constraints on climate response", Nature Geoscience, vol. 6, pp. 415-416, 2013. http://dx.doi.org/10.1038/ngeo1836