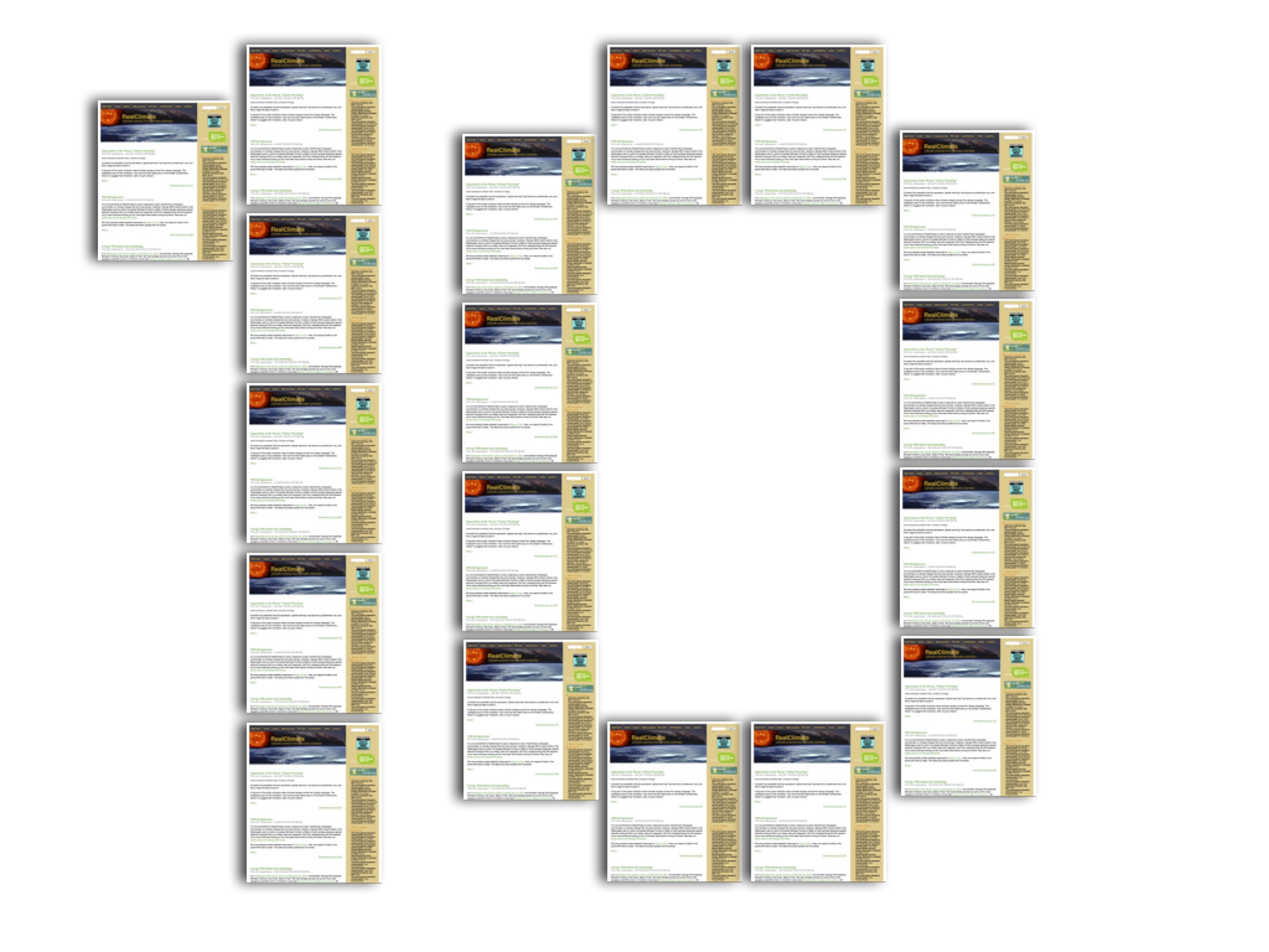 The landscape for science blogging, the public discourse on climate and our own roles in the scientific community have all changed radically over the last 10 years. Blogging is no longer something that stands apart from professional communications, the mainstream media or new online start-ups. The diversity of voices online has also increased widely: scientists blogging and interacting directly with the public via Twitter and Facebook are much more prevalent than in 2004. The conversations have also changed, and (for the most part) have become more nuanced. And a bunch of early career researchers with enthusiasm, time to spare and things to say, have morphed into institute directors and administrators with lots of new pressures. Obviously, blogging frequency has decreased in the last year or so in response to these pressures and this raises the question: where does RealClimate go now?
Is RealClimate's mission 'Climate science from climate scientists' still needed? There are successful sites about climate science that aren't run by scientists, but that nevertheless do a good job in providing pointers to the mainstream science, most notably SkepticalScience.com, Climate Central and Carbon Brief, and there are many climate scientists who are on Twitter (over 250 via this list curated by Tamsin Edwards). Lots of climate scientists are blogging for themselves (including some RC folk): Ed Hawkins and guests at Climate Lab Book, Tamsin Edwards, Doug McNeall, Simon Donner, Isaac Held, Jules Hargreaves and James Annan, Jim Bouldin, Sophie Lewis, Georg Hoffmann, Anders Levermann, Kate Marvel and Judy Curry, or who occasionally contribute to the bigger sites such as HuffPo or Slate (Micheal Mann, Ray Pierrehumbert) or the Conversation (Australian, UK, and US editions). The Climate Change National Forum (CCNF) has a wide roster of US-based climate scientists and an expanding mandate. However, none of these efforts duplicate RealClimate in terms of reach or content or community.
We therefore feel that RealClimate still has a role, albeit one that is not tied solely to the current list of contributors. Consequently we need to find ways to transition the site into something that is more of an institution rather than just somewhere we blog. This is undoubtedly a challenge and we will need help to do this successfully. Different directions are possible – increasing use of outside content (cross-posting good pieces by climate scientists elsewhere?), a wider focus to include climate impacts, more of a journal club etc. But while those are possibilities to discuss, we really think we should start with…
A clean slate
A number of us – Gavin, Mike, Ray P. and Ray B. – will be stepping away from an active role in running the blog in 2015. They'll still contribute occasional guest posts and interact in the comments, but the day-to-day roles will be passed on. Though they will continue posting on Twitter (which requires a little less overhead): @ClimateOfGavin, @MichaelEMann, @Climatebook and @raybradleyUMass. Stefan, Eric, David and Rasmus will continue to contribute, though perhaps not at the same rate. This will leave some holes in the roster, and so we are making a…
Call for proposals
Specifically, we are putting out an open call for climate scientists to join the RealClimate team. We are looking for early career researchers who have a desire to explain the science and engage with the public who want to be part of a group that makes that a little easier. You should be an active researcher in a climate-related field (including impacts), at postdoc level or beyond, and have an enthusiasm to explain the science quite generally, not just about your own research. You might already have your own blog, or you might just want to give blogging a try to see how it feels. And all of it as a purely voluntary and unpaid activity!
If you blog independently or are thinking about it, it's worth going over the advantages of a group blog (see here for a discussion): It can remain active even if for a short period individuals are too busy; it comes with an existing critical mass of commenters and readers that you don't have to build; You don't need to be an expert on everything that comes up; and there is support if things go wrong. RealClimate has always had an internal peer review system for substantive posts and this is fun to participate in even if you don't have time to write full posts yourself. It is also a big help if you are looking for input on tone, level and writing style.
Additionally, we are specifically looking for someone with blogging experience to act as a general editor. This would involve keeping the WordPress software up-to-date, dealing with guest posts, comment moderation etc. This is not hard, but does take a little time, though the existing group will provide backup initially.
Note that we are specifically focused on climate science (including impacts), so blogging about more general topics (scientific publishing in general, scientist's clothes, academic inside baseball, politics, religion etc.) is best done somewhere else. Additionally, if you only want to write about your ideas for saving the world, there are probably better venues for that too. But if you are interested in joining the effort or at least talking about it, let us know. A few of us will be at #AGU14, so catch us there if you like. We'll hopefully have a transition period over the next few months where people can try this out for size, put up a few posts, get advice, and see if they are interested in keeping this going. Hopefully, we'll have a new critical mass of contributors by then.
In the meantime, we are always soliciting guest posts, so send along ideas even if you don't want to commit to anything more involved!