Guest post by Emmanuel Vincent
While 2016 is on track to easily surpass 2015 as the warmest year on record, some headlines, in otherwise prestigious news outlets, are still claiming that "2015 Was Not Even Close To Hottest Year On Record" (Forbes, Jan 2016) or that the "Planet is not overheating…" (The Times of London, Feb 2016). Media misrepresentation confuses the public and prevents our policy makers from developing a well-informed perspective, and making evidence-based decisions.
Professor Lord Krebs recently argued in an opinion piece in The Conversation that "accurate reporting of science matters" and that it is part of scientists' professional duty to "challenge poor media reporting on climate change". He concluded that "if enough [scientists] do so regularly, [science reporting] will improve – to the benefit of scientists, the public and indeed journalism itself."
This is precisely what a new project called Climate Feedback is doing: giving hundreds of scientists around the world the opportunity to not only challenge unscientific reporting of climate change, but also to highlight and support accurate science journalism.
The project uses a new online annotation platform, called Hypothesis, which allows scientists to apply "peer review"-inspired analyses to influential climate change stories in the media. The annotation tool allows scientists to analyze each piece collectively; scientists' fact-check are layered directly onto the original texts so that readers can see the scientists' sentence by sentence critique right next to the article (see figure below).
Scientists contributing to these "feedbacks" are also invited to provide an overall credibility assessment of the article in the form of a "5-star" rating (ranging from -2 for 'Very low' to +2 for 'Very high'). The rating measures the accuracy of facts, the logic of the reasoning and the objectivity of the piece, and enables readers to know right away whether what they are reading is consistent with current science.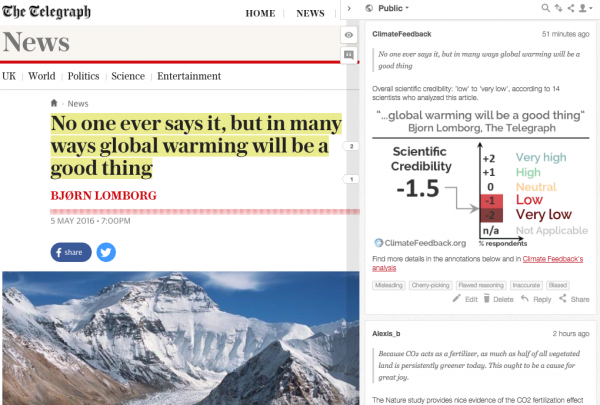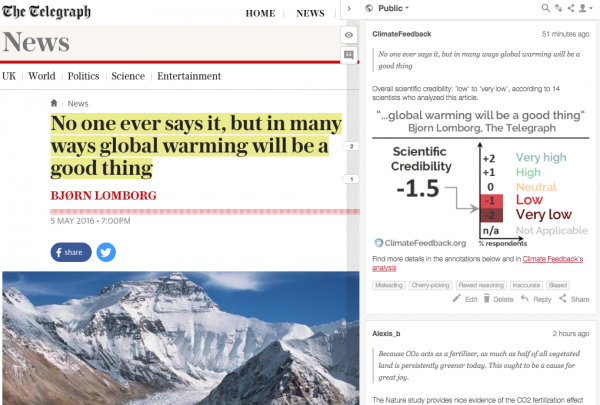 An example of Climate Feedback in action. Scientists' comments (and ratings) appear as a layer over the article. Text annotated with Hypothesis is highlighted in yellow in the web browser and scientists' comments appear in a sidebar next to the article. Click here to see it live.
For an example of how it works, see how 14 scientists recently analyzed a piece published by Bjorn Lomborg in The Telegraph and rated its overall scientific credibility to be "low to very low". Articles like this one are particularly misleading because they sound reasonable and scientific at first glance, due to the author's reference of scientific studies. But when scientists –some of whom actually wrote the articles cited– were invited to provide feedback, they explained that the author had misrepresented scientific research to reach unsupported conclusions.
By contrast Climate Feedback also highlighted insightful reporting on climate change. For instance, 7 scientists gave "high to very high" credibility rating to a New York Times article by Justin Gillis on sea level rise; sea-level expert Prof. A Dutton concluded "This article is an accurate and insightful summary of the recently published research on this topic. Justin Gillis has a strong background in this topic which comes across through his careful language and nuanced understanding of the issues."
Beyond informing readers, Climate Feedback provides feedback to journalists, contributors and editors about scientists' findings, thus pointing a way forward for more accurate science reporting. This approach has already improved journalistic standards; for instance, The Telegraph issued a public correction after scientists reviewed an article claiming that an ice age was on its way in the 2030s.
Climate Feedback's analyses can also serve as a reference for those who want to uncover media misinformation, as members of the House of Lords did last month in their letter to The Times of London asking the newspaper's editor to report the reality of climate change more accurately.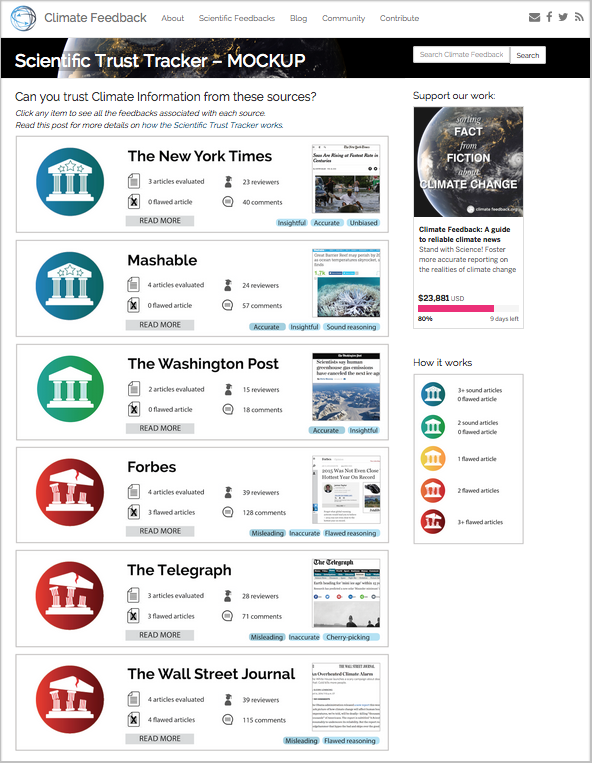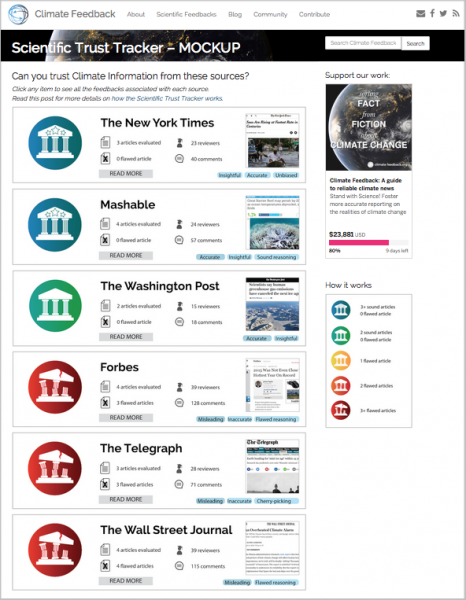 Mockup of Climate Feedback's "Scientific Trust Tracker"
Climate Feedback recently proposed to create a "Scientific Trust Tracker" that would
aggregate all the scientists' ratings and comments attached to a given news source. This would serve as a reference to inform the public about a source's past track record, and whether they should be especially skeptical when reading climate news from sources that have a track record of publishing unsupported or misleading articles.
While the project has been more of an experiment up until now, we now plan to scale up and are currently raising funds from the public to hire a Scientific Editor who will coordinate articles' evaluation on a regular basis. The campaign has already raised more than 85% of its initial $30k goal. If you wish to Stand with Science, you can support this initiative here: https://igg.me/at/Stand-with-Science