2017 is set to be one of warmest years on record. Gavin has been making regular forecasts of where 2017 will end up, and it is now set to be #2 or #3 in the list of hottest years:
With update thru September, ~80% chance of 2017 being 2nd warmest yr in the GISTEMP analysis (~20% for 3rd warmest). pic.twitter.com/k3CEM9rGHY

— Gavin Schmidt (@ClimateOfGavin) October 17, 2017
In either case it will be the warmest year on record that was not boosted by El Niño. I've been asked several times whether that is surprising. After all, the El Niño event, which pushed up the 2016 temperature, is well behind us. El Niño conditions prevailed in the tropical Pacific from October 2014 throughout 2015 and in the first half of 2016, giving way to a cold La Niña event in the latter half of 2016. (Note that global temperature lags El Niño variations by several months so this La Niña should have cooled 2017.)
The hot El Niño year of 1998 is comparable to 2016, since both years followed the two hitherto strongest El Niño events. And 1998 was followed by a cool 1999, only ranked #7 in the list of hottest years until then. So here is a comparison of 1998 versus 2016. Let us first look at the full time series of GISTEMP global temperature data, see Fig. 1.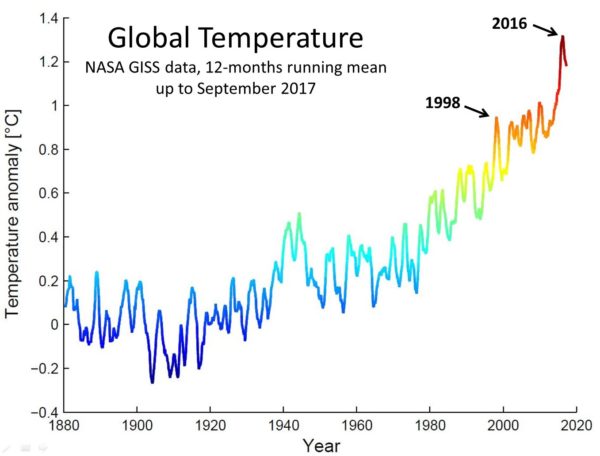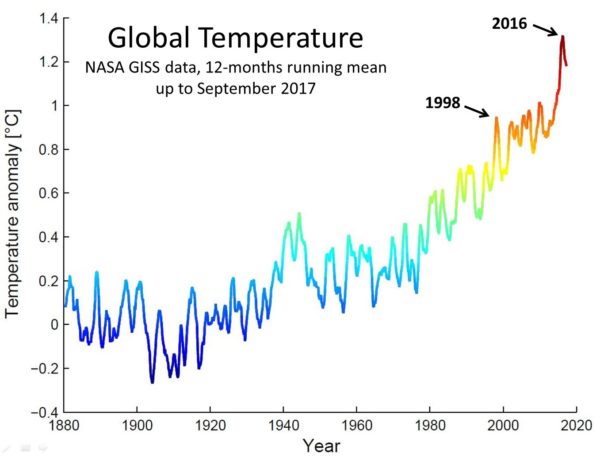 Fig. 1 GISTEMP global temperature data, in 12-months running average (anomalies relative to the first 30 years). The data are available monthly and averaging over 12 months removes a considerable amount of month-to-month 'noise'. Showing only calendar-year averages would lose some information – e.g. it would only fully show peaks in temperature if by chance the maxima aligned with the calendar year.
The El Niño peaks in 1998 and 2016 are clearly seen. It has been shown in several studies (e.g. Foster and Rahmstorf 2011) that El Niño is one of the main causes – perhaps the main cause – of short-term variability in global temperature. The following graph overlays those 2 El Niño peaks by shifting the 2016 peak back in time by 18 years and down by 0.4 °C.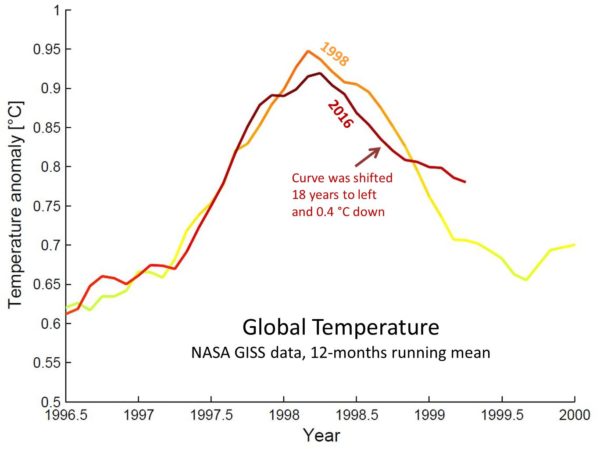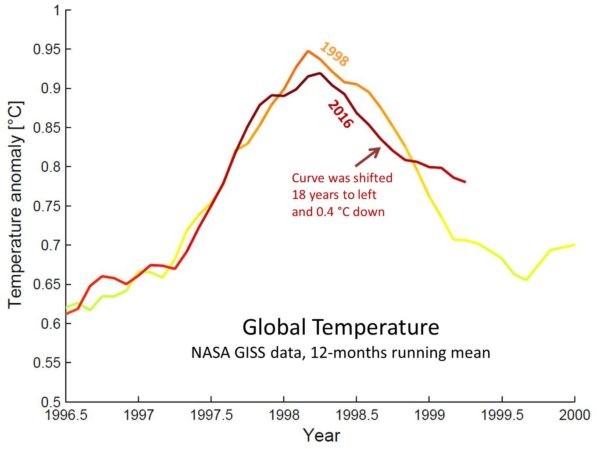 Fig. 2 The two El Niño peaks in global temperature from Fig. 1, zoomed in and overlayed by shifting the 2016 peak back in time by 14 years and down by 0.4 °C. The darker red curve is the 2016 peak, as in Fig. 1.
The two peaks align very well. The first conclusion is that global temperature evolution over the last few years is very similar to that around 1998 – except the Earth is now 0.4 °C hotter. That's 0.4 °C warming over 18 years, corresponding to 0.22 °C per decade – a bit more than expected from the long-term global warming trend since 1980, which is 0.17 °C per decade in the GISTEMP data. (So much for the "no warming since 1998" meme so popular with climate deniers.)
The second observation is that initially temperatures climbed down from the peak as fast as in 1998 – but then the cooling slowed down, and the last 12 months haven't just been 0.4 °C warmer than in 98/99 but closer to 0.5 °C warmer. So it is clear that our planet is not cooling off as fast as after the 1998 El Niño peak. I wouldn't over-interpret this – we're looking at a really short interval here, so it is clearly no reason to diagnose a noteworthy acceleration of global warming. But there certainly is no sign of global warming slowing down. It will be interesting to watch how this continues over the next months; the ENSO forecast is for developing La Niña conditions again this coming fall/winter.