I've been interested in indirect climate-related datasets for a while (for instance, the Nenana Ice Classic). One that I was reminded of yesterday is the 48-year series of openings and closings of the Rideau Canal Skateway in Ottawa.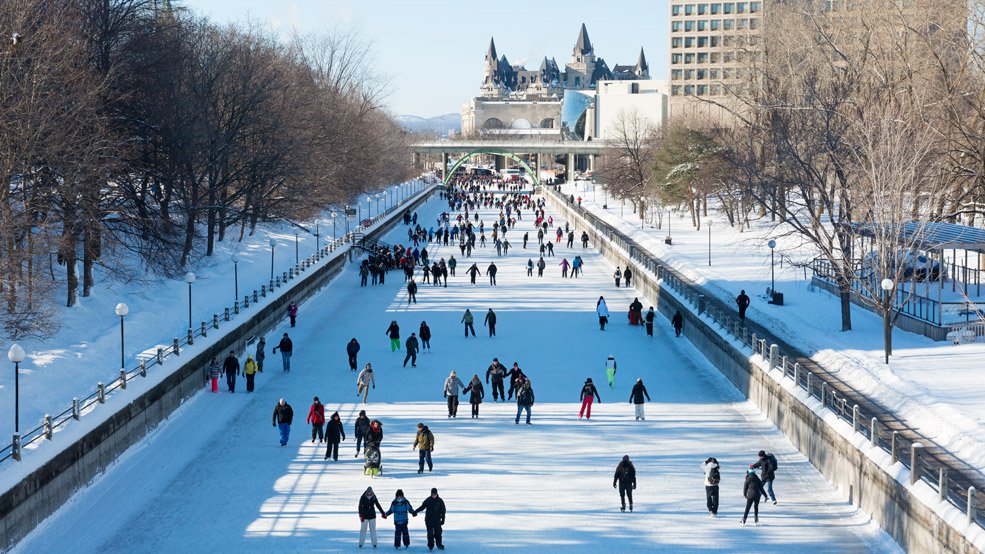 Since 1971, the National Capital Commission (NCC) in Ottawa has (once the ice is thick enough for safe skating) methodically tried to keep the frozen canal available for ice skaters (by clearing snow, smoothing surfaces, filling cracks etc.). This is possible only if the weather permits – first by being cold enough to sufficiently freeze the ice, and second by not being warm enough to melt the ice surface as the season progresses. Apart from the first season, which was not planned ahead of time, each year since has been anticipated to start in the second half of December (or early January) and ideally extends to March.
However, DJF temperatures in Ottawa [Updated link to correct Ottawa] have been rising, and so one might anticipate some trends in opening/closing dates and the length of the skating season. This year's season (Jan 5th to Feb 21st) was shorter than the average season, but is that part of a trend?
The weather factors underlying the year-to-year variability in the season length were explored in Brammer et al (2015), and they used that to predict a slow decline in viability over time. For instance, the correlation of season length to the (negative) mean DJF temperature anomaly is over 0.4 0.6 (and over 0.8 for the skating days).
Oddly enough the full data set of season dates, length (since 1971) and skating days (collected since 1995) does not appear to be publically available from NCC. However, some of it is around (here and here), and so one can put together a full dataset of season lengths, skating days (since 1995), and opening/closing dates (since 2002).
Updating the Brammer et al graph to 2018 (including the record shortest season in 2016) is straightforward: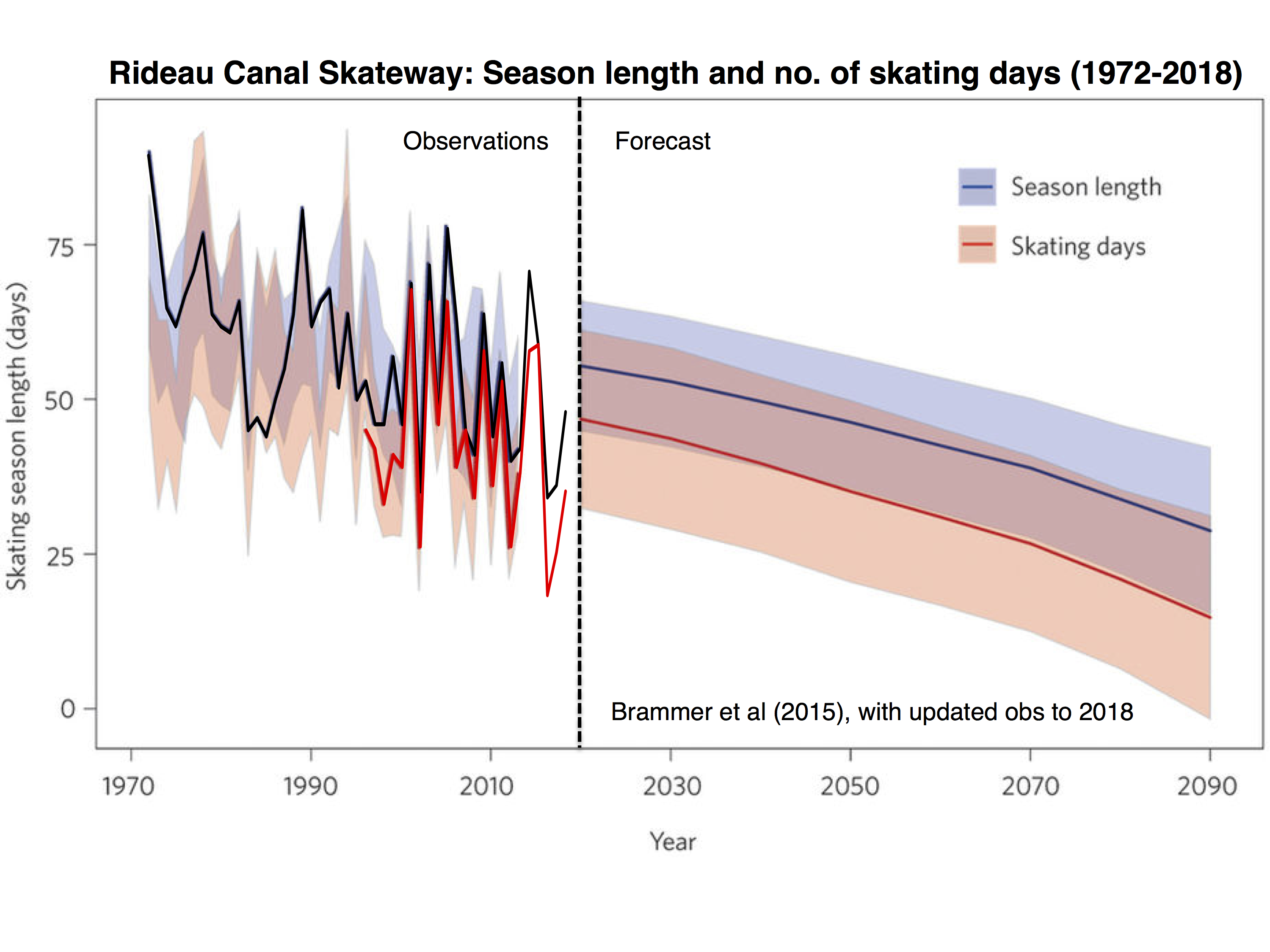 As expected, there are clear trends in season length (a reduction of ~23±11 days (95% CI) since 1972), and while there are decreases in skating days, they aren't significant due to the too short period (similarly with the available opening/closing dates). There is of course the possibility on non-climatic artifacts. Increasing skill/experience of the Skateway managers might prolong the season, while decreasing tolerances for risk(?) might shorten it. These are issues that are hard to quantify without much greater amounts of the meta-data associated with the opening and closing.
Nevertheless, we have another independent dataset which conforms to our expectations that outdoor ice in North America is suffering.
References
J.R. Brammer, J. Samson, and M.M. Humphries, "Declining availability of outdoor skating in Canada", Nature Climate Change, vol. 5, pp. 2-4, 2014. http://dx.doi.org/10.1038/nclimate2465