Our annual post related to the comparisons between long standing records and climate models.
As frequent readers will know, we maintain a page of comparisons between climate model projections and the relevant observational records, and since they are mostly for the global mean numbers, these get updated once the temperature products get updated for the prior full year. This has now been completed for 2022.
Version updates
We have included the updates to the NOAA NCEI surface temperature record to v5.1 (which is more coherent with GISTEMP v4 and HadCRUT5 than previous versions). The Cowtan and Way effort has been suspended, and so that is no longer being used. The NOAA STAR TMT record is in flux – the v4.1 has not been updated since early last year, and a new v5 is available that does a better job incorporating the data from the most recent instruments. Meanwhile, their v3 is still being maintained, thus we are now including all versions until it's a little clearer. Also upcoming, Berkeley Earth is about to unveil a new product that utilizes machine learning and the reanalyses to get higher resolution estimates back to the 19th C, and we'll discuss this in more detail when it come out.
CMIP3, CMIP5 and CMIP6
We haven't changed anything about the CMIP ensemble data that we are using. CMIP6 data was introduced last year in a preliminary way, using both the full ensemble and a TCR-screened subset. This is related to the commentary we published last year (Hausfather et al, 2022), where we show that this screen is a reasonable match to the IPCC AR6 assessed projections that used emulators constrained by observations. However, it's still too soon to be concluding very much from this comparison. The comparisons to the earlier iterations continue to demonstrate that the those ensembles were indeed skillful. The CMIP3 ensemble continues to astound!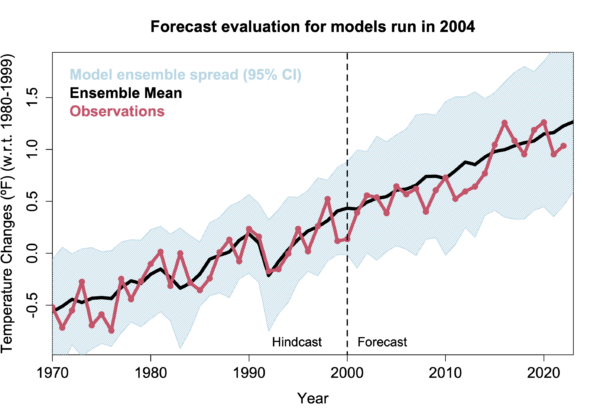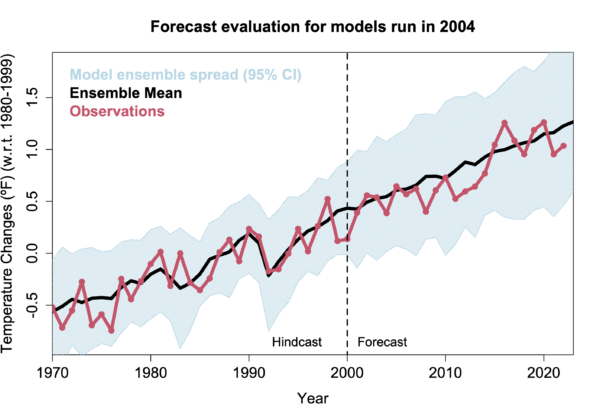 Satellite comparisons
The weighted atmospheric temperatures that are retrieved from the MSU/SSU, and now AMSU, instruments are not standard CMIP diagnostics (though they should be!). Hence, for the comparisons to observations, someone has to go through the archive of 3D-temperature fields and calculate them (not complicated, but time and data intensive). This was done for CMIP3 and CMIP5 (by Ben Santer and colleagues, John Christy, and Amanda Maycock and colleagues), but has not been done yet (AFAIK) systematically for CMIP6.
As we have noted before, the observed TMT trends – particularly in the tropics are notably lower than most of the CMIP5 models. The new NOAA-STAR version 5 is now the product with the smallest trend, with a divergence from the other records starting in 1999. It will be interesting to see what the CMIP6 models show, and we have some hints, at least for the GISS suite of models. For those simulations, the MSU/SSU data is archived and available and was discussed recently in Casas et al (2023). The key conclusions were that the internal variability, and treatment of ozone and aerosol forcings make material differences to the comparisons and that these need to be considered part of the structural uncertainty in the models. For instance the trends in TMT across six different CMIP6 configurations (differing in forcing, ocean model and model top) are as a whole consistent with observations (more so with RSS than UAH), though the specification of the forcings does impact the comparison.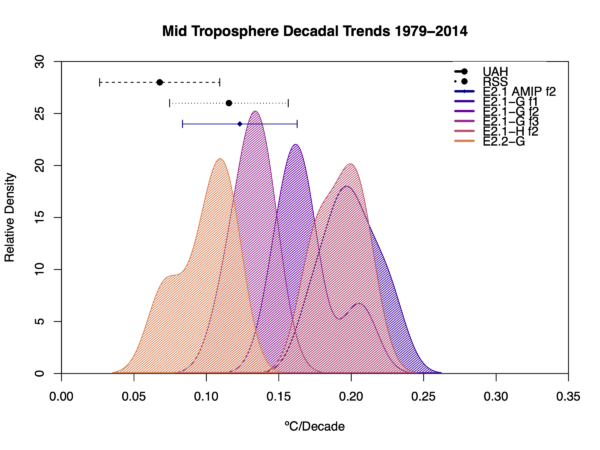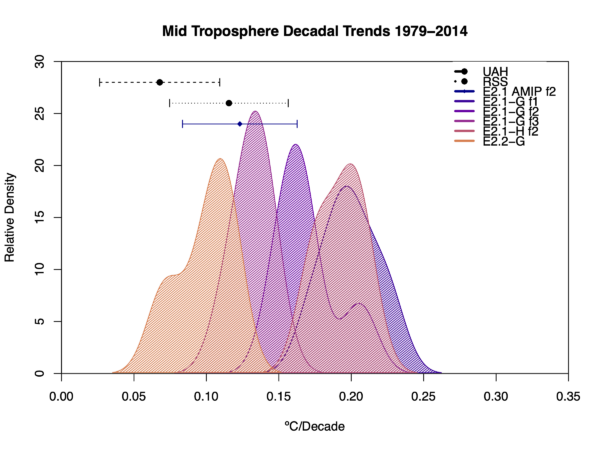 Hopefully, we will roll out some more comparisons based on CMIP6 over the coming months.
Summary
Overall, this continues to be a useful exercise, and as mentioned above, we'd be happy to add additional variables. All that is required is the archive of specific model diagnostic as a function of time (CMIP3/5 or 6) and a source for an updatable observational series that is commensurate. Unfortunately, we don't have the time or resources to process data from the CMIP archives, so it needs to already be in a plottable form. In particular, if anyone has created an archive for the SSU channels from the CMIP5 or CMIP6 ensembles, let me know!
References
Z. Hausfather, K. Marvel, G.A. Schmidt, J.W. Nielsen-Gammon, and M. Zelinka, "Climate simulations: recognize the 'hot model' problem", Nature, vol. 605, pp. 26-29, 2022. http://dx.doi.org/10.1038/d41586-022-01192-2
M.C. Casas, G.A. Schmidt, R.L. Miller, C. Orbe, K. Tsigaridis, L.S. Nazarenko, S.E. Bauer, and D.T. Shindell, "Understanding Model‐Observation Discrepancies in Satellite Retrievals of Atmospheric Temperature Using GISS ModelE", Journal of Geophysical Research: Atmospheres, vol. 128, 2022. http://dx.doi.org/10.1029/2022JD037523