Guest commentary from Juliane Fry, UC Berkeley
The recently released IPCC 2007 Fourth Assessment Report Summary for Policymakers reminds us that aerosols remain the least understood component of the climate system. Aerosols are solid or liquid particles suspended in the atmosphere, consisting of (in rough order of abundance): sea salt, mineral dust, inorganic salts such as ammonium sulfate (which has natural as well as anthropogenic sources from e.g. coal burning), and carbonaceous aerosol such as soot, plant emissions, and incompletely combusted fossil fuel. As should be apparent from this list, there are many natural sources of aerosol, but changes have been observed in particular, in the atmospheric loading of carbonaceous aerosol and sulphates, which originate in part from fossil fuel burning. While a relatively minor part of the overall aerosol mass, changes in the anthropogenic portion of aerosols since 1750 have resulted in a globally averaged net radiative forcing of roughly -1.2 W/m2, in comparison to the overall average CO2 forcing of +1.66 W/m2.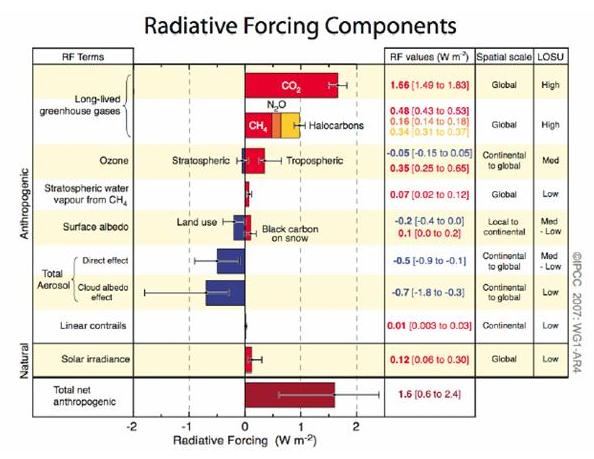 Figure SPM-2, shown here, compares the radiative forcing for greenhouse gases and other climate forcing agents, along with an assessment of the level of scientific understanding ("LOSU") for each component. In this figure, it is clear that while aerosols contribute the largest negative (cooling) radiative forcing, the level of scientific understanding of their climate influence is "low" to "medium-low". The aerosol effects are split into two categories: (1) direct effects, meaning the scattering or absorption of radiation by aerosols influencing the net amount of energy reaching the Earth's surface, and (2) indirect effects, such as the cloud albedo effect, referring to how the presence of aerosol increases cloud reflectivity by providing a larger number of nuclei for cloud droplets, reducing the amount of energy reaching the surface. This is a step up from the last report, where the LOSU for aerosols was very low to low, and no most likely value was assigned at all for the 'indirect' part.
This figure also visually hints at why improving our understanding of aerosol's role in climate is so important: while overall net radiative forcing is positive (warming), aerosols provide the dominant negative (cooling) forcings. Hence, the aerosol currently in our atmosphere is acting to mask some of the greenhouse gas-induced warming. This means that as we get our act together to reduce fossil fuel use to improve air quality and address global warming, we need to be mindful of how changes in emissions will impact aerosol concentrations and composition.
In addition, our deficient understanding of aerosol forcing also hinders our ability to use the modern temperature record to constrain the "climate sensitivity" – the operative parameter in determining exactly how much warming will result from a given increase in CO2 concentration. The determination of climate sensitivity has been discussed in this forum previously here. The sensitivity parameter can be derived by examining historical records of the correlation of CO2 concentration and temperature taking into account other contemporary changes. Aerosols contribute significantly to the uncertainty in climate sensitivity because we cannot model their historical impact on the temperature record with sufficient accuracy, though additional constraints on climate sensitivity such as the last ice age do exist. A better understanding of aerosols then may well facilitate more accurate predictions of future climate responses to changing CO2.
The relative lifetimes of CO2 and aerosol in the atmosphere result in the expectation that reducing fossil fuel use will accelerate warming. A CO2 molecule has a lifetime of about 100 years in the atmosphere, while an aerosol particle has an average life expectancy of only about 10 days. Therefore, if we instantaneously ceased using combustion engines, the (cooling) fossil fuel-related aerosols would be cleaned out of the atmosphere within weeks, while the (warming) CO2 would remain much longer, leaving a net positive forcing from the reduction in emissions for a century or more.
So, what do we need to learn about aerosol to narrow those error bars in Figure SPM-2? To accurately model aerosols' climate impact, we need to know about the whole lifespan of the aerosols: their diverse sources, aging processes (and how those affect radiative properties), how they mix together and the mechanisms and timescales for its removal from the atmosphere. As the IPCC 2007 4AR will make clear, we've come a long way in our understanding of atmospheric aerosol, but there is still plenty of room for improvement.

Comentário convidado de Juliane Fry, UC Berkeley
O Quarto Relatório de Avaliação do IPCC 2007 Sumário para Políticos recentemente divulgado, nos lembra que os aerossóis permanecem o menos compreendido componente do sistema climático. Aerossóis são partículas sólidas ou líquidas suspensas na atmosfera, consistindo de (em ordem aproximada de abundância): sal marinho, poeira mineral, sais inorgânicos como o sulfato de amônia (que vem de fontes naturais e antropogênicas, como a queima de carvão), e aerossóis carbonatados como a fuligem, emissões de plantas, e combustíveis fósseis incompletamente queimados. Como deve ser aparente desta lista, há muitas fontes de aerossóis, mas mudanças foram observadas, em particular na carga atmosférica de aerossóis carbonatados e sulfatos, que se originam em parte da queima de combustíveis fósseis. Apesar de serem uma parte relativamente pequena da massa total de aerossóis, mudanças na contribuição antropogênica dos aerossóis desde 1750 resultaram numa forçante radiativa média de aproximadamente -1.2 W/m2, relativa a uma forçante global devido ao CO2 de +1.66 W/m2.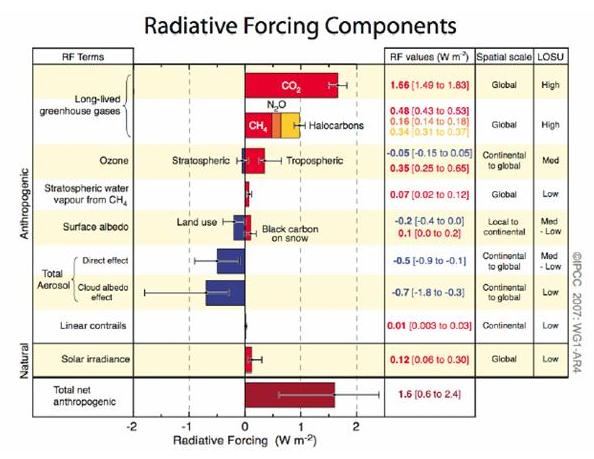 Figura SPM-2, mostrada aqui, compara a forçante radiativa para gases de efeito estufa e outros agentes, junto com uma avaliação do nível de entendimento científico (cuja sigla em inglês é LOSU), para cada componente. Nesta figura, está claro que os aerossóis contribuem com a maior forçante negativa (resfriamento), e que seu nível de entendimento varia de "baixo" a "meio baixo". Os efeitos dos aerossóis se dividem em duas categorias: (1) efeitos diretos, relativos ao espalhamento ou à absorção da radiação pelos aerossóis, influenciando a quantidade líquida de energia que chega à superfície da Terra, e (2) efeitos indiretos, como o albedo das nuvens, referindo-se a como a presença dos aerossóis aumenta a refletividade de nuvens ao proporcionar um número maior de núcleos para a formação de gotas, reduzindo a quantidade de energia que chega a superfície. Isto já representa um passo a frente com relação ao último relatório, , onde o LOSU para os aerossóis variava de muito baixo a baixo, e nenhum valor mais provável era assinalado para a parte "indireta".
Esta figura virtualmente sugere por que melhorar nossa compreensão sobre o papel dos aerossóis no clima é tão importante: enquanto a forçante radiativa líquida global é positiva (aquecimento), aerossóis representam as forçantes negativas (resfriamento) dominante. Consequentemente, os aerossóis atualmente em nossa atmosfera estão atuando de forma a mascarar parte do aquecimento induzido pelos gases de efeito estufa (GEE). Isto significa que ao agirmos para reduzir o uso de combustíveis fósseis para melhorar a qualidade do ar e atacar o aquecimento global, devemos ter em mente como estas mudanças nas emissões vão impactar a concentração e a composição dos aerossóis.
Além disso, nossa deficiência em compreender os aerossóis também prejudica nossa habilidade de utilizar o moderno registro de temperaturas para restringir a "sensibilidade climática" – o parâmetro operacional para determinar exatamente quanto de aquecimento resultará de um dado aumento na concentração de CO2. A determinação da sensibilidade climática foi discutida anteriormente neste fórum aqui. O parâmetro de sensibilidade pode ser obtido a partir do exame dos registros históricos da correlação entre a concentração de CO2 e a temperatura, levando-se em conta outras mudanças contemporâneas. Aerossóis contribuem significativamente para a incerteza na sensibilidade climática pois não podemos modelar o seu impacto no registro de temperaturas com precisão suficiente, apesar de existirem certas restrições à sensibilidade climática, como a última era glacial. Um melhor entendimento sobre aerossóis pode permitir previsões mais acuradas sobre a resposta do clima futura a variações no CO2.
Os tempos de vida relativos do CO2 e dos aerossóis na atmosfera resultam na expectativa de que uma redução no uso de combustíveis fósseis acelerará o aquecimento. A molécula do CO2 tem um tempo de vida de aproximadamente 100 anos na atmosfera, enquanto uma partícula de aerossol possui uma expectativa de vida média de apenas 10 dias em média. Assim, se nós instantaneamente pararmos de usar motores a combustão, os aerossóis (resfriadores) associados aos combustíveis fósseis seriam removidos da atmosfera em algumas semanas, enquanto as (aquecedoras) moléculas de CO2 permaneceriam por muito mais tempo, deixando uma forçante líquida positiva devido a redução das emissões por um século ou mais.
Assim, o que precisamos saber mais sobre os aerossóis para estreitar as barras de erro da Figura SPM-2? Para modelar precisamente o seu impacto no clima, necessitamos saber mais sobre todos os aspectos da vida dos aerossóis: suas diversas fontes, seu processo de envelhecimento (e como este afeta suas propriedades radiativas), como se misturam e os mecanismos e as escalas de tempo de sua remoção da atmosfera. Como o IPCC 2004 4AR deixará claro, percorremos um longo caminho na compreensão dos aerossóis atmosféricos, mas há ainda muito espaço para melhorarmos.
traduzido por Fernando M. Ramos e Ivan B. T. Lima