Sometimes, I encounter arguments suggesting that since we cannot predict the weather beyond a couple of weeks, then it must be impossible to predict the climate in 100 years. Such statements tend to present themselves as a kind of revelation, often in social settings and parties after I have revealed for some of the guests that I'm a climatologist (if I say I work for the Meteorological Institute, I almost always get the question "so, what's the weather going to be like tomorrow?"). Such occasions also tend to be times when I'm not too inclined to indulge in deep scientific or technical explanations. Or when talking to a journalist who wants an easy answer. In those cases I try to provide a short and simple, but convincing, explanation that is easy for most people to understand why climate can be predicted despite the chaotic nature of the weather (a more theoretical discussion is provided in the earlier post Chaos and Climate). One approach is to try to relate the topic to something with which they are familiar, such as to point to empirical observations which most accept (I suppose with hindsight it could be similar to the researchers in the early 20th century trying to convince that nuclear reactions were possible – just look at the Sun, and there is the proof! Or before that, the debate about whether atoms were real or not – just look at the blue sky, and you look at the proof…). I like to emphasised the words 'weather' and 'climate' above, because they mean different things.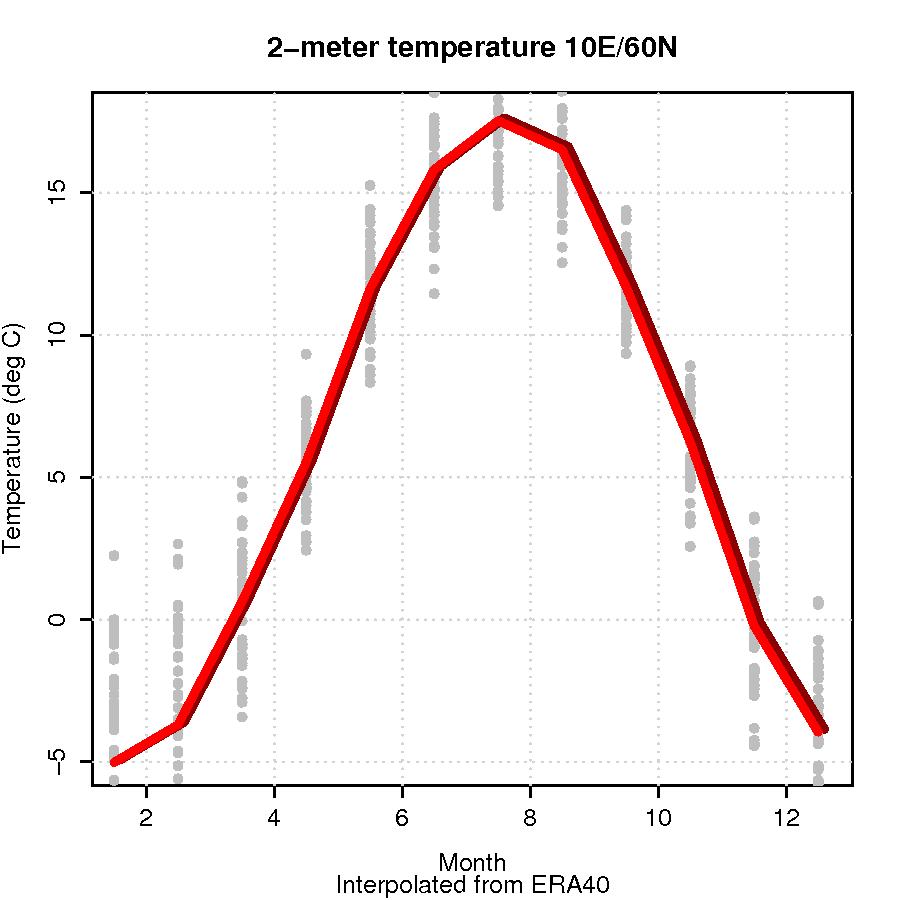 It is true that we cannot predict the weather indefinetely (or even beyond a couple of weeks), because of the chaotic nature and infinitesimally small uncertainties in the state as we know to day, will affect how the weather evolves in a few weeks (the 'chaos effect'). But, still I say that I know with certainty that there is a very high probability that the temperature in 6 months will be lower than now – when winter has arrived (it's summer on the northern hemisphere at the present). In fact, the seasonal variation in temperature and rainfall (wet and dry seasons in the tropics) tends to be highly predictable: the winters at high latitudes are cold and summers mild (if anyone doubts, read on here); the southeast Asian Monsoon usually starts over India in the first days of June. I don't usually bring with me maps and figures to social events, but it would be nice to show a picture such as the one in Fig. 1 to illustrate. If the person is not convinced, I may continue with other arguments for why the climate is predictable: take the latitude for instance – the poles are cold and tropics warm. Furthermore, maritime climates at higher latitudes with wet and mild (small day-to-day or season-to-season temperature variations) are distinct to continental climates far away from the sea (dry with great temperature variations). It is well-established that high-altitude places tend to have lower temperatures and greater temperature variations. Most hikers and mountaineers have experienced that. These are local climatic properties that we can predict if we know the geography, even if we cannot predict the weather on an exact day far in the future. To convince further, I may add that empirical evidence suggesting that (local) climate is not unpredictable, but rather systematically influenced by external factors (boundary conditions) is that Northern Europe enjoys a mild climate: Oslo is roughly on the same latitude as the southern tip of Greenland. There is a reason for that – Oslo has a considerably warmer climate because of the effects of oceanic heat transport/capacity and prevailing winds. I also remind that people really have known for centuries that there are systematic factors influencing the local climate, it's just that this fact sometimes gets forgotten by those who claim that we cannot predict climate. Isn't it silly? I may ask if there is any reason to think that the predictability stops at the seasonal and geographical variations.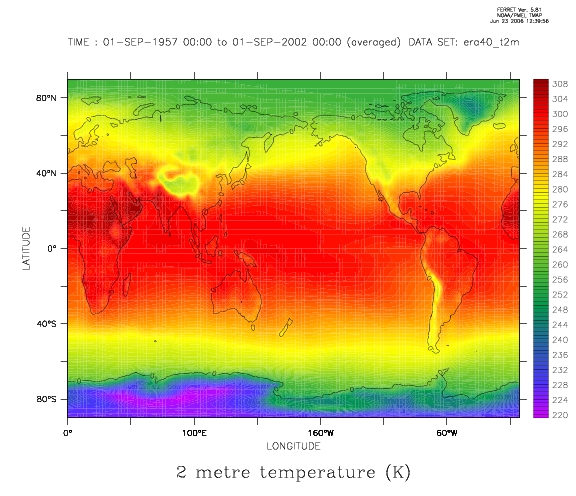 I may continue with in a hand-wavy manner: In a similar fashion as seasonal and geographical effects, changes in Earth's orbit around the Sun alters the planetary climate by modifying the amount of energy received from our star (but because of terrestrial response, the atmospheric composition is modified as well, enhancing the effect even further), and changes in the atmospheric composition affects the climate because grenhouse gases absorb heat that otherwise would escape into space – greenhouse gases are transparent to sunlight, but opaque to infrared light due to their molecular properties and their ability to absorb energy (if I say it's quantum physics, people tend to understand it's getting a bit technical). I stress that the greenhouse effect is also beyond doubt – without it, the energy balance between total energy Earth intercepts from the Sun and the energy lost through black body radiation implies that Earth's surface on average would be about 30K cooler than we know it. Volcanoes also affect our climate, and we have theories explaining why. Furthermore, looking to other planets, the observation that Venus has higher surface temperature than Mercury, despite being further away from the Sun, can only be explained as a result of different absorbing properties of their respective atmospheres (a strong greenhouse effect at Venus).
So, my question is, do you think people get the message that I try to convey this way? Is it too simple or too complicated? Somebody who knows of every-day examples demonstrating the central principles? Any suggestions on how to explain for laypersons not connected to the Internet?