It has now become all too common. Peculiar weather precipitates immediate blame on global warming by some, and equally immediate pronouncements by others (curiously, quite often the National Oceanic and Atmospheric Administration in recent years) that global warming can't possibly be to blame. The reality, as we've often remarked here before, is that absolute statements of neither sort are scientifically defensible. Meteorological anomalies cannot be purely attributed to deterministic factors, let alone any one specific such factor (e.g. either global warming or a hypothetical long-term climate oscillation).
Lets consider the latest such example. In an odd repeat of last year (the 'groundhog day' analogy growing ever more appropriate), we find ourselves well into the meteorological Northern Hemisphere winter (Dec-Feb) with little evidence over large parts of the country (most noteably the eastern and central U.S.) that it ever really began. Unsurprisingly, numerous news stories have popped up asking whether global warming might be to blame. Almost as if on cue, representatives from NOAA's National Weather Service have been dispatched to tell us that the event e.g. "has absolutely nothing to do with global warming", but instead is entirely due to the impact of the current El Nino event.
[Update 1/9/07: NOAA coincidentally has announced today that 2006 was officially the warmest year on record for the U.S.]
[Update 2/11/08: It got bumped to second place. ]

So what's really going on? The pattern so far this winter (admittedly after only 1 month) looks (figure on the immediate right) like a stronger version of what was observed last winter (figure to the far right–note that these anomalies reflect differences relative to a relatively warm 1971-2000 base period, this tends to decrease the amplitude of positive anomalies relative to the more commonly used, cooler 1961-1990 base period). This poses the first obvious conundrum for the pure "El Nino" attribution of the current warmth: since we were actually in a (weak) La Nina (i.e., the opposite of 'El Nino') last winter, how is it that we can explain away the anomalous winter U.S. warmth so far this winter by 'El Nino' when anomalous winter warmth last year occured in its absence?
The second conundrum with this explanation is that, while El Nino typically does perturb the winter Northern Hemisphere jet stream in a way that favors anomalous warmth over much of the northern half of the U.S., the typical amplitude of the warming (see Figure below right) is about 1C (i.e., about 2F).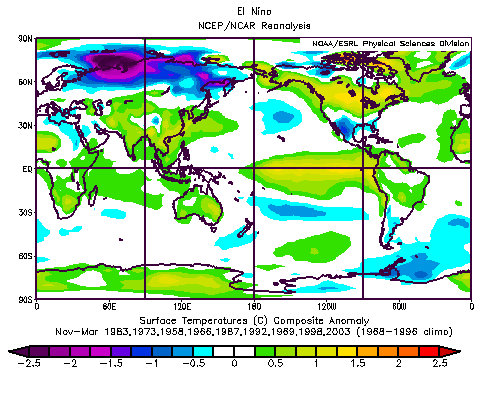 The current anomaly is roughly five times as large as this. One therefore cannot sensibly argue that the current U.S. winter temperature anomalies are attributed entirely to the current moderate El Nino event.
Indeed, though the current pattern of winter U.S. warmth looks much more like the pattern predicted by climate models as a response to anthropogenic forcing (see Figure below left) than the typical 'El Nino' pattern, neither can one attribute this warmth to anthropogenic forcing. As we are fond of reminding our readers, one cannot attribute a specific meteorological event, an anomalous season, or even (as seems may be the case here, depending on the next 2 months) two anomalous seasons in a row, to climate change. Moreover, not even the most extreme scenario for the next century predicts temperature changes over North America as large as the anomalies witnessed this past month. But one can argue that the pattern of anomalous winter warmth seen last year, and so far this year, is in the direction of what the models predict.
In reality, the individual roles of deterministic factors such as El Nino, anthropogenic climate change, and of purely random factors (i.e. "weather") in the pattern observed thusfar this winter cannot even in principle be ascertained. What we do know, however, is that both anthropogenic climate change and El Nino favor, in a statistical sense, warmer winters over large parts of the U.S. When these factors act constructively, as is the case this winter, warmer temperatures are certainly more likely. Both factors also favor warmer global mean surface temperatures (the warming is one or two tenths of a degree C for a moderate to strong El Nino). It is precisely for this reason that some scientists are already concluding, with some justification, that 2007 stands a good chance of being the warmest year on record for the globe.
A few other issues are worthy of comment in the context of this discussion. A canard that has already been trotted out by climate change contrarians (and unfortunately parroted uncritically in some media reports) holds that weather in certain parts of the U.S. (e.g. blizzards and avalanches in Colorado) negates the observation of anomalous winter warmth. This argument is disingenuous at best. As clearly evident from the figure shown above, temperatures for the first month of this winter have been above normal across the United States (with the only exceptions being a couple small cold patches along the U.S./Mexico border). The large snowfall events in Boulder were not associated with cold temperatures, but instead with especially moisture-laden air masses passing through the region. If temperatures are at or below freezing (which is true even during this warmer-than-average winter in Colorado), that moisture will precipitate as snow, not rain. Indeed, snowfall is often predicted to increase in many regions in response to anthropogenic climate change, since warmer air, all other things being equal, holds more moisture, and therefore, the potential for greater amounts of precipitation whatever form that precipitation takes.
Another issue here involves the precise role of El Nino in climate change. El Nino has a profound influence on disparate regional weather phenomena. Witness for example the dramatic decrease in Atlantic tropical cyclones this most recent season relative to the previous one. This decrease can be attributed to the El Nino that developed over the crucial autumn season, which favored a strengthening of the upper level westerlies over the tropical North Atlantic, increased tropical Atlantic wind shear, and a consequently less favorable environment for tropical cyclogenesis.
If a particular seasonal anomaly appears to be related to El Nino, can we conclude that climate change played no role at all? Obviously not. It is possible, in fact probable, that climate change is actually influencing El Nino (e.g. favoring more frequent and larger El Nino events), although just how much is still very much an issue of active scientific debate. One of the key remaining puzzles in the science of climate change therefore involves figuring out just how El Nino itself might change in the future, a topic we're certain to discuss here again in the future.