Two weeks ago, we published the first lesson in curve manipulation taught by German school teacher and would-be scientist E.G. Beck: How to make it appear as if the Medieval times were warmer than today, even if all scientific studies come to the opposite conclusion. Today we publish curve manipulation, lesson 2: How to make it appear as if 20th Century warming fits into a 1500-year cycle. This gem is again brought to us by E.G. Beck. In a recent article (in German), he published the following graph: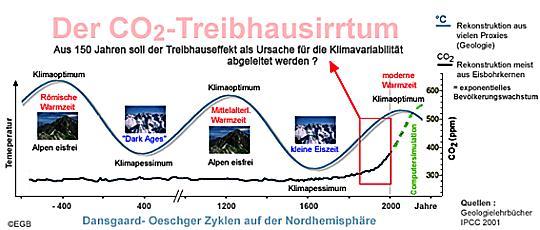 Notice how temperature goes up and down in beautifully regular cycles since 800 B.C.? At the bottom, they are labelled "Dansgaard-Oeschger cycles" – this refers to the Dansgaard-Oeschger events found in Greenland ice cores during the last Ice Age (but not during the last 10,000 years), about which there is a serious scientific discussion whether they are paced by a 1500-year cycle (see my paper in GRL). Beck's curve shows a warm phase 400 BC and the next one 1200 AD – that's 1600 years difference, so it just about fits. (I'm not endorsing his curve, by the way, I have no idea where it comes from – I'm just playing along with it for the sake of the argument). So the next warm phase should be in the year – oooops… 2700 or 2800? Hang on, how come it looks like the current warmth fits so nicely into the cycle? Shouldn't we be right in the coldest phase? Now I see it… two little lines across the x-axis indicate that the axis has been broken there – tick-marks after the break are in 200-year intervals and before the break in 400-year intervals, and there's also a gap of 200 missing years there. So that's how we make the current global warming fit past climate cycles – it's so easy!
p.s. Beck appeared on German TV last Monday, after the "Swindle" film was shown, and he is announced to appear on the program "Report München" in the first channel of public German TV next Monday (18 June), to educate the viewers about another of his fantasy graphs, namely his CO2 curve. It promises to be a must-see for friends of the unintentionally farcical.