What makes science different from politics?
That's not the start of a joke, but it is a good jumping off point for a discussion of the latest publication on paleo-reconstructions of the last couple of millennia. As has been relatively widely reported, Mike Mann and colleagues (including Ray Bradley and Malcolm Hughes) have a new paper out in PNAS with an update of their previous work. And this is where the question posed above comes in: the difference is that with time scientists can actually make progress on problems, they don't just get stuck in an endless back and forth of the same talking points.

We discussed what would be required in an update of these millennial reconstructions a few months back and the main principles remain true now. You need proxies that are a) well-dated, b) have some fidelity to a climate variable of interest, c) have been calibrated to those variable(s), d) that are then composited together somehow, and e) that the composite has been validated against the instrumental record.
The number of well-dated proxies used in the latest paper is significantly greater than what was available a decade ago: 1209 back to 1800; 460 back to 1600; 59 back to 1000 AD; 36 back to 500 AD and 19 back to 1 BC (all data and code is available here). This is compared with 400 or so in MBH99, of which only 14 went back to 1000 AD. The increase in data availability is a pretty remarkable testament to the increased attention that the paleo-community has started to pay to the recent past – in part, no doubt, because of the higher profile this kind of reconstruction has achieved. The individual data-gatherers involved should be applauded by all.
The increase in proxy records allows a whole bunch of new things to be done. First off, the importance of tree rings can be tested more robustly. With the original MBH98 proxies, there was only enough other data to go back to 1760 if you left out the tree rings. The match was pretty good over multi-decadal periods, but the interannual variability was much larger without tree-rings. Now though, the Northern hemisphere land temperature reconstructions without tree rings can go back to 1500 AD or 1000 AD depending on which of two methodologies are used. For the NH land and ocean target, it's even possible to get a coherent non-tree ring reconstruction back to 700 AD! As before, there are some differences (notably in the 17th Century where the tree rings indicate colder temperatures), but the recent warming is anomalous regardless.
Secondly, you can screen records and pick targets more finely: do you want only records that match local temperatures? Done. You want to get a handle on global and southern hemisphere means as well as the northern hemisphere? Done. Other screens could easily be implemented.
The two methodologies used themselves span the range of different approaches that people have used. 'Composite and scale' (CPS) is perhaps the simplest method – it is basically an average of all the temperature proxies scaled to the target time series. The other method is denoted 'Error in variables' (EIV) in this paper, but is really a simplified application of the RegEM climate field reconstruction method used in a couple of more recent papers. It is essentially a fancy multiple regression to the target time series that can incorporate non-local proxies as well. The point of using two methods is to demonstrate what is, and what is not, robust, and to give an idea of what the structural uncertainty in these estimates is – something not easily calculated using standard statistics. That uncertainty is clearly larger as you go back in time, and larger still for the southern hemisphere.
Other improvements over previous work are that more proxy data sets go past 1980, and so calibration up to 1995 is possible. That allows more of the recent trends to feed into the calibration and highlights the so-called divergence problem in some (but not all) recent tree-ring records. That divergence is significantly lessened without tree-rings or using the EIV method.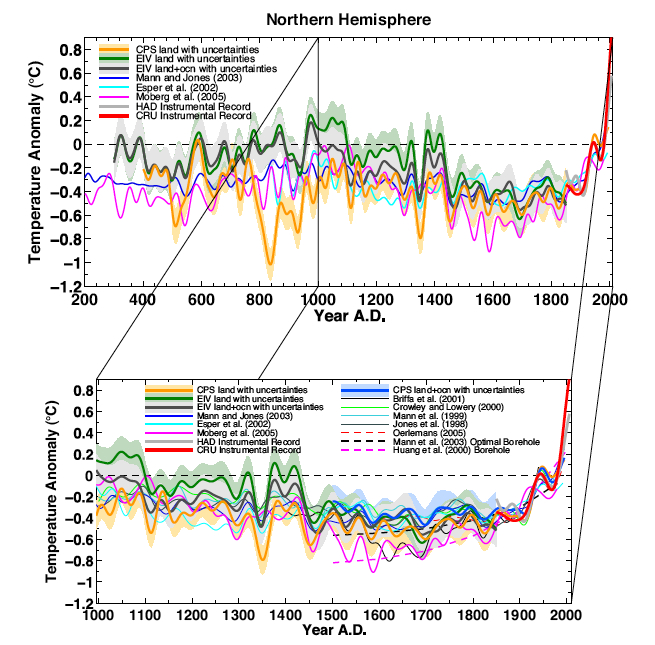 Figure: Spaghetti plot of the new reconstructions over a) 1800 and b) 1000 years
along with selected older ones for comparison.
So what does it all mean? First off, this paper (like MBH98 before it) is not an attribution study. That means that the reasons for any of the ups-and-downs in the records are not demonstrated by these papers alone. Attribution of the recent trends (as discussed in IPCC AR4) to anthropogenic effects has mostly focussed on the last 150 years and did not use any paleo-data. Nonetheless, there have been a couple of key studies that have used this kind of data along with simple energy balance models (Crowley, 2000; Hegerl et al, 2006 for instance) and it will be interesting to see if this new reconstruction will make any difference to their conclusions.
Secondly, in comparison with previous reconstructions, the current analysis does not provide many surprises. Medieval times are warmer than the Little Ice Age as before, and a little warmer using the EIV method than was the case in MBH99. The differences in the 11th Century are on the order of a couple of tenths of a degree – well within the published error bars in IPCC TAR though. Interestingly, there are quite rapid and strong drops in temperature near 1100 AD and around 1350 AD which may make interesting case studies for attribution to solar or volcanic forcings in future. Overall, there are a few more wiggles than before, but basically nothing much has changed. (Though one should always be aware of the maxim that one person's noise is another person's signal).
Finally, while the headline numbers 'likely warmest since XXXX' are of some contextual value, they aren't the real point of this kind of study. Most of the interesting work – looking for patterns associated with solar forcing say – will start when the spatial patterns of temperature change start to be discerned – and that is still a work in progress.
So, onto the inevitable discussion! One test of whether that discussion is more political than scientific will be the extent to which people acknowledge the progress that has been made. Repetitions of tired and oft-debunked one-liners will be telling!