A couple of months ago, we discussed a short paper by Matthews and Weaver on the 'climate change commitment' – how much change are we going to see purely because of previous emissions. In my write up, I contrasted the results in M&W (assuming zero CO2 emissions from now on) with a constant concentration scenario (roughly equivalent to an immediate cut of 70% in CO2 emissions), however, as a few people pointed out in the comments, this exclusive focus on CO2 is a little artificial.

I have elsewhere been a big advocate of paying attention to the multi-faceted nature of the anthropogenic emissions (including aerosols and radiatively and chemically active short-lived species), both because that gives a more useful assessment of what it is that we are doing that drives climate change, and also because it is vital information for judging the effectiveness of any proposed policy for a suite of public issues (climate, air pollution, public health etc.). Thus, I shouldn't have neglected to include these other factors in discussions of the climate change commitment.
Luckily, some estimates do exist in the literature of what happens if we ceased all human emissions of climatically important factors. One such estimate is from Hare and Meinshausen (2006), whose results are illustrated here: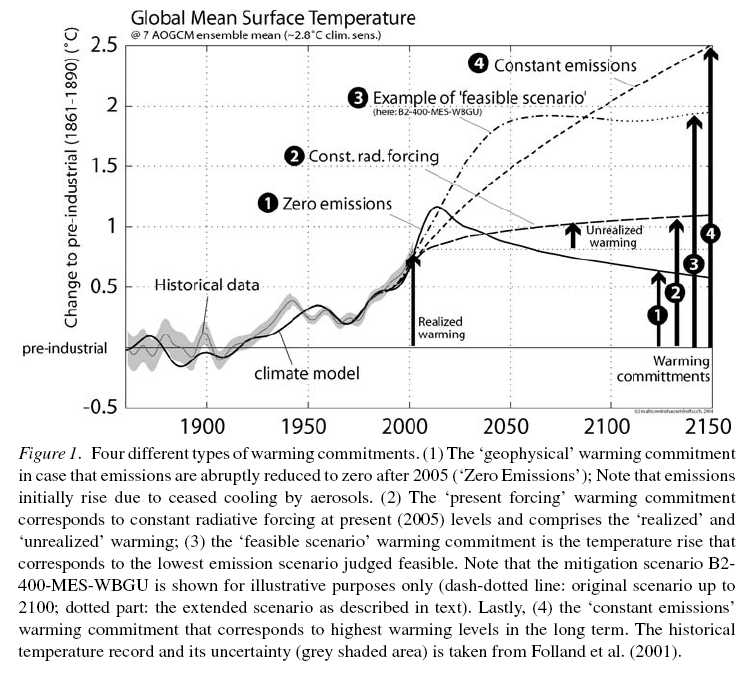 The curve (1) is the result for zero emissions of all of the anthropogenic inputs (in this case, CO2, CH4, N2O, CFCs, SO2, CO, VOCs and NOx). The conclusion is that, in the absence of any human emissions, the expectation would be for quite a sharp warming with elevated temperatures lasting almost until 2050. The reason is that the reflective aerosols (sulphates) decrease in abundance very quickly and so their cooling effect is removed faster than the warming impact of the well-mixed GHGs disappears.
This calculation is done with a somewhat simplified model, and so it might be a little different with a more state-of-the-art ESM (for instance, including more aerosol species like black carbon and a more complete interaction between the chemistry and aerosol species), but the basic result is likely to be robust.
Obviously, this is not a realistic scenario for anything that could really happen, but it does illustrate a couple of points that are relevant for policy. Firstly, the full emissions profile of any particular activity or sector needs to be considered – exclusively focusing on CO2 might give a misleading picture of the climate impact. Secondly, timescales are important. The shorter the time horizon, the larger the impact of short-lived species (aerosols, ozone, etc.). However, the short-lived species provide both warming and cooling effects and the balance between them will vary depending on the activity. Good initial targets for policy measures to reduce emissions might therefore be those where both the short and long-lived components increase warming.