There was a time at NASA when writing a letter to the paper without your director's permission could get you fired. And no, I'm not talking about the last Bush administration.

It was 1971. Steve Schneider at the time was a postdoc at NASA GISS, working for the then director, Robert Jastrow (later of the George Marshall Institute). He had just co-authored the high profile Rasool and Schneider (1971) paper in Science on the radiative forcing from increasing aerosols and CO2.
His letter, which appears to be his first letter in the New York Times, was printed Sept. 16 1971. It was sent in response to a rather lame op-ed by a Eugene Guccione, editor of a mining magazine [Incidentally, this Guccione is not the Bob Guccione who edited Penthouse (despite a confusion on this point in Steve's last book)]. Because the publication of the letter came as a surprise to Jastrow, he fired Schneider over the phone while Steve was visiting NCAR in Boulder. He was rapidly reinstated after NASA management let it be known that they appreciated young scientists like Schneider doing public outreach.

This was a period when the role of MIlankovitch (orbital) forcing in causing ice age cycles was starting to be elucidated and some discussion was already occurring on whether a new ice age driven by orbital variations was foreseeable. Scientists had known for a while that CO2 was increasing due to industrial activity – but they didn't know about the rise in methane or CFCs. They knew too that aerosols had increased and that this would imply a cooling (all else being equal). They were not predicting imminent ice ages though, despite what you might read elsewhere.
Reading the Guccione op-ed (right, click for full size), it is immediately obvious that the rules for writing mendacious anti-science were discovered a long time ago. First, find some metric that you can use to indicate something is getting better – a cherry picked weather report, a pollution index in a specific town – it doesn't really matter what, and because of the large amount of natural variability and almost infinite choice of metrics, one can always find something.
In 1957, … the average particulate concentration was 120 mg. …. In 1969, the average was 92.
(which cheerfully ignores the fact that aerosol optical depth was increasing (implying a big shift towards smaller particles)). Second, extrapolate your metric wildly to cover all pollution types/regions/impacts (it doesn't matter if this makes any actual sense). For good measure, set up a strawman argument that is so ridiculous that your readers can instantly see that no-one in their right mind would agree with it (though don't mention that no-one actually does).
.. environmentalists cling to the notion that sulphur dioxide concentration increases annually. If that were the case, none of us would be here today because our parents, grand-parents and great grand-parents would not have been born.
Oh those foolish so-called "environmentalists", why would they believe anything so absurd? Be sure to put quotes around the names of your opponents in order to impugn their integrity without actually saying anything. Try to do this at least 3 or 4 times in any piece. Extend your critique to anything else that people might be concerned about, but there is no need to provide any actual evidence of your claims, merely declaring some "theory" to be self-evidently idiotic is sufficient.
Greenhouse Effect Theory: The build-up of carbon dioxide in the atmosphere, so goes this particular idiocy, will cause a temperature increase throughout the planet…
And finally, conclude that all is for the best in this best of all possible worlds. It might be worth putting in something about how important reason or science is to dealing with problems. That neither reason nor science played much role in the argument just given will hopefully be missed by the casual reader.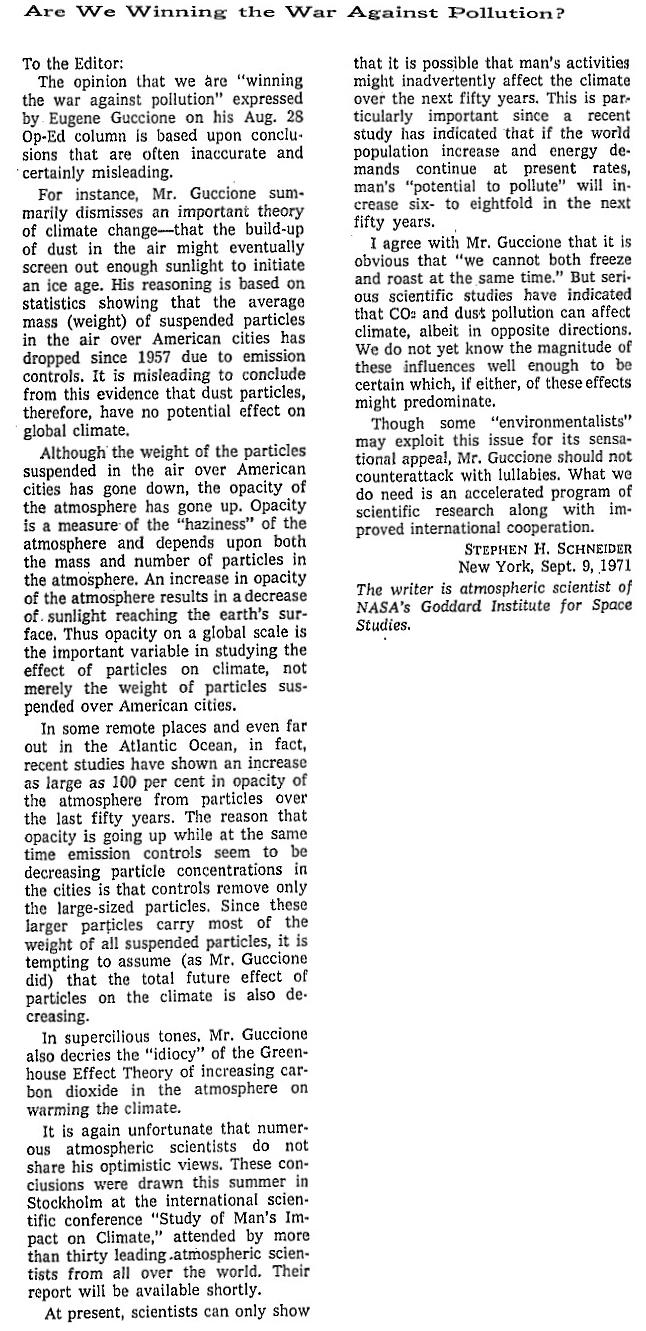 Some people may recognise this style as somewhat cornucopian or even proto-Lomborgian. Schneider clearly recognised it for what it was – "often inaccurate and certainly misleading". His letter is a good rebuttal that makes some points that are still apropos today. He points out the cherry picked nature of the metrics in Guccione's op-ed, calls out the strawman arguments, and ends on two points that were exactly right in 1971:
[S]erious scientific studies have indicated that CO2 and dust [aerosols] can affect climate, albeit in opposite directions. We do not yet know the magnitude of these influences well enough to be certain which, if either, of those effects might predominate.
…
What we do need is an accelerated program of scientific research along with improved international cooperation.
Overall, a reasonable and scientific response.
Now, 40 years later, what has changed? Jastrow's rather impetuous management style is not something seen very much anymore, and NASA scientists are now free to voice their opinions on science or policy. Similar op-eds to Guccione's are still appearing – if not at the New York Times, then in Forbes or the WSJ (and similar rebuttals to Schneider's are being sent too). This is despite the fact that the science has advanced tremendously – what were just "idiotic" predictions in 1971 are now history: temperature increases throughout the planet, polar ice caps melting etc. Efforts from those so-called "environmentalists" got the Clean Air Acts passed, and in the US and Europe, the air is cleaner of sulphur dioxide than it was (but that didn't really happen until the after the 1990s cap-and-trade legislation).
In 1971, Schneider was correct to say that more research was needed to see which of the effects would predominate, but in 2011, it is very clear that greenhouse gases have, and will continue to do so.