The long-awaited first paper from the CERN/CLOUD project has just been published in Nature. The paper, by Kirkby et al, describes changes in aerosol nucleation as a function of increasing sulphates, ammonia and ionisation in the CERN-based 'CLOUD' chamber. Perhaps surprisingly, the key innovation in this experimental set up is not the presence of the controllable ionisation source (from the Proton Synchrotron accelerator), but rather the state-of-the-art instrumentation of the chamber that has allowed them to see in unprecedented detail what is going on in the aerosol nucleation process (this is according to a couple of aerosol people I've spoken about this with).
This paper is actually remarkably free of the over-the-top spin that has accompanied previous papers, and that bodes very well for making actual scientific progress on this topic.

The paper first confirms some results that are well known: aerosol nucleation increases enormously when you add H2SO4 into the air (the biggest contributor to human aerosol impacts via the oxidation of our emissions of SO2), it increases further when you add ammonia (NH3), and it increases even more when you increase ionisation levels from neutral, to ambient ground levels, and to upper atmospheric levels (as long as you are below what is called the 'ion-pair' limit). However, the most intriguing result is that despite going to a lot of trouble to make sure the chamber was ultra-free of contaminants, the researchers found that within most of the aerosols that formed, there were traces of organic nitrogen compounds that must have been present in almost undetectably low concentrations. The other intriguing finding is that aerosol nucleation rates in the chamber don't match (by a an order of magnitude or more) actual formation rates seen in real world near-surface atmospheric layers at realistic temperatures (only in unrealistically cold conditions do rates come close). The authors speculate (quite convincingly) that this is precisely because they didn't have enough volatile organic compounds (which are ubiquitous in the real world) to help get the nucleation started. This result will surely inspire some of their next experiments. All-in-all this is a treasure trove of results (and potential future results) for people tasked with trying to model or understand aerosol processes in the atmosphere.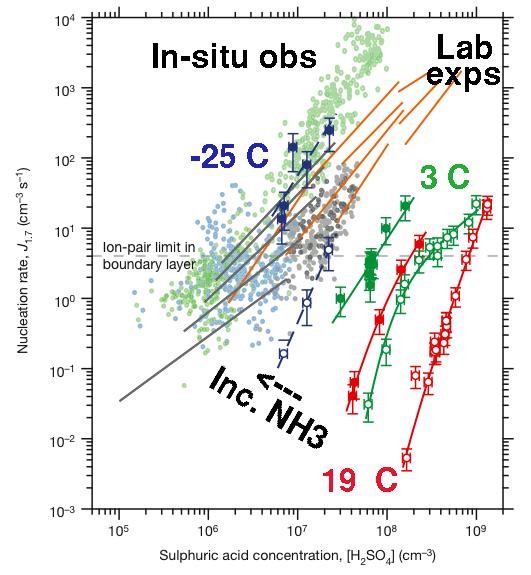 Figure 1: Annotated version of fig 5 in Kirkby et al. Small dots are in situ observations, lines are other lab data. Colours for the CLOUD results are coded with respect to temperature. Going from open to filled symbols denote increasing NH3. All results are for ambient CR ionisation (changes in CR only make a difference below the ion-pair limit).

However, aerosol nucleation experiments are not usually front page news, and the likely high public profile of this paper is only loosely related to the science that is actually being done. Rather, the excitement is based on the expectation that this work will provide some insight into the proposed cosmic ray/cloud/climate link that Svensmark (for instance) has claimed is the dominant driver of climate change (though note he is not an author on this paper, despite an earlier affiliation with the project). Indeed, the first justification for the CLOUD experiment was that: "The basic purpose of the CLOUD detector … is to confirm, or otherwise, a direct link between cosmic rays and cloud formation by measuring droplet formation in a controlled test-beam environment". It is eminently predictable that the published results will be wildly misconstrued by the contrarian blogosphere as actually proving this link. However, that would be quite wrong.
We were clear in the 2006 post that establishing a significant GCR/cloud/climate link would require the following steps (given that we have known that ionisation plays a role in nucleation for decades). One would need to demonstrate:
… that increased nucleation gives rise to increased numbers of (much larger) cloud condensation nuclei (CCN)
… and that even in the presence of other CCN, ionisation changes can make a noticeable difference to total CCN
… and even if there were more CCN, you would need to show that this actually changed cloud properties significantly,
… and that given that change in cloud properties, you would need to show that it had a significant effect on radiative forcing.
Of course, to show that cosmic rays were actually responsible for some part of the recent warming, you would need to show that there was actually a decreasing trend in cosmic rays over recent decades – which is tricky, because there hasn't been (see the figure).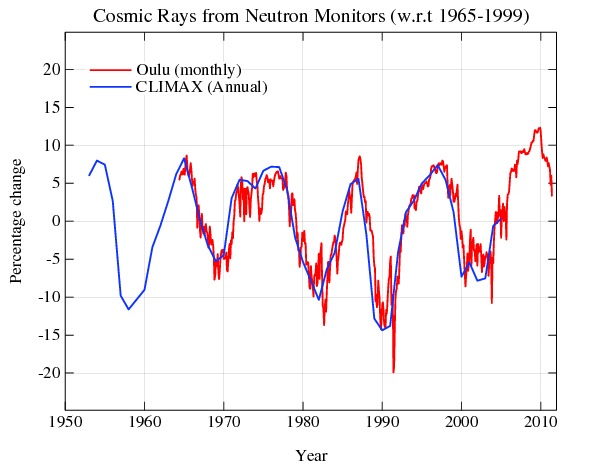 Figure 2: Normalised changes in cosmic rays since 1953. There has not been a significant downward trend. The exceptional solar minimum in 2008-2010 stands out a little.

The CLOUD results are not in any position to address any of these points, and anybody jumping to the conclusions that they have all been settled will be going way out on a limb. Indeed, there is a lot of evidence that (particularly) point 2 will not be satisfied (see for instance, Pierce and Adams (2009), and a new paper by Snow-Kropla et al).
So what changes did they show as a function of the CR activity? In going from neutral (shielded) conditions to ambient CR levels typical of the lower atmosphere, the ionisation changed by a factor of 2 to 10 (depending on the temperature – colder conditions are more sensitive). However this is a much bigger change (by an order of magnitude or more) than the percentage change in CR activity over a solar cycle (i.e. ~10-20%). A rough calculation (by way of Jeff Pierce) that takes into account the square root dependence of ion concentrations on GCRs and the neutral nucleation in the CLOUD results, suggests that for average conditions the solar modulation of GCR would impact nucleation by about 1% – rising to perhaps 12% for the biggest changes in GCR seen in figure 2 at very cold temperatures. Thus the nucleation change as a result of real world GCR modulation is going to be much smaller than seen in these experiments, and much less important than the amount of pollutants.
In summary, this is a great example of doing science and making progress, even if it isn't what they first thought they'd find.