Climate sensitivity is a perennial topic here, so the multiple new papers and discussions around the issue, each with different perspectives, are worth discussing. Since this can be a complicated topic, I'll focus in this post on the credible work being published. There'll be a second part from Karen Shell, and in a follow-on post I'll comment on some of the recent games being played in and around the Wall Street Journal op-ed pages.
What is climate sensitivity? Nominally it the response of the climate to a doubling of CO2 (or to a ~4 W/m2 forcing), however, it should be clear that this is a function of time with feedbacks associated with different components acting on a whole range of timescales from seconds to multi-millennial to even longer. The following figure gives a sense of the different components (see Palaeosens (2012) for some extensions).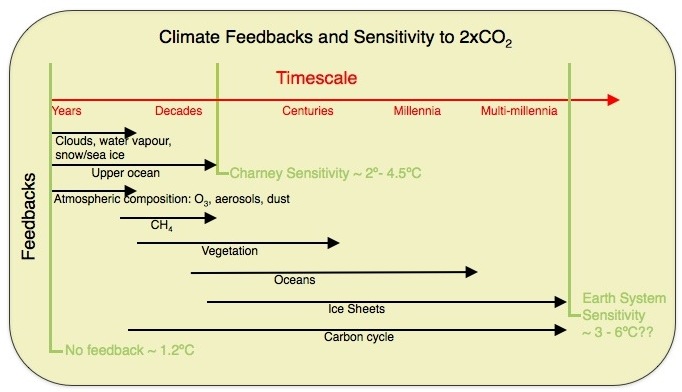 In practice, people often mean different things when they talk about sensitivity. For instance, the sensitivity only including the fast feedbacks (e.g. ignoring land ice and vegetation), or the sensitivity of a particular class of climate model (e.g. the 'Charney sensitivity'), or the sensitivity of the whole system except the carbon cycle (the Earth System Sensitivity), or the transient sensitivity tied to a specific date or period of time (i.e. the Transient Climate Response (TCR) to 1% increasing CO2 after 70 years). As you might expect, these are all different and care needs to be taken to define terms before comparing things (there is a good discussion of the various definitions and their scope in the Palaeosens paper).
Each of these numbers is an 'emergent' property of the climate system – i.e. something that is affected by many different processes and interactions, and isn't simply derived just based on knowledge of a small-scale process. It is generally assumed that these are well-defined and single-valued properties of the system (and in current GCMs they clearly are), and while the paleo-climate record (for instance the glacial cycles) is supportive of this, it is not absolutely guaranteed.
There are three main methodologies that have been used in the literature to constrain sensitivity: The first is to focus on a time in the past when the climate was different and in quasi-equilibrium, and estimate the relationship between the relevant forcings and temperature response (paleo constraints). The second is to find a metric in the present day climate that we think is coupled to the sensitivity and for which we have some empirical data (these could be called climatological constraints). Finally, there are constraints based on changes in forcing and response over the recent past (transient constraints). There have been new papers taking each of these approaches in recent months.
All of these methods are philosophically equivalent. There is a 'model' which has a certain sensitivity to 2xCO2 (that is either explicitly set in the formulation or emergent), and observations to which it can be compared (in various experimental setups) and, if the data are relevant, models with different sensitivities can be judged more or less realistic (or explicitly fit to the data). This is true whether the model is a simple 1-D energy balance, an intermediate-complexity model or a fully coupled GCM – but note that there is always a model involved. This formulation highlights a couple of important issues – that the observational data doesn't need to be direct (and the more complex the model, the wider range of possible constraints there are) and that the relationship between the observations and the sensitivity needs to be demonstrated (rather than simply assumed). The last point is important – while in a 1-D model there might be an easy relationship between the measured metric and climate sensitivity, that relationship might be much more complicated or non-existent in a GCM. This way of looking at things lends itself quite neatly into a Bayesian framework (as we shall see).
There are two recent papers on paleo constraints: the already mentioned PALAEOSENS (2012) paper which gives a good survey of existing estimates from paleo-climate and the hierarchy of different definitions of sensitivity. Their survey gives a range for the fast-feedback CS of 2.2-4.8ºC. Another new paper, taking a more explicitly Bayesian approach, from Hargreaves et al. suggests a mean 2.3°C and a 90% range of 0.5–4.0°C (with minor variations dependent on methodology). This can be compared to an earlier estimate from Köhler et al. (2010) who gave a range of 1.4-5.2ºC, with a mean value near 2.4ºC.
One reason why these estimates keep getting revised is that there is a continual updating of the observational analyses that are used – as new data are included, as non-climatic factors get corrected for, and models include more processes. For instance, Köhler et al used an estimate of the cooling at the Last Glacial Maximum of 5.8±1.4ºC, but a recent update from Annan and Hargreaves and used in the Hargreaves et al estimate is 4.0±0.8ºC which would translate into a lower CS value in the Köhler et al calculation (roughly 1.1 – 3.3ºC, with a most likely value near 2.0ºC). A paper last year by Schmittner et al estimated an even smaller cooling, and consequently lower sensitivity (around 2ºC on a level comparison), but the latest estimates are more credible. Note however, that these temperature estimates are strongly dependent on still unresolved issues with different proxies – particularly in the tropics – and may change again as further information comes in.
There was also a recent paper based on a climatological constraint from Fasullo and Trenberth (see Karen Shell's commentary for more details). The basic idea is that across the CMIP3 models there was a strong correlation of mid-tropospheric humidity variations with the model sensitivity, and combined with observations of the real world variations, this gives a way to suggest which models are most realistic, and by extension, what sensitivities are more likely. This paper suggests that models with sensitivity around 4ºC did the best, though they didn't give a formal estimation of the range of uncertainty.
And then there are the recent papers examining the transient constraint. The most thorough is Aldrin et al (2012). The transient constraint has been looked at before of course, but efforts have been severely hampered by the uncertainty associated with historical forcings – particularly aerosols, though other terms are also important (see here for an older discussion of this). Aldrin et al produce a number of (explicitly Bayesian) estimates, their 'main' one with a range of 1.2ºC to 3.5ºC (mean 2.0ºC) which assumes exactly zero indirect aerosol effects, and possibly a more realistic sensitivity test including a small Aerosol Indirect Effect of 1.2-4.8ºC (mean 2.5ºC). They also demonstrate that there are important dependencies on the ocean heat uptake estimates as well as to the aerosol forcings. One nice thing that added was an application of their methodology to three CMIP3 GCM results, showing that their estimates 3.1, 3.6 and 3.3ºC were reasonably close to the true model sensitivities of 2.7, 3.4 and 4.1ºC.
In each of these cases however, there are important caveats. First, the quality of the data is important: whether it is the LGM temperature estimates, recent aerosol forcing trends, or mid-tropospheric humidity – underestimates in the uncertainty of these data will definitely bias the CS estimate. Second, there are important conceptual issues to address – is the sensitivity to a negative forcing (at the LGM) the same as the sensitivity to positive forcings? (Not likely). Is the effective sensitivity visible over the last 100 years the same as the equilibrium sensitivity? (No). Is effective sensitivity a better constraint for the TCR? (Maybe). Some of the papers referenced above explicitly try to account for these questions (and the forward model Bayesian approach is well suited for this). However, since a number of these estimates use simplified climate models as their input (for obvious reasons), there remain questions about whether any specific model's scope is adequate.
Ideally, one would want to do a study across all these constraints with models that were capable of running all the important experiments – the LGM, historical period, 1% increasing CO2 (to get the TCR), and 2xCO2 (for the model ECS) – and build a multiply constrained estimate taking into account internal variability, forcing uncertainties, and model scope. This will be possible with data from CMIP5, and so we can certainly look forward to more papers on this topic in the near future.
In the meantime, the 'meta-uncertainty' across the methods remains stubbornly high with support for both relatively low numbers around 2ºC and higher ones around 4ºC, so that is likely to remain the consensus range. It is worth adding though, that temperature trends over the next few decades are more likely to be correlated to the TCR, rather than the equilibrium sensitivity, so if one is interested in the near-term implications of this debate, the constraints on TCR are going to be more important.
References