Guest commentary from Tim Osborn, Tom Melvin and Keith Briffa, Climatic Research Unit, UEA
Records of tree-ring characteristics such as their width (TRW) and density (usually the maximum density of the wood formed towards the end of the growing season – the "maximum latewood density" – MXD) are widely used to infer past variations in climate over recent centuries and even millennia. Chronologies developed from sites near to the elevational or latitudinal tree lines often show sensitivity to summer temperature and, because of their annual resolution, absolute dating and relatively widespread nature, they have contributed to many local, continental and hemispheric temperature reconstructions. However, tree growth is a complex biological process that is subject to a range of changing environmental influences, not just summer temperature, and so replication, coherence and consistency across records and other proxies are an important check on the results.
Tree-ring records have greater replication (both within a site and between nearby sites) than other types of climate proxy. Good replication helps to minimise the influence of random localised factors when extracting the common signal, and it also allows the comparison of information obtained from different independent sets or sub-sets of data. If independent sets of data – perhaps trees with different mean growth rates or from different sites – show similar variations, then we can have greater confidence that those variations are linked to real variations in climate.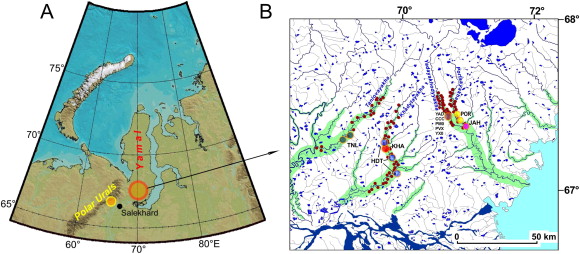 In a new QSR paper (Briffa et al., 2013), (BEA13) we have used these approaches to re-assess the combined tree-ring evidence from the Yamal and Polar Urals region (Yamalia) of northern Siberia, considering the common signal in tree-growth changes at different sites and in subsets of data defined in other ways. Together with our Russian colleagues and co-authors, we have incorporated many new tree-ring data, to increase the replication and to update the chronology to 2005 and have reassessed the inferences about summer temperature change that can be drawn from these data. The paper is published as an open-access paper (no paywall) and supplementary information including the raw tree-ring and instrumental temperature data are available from our website.

Figure 1 illustrates our inferences about past summer temperature variations. Low tree-growth periods for which the inferred summer temperatures are approximately 2.5°C below the 1961-90 reference are apparent in the 15-year smoothed reconstructions (Figure 1d), centred around 1005, 1300 (Figure 1b), 1455 (Figure 1c), 1530, particularly the 1810s where the inferred cooling reaches -4 or even -6°C for individual years (Figure 1a), and the 1880s. These temperature estimates will be interesting for the current debate about the representation of volcanically-induced cooling in temperature reconstructions, and for testing of climate model simulations.
There are numerous periods (Figure 1d) of one or two decades with relatively high growth (and inferred summer temperatures close to the 1961-90 level) but at longer timescales (Figures 1e and 1f) only the 40-year period centred at 250 CE appears comparable with 20th century warmth. This early warm period was both preceded and followed by periods of low ring width and so the central estimates of the temperature reconstruction averaged over the warmest 100-year period near the 3rd century CE (205-304 CE) are 0.4°C cooler than the 1906-2005 mean. Allowing for chronology and reconstruction uncertainty, we find that the mean of the last 100 years of the reconstruction is likely warmer than any century in the last 2000 years in this region.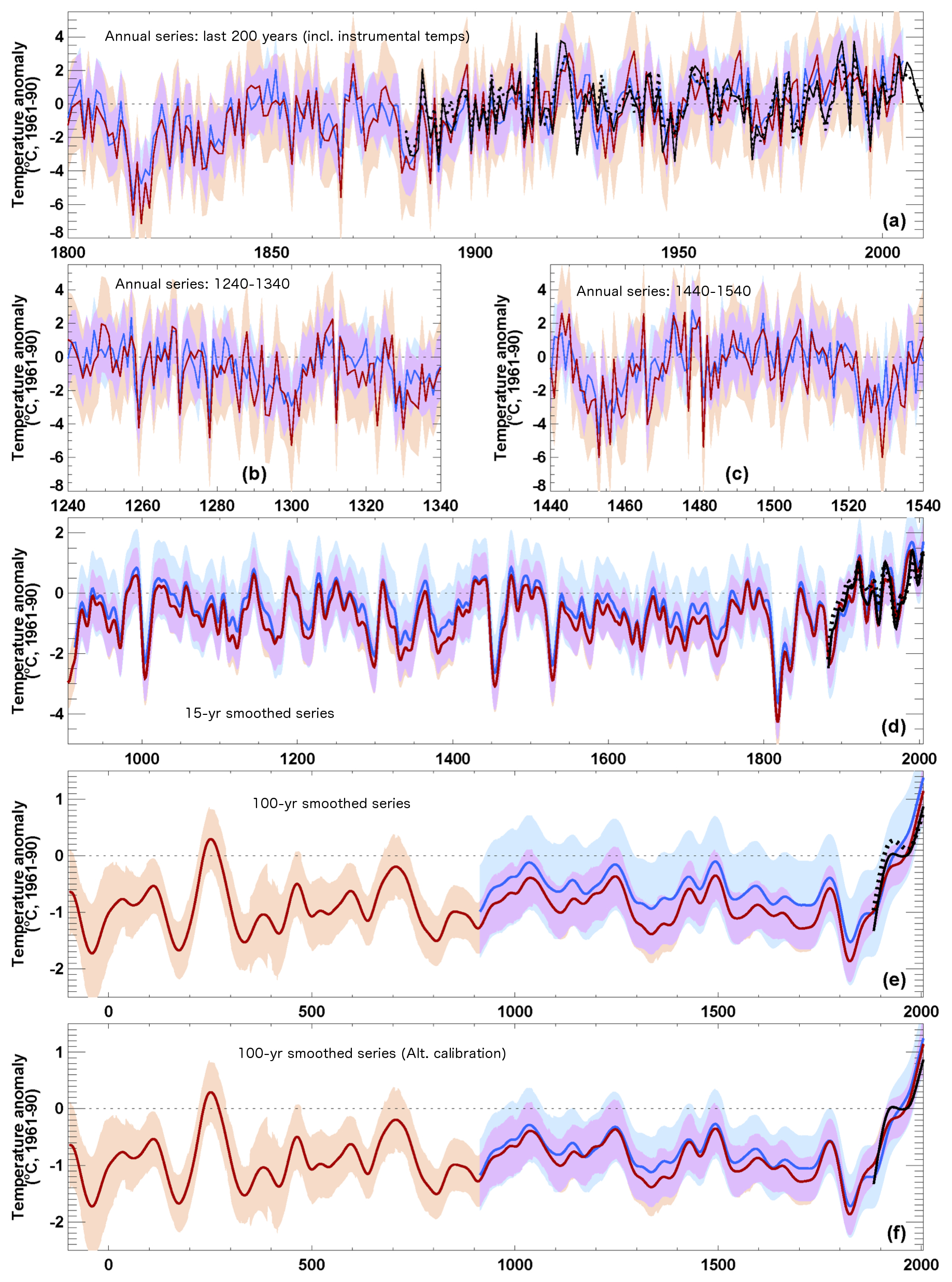 Figure 1 (from Fig. 13 of BEA13). Summer temperature reconstructions based on either the Yamal ring-width chronology (red line, orange confidence intervals) or by combining information from the Yamal and Polar Urals ring-width chronologies and the Polar Urals density chronology (blue line, blue confidence intervals). The latter is shorter because the Polar Urals data are shorter and also has two versions that differ in how they are calibrated and in the summer temperature that they represent (in panels (a)-(e) it represents mean June–August temperature shown by the black dotted lines, while in panel (f) it represents mean June–July temperature shown by black continuous lines). Each panel shows a different time period and degree of smoothing; the values near to the end of the smoothed series are more uncertain than shown here due to the presence of end effects on the spline filters. The low-frequency agreement between the series is expected because the Yamal ring-width data are common to both reconstructions.
A response to the critics
The publication of our paper provides a timely opportunity to revisit and respond to a series of unfounded criticisms that have been levelled at our work in recent years, mostly originating from Steve McIntyre at the ClimateAudit blog, though they have been widely repeated and embellished by other commentators.
It is of course usual for results to be improved and superseded as science progresses. Our new Yamalia ring-width chronology differs from the Yamal chronology published by Briffa (2000) – see Figure 2a for a comparison. The very recent values are now lower (and extend by a decade more), but so are the estimates around 1000 CE. The consequent differential between medieval and modern growth is hardly changed. The period of high growth centred near to 250 CE (noted above) is also relatively unchanged, and is now the most prominent pre-20th century period of anomalous growth in the last 2000 years. These changes are because of genuine scientific progress, not because – as our critics have claimed – we had previously presented a deceptive chronology. They arise from extra data collection and, particularly, developments in tree-ring standardization methods (see the paper for details).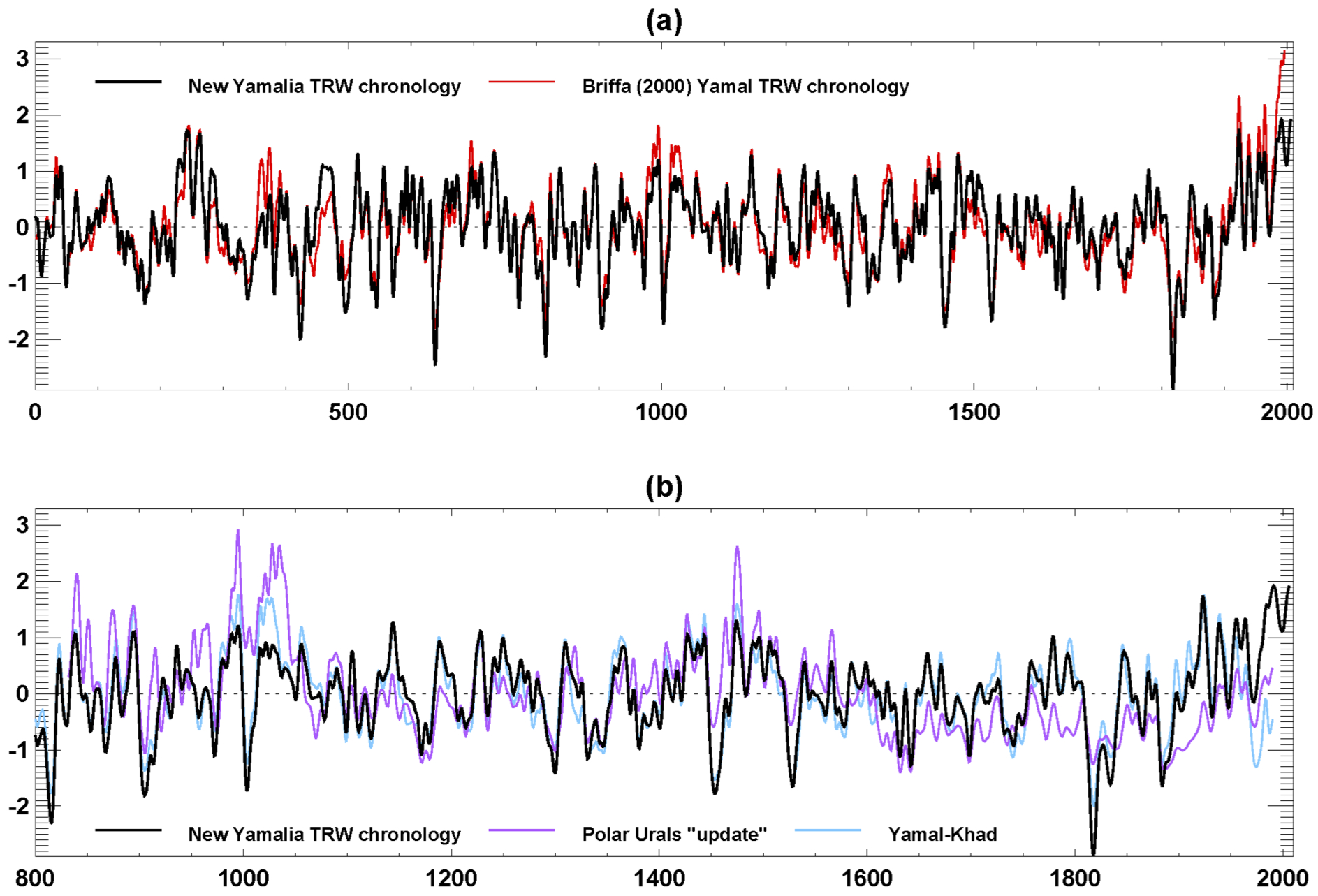 Figure 2. (a) Comparison of the Briffa (2000) Yamal ring-width chronology (red) and the new Yamalia ring-width chronology (black). (b) Comparison of the new Yamalia ring-width chronology (black) and two chronologies that have been promoted by critics of our work, but which turn out to be biased: the Polar Urals "update" chronology (purple; from Esper et al., 2002) and the Yamal chronology with modern data coming only from the Khadyta River site (blue). All series were scaled to have unit variance before being smoothed with a 10-year filter.
Figure 2b compares the new Yamalia chronology with two alternative chronologies heavily promoted by McIntyre and others – the so-called Polar Urals "update" chronology and a Yamal chronology using modern samples from the Khadyta River site. Both chronologies present a different picture of the difference between peak medieval and peak modern growth rates, with elevated growth around 1000 CE and suppressed growth in the 20th century. Our paper demonstrates that these two alternative chronologies are flawed.
The real Yamal deception
Some background is perhaps needed regarding our preferred chronologies. Briffa et al. (1995) developed chronologies from Polar Urals ring width and density data. Subsequently, Briffa (2000) presented a 2000-year ring width chronology from nearby Yamal, which had much better replication (more trees) than the Polar Urals data and was therefore preferred. The Polar Urals data were later supplemented by additional samples which were used by Esper et al. (2002). Even including these additional samples the Yamal chronology remained better replicated: of the 1213 overlap years, the Briffa (2000) Yamal has 4 years with samples from less than 10 trees, while the "updated" Polar Urals chronology has 264 years with data from less than 10 trees, many of them in the medieval period (see here for more details). The additional sub-fossil data used in our new paper further increases the replication of the Yamal chronology compared with the Polar Urals chronology (Figure EC1 in the SI of the new paper). On the basis of replication and the strength of the common signal, the Yamal record was, and remains, superior to the Polar Urals chronology.
1: Why we didn't use the Polar Urals "update"
We have been criticised for not archiving the Polar Urals "update" data. The "update" data were in fact archived at the ITRDB thirteen years ago. We have been criticised for not publishing an updated Polar Urals chronology using the updated data (and accused of worse here). The supposed reason for our decision not to do this was that the 'update' does not support our supposedly desired message of unprecedented modern warmth (because they appear to suggest that tree growth rate was greater during earlier times including the medieval period; Figure 2b, compare purple and black lines).
However, as reported in BEA13, it turns out that during the medieval period these Polar Urals "updates" are dominated by samples taken from the root collars of trees. Ring widths measured in such root-collar samples tend to be systematically larger than equivalent rings measured higher in the boles (stems) of the same trees. The reason for larger tree-ring widths during medieval times in the Polar Urals "updates" is now clear: it is because more samples were from the root collar with their inherently wider rings. Interpreting this as evidence for warmer temperatures is wrong.
Conclusion: the so-called "Polar Urals update" chronology is severely biased and should not be used as evidence of past changes in temperature; nor should our critics present it as evidence that we had committed scientific fraud by failing to publish a chronology using these data.
2: The Yamal record was not biased by omitting data
CRU has been accused of deception by presenting a Yamal tree-ring chronology biased by the omission of otherwise suitable data. A particular theme, originating again from ClimateAudit, is that tree-ring data from Khadyta River had not been used and would have dramatically altered the character of the chronology – and the NH temperature reconstructions that used the Yamal chronology – if these data had been used (Figure 2b, compare blue and black lines).
As reported in BEA13, through collaboration with our Russian colleagues who have extensive knowledge of tree-rings in this region, we have learnt that the Khadyta River site has problems related to the particular site conditions that differ from other sites in this region, and maybe influenced by changing permafrost. Certainly the trees have reduced growth and appear to be unhealthy, and some even dying. Thus the Khadyta River data that some claimed as being more representative than the data we used turn out to have a common signal that is inconsistent with the majority of site chronologies in this region. They could potentially bias the Yamal chronology had they been included and so for this reason we excluded these data from the main analysis in the new paper.
Conclusion: claims of a deceptive and biased Yamal chronology turn out to rely on outlier data that should be omitted; our new research, based on a greatly expanded dataset, supports the finding that tree-growth (and inferred summer temperature) in this region are likely greater in the last 100 years than for any previous century in the last 2000 years.
3: We did not withhold a combined Yamal and Polar Urals chronology
Separately, some of our incomplete and unpublished work on the Yamal and Polar Urals tree-ring data has been the subject of multiple requests under UK FOI/EIR legislation. (See this previous post for background). To be clear, this was not a request for the raw data that we were using in this area of northern Russia – the raw data were and are freely available. Instead, the request was for a tree-ring chronology that formed part of work that was, at the time, still ongoing.
The EIR has a (very sensible) exemption for material which is unfinished, incomplete or still in the course of completion. Our university (UEA) therefore refused the requests to release our incomplete research (see responses here and here). Steve McIntyre appealed and UEA reconsidered the issues but upheld the original decision. McIntyre then complained to the Information Commissioner's Office (ICO). The ICO upheld UEA's decision and rejected McIntyre's complaint. McIntyre then appealed to the First-Tier Information Tribunal. Two weeks ago, after more than two years defending our right to publish our research at a time when we considered it to be complete rather than at a time dictated to us by Steve McIntyre, the Information Tribunal finally dismissed McIntyre's appeal.
The research that was the subject of this information request has now been – as we said all along that it would be – completed and published, coincidentally, within days of the Information Tribunal's decision. Our publication of this work contradicts McIntyre's explicit accusations that we were hiding the requested chronology because it would have exposed long-standing scientific fraud on our part. These accusations were, and remain, baseless and mistaken.
Over the years, McIntyre has advanced a number of other criticisms of our tree-ring work in northwestern Eurasia. We note here that these too are also wrong.: 1) the original Polar Urals chronology was not wrongly cross-dated as claimed in a 2005 submission to Nature by McIntyre and McKitrick. When we demonstrated this in our response, Nature decided to publish neither their comment nor our response. It is worth noting that this rejection, nor any acknowledgement of his erroneous conclusions, were ever mentioned by McIntyre on his blog. (2) The Grudd (2008) Tornetrask chronology, promoted by some because of its elevated medieval growth (and implied much greater warmth) relative to the modern period, is biased by the issues noted in Melvin et al. (2013).
In conclusion, criticisms of our work have been based on misconceptions and misinformation. The so-called Polar Urals "update" chronology promoted by our critics turns out to be biased by inclusion of samples from tree root collars. The Khadyta River tree-ring data, whose exclusion from the Yamal chronology was portrayed as a severe example of cherry-picking to obtain a pre-conceived outcome, are from trees that appear to be dying and do not have a common signal with other regions. An updated Tornetrask chronology, with apparently elevated medieval warmth, turns out to be biased by combining incompatible groups of measurements.
That the critics have promoted a series of results that have turned out to be flawed is unfortunate but not in itself reason to complain – as science progresses it is usual for results to be improved and superseded. What can be condemned, however, is the long campaign of allegations of dishonesty and scientific fraud made against us on the basis of these false claims. That is the most disquieting legacy of Steve McIntyre and ClimateAudit. The real Yamal deception is their attempt to damage public confidence in science by making speculative and scandalous claims about the actions and motivations of scientists while cloaking them in a pretense of advancing scientific knowledge.
Links to other relevant information
CRU response to Yamal criticisms in 2009
CRU comments on the Ross McKitrick 2009 article published in the Financial Post (17 June 2010).
Response to comments about the dating of the Polar Urals chronology, the reliability of the early parts of the Polar Urals reconstruction, and our view that the Yamal chronology was more reliable.
References