I have mostly been sitting back and watching the John Bates story go through the predictable news-cycle of almost all supposed 'scandalous' science stories. The patterns are very familiar – an initial claim of imperfection spiced up with insinuations of misconduct, coordination with a breathless hyping of the initial claim with ridiculous supposed implications, some sensible responses refuting the initial specific claims and demolishing the wilder extrapolations. Unable to defend the nonsense clarifications are made that the initial claim wasn't about misconduct but merely about 'process' (for who can argue against better processes?). Meanwhile the misconduct and data falsification claims escape into the wild, get more exaggerated and lose all connection to any actual substance. For sure, the technical rebuttals to the specific claims compete with balance of evidence arguments and a little bit of playful trolling for the attention of anyone who actually cares about the details. None of which, unfortunately, despite being far more accurate, have the narrative power of the original meme.
The next stages are easy to predict as well – the issues of 'process' will be lost in the noise, the fake overreaction will dominate the wider conversation and become an alternative fact to be regurgitated in twitter threads and blog comments for years, the originators of the issue may or may not walk back the many mis-statements they and others made but will lose credibility in any case, mainstream scientists will just see it as hyper-partisan noise and ignore it, no papers will be redacted, no science will change, and the actual point (one presumes) of the 'process' complaint (to encourage better archiving practices) gets set back because it's associated with such obvious nonsense.
This has played out many, many times before: The Yamal story had a very similar dynamic, and before that the '1934' story, etc. etc.
Assuming for the sake of politeness that sound and fury signifying nothing is not the main goal for at least some participants, the question arises: since this is so predictable why do people still keep making the same mistakes?
I have two slides that I use in my talks about the challenges of science communication in a politicized world: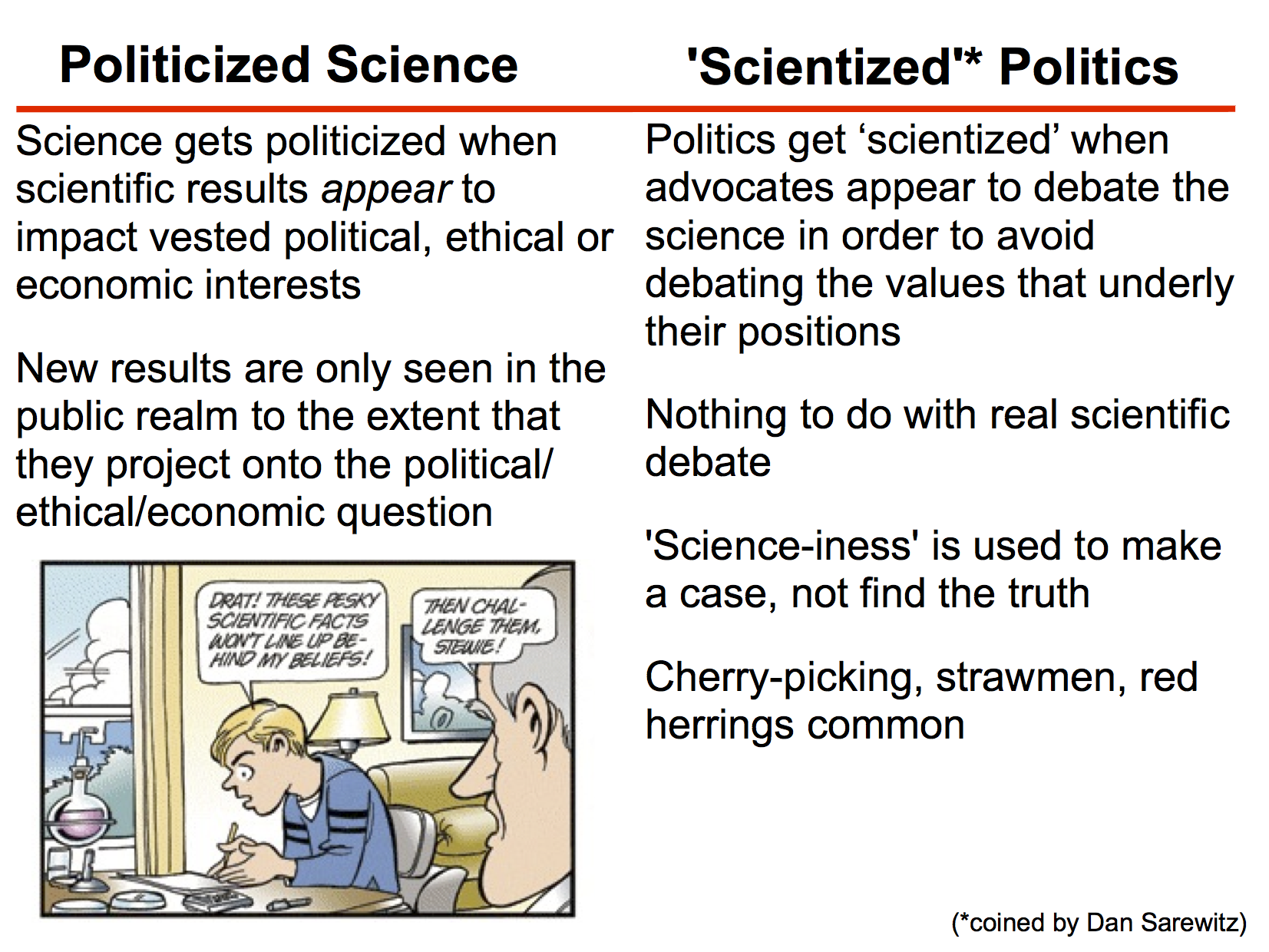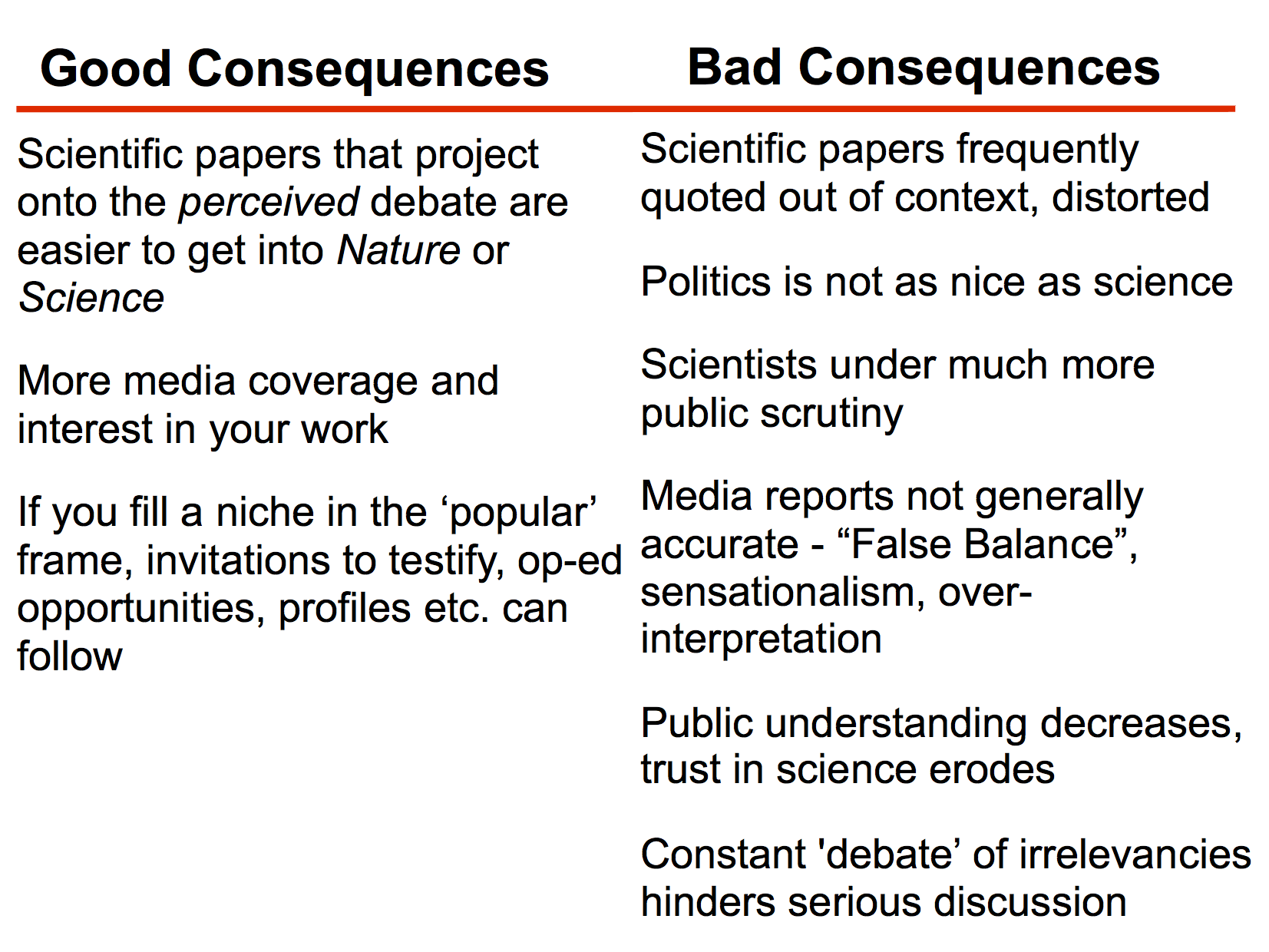 The Bates story is an excellent illustration of how this plays out in real life. The key thing to remember is that there is a ready-made narrative and 'public' issue for all stories like this and it takes real skill (and might not be possible) to avoiding falling into that pre-existing narrative rut. You know, this one:

Plot idea: 97% of the world's scientists contrive an environmental crisis, but are exposed by a plucky band of billionaires & oil companies.

— Scott Westerfeld (@ScottWesterfeld) March 21, 2014
[Pro-tip: talking about massive international multi-agency conspiracies makes you sound like a crazy person, so get past that by only talking about the whistleblowers!].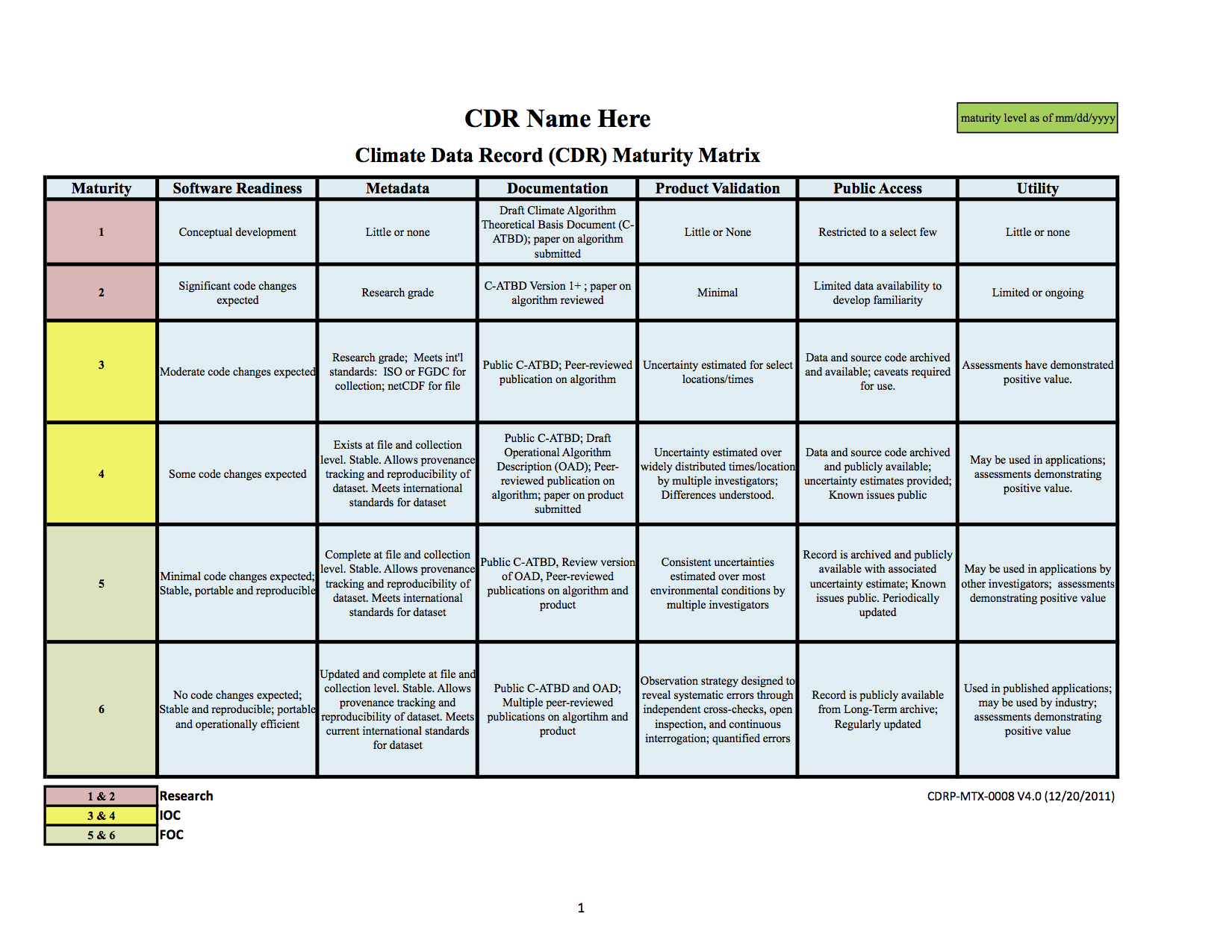 Unfortunately, Bates and Curry, perhaps deciding that judgement calls about where on a complex maturity matrix (right) (Bates et al, 2014) any specific dataset should be placed, was not likely to generate much attention, decided to over-egg their pudding: Bates added obviously wrong claims to his litany (like the claim that ASCII data on an ftp site was neither an archive nor 'machine readable'), and let his imagination run beyond what he could actually show ('thumbs on the scale' for instance). David Rose, certain that he had a juicy data tampering story didn't bother to check his graph when it seemed to show a big difference between analyses. Note that the graph did not actually use the data from the Karl et al (2015) paper at all.
Thus a perhaps interesting claim about process, got turned instantly into a claim about misconduct, and another hammer to be used to undermine independently replicated conclusions (Hausfather et al, 2016). In Bates' later interviews, he tried to close Pandora's box – for instance saying that "The issue here is not an issue of tampering with data, but rather really of timing of a release of a paper that had not properly disclosed everything it was". Well, whoop-dee-doo.
Weirdly he also claimed that he is wary of his critique becoming a talking point for those skeptical of human-caused climate change and that "I knew people would misuse this".
Which kinda makes my point but also raises some obvious questions!
The key element in politicized discussions of science is the obvious desire of most people to have the narrative confirm what they desperately want to be true. Thus however little the story projected onto the faux debate, that is where the story was going to go. The initial exaggerations and false claims just made this more likely.
In contrast to the argument made in a recent New York Times op-ed, science is not politicized because scientists are citizens and have opinions (they are and they do), but because certain narratives suit political movements better than the truth.
Scientists can fight against this by being scrupulous in not giving opportunities for people to take their words or work out of context and project it onto the faux debate. One can be clear from the beginning about what can't be concluded, as well as what can be. Specific complaints about specific issues need to be clearly distinguished from general complaints about everything. I find that people who do this don't get caught up so much in these faux scandals, while for people (like Bates) who don't see it as their responsibility to properly contextualise their statements, it happens over and again.
When people who know better go ahead anyway, you end up with this kind of mess with all the bad consequences outlined in the above slide, regardless of the point that someone thought they were making. But in this case the actual substance is a total NOAA-thing burger.
Can I get fries with that?
References
J.J. Bates, J.L. Privette, E.J. Kearns, W. Glance, and X. Zhao, "Sustained Production of Multidecadal Climate Records: Lessons from the NOAA Climate Data Record Program", Bulletin of the American Meteorological Society, vol. 97, pp. 1573-1581, 2016. http://dx.doi.org/10.1175/BAMS-D-15-00015.1
T.R. Karl, A. Arguez, B. Huang, J.H. Lawrimore, J.R. McMahon, M.J. Menne, T.C. Peterson, R.S. Vose, and H. Zhang, "Possible artifacts of data biases in the recent global surface warming hiatus", Science, vol. 348, pp. 1469-1472, 2015. http://dx.doi.org/10.1126/science.aaa5632
Z. Hausfather, K. Cowtan, D.C. Clarke, P. Jacobs, M. Richardson, and R. Rohde, "Assessing recent warming using instrumentally homogeneous sea surface temperature records", Science Advances, vol. 3, 2017. http://dx.doi.org/10.1126/sciadv.1601207