"during this year a most dread portent took place. For the sun gave forth its light without brightness… and it seemed exceedingly like the sun in eclipse, for the beams it shed were not clear."
Eine deutsche Übersetzung dieses Artikels ist hier.
This quote from Procopius of Caesarea is matched by other sources from around the world pointing to something – often described as a 'dry fog' – and accompanied by a cold summer, crop failures and a host of other problems. There's been a TV special, books and much newsprint speculating on its cause – volcanoes, comets and other catastrophes have been suggested. But this week there comes a new paper in GRL (Larsen et al, 2008) which may provide a definitive answer….

Traducido por Angela Carosio
"en este año hubo un temido presagio. El sol dio su luz sin brillo…y parecía como un sol de eclipse, pues los rayos de luz no eran claros."
It's long been known that tree-rings (such as the one pictured from Arizona) often show an extremely small growth ring for AD 536 (you can count back from the marked AD 550 ring). In fact, if you look at the mean anomaly in a whole range of tree ring constructions, this event stands out along with 1601 and 1815 (known volcanic events) as being exceptional over the last 2000 years.

Average of the high-frequency components of 7 northern European tree ring reconstructions from Larsen et al, 2008. The filtering ensures that uncertainties in long term trends (which are not important in this context) don't confuse the issue.
These data match the written sources quite well. However, tying it to a cause has always been plagued with problems of chronology. An initial attempt to tie this event to a volcanic pulse in the Dye3 ice core in Greenland foundered when the chronology was revised to put it 20 years earlier. However, there has recently been a concerted effort to place all the Greenland ice cores on a common timescale based on annual layer counts (Vintner et al, 2006). Because all the cores are being counted together, ambiguities in one can be corrected by reference to the others. Once the dates have been better established, the sulphate records (which generally show the impact of volcanic aerosols) can be examined to see if they line up. And low and behold, they do: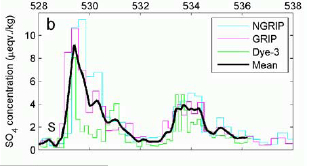 The second peak in the picture is dated at 534 AD which is close enough to 536 AD given the one or two year uncertainty in counting. Note that the 534 AD peak is actually smaller than the one a few years earlier. In assessing the importance of an eruption though, it isn't enough to have just a peak in Greenland. That could simply signify an eruption that was close by. Instead, people look for a matching peak in Antarctica. This signifies that the eruption was likely tropical and the aerosols were carried into both hemispheres by the stratospheric circulation. Here is where previous attempts often faltered. The dating of ice cores in Antarctica is less exact than in Greenland because the accumulation is slower (it doesn't snow as much). However, the relatively new Dronning Maud Land (DML) core has comparable resolution to the Greenland ones, and this one does have a clear sulphate peak at about 542 +/- 17 years. That is good enough to be a match to the 536 AD peak in Greenland. The correction you'd need to make to align them exactly would also fix some other apparent offsets for smaller events in the subsequent 100 years.
So it probably was a volcano, somewhere in the tropics, and it was likely the size of Tambora in 1815. There has been some speculation that it was an earlier eruption of Krakatoa (which went off again in 1883), but that is uncertain, as are the numerous consequences such as the fall of the Rome or the rise of Islam which have been attributed to this event. While not exploring that too deeply, this quote from Michael the Syrian indicates dramatically the potential for climate events like this one to really spoil your day:
"The sun was dark and its darkness lasted for eighteen months; each day it shone for about four hours; and still this light was only a feeble shadow … the fruits did not ripen and the wine tasted like sour grapes."
Esta cita de Procopius de Cesarea es igual a las de otras fuentes alrededor del mundo y señala un fenómeno climático, generalmente conocido como niebla seca que viene acompañado por un verano frío, el fracaso de las cosechas y otra serie de problemas. En una serie de TV, libros y artículos en la prensa se sugirieren, como posibles causas, erupciones volcánicas, cometas y otras catástrofes. Pero esta semana se publicó un nuevo artículo en GRL que podría ofrecer una respuesta definitiva…
Es bien sabido que los anillos de crecimiento de los árboles (como el de la fotografía, proveniente de Arizona) generalmente muestran un anillo de crecimiento extremadamente pequeño para el año AD 536 (éste se puede contar hacia atrás desde el anillo marcado como AD 550.) En efecto, si observamos las anomalías de toda una serie de construcciones de anillos de crecimiento, este evento se destaca como excepcional en los últimos 2000 años, junto con los años 1601 y 1815 (ambos conocidos por erupciones volcánicas).

Fig. 1: Promedio de los componentes de alta frecuencia en 7 reconstrucciones de anillos de crecimiento de árboles del norte de Europa, por Larsen et al, 2008. El filtrado asegura que las incertidumbres en las tendencias a largo plazo (que no son importantes en este contexto) no confundan los resultados.
Estos datos coinciden con las fuentes escritas. Sin embargo, la búsqueda de una causa para AD 536 siempre ha estado plagada de problemas de cronología. El intento de asociar este evento con una erupción volcánica en las muestras de corazón hielo Dye3 de Groenlandia se desplomó cuando dicha cronología fue revisada y colocó al evento volcánico 20 años antes de AD 536. Sin embargo, recientemente ha habido un esfuerzo conjunto para ubicar todas las muestras de corazones de hielo de Groenlandia en una misma escala temporal, basada en el recuento anual de capas (Vintner et al. 2006). Debido a que todos los corazones de hielo están siendo analizados conjuntamente, las ambigüedades en un corazón pueden ser corregidas cotejando con otros. Una vez que los datos estén bien establecidos, los registros de sulfato (SO4) (que generalmente muestran el impacto de gases volcánicos), pueden ser examinados para ver si éstos coinciden. Y así lo hicieron: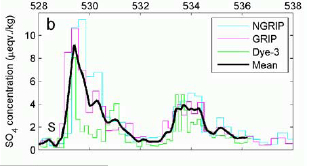 El segundo pico de sulfato de la figura corresponde al año AD 534, que es suficientemente cercano a AD 536, dejando uno o dos años de error en el recuento. Se debe notar que el pico alcanzado en AD 534 es menor que el alcanzado unos años antes. Sin embargo, cuando se evalúa la importancia de una erupción, un pico de concentración de sulfato en Groenlandia no es suficiente, ya que esto podría significar que hubo una erupción en un área cercana. En vez, un pico de sulfato coincidente en la Antártida significa que la erupción ocurrió probablemente en algún lugar en el trópico y que la circulación atmosférica transportó los gases a ambos hemisferios. Es aquí donde intentos previos han fallado. La cronología de las muestras de corazones de hielo antárticos es mucho menos exacta que las de Groenlandia porque la acumulación en la Antártida es más lenta (no se nota tanto). Sin embargo, la relativamente nueva muestra de corazón de hielo llamada Dronning Maud Land (DML) tiene una resolución comparable con las muestras de Groenlandia, y ésta muestra un claro pico de sulfato alrededor del año 542 +/- 17 años. Este resultado es suficiente para coincidir con el pico de sulfato de AD 536 en Groenlandia. La corrección necesaria para que estos eventos estén perfectamente alineados también compensa las aparentes diferencias cronológicas de otros eventos menos importantes en los 100 años subsiguientes.
Probablemente en el año 536 hubo una erupción volcánica en algún lugar en el trópico, de la magnitud de Tambora en 1815. Se ha especulado con que fue una erupción del volcán Krakatoa (anterior a la de 1883), pero esta especulación es incierta, así como las numerosas consecuencias atribuidas a éste evento, como la caída del Imperio Romano o el surgimiento del Islam. Sin entrar en mucho detalle al respecto, esta cita de Michael de Syrian indica, dramáticamente, el potencial que tiene el clima y eventos volcánicos como éste para arruinarle el día a cualquiera:
"El sol estaba oscuro y su oscuridad duró 18 meses; cada día brillaba por cuatro horas, y aún así ésta luz era una sombra débil… los frutos no maduraron y el vino tenía sabor a uva ácida."