"during this year a most dread portent took place. For the sun gave forth its light without brightness… and it seemed exceedingly like the sun in eclipse, for the beams it shed were not clear."
This quote from Procopius of Caesarea is matched by other sources from around the world pointing to something – often described as a 'dry fog' – and accompanied by a cold summer, crop failures and a host of other problems. There's been a TV special, books and much newsprint speculating on its cause – volcanoes, comets and other catastrophes have been suggested. But this week there comes a new paper in GRL (Larsen et al, 2008) which may provide a definitive answer….
It's long been known that tree-rings (such as the one pictured from Arizona) often show an extremely small growth ring for AD 536 (you can count back from the marked AD 550 ring). In fact, if you look at the mean anomaly in a whole range of tree ring constructions, this event stands out along with 1601 and 1815 (known volcanic events) as being exceptional over the last 2000 years.

Average of the high-frequency components of 7 northern European tree ring reconstructions from Larsen et al, 2008. The filtering ensures that uncertainties in long term trends (which are not important in this context) don't confuse the issue.
These data match the written sources quite well. However, tying it to a cause has always been plagued with problems of chronology. An initial attempt to tie this event to a volcanic pulse in the Dye3 ice core in Greenland foundered when the chronology was revised to put it 20 years earlier. However, there has recently been a concerted effort to place all the Greenland ice cores on a common timescale based on annual layer counts (Vintner et al, 2006). Because all the cores are being counted together, ambiguities in one can be corrected by reference to the others. Once the dates have been better established, the sulphate records (which generally show the impact of volcanic aerosols) can be examined to see if they line up. And low and behold, they do: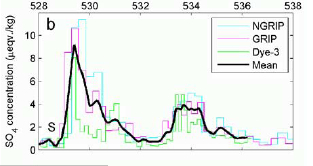 The second peak in the picture is dated at 534 AD which is close enough to 536 AD given the one or two year uncertainty in counting. Note that the 534 AD peak is actually smaller than the one a few years earlier. In assessing the importance of an eruption though, it isn't enough to have just a peak in Greenland. That could simply signify an eruption that was close by. Instead, people look for a matching peak in Antarctica. This signifies that the eruption was likely tropical and the aerosols were carried into both hemispheres by the stratospheric circulation. Here is where previous attempts often faltered. The dating of ice cores in Antarctica is less exact than in Greenland because the accumulation is slower (it doesn't snow as much). However, the relatively new Dronning Maud Land (DML) core has comparable resolution to the Greenland ones, and this one does have a clear sulphate peak at about 542 +/- 17 years. That is good enough to be a match to the 536 AD peak in Greenland. The correction you'd need to make to align them exactly would also fix some other apparent offsets for smaller events in the subsequent 100 years.
So it probably was a volcano, somewhere in the tropics, and it was likely the size of Tambora in 1815. There has been some speculation that it was an earlier eruption of Krakatoa (which went off again in 1883), but that is uncertain, as are the numerous consequences such as the fall of the Rome or the rise of Islam which have been attributed to this event. While not exploring that too deeply, this quote from Michael the Syrian indicates dramatically the potential for climate events like this one to really spoil your day:
"The sun was dark and its darkness lasted for eighteen months; each day it shone for about four hours; and still this light was only a feeble shadow … the fruits did not ripen and the wine tasted like sour grapes."