The Starship vs. Spaceship Earth
Eric Steig & Ray Pierrehumbert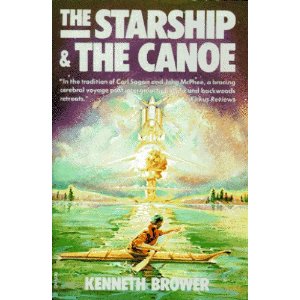 One of my (Eric's) favorite old books is The Starship and the Canoe by Kenneth Brower It's a 1970s book about a father (Freeman Dyson, theoretical physicist living in Princeton) and son (George Dyson, hippy kayaker living 90 ft up in a fir tree in British Columbia) that couldn't be more different, yet are strikingly similar in their originality and brilliance. I started out my career heading into astrophysics, and I'm also an avid sea kayaker and I grew up with the B.C. rainforest out my back door. So I think I have a sense of what drives these guys. Yet I've never understood how Freeman Dyson became such a climate contrarian and advocate for off-the-wall biogeoengineering solutions like carbon-eating trees, something we've written about before.
It turns out that Brower has wondered the same thing, and in a recent article in The Atlantic, he speculates on the answer. "How could someone as smart as Freeman Dyson," writes Brower, "be so wrong about climate change and other environmental concerns..?"
Brower goes through a number of possible explanations for the Dyson paradox, some easily dismissed (senility; he's a theoretician with no sense of practicality) some not so easily dismissed (he's only joking, don't take it seriously, he doesn't take it all that seriously himself). But in the end, for Brower, it seems to come down to two conspiring things about Dyson. The first is that Dyson has an abiding faith in the ability of technology to do anything we want it to. It's not surprising, then, that Dyson thinks we can 'fix climate' as well. That, in itself, makes Dyson not so much a "global warming skeptic" as an extreme techno-optimist. In fact, even leaving technology aside, he has a touching faith that whatever humans may do to the environment, it usually turns out for the best. In this essay, he writes:
"The natural ecology of England was uninterrupted and rather boring forest. Humans replaced the forest with an artificial landscape of grassland and moorland, fields and farms, with a much richer variety of plant and animal species. Quite recently, only about a thousand years ago, we introduced rabbits, a non-native species which had a profound effect on the ecology. Rabbits opened glades in the forest where flowering plants now flourish."
We daresay that the Australians have a somewhat less benign view of rabbits (as the New Zealanders do of possums). And that maybe Dyson has a thing or two to learn about the biodiversity of unmanaged ecosystems.
Second, Dyson's obsession has always been the stars, not the earth: he spent many years working on the design of a spaceship (hence the title of Brower's 30-year old book) that would take him there. It's not so much that he doesn't care about our home planet — he must have learned something about 'spaceship earth' from son George over the years. Rather, he is simply very confident that we can always get off if we have to. "What the secular faith of Dysonism offers," Brower writes" is, first, a hypertrophied version of the technological fix, and second, the fantasy that, should the fix fail, we have someplace else to go." Dyson has stated in many places, and in various ways, that he thinks global warming is not a big problem, and that its importance has been exaggerated. To put things in perspective, though, Dyson doesn't particularly think that the extirpation of all life other than human would be a particularly big deal "We are moving rapidly into the post-Darwinian era, when species other than our own will no longer exist, and the rules of Open Source sharing will be extended from the exchange of software to the exchange of genes," he is quoted as saying in Brower's article. Dyson's idea of what constitutes a "big problem" may be, well, just a bit different from what most of the rest of us might have in mind.
Brower's conclusions sound right on the mark to us, but don't fully explain Dyson. Perhaps Brower is being gentle, since he is an old friend, or perhaps he simply isn't aware of it, but one issue he does not touch on in his article is is how deceptive (apparently deliberately) Dyson can be.
Page 1 of 3 | Next page