Michael Mann and Gavin Schmidt
A recent paper by Vecchi and Soden (preprint) published in the journal Geophysical Research Letters has been widely touted in the news (and some egregiously bad editorials), and the blogosphere as suggesting that increased vertical wind shear associated with tropical circulation changes may offset any tendencies for increased hurricane activity in the tropical Atlantic due to warming oceans. Some have even gone so far as to state that this study proves that recent trends in hurricane activity are part of a natural cycle. Most of this is just 'spin' (pun intended), but as usual, the real story is a little more nuanced.

We have commented on the connections between hurricanes and climate change frequently in the past (see e.g. here, here, here, and here). The bottom line conclusion has consistently remained that, while our knowledge of likely future changes in hurricanes or tropical cyclones (TCs) remains an uncertain area of science, the observed relationship between increased intensity of TCs and rising ocean temperatures appears to be robust (Figure 1). There is nothing in this latest article that changes that.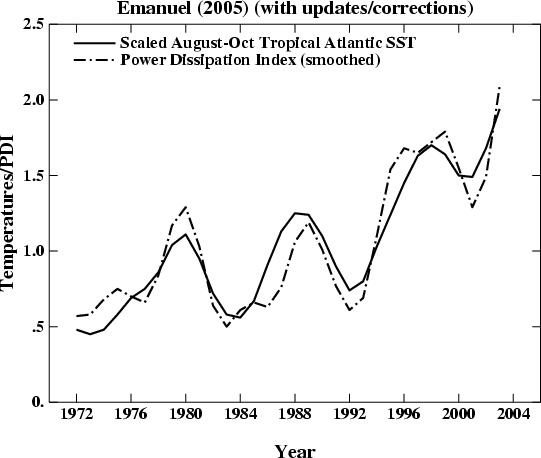 Figure 1. Measure of total power dissipated annually by tropical cyclones in the North Atlantic (the power dissipation index "PDI") compared to Aug-Oct tropical North Atlantic SST (from Emanuel, 2005; data)
The Vecchi and Soden (V+S) study suggests that increased 'vertical wind shear' in the tropical Atlantic might overcome this effect. Wind shear is related to the rate at which different layers in the atmosphere move – zero shear means that the layers all move together, large shear means that the upper layers are moving very differently to those below – and is inimical to hurricane formation and intensification. The well-known impact of El Niño on reducing Atlantic hurricane activity is in fact due to increased shear from the associated atmospheric circulation changes. The V+S results come from analysing the results of 18 different model simulations that were done for the IPCC AR4 and which now provide a superlative database for assessing what models do and do not project. It's important to be clear that these models do not resolve hurricane processes and that the analysis is related to the large scale 'background' environment in which hurricanes form. Nonetheless the idea of looking at these simulations to see what happens to that large scale environment, as V+S have done, is certainly interesting and worthwhile.
V+S find that the IPCC AR4 models produce an decrease in shear near the equator and an increase in the subtropics. Over the 'Main Development Region' for Atlantic hurricanes, the results are mixed and, to our eyes at least (see Figure 2), don't provide a compelling argument for hurricane activity reductions. However, the conclusions rest heavily on something that is not robust at present; the prediction of mean changes in the Walker circulation. As we have discussed in some detail, this latter issue rests upon considerations that take us to the heart of where the models are currently at their weakest–getting marine stratocumulus clouds right, producing a realistic intertropical convergence zone in the tropical Pacific, producing realistic Kelvin wave behavior in the tropical Pacific ocean–things that are all critical for an accurate representation of the Bjerknes feedbacks which are, in turn, so central to the mean state and variability of the Walker circulation (and El Niño). It is conceivable that the various simulations in the AR4 ensemble analyzed by V+S are at the same time mostly in agreement, and yet wrong, in what they predict for future Walker circulation changes. The prediction of increased wind shear in the tropical Atlantic is no better than the underlying predictions in the models of Walker circulation changes.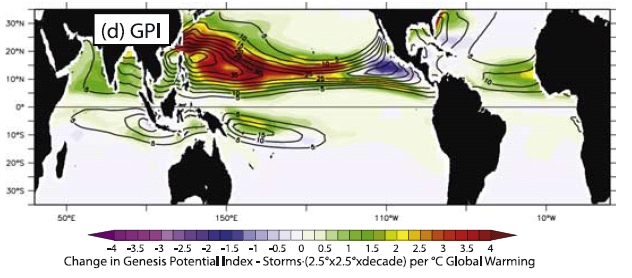 Figure 2. Average of 18 models changes in Genesis Potential Index (GPI) of hurricanes for 2081-2100 (IPCC A1B scenario). GPI includes the effects of heating and wind shear. (Update: figure updated to fig 4d from the paper.)
Furthermore, the fact is (as shown in Figure 1) that hurricane intensity has increased in recent decades as SST has risen (at least in the North Atlantic for which trends are most reliable) and this prediction is based on fairly fundamental and robust thermodynamic arguments explored by Emanuel and others for decades now. Emanuel (2005) makes a compelling case that the warming ocean temperatures (and associated changes in atmospheric temperature and humidity profiles) are behind the increased TC intensity in the Atlantic. Independent analyses, such as those described in the Santer et al PNAS article, show that this warming is inconsistent with natural variability, i.e. it is likely only explainable in terms of anthropogenic forcing. That would seem to close the loop on the argument that anthropogenic forcing is likely behind a substantial component of the observed increased intensity of Atlantic TCs. So the observational evidence thus far is not in favour of increased shear preventing this increase in intensity.
This view is echoed by Kerry Emanuel in comments on the paper in the Washington Post, where he suggests that the impact of wind shear changes relative to warming SSTs in the real world, as diagnosed from trends observed thus far, may be overstated by the V+S study:
Emanuel, who was not involved in this research, said he published a study last year that calculated that increasing the potential intensity of a storm via warming by 10 percent increases hurricane power by 65 percent, whereas increasing shear by 10 percent decreases hurricane power by only 12 percent.
In the same WaPo article, Chris Landsea discusses these projections into the future as if they had relevance to the attribution of past change. While this mistake is often made, it is nonetheless incorrect. Attribution can only be done using simulations and observation of the period in question.
Finally, a cautionary note seems warranted. Suppose that the V+S findings are in fact correct, and that increased wind shear will play a substantial role in future changes in TC behavior. This could be a mixed blessing. Wind shear in the tropical Atlantic will remain highly variable from year to year, changing at the whim of individual El Niño and La Niña events which influence the Walker Circulation. Temperature trends, on the other hand, are far more steady over time, and every simulation examined by the Vecchi and Soden predicts substantial warming in the main development region for TCs in the tropical Atlantic in the decades ahead. While increases in wind shear could offset the impact of tropical temperatures in some — maybe even the majority — of storm seasons, one might worry about what happens during those seasons where there is anomalously low shear (e.g., a very strong La Niña event). The warm ocean will still be sitting there, waiting to produce tropical cyclones and Hurricanes–and the prospects for destructive Hurricane activity during those seasons could be especially grim. In short, the V+S results could presage a future where there is increased interannual variability in TC behavior, and where the worst Hurricane seasons are considerably more destructive than today.
The findings of V+S represent an important contribution to the ongoing scientific discourse on the issue of climate change impacts on tropical cyclones, and the study should spur additional work looking at the complicated issues involved in greater detail. It remains the case that the modeling of Hurricane-climate change interactions is still at a relatively primitive stage and this study is very unlikely to be the last word. We will of course follow the future developments closely.