Guest Commentary by Chris Colose
One of the most intriguing and well-studied climatic events in the past is the Younger Dryas (YD), a rather abrupt climate change between ~12.9 and 11.6 thousand years ago. As the world was slowly warming and ice was retreating from the last glaciation, the YD effectively halted the transition to today's relatively warm, interglacial conditions in many parts of the world. This event is associated with cold and dry conditions increasing with latitude in the North, temperature and precipitation influences on tropical and boreal wetlands, Siberian-like winters in much of the North Atlantic, weakening of monsoon intensity, and southward displacement of tropical rainfall patterns. RealClimate has previously discussed the YD (here and here) however there have been a number of developments in recent years which deserve further attention, particularly with respect to the spatial characteristics and causes of the YD.

The YD is often discussed in the same context as the 'Dansgaard-Oeschger' events seen in the ice cores during full glacial conditions, and the 'Heinrich events' of layers of ice-rafted debris in North Atlantic ocean sediments. Indeed, some people occasionally refer to the YD as Heinrich event 0, but this implies that the YD cooling was caused by an ice-rafting event (probably untrue) and should be avoided.  The YD occurred last of several prominent and abrupt deglacial events including Heinrich Event 1 (~17.5 to 16 ka) which is an event contained within the Older Dryas (18 to 14.7 ka), followed by the Bølling-Allerød warm period (~14.7 to 12.9 ka) whose end then marks the start of the YD. The end of the YD can be said to be the start of the Holocene. It has been proposed that the warmings before and after the YD can be viewed as Dansgaard-Oeschger events with the YD just a regular cold (i.e. stadial) phase in between (Rahmstorf 2002, 2003). In Antarctica (~15 to 13 ka), the most featured event is that as the Younger Dryas begins, warming is occurring in Antarctica.  The cold period in Antarctica that precedes the Younger Dryas is referred to as the Antarctic Cold Reversal (ACR) (see figure, from Shakun and Carlson, 2010) and was once thought to be in phase with the YD.  They are neither directly in phase nor anti-phased with one another (see e.g. Steig and Alley, 2002).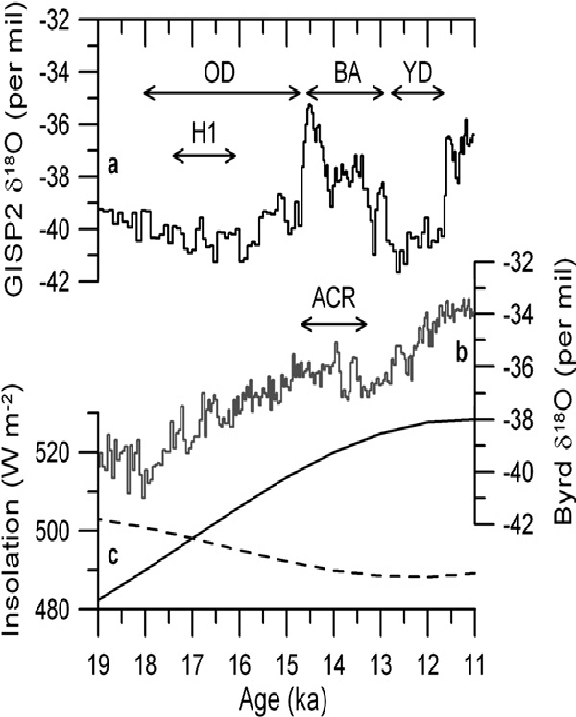 Fig. 1. Deglacial ice core time series and insolation. (a) GISP2 δ18O (black step plot) (Blunier and Brook, 2001). (b) Byrd δ18O (grey step plot) (Blunier and Brook, 2001). (c) Insolation (Incoming Solar Radiation) for 60ºN on June 21 (black line) and for 60ºS on December 21 (dashed black line) (Berger and Loutre, 1991). The timing of the Younger Dryas (YD), Bølling/Allerød (B/A), Heinrich Event 1 (H1), Oldest Dryas (OD) and Antarctic Cold Reversal
(ACR) are denoted.

Unlike changes in global temperature (such as modern day global warming) which can be understood as a result of perturbations to the planetary energy balance, the millennial-scale climate changes during the last glaciation are viewed primarily from the lens of internal dynamics, including ice retreat and re-organizations of ocean circulation. They are not dominated by changes in global mean temperature but rather changes in temperature distribution, explained by changes in oceanic or atmospheric heat transport. In particular, proxies of deepwater formation show large reductions in the Atlantic meridional overturning circulation (AMOC) coincident with the start of the YD. This suggested weakening of overturning circulation provides immense explanatory power for the onset of the YD although no consensus has emerged concerning the trigger of the AMOC reduction. There are some radiative changes associated with millennial-scale climate change induced by the ice-albedo effect, extra dust loading out of Asia during cold snaps, as well as greenhouse gas feedbacks– although they are relatively small. However, pinning down the exact sequence of causes and effects is rather difficult since precise chronologies and global-scale reconstructions are difficult to come by prior to the Holocene.
A new study though (Shakun and Carlson, 2010) has compiled over 100 high-resolution proxy records to characterize the timing and extent of the Last Glacial Maximum (LGM) and the deglacial evolution into the Holocene, including the shorter-lived Younger Dryas. Several of the key features of the study include:
The global mean cooling of the LGM relative to the peak of our current interglacial is approximately 5ºC as a minimum value. It is likely larger than this since many of the records are from the ocean which are typically less sensitive to temperature change than landmasses, and further, adiabatic cooling of marine air advected over land masses would result from the ~120 m reduction in sea level. The cooling is global in scale and largest at high latitudes, as expected from polar amplification.
In contrast, during the YD, there is much more spatial heterogeneity as the North became colder and drier (increasing with latitude) while the South became warmer and wetter in the opposite sense. The global mean cooling during the YD is only ~0.6ºC .  The tropics cooled by 2.5ºC (with an error of about a degree in either direction) at the LGM, yet exhibited very little temperature change during the YD. Thus, while the YD was a global scale climate change event with widespread signatures, it was not a widespread global cooling event.



Fig. 2. Magnitude of the glacial-interglacial temperature change relative to absolute latitude. (Shakun and Carlson 2010)Fig. 3. Magnitude of the Younger Dryas temperature change. Map of the Younger Dryas temperature anomaly (a). Circle denotes the size of the temperature change. Blue is cooling, red warming (Shakun and Carlson 2010).

The timing of the LGM and peak interglacial is synchronized between hemispheres on orbital timescales, which the authors attribute primarily to the global radiative forcing provided by CO2. As has been noted in the past, the CO2 lags the onset of deglaciation in most records, as this is paced by summer insolation changes. However the CO2 still acts as the dominant temperature-change influence throughout the deglacial period and provides an effective means to communicate temperature anomalies to the tropics. On the other hand, the YD exhibits the well-known bipolar see-saw effect which involves a reduction in northward heat transport, which warms the South. The see-saw is best expressed in the mid to high latitudes, although the see-saw model is a poor descriptor for the tropical variability.
The see-saw effect during millennial-scale climate changes has been confirmed before (also discussed at RealClimate in the context of the somewhat similar Dansgaard-Oeshger events) and is consistent with modeling efforts of the climate evolution during the last deglaciation, including Liu et al., 2009 (discussed here) who show that current state-of-the-art models can simulate the magnitude of abrupt climate changes well.
So what caused the reduction in the AMOC?
The most prevalent concept for slowing AMOC involves a reduction in the surface water density at the ocean surface via adding freshwater into the ocean. The preferred location is primarily the North Atlantic, which is a key point for deep ocean convection. The original idea for this to cause a YD-event was proposed in 1976 by Johnson and McClure, and involved the opening of eastern Lake Agassiz outlet via northward retreat of the Laurentide Ice Sheet out of Lake Superior. This re-routed drainage from the Mississippi to the St. Lawrence River.
There is a difference between the diversion of continental runoff from the Mississippi River (routing) and the relatively fast pro-glacial lake drainage to a new level (flooding). In contrast to the Johnson and McClure paper, many recent studies have focused on short-lived floods, although the re-routing mechanism might be a necessary, and in fact primary ingredient (Carlson et al., 2007; Carlson and Clark, 2008) in accord with modeling studies which require a persistent forcing to substantially alter AMOC (Meissner and Clark, 2006).
Evidence of a specific flood water pathway at the right time has proven to be elusive. No clear evidence exists for a flood event into the Atlantic, though evidence discussed by Murton et al. (2010) for an Arctic pathway has recently emerged.
There has also been interest in the prospect of a comet impact during the YD triggering a flood (e.g., Firestone et al., 2007 discussed previously at RC) although subsequent work has suggested that their results are not robust (Surovell et al., 2009), and it is likely that the impacts a comet would have on atmospheric chemistry, particularly the formation of nitrate and ammonium, is inconsistent with observations in ice core records (Melott et al., 2010). Further, the problem with a comet impact still remains — how could it generate a continuous freshwater forcing? Because of dicey evidence and no predictive ability, the comet hypothesis has not gained much favour.
Recently another hypothesis has been put forward: The Younger Dryas, instead of being a freak occurrence, is instead a key (and normal) part of the deglaciation process. This was most clearly expressed in a new paper by Broecker et al (2010) ( including George Denton and Richard Alley). Their main point is that a catastrophic flood or comet would only serve as a trigger for an event that was already primed to happen. Evidence for this comes primarily for the existence of YD-like events during previous deglaciations, notably from Chinese stalagmite data (Cheng et al., 2009) who looked at monsoon patterns in the past. In particular, a YD-like event shows up during Termination III (~ 245 ka) and possibly Termination IV, which share similar characteristics to the YD. The finding of many events with characteristics like the YD further provides evidence against the necessity of comet-impact hypothesis. However, this concept doesn't negate the need to understand the mechanisms for the YD or its potential predecessors. Whether it was primed to happen or not, what actually happened and how is still of great interest.
Broecker et al (2010) cite Lowell et al (2005) and Fisher et al (2008) to justify their reason for why the flood hypothesis is unappealing, but further work done by Carlson et al. (2007), Carlson and Clark (2008), and Carlson et al. (2009) provides newer support for the re-routing hypothesis. Furthermore, while Broecker et al. emphasize the lack of evidence for a catastrophic event, if the slower re-routing hypothesis is correct, then the lack of evidence for a sudden flood is irrelevant. This may very well be the mechanism that is common to previous deglacial events.
The existence of events similar to the YD in the more distant past has been proposed before (Carlson, 2008). By analyzing paleo-methane concentrations, Carlson (2008) also noted that events similar to the YD happened during T III and possibly earlier deglaciations (see figure, from Broecker et al 2010).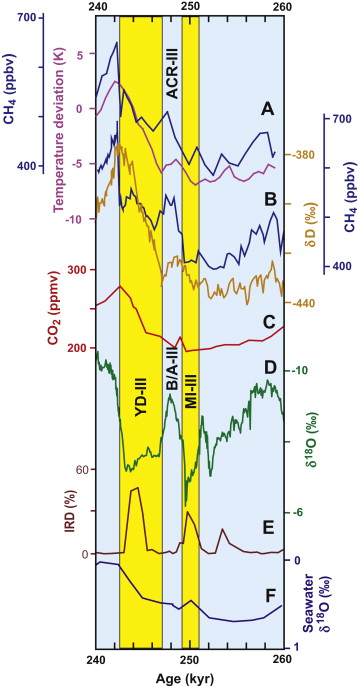 Fig. 4. Major events surrounding Termination III. (A) shows Vostok temperature deviation (purple) and CH4 (blue) records (Suwa and Bender, 2008). (B) shows EPICA/Dome C (EDC) δD (orange) and CH4 (blue) records (Loulergue et al., 2008). (C) is the Vostok CO2 record (Petit et al., 1999). (D) is the absolute-dated Asian Monsoon record from Sanbao Cave, China (Cheng et al., 2006). (E) and (F) show IRD and inferred seawater δ18O records from marine core ODP-980 (McManus et al., 1999). Both Vostok and EDC timescale were shifted in order to correlate the abrupt jump of the last portion of CH4 in ice cores to the abrupt monsoon jump in panel (D) (Cheng et al., 2009). The ODP-980 records are on original timescales. Two Weak Monsoon Intervals (WMI) are marked by yellow background. Termination III events, analogous to the YD, B/A, ACR and MI are labeled: YD III, B/A III, ACR III and MI-III. Figure is simplified from that in Cheng et al. (2009). (For interpretation of the references to colour in this figure legend, the reader is referred to the web version of this article).
As a conclusion, over the last couple of years, there has now been growing evidence that an event similar to the YD is not "unique" but instead is a common theme across various deglacial events; this provides evidence against the necessity for a "catastrophic trigger," and while it may be the case that a comet or some other catastrophe occurs at each termination, that seems improbable.

References
Broecker, W.S., Denton G.H., Edwards L.R., Cheng H., Alley R.B., Putnam A.E., 2010. Putting the Younger Dryas cold event into context. Quaternary Science Reviews , 29, 1078-1081
Carlson, A.E., 2008. Why there was not a Younger Dryas-like event during the Penultimate Deglaciation: Quaternary Science Reviews, v. 27, p. 882-887
Carlson, A.E., and Clark, P.U., 2008. Rapid climate change and Arctic Ocean freshening: Comment: Geology, v. 36, p. e177
Carlson, A.E., Clark, P.U., and Hostetler, S.W., 2009. Comment: Radiocarbon deglaciation chronology of the Thunder Bay, Ontario area and implications for ice sheet retreat patterns: Quaternary Science Reviews, v. 28
Cheng, H., Edwards, R.L., Broecker, W.S., Denton, G.H., Kong, X., Wang, Y., Zhang, R., and Wang, X., 2009. Ice Age Terminations: Science, v. 326, p. 248–252
Firestone, R.B., et al., 2007. Evidence for an extraterrestrial impact 12,900 years ago that contributed to the megafaunal extinctions and the Younger Dryas cooling: Proceedings of the National Academy of Sciences of the United States of America, v. 104, p. 16016–16021
Fisher, T.G., Yansa, C.H., Lowell, T.V., Lepper, K., Hajdas, I., Ashworth, A., 2008. The chronology, climate, and confusion of the Moorehead Phase of glacial Lake Agassiz: new results from the Ojata Beach, North Dakota. Quaternary Science Reviews, 27, 1124–1135
Johnson, R.G., McClure, B.T., 1976. A model for Northern Hemisphere continental ice sheet variation. Quaternary Research 6, 325–353
Liu, Z., Otto-Bliesner, B., He, F., Brady, E., Thomas, R., Clark, P.U., Carlson, A.E., Lynch-Stieglitz, J., Curry, W., Brook, E., Erickson, D., Jacob, R., Kutzbach, J., and Chen, J., 2009. Transient Climate Simulation of Last Deglaciation with a New Mechanism for Bølling-Allerød Warming: Science, v. 325, p. 310-314
Lowell, T.V., Waterson, N., Fisher, T., Loope, H., Glover, K., Comer, G., Hajdas, I., Denton, G., Schaefer, J., Rinterknecht, V., Broecker, W., and Teller, J., 2005, Testing the Lake Agassiz meltwater trigger for the Younger Dryas: EOS (Transactions, American Geophysical Union), v. 86, p. 365–373
Meissner, K.J., and Clark, P.U., 2006. Impact of floods versus routing events on the thermohaline circulation: Geophysical Research Letters, v. 33, L15704
Melott, A.L., Thomas, B.C., Dreschhoff, G., and Johnson, C.K., 2010. Cometary airbursts and atmospheric chemistry: Tunguska and a candidate Younger Dryas event, Geology, v. 38, 355–358
Murton J.B., Bateman M.D., Dallimore S.R., Teller J.T., Yang Z., 2010. Identification of Younger Dryas outburst flood path from Lake Agassiz to the Arctic Ocean, Nature, 464, 740-743
Shakun, J.D., and Carlson, A.E., 2010. A Global Perspective On Last Glacial Maximum to Holocene Climate Change: Quaternary Science Reviews.
Steig, E.J., and Alley, R.B. Phase relationships between Antarctic and Greenland climate records. Annals of Glaciology 35: 451-456 (2002).