As the World Meteorological Organisation WMO has just announced that "The year 2014 is on track to be the warmest, or one of the warmest years on record", it is timely to have a look at recent global temperature changes.
I'm going to use Kevin Cowtan's nice interactive temperature plotting and trend calculation tool to provide some illustrations. I will be using the HadCRUT4 hybrid data, which have the most sophisticated method to fill data gaps in the Arctic with the help of satellites, but the same basic points can be illustrated with other data just as well.
Let's start by looking at the full record, which starts in 1979 since the satellites come online there (and it's not long after global warming really took off).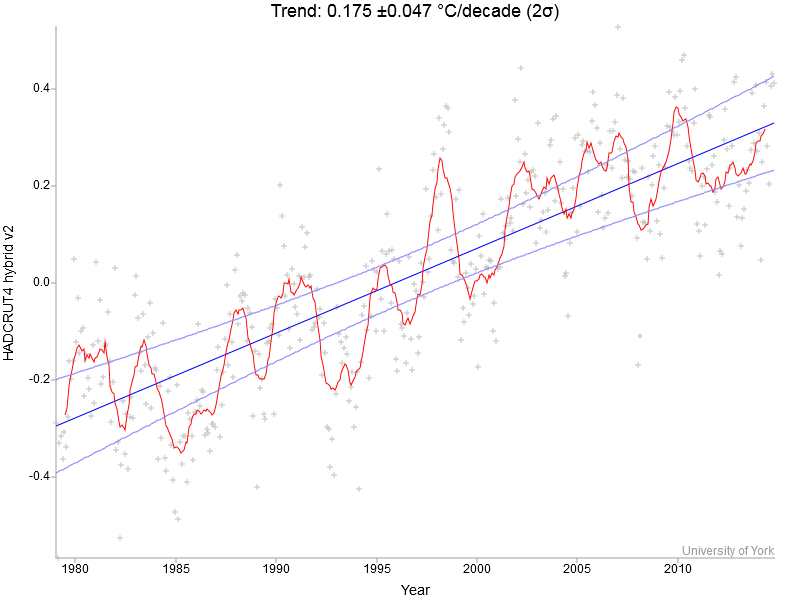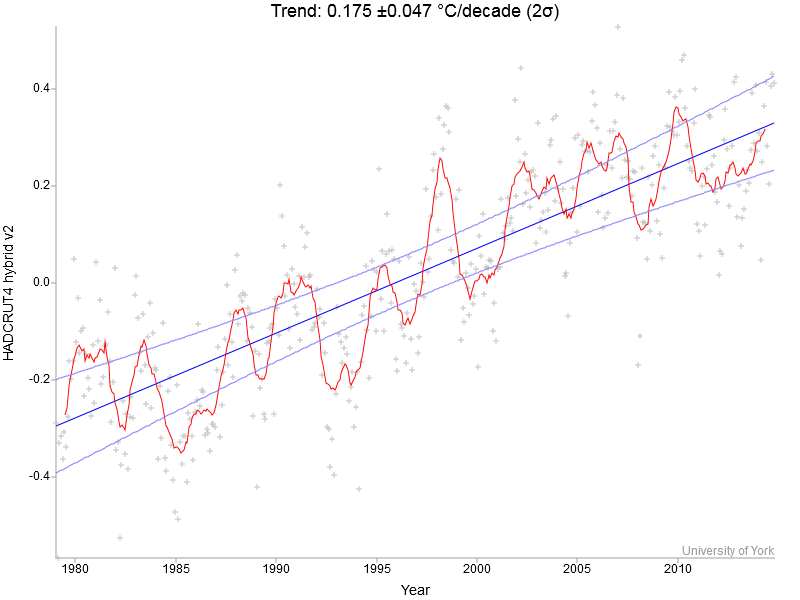 Fig. 1. Global temperature 1979 to present – monthly values (crosses), 12-months running mean (red line) and linear trend line with uncertainty (blue)
You clearly see a linear warming trend of 0.175 °C per decade, with confidence intervals of ±0.047 °C per decade. That's global warming – a measured fact.
But you might have heard claims like "there's been no warming since 1998", so let us have a look at temperatures starting in 1998 (the year sticking out most above the trend line in the previous graph).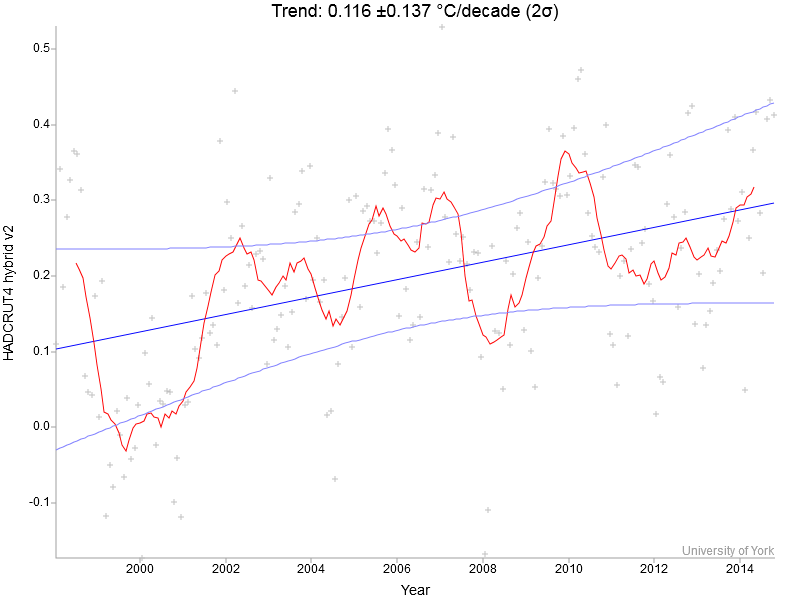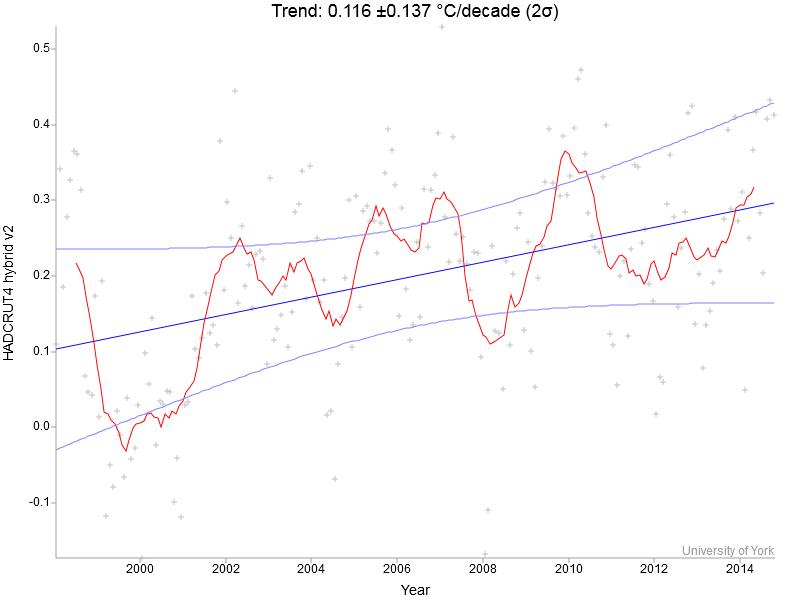 Fig. 2. Global temperature 1998 to present.
You see a warming trend (blue line) of 0.116 °C per decade, so the claim that there has been no warming is wrong. But is the warming significant? The confidence intervals on the trend (± 0.137) suggest not – they seem to suggest that the temperature trend might have been as much as +0.25 °C, or zero, or even slightly negative. So are we not sure whether there even was a warming trend?
That conclusion would be wrong – it would simply be a misunderstanding of the meaning of the confidence intervals. They are not confidence intervals on whether a warming has taken place – it certainly has. These confidence intervals have nothing to do with measurement uncertainties, which are far smaller.
Rather, these confidence intervals refer to the confidence with which you can reject the null hypothesis that the observed warming trend is just due to random variability (where all the variance beyond the linear trend is treated as random variability). So the confidence intervals (and claims of statistical significance) do not tell us whether a real warming has taken place, rather they tell us whether the warming that has taken place is outside of what might have happened by chance.
Even if there was no slowdown whatsoever, a recent warming trend may not be statistically significant. Look at this example: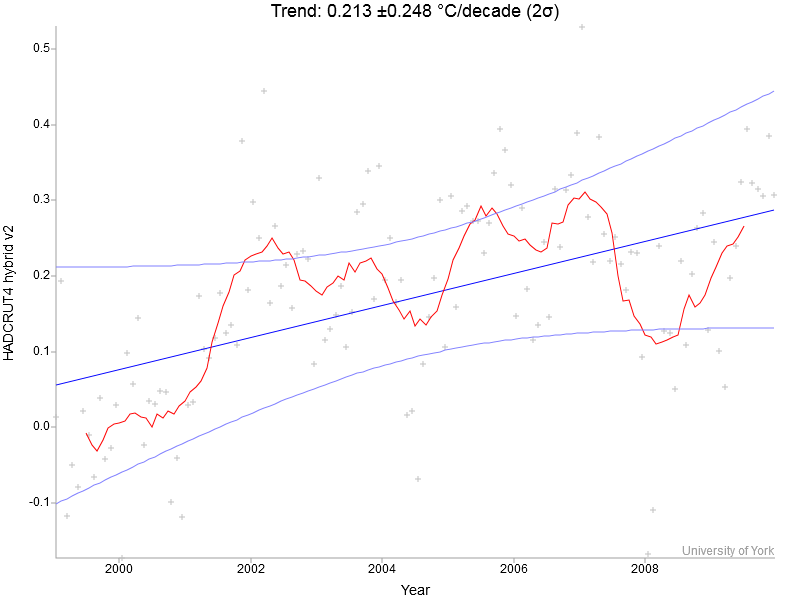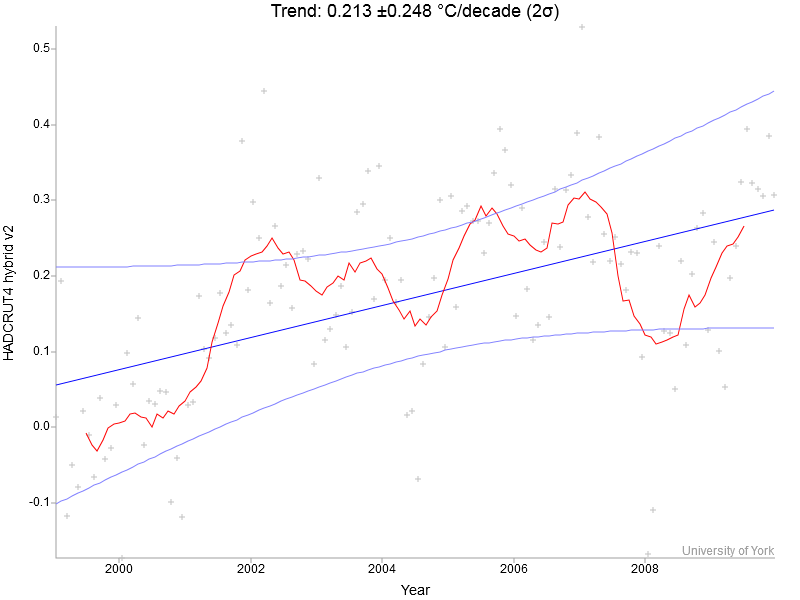 Fig 3. Global temperature 1999 to 2010.
Over this interval 1999-2010 the warming trend is actually larger than the long-term trend of 0.175 °C per decade. Yet it is not statistically significant. But this has nothing to do with the trend being small, it simply is to do with the confidence interval being large, which is entirely due to the shortness of the time period considered. Over a short interval, random variability can create large temporary trends. (If today is 5 °C warmer than yesterday, than this is clearly, unequivocably warmer! But it is not "statistically significant" in the sense that it couldn't just be natural variability – i.e. weather.)
The lesson of course is to use a sufficiently long time interval, as in Fig. 1, if you want to find out something about the signal of climate change rather than about short-term "noise". All climatologists know this and the IPCC has said so very clearly. "Climate skeptics", on the other hand, love to pull short bits out of noisy data to claim that they somehow speak against global warming – see my 2009 Guardian article Climate sceptics confuse the public by focusing on short-term fluctuations on Björn Lomborg's misleading claims about sea level.
But the question the media love to debate is not: can we find a warming trend since 1998 which is outside what might be explained by natural variability? The question being debated is: is the warming since 1998 significantly less than the long-term warming trend? Significant again in the sense that the difference might not just be due to chance, to random variability? And the answer is clear: the 0.116 since 1998 is not significantly different from those 0.175 °C per decade since 1979 in this sense. Just look at the confidence intervals. This difference is well within the range expected from the short-term variability found in that time series. (Of course climatologists are also interested in understanding the physical mechanisms behind this short-term variability in global temperature, and a number of studies, including one by Grant Foster and myself, has shown that it is mostly related to El Niño / Southern Oscillation.) There simply has been no statistically significant slowdown, let alone a "pause".
There is another more elegant way to show this, and it is called change point analysis (Fig. 4). This analysis was performed for Realclimate by Niamh Cahill of the School of Mathematical Sciences, University College Dublin.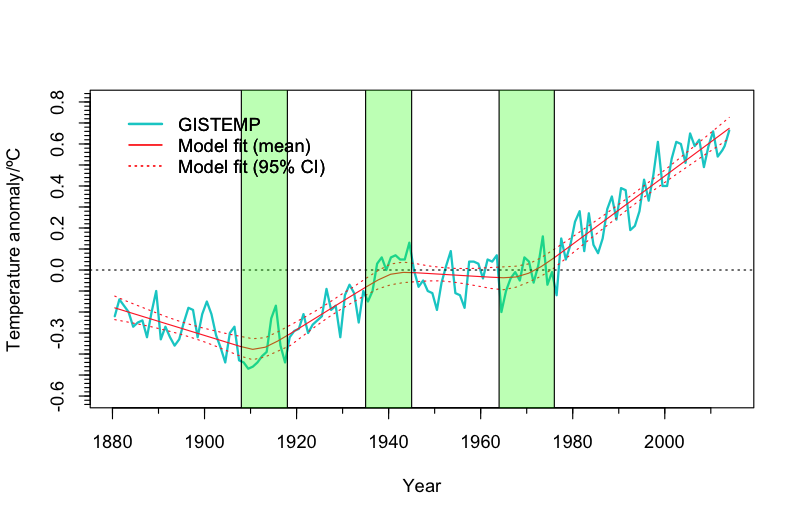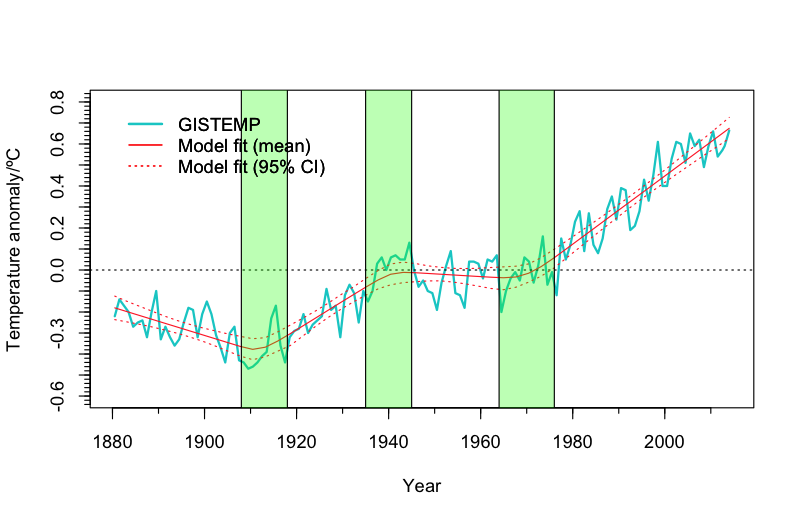 Fig. 4. Global temperature (annual values, GISTEMP data 1880-2014) together with piecewise linear trend lines from an objective change point analysis. (Note that the value for 2014 will change slightly as it is based on Jan-Oct data only.) Graph by Niamh Cahill.
It is the proper statistical technique for subdividing a time series into sections with different linear trends. Rather than hand-picking some intervals to look at, like I did above, this algorithm objectively looks for times in the data where the trend changes in a significant way. It will scan through the data and try out every combination of years to check whether you can improve the fit with the data by putting change points there. The optimal solution found for the global temperature data is 3 change points, approximately in the years 1912, 1940 and 1970. There is no way you can get the model to produce 4 change points, even if you ask it to – the solution does not converge then, says Cahill. There simply is no further significant change in global warming trend, not in 1998 nor anywhere else.
In summary: that the warming since 1998 "is not significant" is completely irrelevant. This warming is real (in all global surface temperature data sets), and it is factually wrong to claim there has been no warming since 1998. There has been further warming despite the extreme cherry pick of 1998.
What is relevant, in contrast, is that the warming since 1998 is not significantly less than the long-term warming. So while there has been a slowdown, this slowdown is not significant in the sense that it is not outside of what you expect from time to time due to year-to-year natural variability, which is always present in this time series.
Given the warm temperature of 2014, we already see the meme emerge in the media that "the warming pause is over". That is doubly wrong – there never was a significant pause to start with, and of course a single year couldn't tell us whether there has been a change in trend.
Just look at Figure 1 or Figure 4 – since the 1970s we simply are in an ongoing global warming trend which is superimposed by short-term natural variability.
Weblink: Statistician Tamino shows that in none of the global temperature data sets (neither for the surface nor the satellite MSU data) has there recently been as statistically significant slowdown in warming trend. In other words: the variation seen in short-term trends is all within what one expects due to short-term natural variability. Discussing short-term trends is simply discussing the short-term "noise" in the climate system, and teaches us nothing about the "signal" of global warming.