Guest commentary from Jonny McAneney
You heard it here first…
Back in February, we wrote a post suggesting that Greenland ice cores may have been incorrectly dated in prior to AD 1000. This was based on research by Baillie and McAneney (2015) which compared the spacing between frost ring events (physical scarring of living growth rings by prolonged sub-zero temperatures) in the bristlecone pine tree ring chronology, and spacing between prominent acids in a suite of ice cores from both Greenland and Antarctica. The main conclusion was that ice core dates, in particular those ice cores relied upon the Greenland Ice Core Chronology 2005 (GICC05), such as the NEEM S1 core, were too old by approximately seven years during the 6th and 7th centuries AD.
Last month, in an excellent piece of research (Sigl et al., 2015) by a collaboration including Earth scientists, dendrochonologists, and historians, the chronology of the Greenland North Eemian Ice Drilling core (NEEM) has been reassessed and re-dated, confirming that such an offset does indeed exist in the GICC05 timescale below AD 1000. The clinching evidence was provided by linking tree-ring chronologies to ice cores through two extraterrestrial events…

A cosmic connection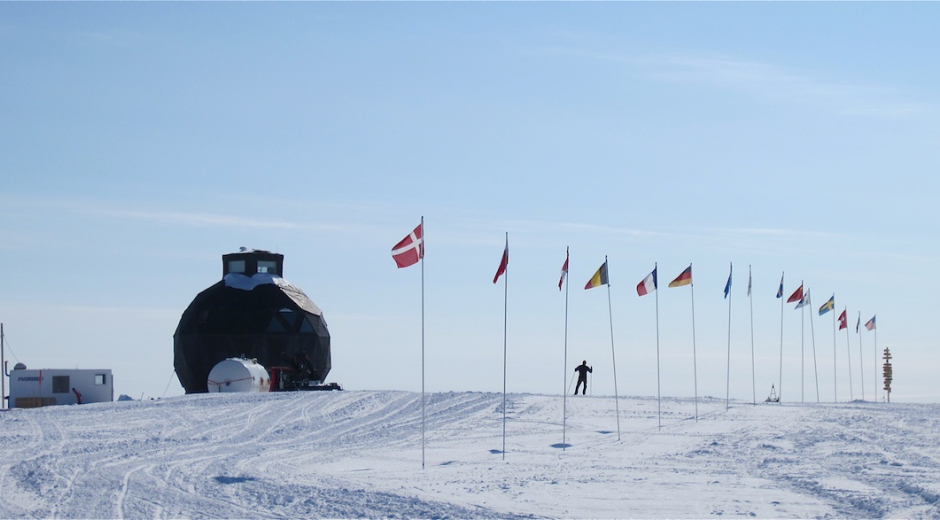 In 2012, Miyaki et al. discovered a rapid increase of radiocarbon (14C) in Japanese cedar, precisely dated to AD 774-775. The cause of this increase was possibly due to a very high energy solar proton event (Usoskin et al., 2013), and its effect on radiocarbon has been observed in tree ring chronologies in both hemispheres (Güttler et al., 2015). Another rapid, slightly smaller (~60%), radiocarbon production event has been dated to AD 993-994 (Miyake et al., 2013).
But 14C is not the only cosmogenic isotope produced by such high energy events. Specifically, Beryllium-10 (10Be) is formed from high energy collisions with N and O in the atmosphere, and because of its long lifetime and affinity for soluble aerosols, it precipitates out of the atmosphere quickly and can be measured in ice cores. Therefore, high energy cosmic or solar events should simultaneously create excess 14C and 10Be, and be measurable in tree-rings and ice cores respectively.
By locating the 775 and 993 spikes in 10Be in the ice cores, Sigl et al. (2015) have effectively created chronological tie points to the tree rings with almost zero error. Looking at the 10Be record of the NEEM S1 ice core as well the new TUNU ice core from Greenland, and the West Antarctic Divide ice core (WDC), they found that the peak 10Be deposition was apparently offset from trees by 6-7 years, with the ice core chronologies being too old. These events, as well as tephra markers and historical records of dust veils, were used constrain and evaluate the dating of the ice cores and has led to the creation of a new dating scheme, NEEM NS1 (see figure 1).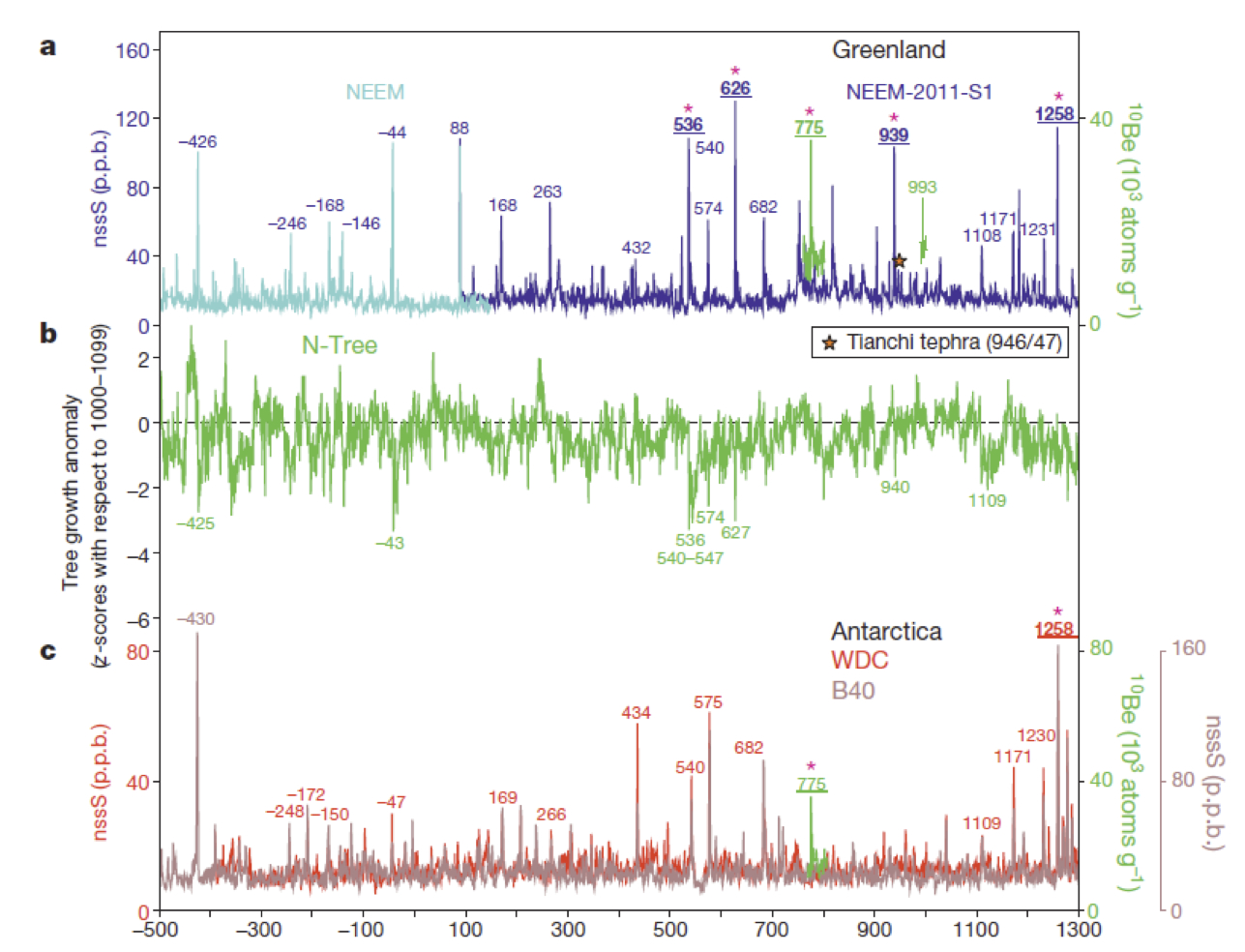 Figure 1: New ice core timescale of Greenland ice core NEEM NS1 (top) and Antarctica ice cores (bottom), and the effects of their forcing on a climate reconstruction from a small selection of tree rings (middle) (Sigl et al., 2015).
Historical Implications
This new dating scheme improves understanding of volcanic forcing effects before the 1st millennium. For example, 15 of the 16 coldest summers between 500 BC and AD 1000 follow immediately after volcanic events, four of which are found shortly after the largest volcanic events in the record. It also confirms that the so-called "AD 536 event" was a two-stage event, with two large eruptions, a Northern hemisphere eruption in AD 536, and tropical eruption in AD 540, causing over a decade of poor climate and hardship on human civilisation. As we've mentioned previously, these eruptions may even have paved the way for the Justinian plague to take hold after AD 540, which is estimated to have killed about one third of the European population, and may also have impacted the Maya civilisation.
The new chronology also shows that the GICC05 date of 1104 for a volcanic horizon attributed to the historical eruption of the Icelandic volcano Hekla is erroneous. Since this horizon is now dated to AD 1108/9 it cannot be associated with Hekla, explaining why attempts to identify Hekla tephra in ice cores in this layer were unproductive (Coulter et al., 2012). It also confirms that the dating of the historical eruption of Eldgja to 934 is also incorrect, its actual eruption date being AD 939. And of course, the acid and tephra signal which was thought to have originated with the AD 79 Vesuvius eruption (Barbante et al., 2013), cannot possibly be due to Vesuvius, this layer now being dated to AD 88.
The one thing not mentioned though is how the error in GICC05 originated. The ice core dates for Eldgja and Hekla of 934 and 1104 have been in print since 1980 (Hammer et al., 1980), and they have been replicated in each Greenland ice core up to now, culminating in the GICC05 timescale. There are similar offsets with Antarctica ice cores that have been dated independently of the GICC05 timescale. An understanding of the origin of this error could help to evaluate the robustness of all ice core dating.
Future hopes for the past
This research (only!!!) covers the last 2500 years; Half the period of human history (~5000 years). Synchronising ice cores with tree dates, as well as with historical dates, is even more problematic the further in the past one goes. If the ice core chronologies can be extended further into the past with accuracy equal to that of the NEEM NS1 core, the effects of volcanic forcing and climate more generally on past civilisations can be improved. For example, we know that Hekla had two massive eruptions in the past, probably in the 12th and 24th century BC, but we do not know exactly when, or what effect they may have had on climate and society. We do not yet know the cause of the so called 4.2 kya event (from 2200-1900 BC), which was a period of altered climate which may have led to the collapse of the Egyptian Old Kingdom, and/or the rise of the Akkadian Empire. Perhaps sufficiently accurately dated ice cores extending across these event could provide the answer?
Finally, a key controversy in archaeological research is the accurate dating of the Thera eruption, thought to have occurred in the 17th or 16th century BC. Positive identification and accurate dating of tephra in ice cores from this large Mediterranean eruption would provide a critical benchmark for early Middle Eastern history.
Trees can guide us in reconstructing the past. As my co-author Mike Baillie quipped in his book A Slice Through Time: Dendrochronology and Precision Dating,   "The trees don't lie – and they were there". Thanks to the research of Sigl et al. (2015), this statement is looking all the more true.
References