The responses to the last post on the Rideau Canal Skateway season changes were interesting, and led to a few pointers to additional data sets that show similar trends and some rather odd counter-points from the usual suspects.

Minnesotan Lakes
The most comprehensive (and up-to-date) set of "ice out" data for lakes is, unsurprisingly perhaps, from the Dept. of Natural Resources in Minnesota. Data (sometimes patchy) goes back in places to the 19th Century. The earliest data is for Lake Pepin starting in 1843. By 1900, there are a further 6 lakes with data: Clear, Christmas, Minnetonka, Osakis, Sagatagan, and Shields.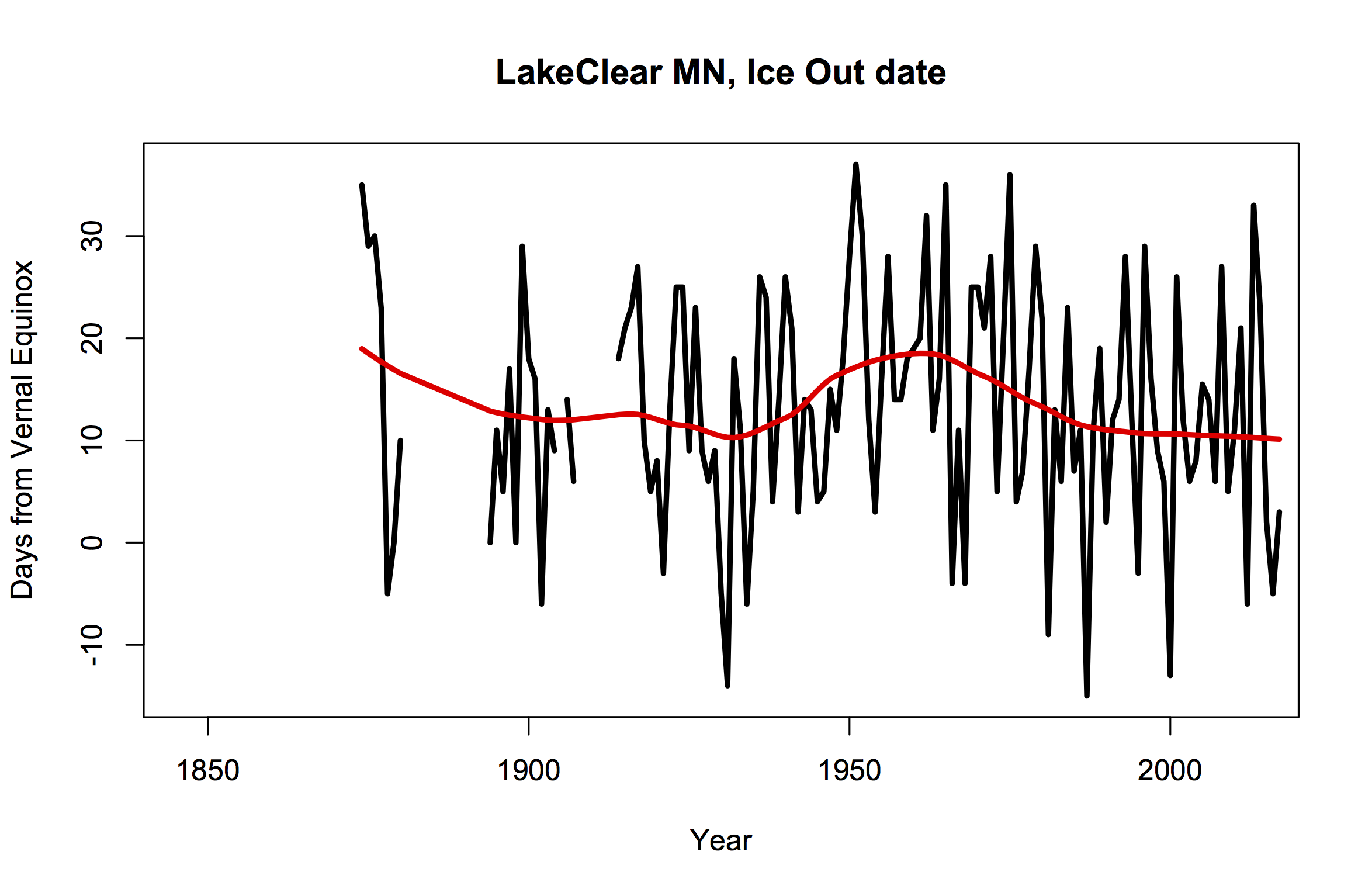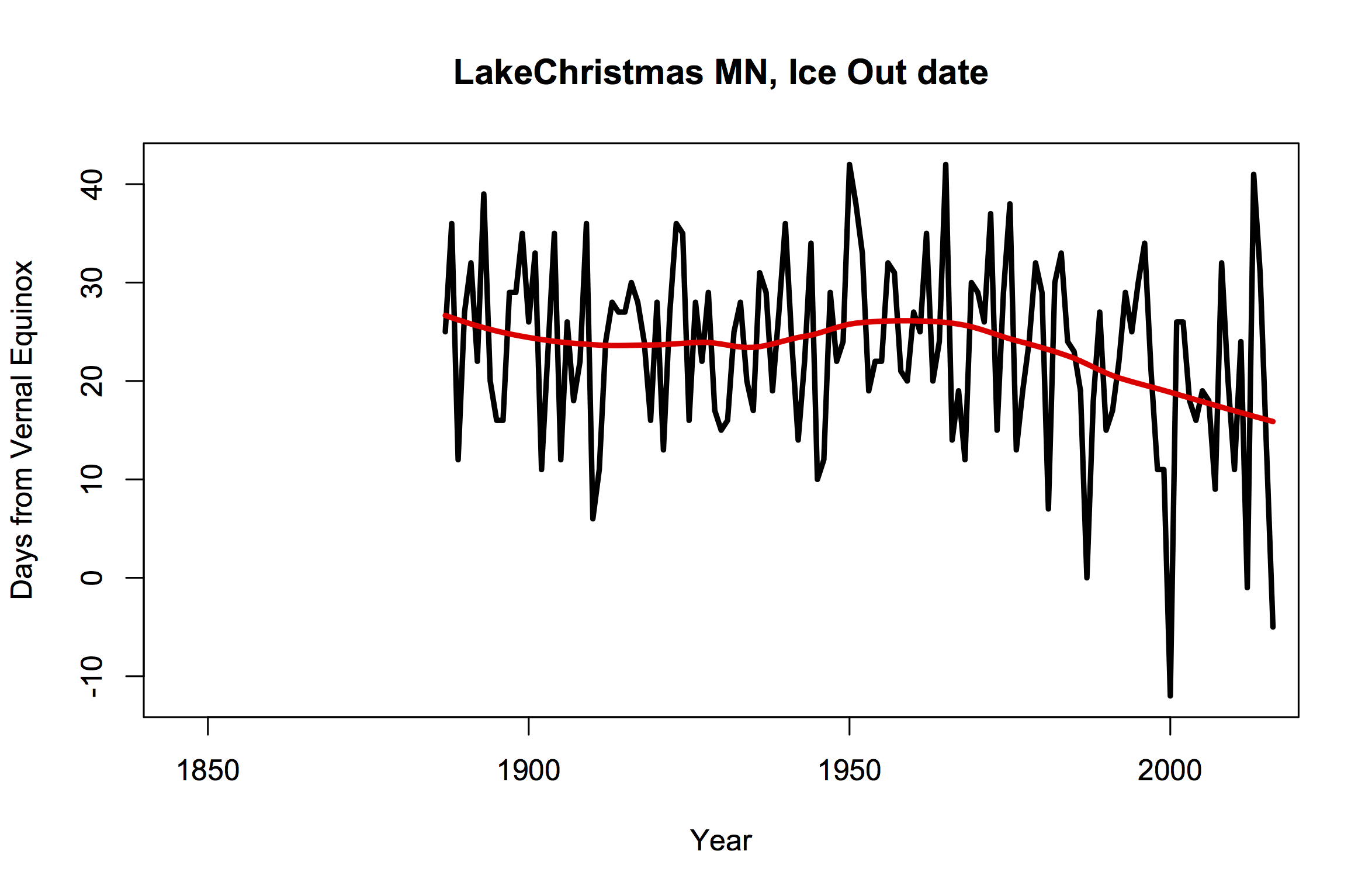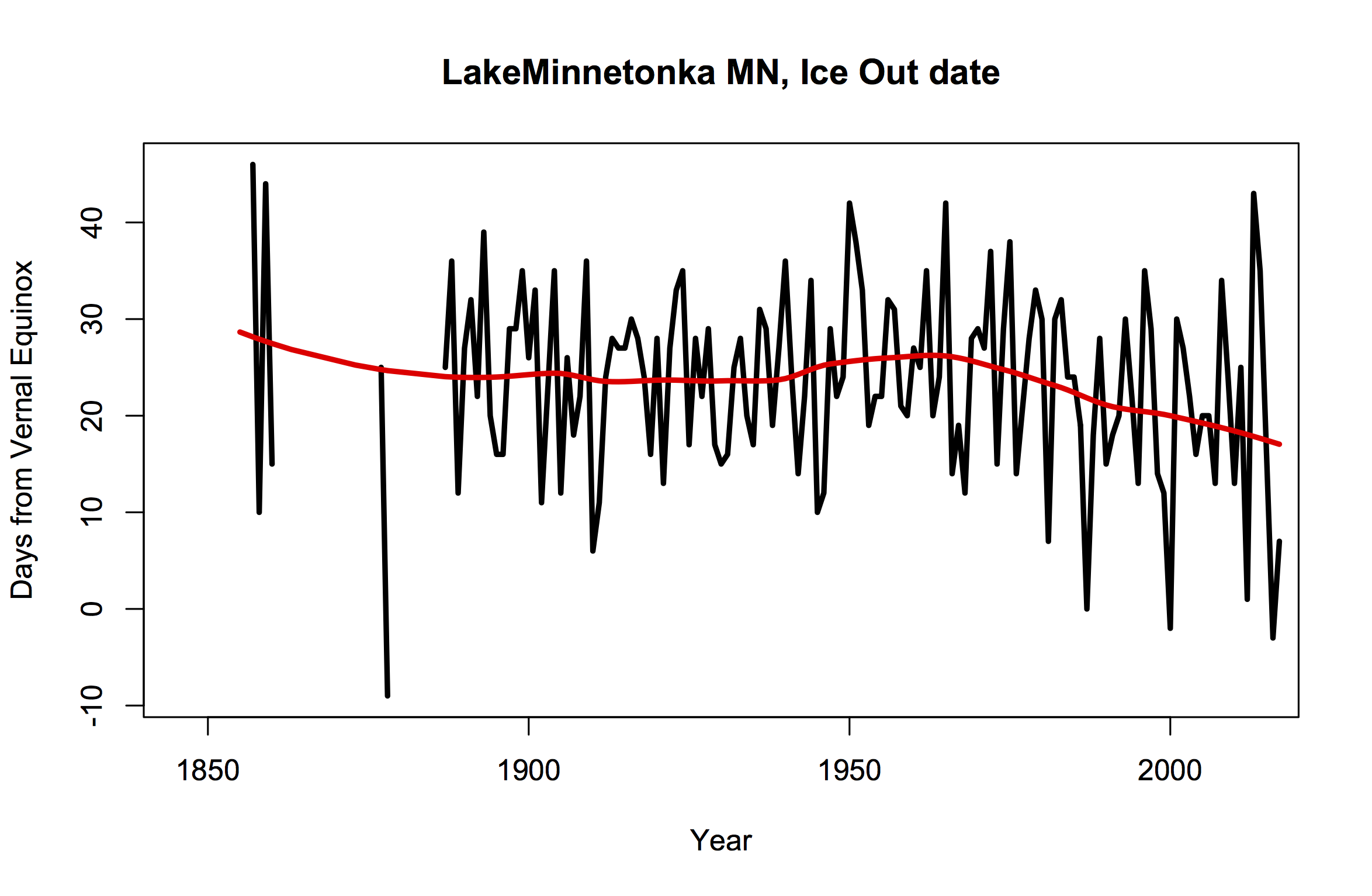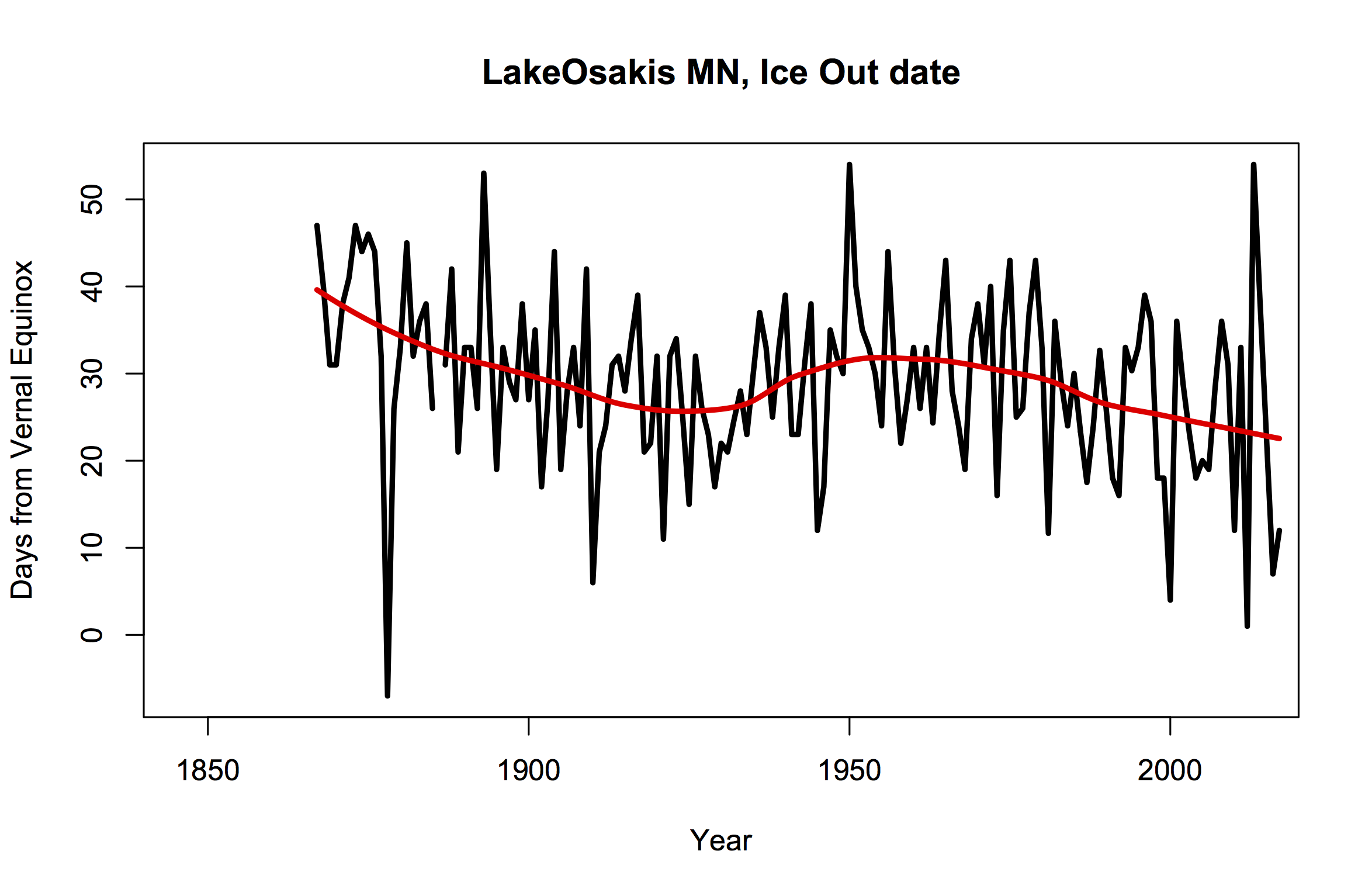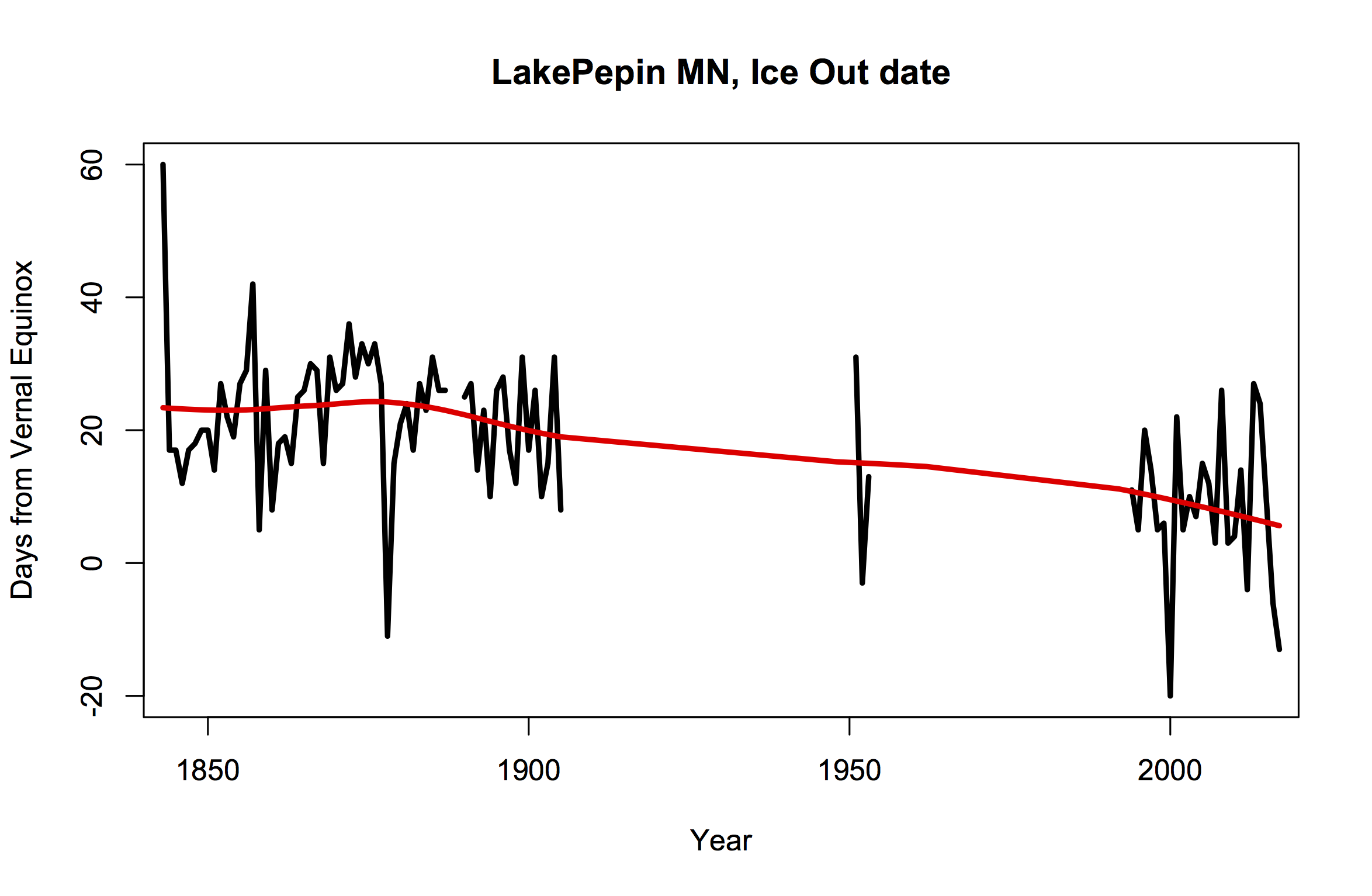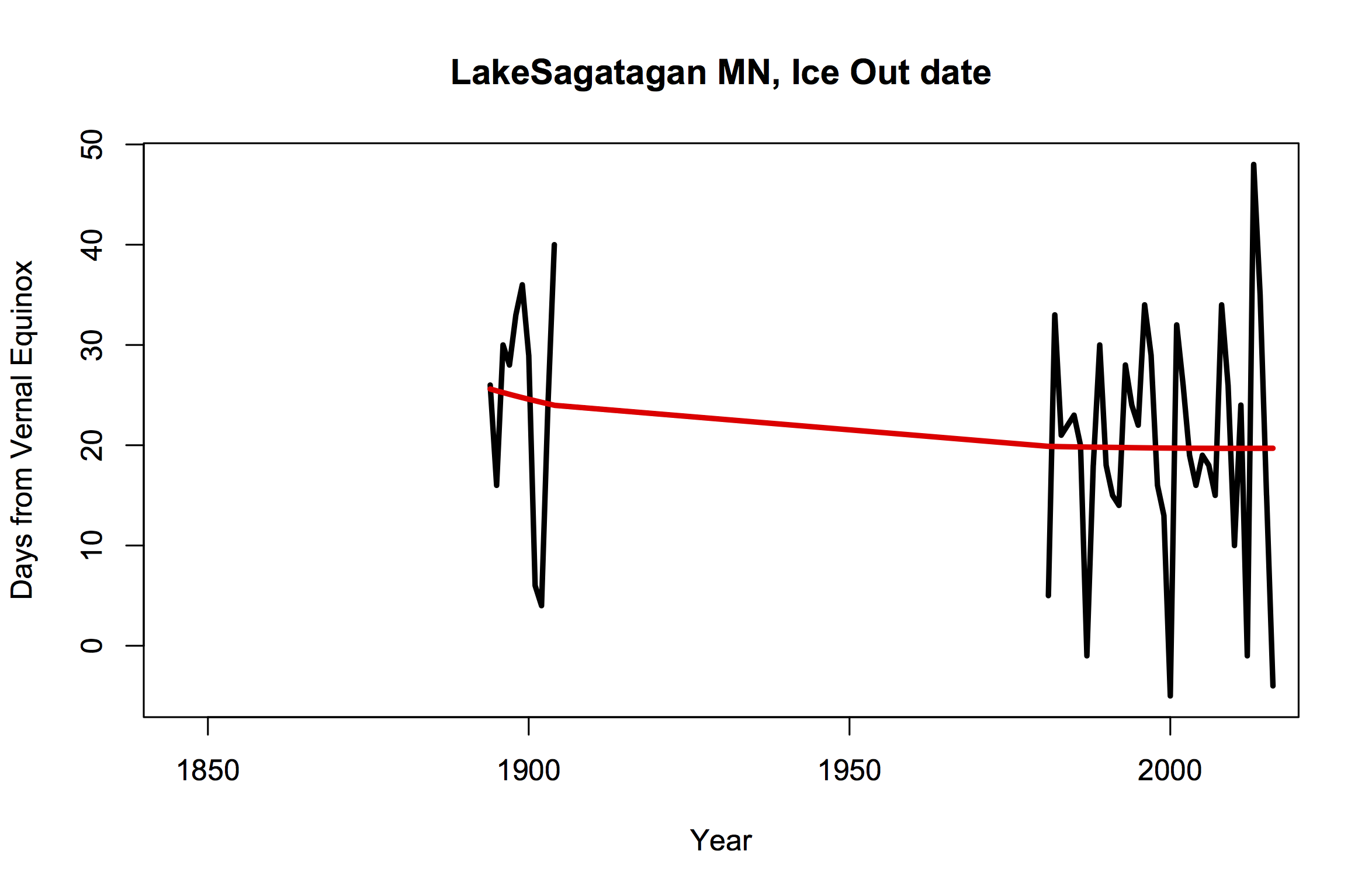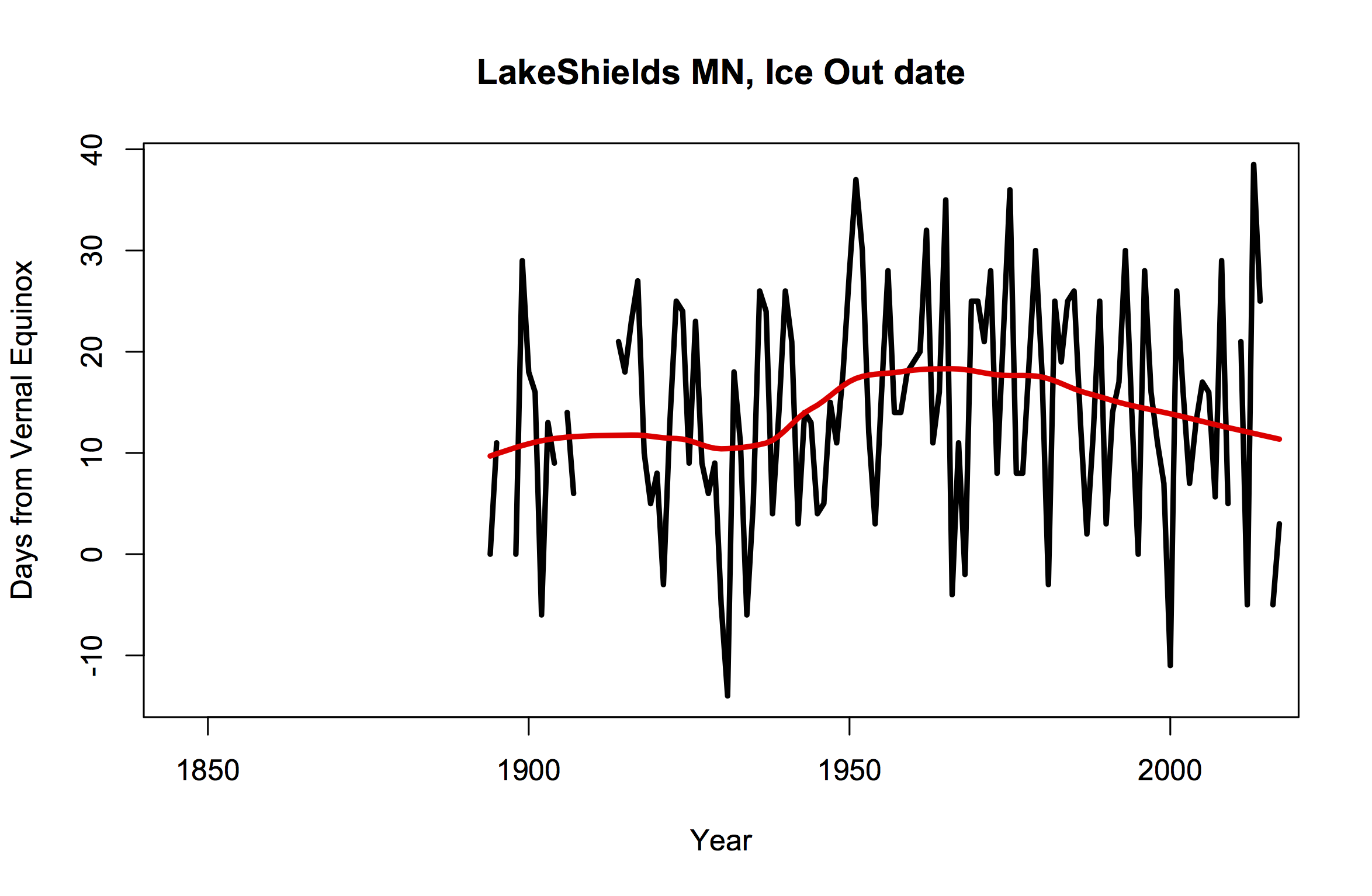 Figure 1: The seven longest data sets of Minnesotan lake "ice out" dates (with data back to at least 1900). Ice out date is shown relative to the vernal equinox (see below for details). Red lines are loess ~30yr smooths.

One commentator on twitter made a point of picking out Lake Minnetonka, and noting that the earliest ice out date on record was in 1878, as if that negated any of the long term trends there or elsewhere. It is however quite interesting to look into data from that year. Pepin, Osakis and Clear had huge anomalies that year, and estimates of regional temperature show a very warm winter that has only recently been matched. Given the standard deviation in the residuals (about 10 days), the 30+ day earlier ice out was a massive anomaly (more than 3

) and was noticed and commented on at the time. Contemporary reports from Minneapolis described it the "Year without a Winter". But one warm winter does not a trend make, and the trends in almost all the lakes are clearly towards an earlier ice out over the last 40 years. Given the interannual variability though, you still need a multiple decades to significantly detect a trend of 10 days or so per century.
Other North American lakes
There are good data sets for dozens of other lakes in North America, notably ice duration from Lakes Mendota and Monona in Wisconsin. Note that ice duration is slightly less noisy dataset than ice out.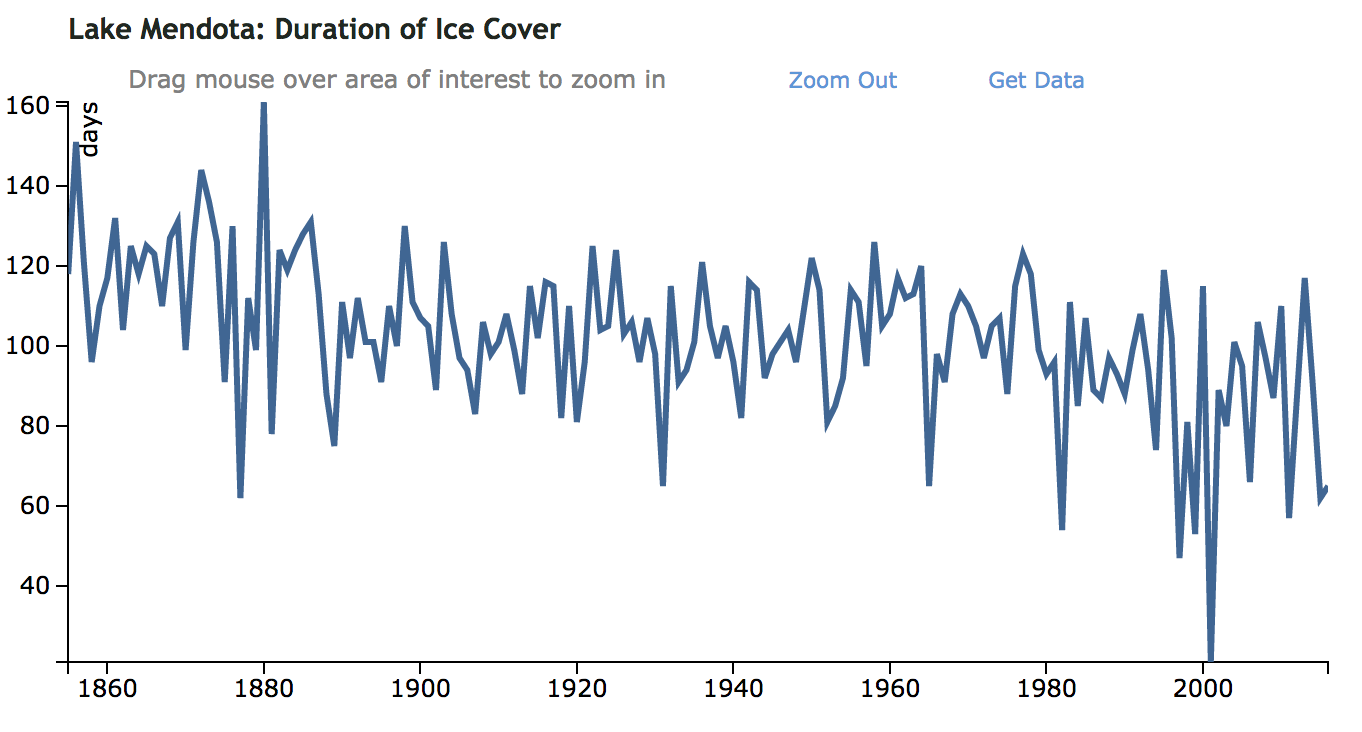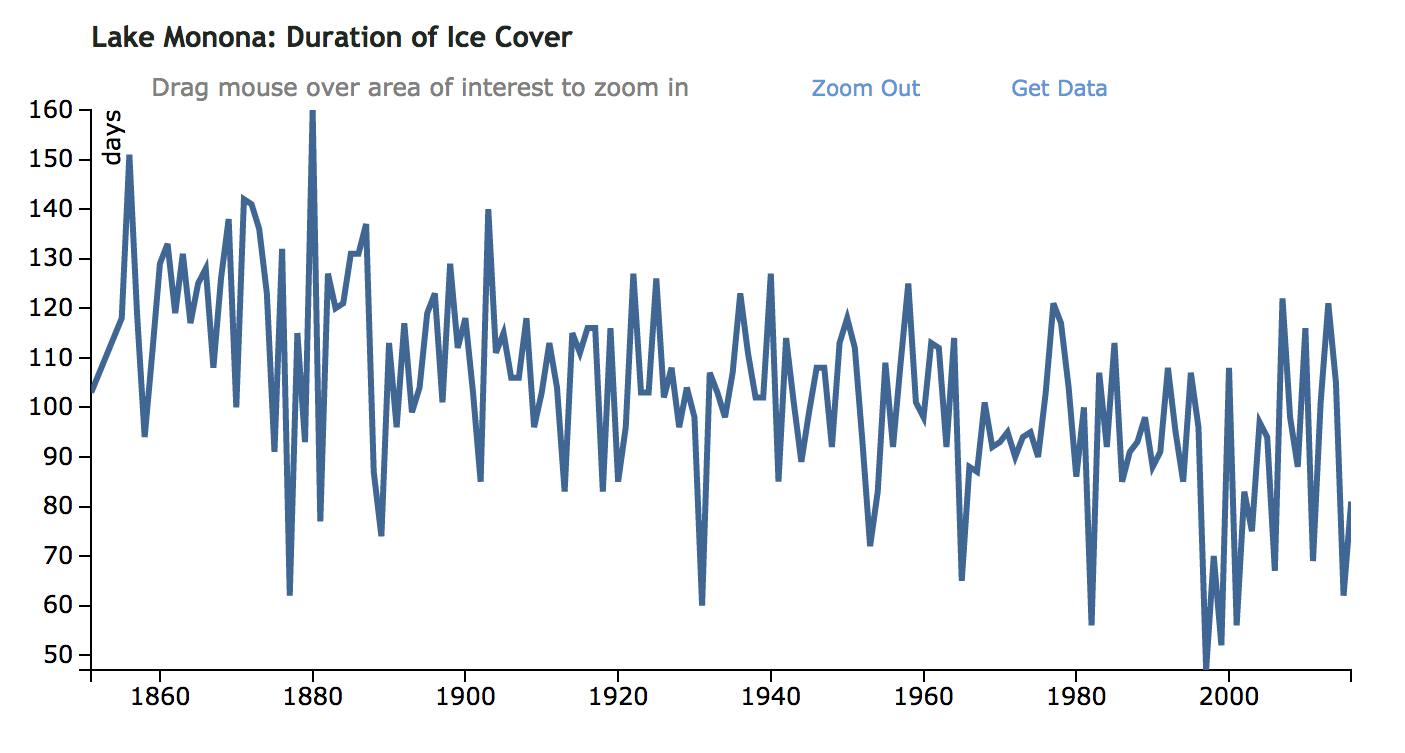 These data are nominally collated by the Global Lake and River Ice Phenology Database, but it isn't that up-to-date, though it does include a lot of long records from Europe.
One other notable lake is Lake Winnipesaukee in NH (h/t David Appell), which has records from 1887 and a betting pool.
Dutch skating days
One reader pointed me to a graph of declining "schaatsdagen" (skate days) at De Bilt in the Netherlands made by Bart Vreeken. There is a partial dataset online, but I'm not really clear on the provenance of the data or how it was calculated.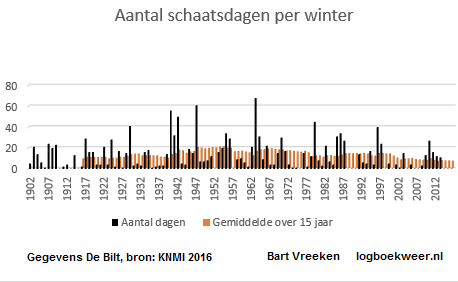 Note on accounting for calendrical anomalies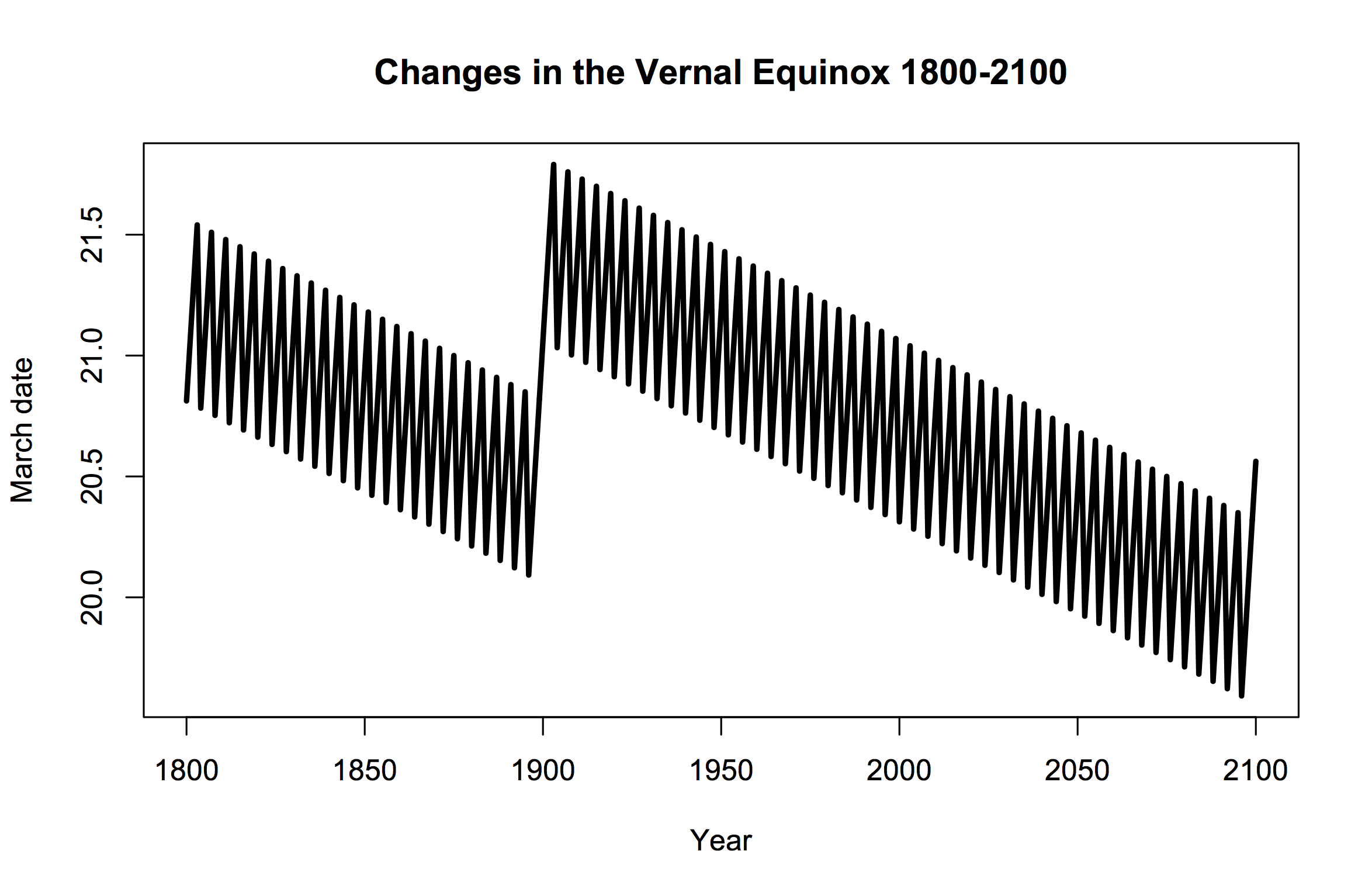 Because of the fact that the orbital period of the Earth around the sun is not an integer number of days, the astronomical "seasons" move around a little in the calendar. Thankfully, it doesn't move around quite as much since the adoption of the Gregorian Calendar, but on short timescales (< 500 years) the impacts of leap years and the variation of the vernal equinox can alias climatic trends. The VE is normally either the 20th or 21st of March, though this century will have a few years with the VE on March 19th as well (calculations are here). Records which are based on calendrical dates (such as ice on, or ice out) therefore have a little noise in them just because of this. So for ease of comparison, in my plots I generally show the number of days from the vernal equinox to account for it. This is a small correction and in general doesn't make any noticeable difference, though it can affect the rankings of individual years.