We've often discussed the how's and why's of correcting incorrect information that is occasionally found in the peer-reviewed literature. There are multiple recent instances of heavily-promoted papers that contained fundamental flaws that were addressed both on blogs and in submitted comments or follow-up papers (e.g. McLean et al, Douglass et al., Schwartz). Each of those wasted a huge amount of everyone's time, though there is usually some (small) payoff in terms of a clearer statement of the problems and lessons for subsequent work. However, in each of those cases, the papers were already "in press" by the time other people were aware of the problems.
What is the situation though when problems (of whatever seriousness) are pointed out at an earlier stage? For instance, when a paper has been accepted in principle but a final version has not been sent in and well before the proofs have been sent out? At that point it would seem to be incumbent on the authors to ensure that any errors are fixed before they have a chance to confuse or mislead a wider readership. Often in earlier times corrections and adjustments would have been made using the 'Note added in proof', but this is less used these days since it is so easy to fix electronic versions.

My attention was drawn in August to a draft version of a paper by Phil Klotzbach and colleagues that discussed the differences between global temperature products. This paper also attracted a lot of comment at the time, and some conclusions were (to be generous) rather unclearly communicated (I'm not going to discuss this in this post, but feel free to bring it up in the comments). One bit that interested me was that the authors hypothesised that the apparent lack of an amplification of the MSU-LT satellite-derived trends over the surface record trends over land might be a signal of some undiagnosed problem in the surface temperature record. That is not an unreasonable hypothesis (though it is not an obvious one), but when I saw why they anticipated that there should be an amplification, I was a little troubled. The key passage was as follows:
The global amplification ratio of 19 climate models listed in CCSP SAP 1.1 indicates a ratio of 1.25 for the models' composite mean trends …. This was also demonstrated for land-only model output (R. McKitrick, personal communication) in which a 24-year record (1979-2002) of GISS-E results indicated an amplification factor of 1.25 averaged over the five runs. Thus, we choose a value of 1.2 as the amplification factor based on these model results.
which leads pretty directly to their final conclusion:
We conclude that the fact that trends in thermometer-estimated surface warming over land areas have been larger than trends in the lower troposphere estimated from satellites and radiosondes is most parsimoniously explained by the first possible explanation offered by Santer et al. [2005]. Specifically, the characteristics of the divergence across the datasets are strongly suggestive that it is an artifact resulting from the data quality of the surface, satellite and/or radiosonde observations.
(my emphasis).
For reference, the amplification is related to the sensitivity of the moist adiabat to increasing surface temperatures (air parcels saturated in water vapour move up because of convection where the water vapour condenses and releases heat in a predictable way). The data analysis in this paper mainly concerned the trends over land, thus a key assumption for this study appears to rest solely on a personal communication from an economics professor purporting to be the results from the GISS coupled climate model. (For people who don't know, the GISS model is the one I help develop). This is doubly odd – first that this assumption is not properly cited (how is anyone supposed to be able to check?), and secondly, the personal communication is from someone completely unconnected with the model in question. Indeed, even McKitrick emailed me to say that he thought that the referencing was inappropriate and that the authors had apologized and agreed to correct it.
So where did this analysis come from? The data actually came from a specific set of model output that I had placed online as part of the supplemental data to Schmidt (2009) which was, in part, a critique on some earlier work by McKitrick and Michaels (2007). This dataset included trends in the model-derived synthetic MSU-LT diagnostics and surface temperatures over one specific time period and for a small subset of model grid-boxes that coincided with grid-boxes in the CRUTEM data product. However, this is decidedly not a 'land-only' analysis (since many met stations are on islands or areas that are in the middle of the ocean in the model), nor is it commensurate with the diagnostic used in the Klotzbach et al paper (which was based on the relationships over time of the land-only averages in both products, properly weighted for area etc.).
It was easy for me to do the correct calculations using the same source data that I used in putting together the Schmidt (2009) SI. First I calculated the land-only, ocean-only and global mean temperatures and MSU-LT values for 5 ensemble members, then I looked at the trends in each of these timeseries and calculated the ratios. Interestingly, there was a significant difference between the three ratios. In the global mean, the ratio was 1.25 as expected and completely in line with the results from other models. Over the oceans where most tropical moist convection occurs, the amplification in the model is greater – about a factor of 1.4. However, over land, where there is not very much moist convection, which is not dominated by the tropics and where one expects surface trends to be greater than for the oceans, there was no amplification at all!
The land-only 'amplification' factor was actually close to 0.95 (+/-0.07, 95% uncertainty in an individual simulation arising from fitting a linear trend), implying that you should be expecting that land surface temperatures to rise (slightly) faster than the satellite values. Obviously, this is very different to what Klotzbach et al initially assumed, and leaves one of the hypotheses of the Klotzbach paper somewhat devoid of empirical support. If it had been incorporated into their Figures 1 and 2 (where they use the 1.2 number to plot the 'expected' result) it would (at minimum) have left a somewhat different impression.
For reference, if you plot the equivalent quantities in the model that were in their figures, you'd get this: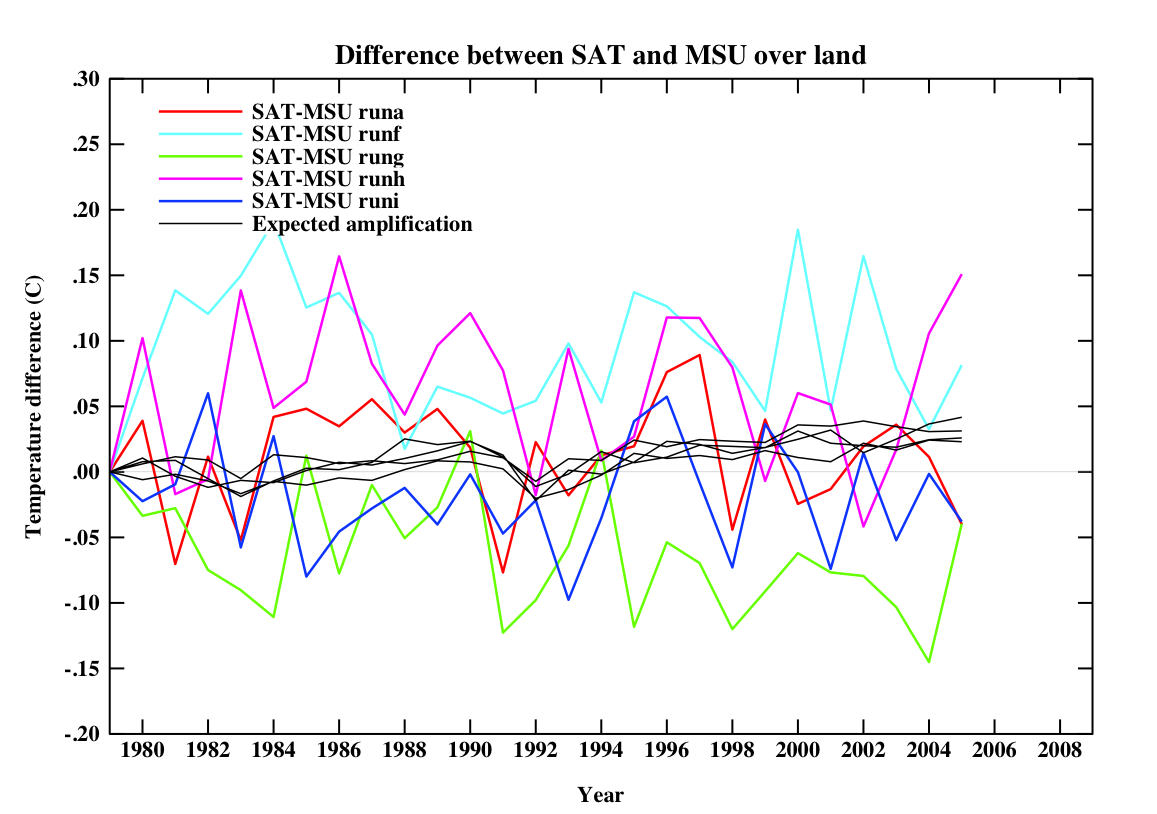 (for 5 different simulations). Note that the 'expected amplification' line is not actually what you would expect in any one realisation, nor the real world. The differences on a year to year basis are quite large. Obviously, I don't know what this would be like in different models, but absent that information, an expectation that land-only trend ratios should go like the global ratios can't be supported.
Since I thought this was very likely an inadvertent mistake, I let Phil Klotzbach know about this immediately (in mid-August) and he and his co-authors quickly redid their analysis (within a week) and claimed that it was not a big deal (though their reply also made some statements that I thought unwarranted). Additionally, I provided them with the raw output from the model so that they could check my calculations. I therefore anticipated that the paper would be corrected at the proof stage since I didn't expect the authors to want to put something incorrect into the literature. After a few clarifying emails, I heard nothing more.
So when the paper finally came out this week, I anticipated that some edits would have been made. At minimum I expected a replacement for the inappropriate McKitrick reference, a proper citation for the model output, acknowledgment that the amplification assumption might not be valid and an adjustment to the figures. I didn't expect that the authors would have needed to change very much in terms of the discussion and so it shouldn't have been too tricky. Note that the last paragraph in the paper does directly link the non-amplification over land to possible artifacts in the data products and so some rewriting would have been necessary.
To my great surprise, no changes had been made to the above-mentioned section, the figures or the conclusion at all. None. Not even the referencing correction they promised McKitrick.
This is very strange. Why put things in the literature that you know are wrong? The weird thing is that this is not a matter of interpretation or opinion about which reasonable people could disagree, but a straightforward analysis of a model that gives only one answer. If they thought McKitrick's source data were appropriate, why wouldn't they want the correct answer?
It's almost always possible to make some edits in the proofs, and papers can always be delayed if there are more substantive changes required. Indeed, they were able to rewrite a section dealing with a misreading of the Lin et al paper that had been pointed out in September by Urs Neu (oddly, there is no acknowledgment of this contribution in the paper). Is it because they want to write a new paper? That's fine, but why leave the paper with the old mistakes up without any comment about the problems (and two of the co-authors have already blogged about this paper without mentioning any of this or any of the other criticisms)? If these issues are trivial, then it would have been easy to fix and so why not do it? However, if they are substantive, the paper should have been delayed and not put in the literature un-edited.
I have to say I find this all very puzzling.
Note added in proof: I sent a draft of this blog post to Dr. Klotzbach and he assures me that the non-correction was just an oversight and that they will be submitting a corrigendum. He and his co-authors are of the opinion that the differences made by using the correct amplification factors are minor.