With all of the emphasis that is often placed on hemispheric or global mean temperature trends during the past millennium, and the context they provide for interpreting modern warming trends, one thing is often lost in the discussion: space matters as much as time. Indeed, it is likely that the regional patterns of past climate changes, rather than simple hemispheric or global mean temperature trends, will best inform our understanding of the dynamical mechanisms involved. Since much of the uncertainty in future projections relates to regional climate change impacts, it makes particular sense to focus on those changes in the past that involve regional changes and the underlying mechanisms behind them.
For instance, melting of the cryosphere (and consequent rises in sea level), subtle shifts in drought and rainfall patterns, and extreme events, are all regional effects that could be important threats to ecosystems and our environment. Such changes are often associated with phenomena like ENSO or the North Atlantic Oscillation. Yet there remain large uncertainties about how such mechanisms will respond to anthropogenic climate change.
There are a number of potential ways forward to improve our understanding. A first step is to look directly at the time-series of specific systems (like the ENSO index or the ocean temperatures in the North Atlantic) and try to extend them as far back as possible using proxy data. This gives more information on what the natural variations in these phenomena look like, and thus a better idea of how big a forced response would need to be before it could be reliably detected. Secondly, we can look to see if there is a relationship between various natural drivers of climate change (volcanic eruptions, solar variability or orbital forcing say) and any characteristics of these phenomena – amplitude, frequency or duration. Do volcanic eruptions appear to affect El Niño for instance?
For phenomena that need annual or decadal resolution data to be resolved, the last millennium or so is an obvious (and only) time period to be looking at for it is only for that period that there is sufficient paleo-data coverage of high enough temporal resolution. Other periods – such as the mid-Holocene 6000 years ago – are also useful, but the results are more long-term in nature (there is also a discussion of the value of different periods for reducing future projection uncertainty in this recent paper).
There are a number of different approaches to looking at reconstructions in recent centuries – some rely on high density regional networks (as seen in this recent paper by Guiot et al concerning European temperature trends for which they mostly used pollen data) and some rely on wider networks of more diverse proxies which aim to capture longer-range correlations to specific phenomena (such as the recent Mann et al (2009) paper).
When this is done, people usually find that while it was relatively cool in global mean temperatures from the 1400s to the 1800s known as the "Little Ice Age" and relatively mild in the 900s to 1300s interval ( sometimes termed the "Medieval Warm Period"). But the spatial reconstructions reveal, however, why such global terms can be quite misleading, and why alternative phrases such as the "Medieval Climate Anomaly" are being increasingly favored by the community. This latter terminology recognizes that while the interval displayed significant climate anomalies, they varied greatly, even in sign, from region to region. Many of the more profound climate anomalies, moreover, involve variables other than temperature, such as drought, rainfall, and atmospheric circulation. Though the medieval period is seen to be modestly warmer globally in comparison with the later centuries of the Little Ice Age (the peak global mean warmth is likely comparable to mid, but not late, 20th century warmth), some key regions appear to have in fact been colder, while other regions appear to have been warmer. Southern Greenland, for example, appears within uncertainties to have been as warm as today. However, much of the tropical Pacific was unusually cold, suggestive of the La Niña phase of the ENSO phenomenon (a similar conclusion was reached by Trouet et al (2009)). Thus even though some locations may have been as warm or warmer than today, the hemispheric mean appears not to have been.
Why does this matter? It matters because there are plenty of factors that can affect the overall mean temperature (solar variability, volcanoes, greenhouse gases, internal variability etc.) and so it is hard, given the uncertainties in the solar or volcanic reconstructions to precisely attribute the paleo changes in the global or hemispheric mean to these factors. But if we can look at more complex fingerprints of the changes, it might be possible to be more quantitative in those attributions since the spatial fingerprints of the different factors are easier to distinguish. Furthermore, if we can clearly tie the regional patterns to the different forcings, we might be able to use that information to inform regional projections under future conditions.
Thus we can basically say that the warmer conditions of the Medieval era were tied to higher solar output and few volcanic eruptions and the cooler conditions of the Little Ice Age resulted from lower solar output and more frequent volcanic eruptions. But these drivers appear to have had an equally important, though more subtle, influence on regional temperature patterns through their impact on climate phenomena such as ENSO and the North Atlantic Oscillation. The modest increase in solar output during Medieval times appears to have favored the tendency for the positive phase of the NAO, associated with a more northerly jet stream over the North Atlantic. This brought relatively greater warmth in winter to the North Atlantic and Eurasia. A tendency toward the opposite negative NAO phase helps to explain the enhanced winter cooling over a large part of Eurasia during the later Little Ice Age period.
There is some model support for these patterns (see also instance Shindell et al, 2001) when the models include interactive ozone photochemistry to produce this dynamical response to solar forcing, but it is not captured in a simulation of the NCAR CSM coupled model which lacks those processes. Neither model simulation reproduces the apparent La Niña pattern seen in the Medieval temperature reconstructions: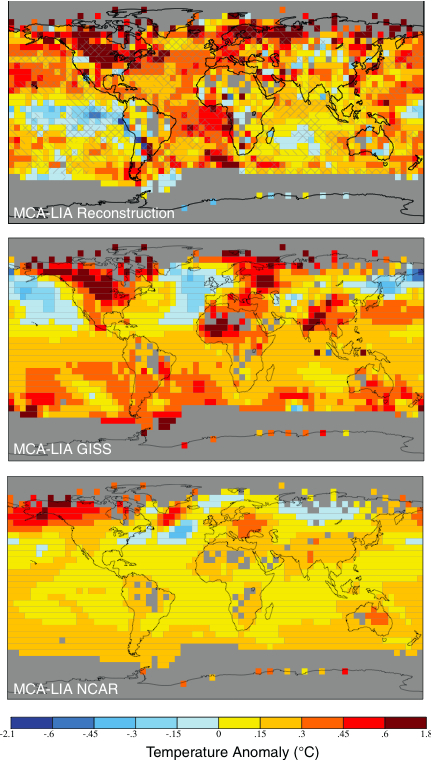 Figure 1: Spatial pattern of mean temperature difference between the MCA and LIA periods (defined at the intervals AD 950-1250 CE and 1400-1700 CE respectively) compared with simulations of two different climate models forced with estimated differences in natural (volcanic and solar) radiative forcing between the two periods (Mann et al, 2009).
Other model simulations, however, using a climate model that exhibits a particular tropical Pacific mechanism, do reproduce such a response. In such models, the tropical Pacific counter-intuitively tends to the cold La Niña phase during periods of increased heating, such as provided by the increase in solar output and low volcanism of the Medieval era. If this response holds for the future, something that is still vigorously debated, it could imply a more La Niña-like response in the future. Most of the state-of-the-art climate models, e.g. those used in the IPCC Fourth Assessment, by contrast, suggest the opposite–a more El Niño-like future climate. The credibility of the models with regard to this phenomenon is not high, however, and lots more work is going to be needed (both on paleo-reconstructions and model improvements) before we can be confident in the future projections of changes in ENSO-like dynamics and mean state.