This is Part 2 of my thoughts on the state of sea-level research. Here is Part 1.
Sea-level cycles?
A topic that keeps coming up in the literature is the discussion on a (roughly) 60-year cycle in sea level data; a nice recent paper on this is Chambers et al. in GRL (2012). One thing I like about this paper is its careful discussion of the sampling issue of the tide gauges, which means that variability in the tide gauges is not necessarily variability in the true global mean sea level (see Part 1 of this post). I want to add some thoughts on the interpretation of this variability. Consider this graph from my Response to Comments in Science (2007):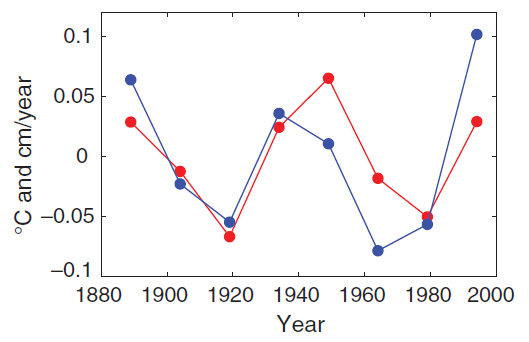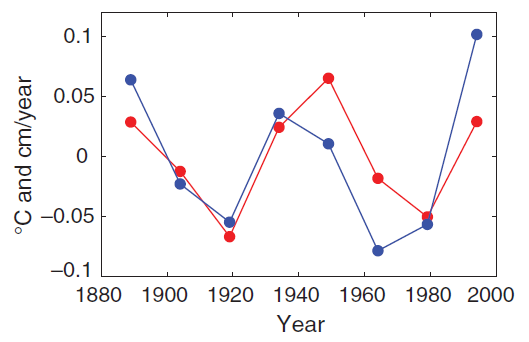 Fig. 1: Fifteen-year averages of the global mean temperature (blue, °C, GISS data) and rate of sea level rise (red, cm/year, Church&white data), both detrended.

This graph clearly shows a 60-year-period variation in the Church and White (2006) sea-level data, and it also shows the strong correlation of this with global temperature. (This of course is just another way of looking at the same data already shown in Fig. 3 of Part 1 of this post, and the fact that the data look like this is also the reason why the quadratic acceleration factor is small, as discussed in Part 1 and here). This correlation to me is evidence that the 60-year-variability is real (rather than a sampling artifact), because it suggests a simple physical mechanism for it: sea level tends to rise faster when it is warmer. That is the very idea behind semi-empirical sea-level models. Given the shape of the global temperature curve, semi-empirical models naturally predict this ~60-year "cycle" in global sea level.
But is this a real periodic behaviour, i.e. a climatic oscillation? I don't think so. The variation in global temperature shown above probably is not an oscillation: it is the familiar time evolution of global temperature that can largely be explained by the history of radiative forcing. E.g., the temperature plateau from 1940-1970 (which in the detrended data shown above is a downswing) is explained by aerosol cooling balancing greenhouse warming, while the following upswing is due to the then dominant increase in greenhouse gases.
And if the sea-level history is a result of the temperature evolution, then the apparent sea-level "cycle" is also not an oscillation. At least not if you understand "oscillation" as a periodic behavior caused by a restoring force that drives the system back towards an equilibrium, which it then overshoots, so that the restoring force starts to work the other way, and so on. There is a simpler explanation: it looks like global temperature basically follows the forcing and global sea level follows the temperature, just as you would physically expect.
So my interpretation of these data is: those two 60-year periods seen in the data may look like an oscillation, but they aren't. Which has some consequences for prediction: an oscillation would suggest a coming downturn; if the system simply follows the forcing we'd expect the opposite. In 30 years time we will know for sure!
Are process-based sea level models mature?
My short and clear answer to this question is: No. I say this as someone who is a physicist and great believer in process-based modelling. And as someone who heads a department of about fifty scientists, almost all of whom are engaged in process-based modelling of various aspects of the climate system, many in ice sheet and ocean modelling with direct application to sea level. Have a look at our sea level pages to get an impression. In contrast, the semi-empirical sea-level modelling in my department is pursued only by one PhD student – it is a small sideline of our research.
Ample reasons for my answer are found by looking at the large uncertainties and differences in process-based estimates of past contributions to sea level, which exceed a factor of three for glacier melt rates and even involve disagreements about the sign of Greenland mass changes (see Figs. 2 and 3 in Gregory et al. 2012).
Two more reasons: only last year the effect of increasing snow fall on ice discharge from Antarctica was included in a model, and it was found that this cancels out about half of the additional snow fall and is the dominant reason for increased ice discharge (Winkelmann et al., Nature 2012). So a first-order, even dominant, mechanism is only now being implemented in ice sheet models. And likewise last year, it was shown (I think convincingly) that the temperature threshold for a complete loss of the Greenland ice sheet is probably far lower (by about a factor of two) than previously estimated (Robinson et al., Nature Climate Change 2012). A factor-two revision and a newly discovered first-order mechanism are both not exactly signs of a mature stage of modelling having been reached. I know enough about modelling the Greenland and Antarctic ice sheets and mountain glaciers to be certain that a lot of work remains to be done before these models can be called mature.
Some conclusions, also concerning IPCC
Here I have put forth a different viewpoint to that of Gregory et al. 2012: process models have improved and now underpredict the 20th Century sea-level rise to a lesser extent than they used to. As a consequence they also predict a much greater sea-level rise for the future, vindicating the semi-empirical models which suggested that earlier projections were too low. However, process models are still not mature, and they still fall short of predicting the full extent of 20th Century sea-level rise, so the budget is not yet satisfactorily closed. I think the expert elicitation or the NOAA scenario document discussed in Part 1 of this post suggest that many experts share this viewpoint.
Such differing viewpoints are a normal and important part of the scientific discourse – this is all a good and healthy discussion that I enjoy and that will continue to improve our understanding. Despite the large overlap between the authors of Gregory et al and the IPCC sea-level chapter, I trust that after the review process the IPCC will provide a balanced account.
The recent improvements in understanding have confirmed the concerns of many sea-level experts, namely that the 4th IPCC report has understated the risks of future sea-level rise because the projection models used were not mature. In the meta-literature about scientific assessments, this IPCC sea-level problem has become a poster child for a poor handling of structural uncertainty, see e.g. Oppenheimer et al. (2007), O'Reilly et al. (2012) or Brysse et al. (2012), also when compared to assessments of other problems like ozone depletion O'Reilly et al. (2011).
Structural uncertainty comes from the uncertainty about the structure of models – e.g. resulting from having models that don't properly include all relevant processes, or from not knowing what the best models are. The 4th IPCC report did not do a good job at communicating the full uncertainty about sea-level rise, because the prime uncertainty range communicated to the public (the famous 18-59 cm rise by 2100) did not include the existing major structural uncertainty. Although the IPCC included caveats to say their range was not the full story, it failed to provide an estimate of the broader uncertainty, leaving e.g. coastal planners out on their own about how to take risk management decisions. Let us hope the IPCC learns from its mistakes and this time properly communicates a more encompassing and realistic range of uncertainty, based on the full suite of modelling approaches and all available information. A good example for how to do this is the sea level scenarios for the US National Climate Assessment.
References